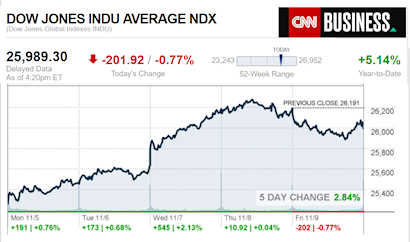 Legacy Housing has announced that it has filed a form S-1 with the U.S. Securities and Exchange Commission (SEC) regarding its Initial Public Offering (IPO). That IPO and some related insights will be our featured report for this evening.
If you're new, already hooked on our new spotlight feature – or are ready to get the MH professional fever – our headline report is found further below, after the newsmaker bullets and major indexes closing tickers.
The evolving Daily Business News market report sets the manufactured home industry's stocks in the broader context of the overall markets.  Headlines – at home and abroad – often move the markets.  So, this is an example of "News through the lens of manufactured homes, and factory-built housing." ©
Part of this unique evening feature provides headlines – from both sides of the left-right media divide – which saves busy readers time, while underscoring topics that may be moving investors, which in turn move the markets.
Readers say this is also a useful quick-review tool that saves researchers time in getting a handle of the manufactured housing industry, through the lens of publicly-traded stocks connected with the manufactured home industry.
This is an exclusive evening or nightly example of MH "Industry News, Tips and Views, Pros Can Use." © It is fascinating to see just how similar, and different, these two lists of headlines can be.
Want to know more about the left-right media divide from third party research?  ICYMI – for those not familiar with the "Full Measure," 'left-center-right' media chart, please click here.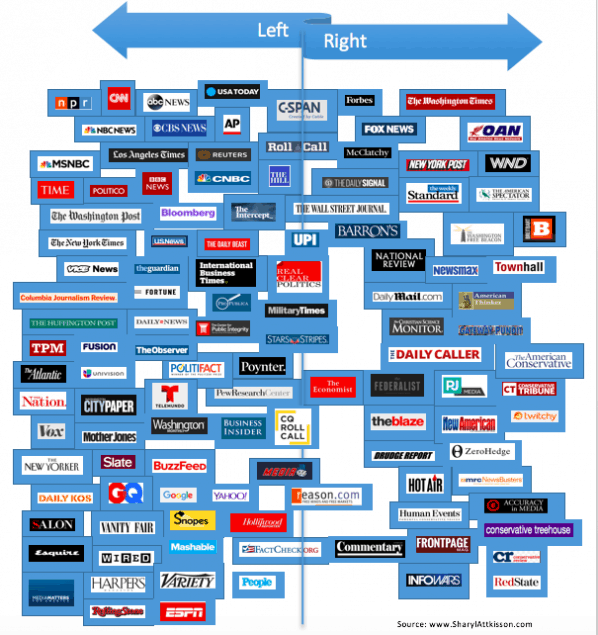 Select bullets from CNN Money…
Stocks end the week with a thud
GE stock could plunge to $6, JPMorgan warns
Crude oil has rapidly plunged into a bear market
GM's donut-ordering app is helping it prepare for a driverless future
PERSPECTIVES Etsy CEO: 3 ways Congress can improve the gig economy
Half of Netflix's new Asian originals are from India
Fortune magazine sold to Thai businessman
President Trump threatens to pull more reporters' credentials
Is the ban justified? Can CNN sue? Questions on the White House action against Jim Acosta, answered
New York is the hot spot for Big Tech
This quirky experiment highlights AI's biggest challenges
Should you buy or rent a vacation home?
E-Commerce Guide by CNN Underscore
Amazon's Pre-Black Friday Sale starts now
Amazon HQ2 backlash
Cities should stop throwing money at Jeff Bezos, some experts say
Everything we know about Amazon's HQ2 search
Amazon HQ2 could hurt those in need. Here's how the winning city can make sure it doesn't
Biggest Amazon bulls think stock will go up another 40%
The argument against having close friends at work
How to talk about politics at work
Should laptops and phones be banned from meetings?
How to deal with a workaholic boss
WHAT TRADE WAR?
China's economy has other big problems
The country reports slowest growth since 2009
The yuan just hit its lowest level in a decade
But China's exports are still soaring
Select Bullets from Fox Business…
Stocks lower as oil craters amid global worries
How much money do Google's top employees make?
California wildfires rage, slamming PG&E, Edison International
UPS preparing for a massive freight driver strike
Boeing jet crash lands in Guyana amid probe of fatal Lion Air accident
How to become an everyday millionaire
Federal judge blocks construction of Keystone XL pipeline
Oil about to post its longest losing streak in 34 years, here's why
Chevron to stay in Venezuela as inflation tops 830,000%
FDA to ban flavored e-cigs to help curb 'epidemic'
China's virtual AI newsperson looks just like a human
The latest on GE's ongoing nightmare
US Army to get advanced camouflage protection system
The Fed sidesteps wage growth in economic praise
Former Tesla employee allegedly embezzled millions
The best business schools in America
Steve Wynn sues to block release of report on alleged misconduct
Medicaid expansion increases voter turnout: What that means for 2020
Harley-Davidson gives first look at new electric motorcycle
Amazon to sell Apple's newest products for first time: Report
'Harry Potter' author JK Rowling sues assistant for shopping spree
Kennedy: Nancy Pelosi is not the Dems' answer
These states will pay higher taxes on items after midterm elections
These are the most livable mid-sized American cities
What Sessions' resignation means for pot
Millennials are the pillar of economic growth: Here's why
Boeing issued safety warning to pilots for 737 Max jets
Job help is US military veterans' top request after serving
Home Depot creates 3,000 multimillionaires, co-founder says
Today's markets and stocks, at the closing bell…

Manufactured Housing Composite Value (MHCV)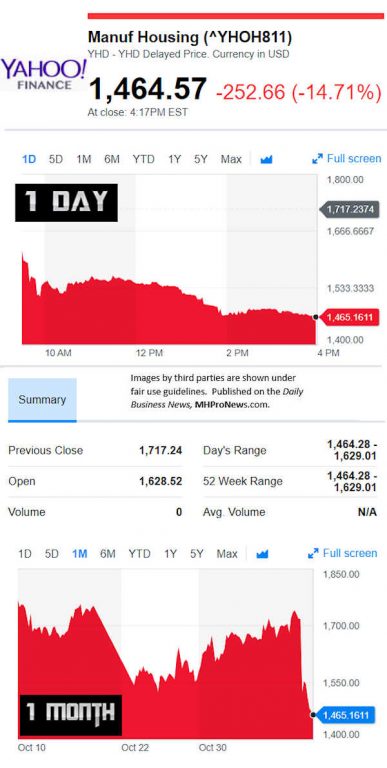 Today's Big Movers
For all the scores and highlights on tracked manufactured home connected stocks today, see the Bloomberg graphic, posted below.
Today's MH Market Spotlight Report –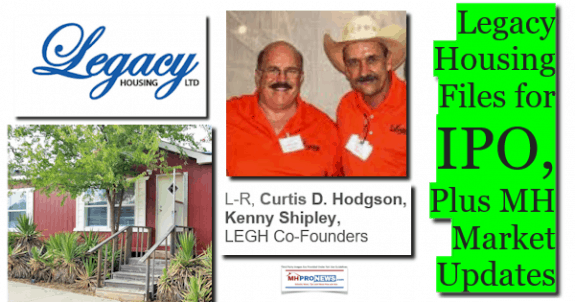 Legacy Housing has announced that it has filed a form S-1 with the U.S. Securities and Exchange Commission (SEC) regarding its Initial Public Offering (IPO). That IPO and some related insights will be our featured report for this evening.
Legacy Housing Filed today their form S-1 U.S. Securities and Exchange Commission (SEC) regarding its Initial Public Offering (IPO).  Some of the information below are drawn from that document, which was obtained by the Daily Business News on MHProNews.
Legacy was co-founded by Curt Hodgson and Kenny Shipley, shown in the featured image above.  They are among the top independent producers of HUD Code manufactured housing in the nation, by units and sales volume.
Legacy recently used MHProNews to promote to successful September and October events. Their S1 says they have the greatest order backlog in their history.  As a flashback, one of those promotions is linked below.
Fall Manufactured Housing Show Features Free Education, Fun, Special Financing, & More
24-7 Wall Street said, "With current operations focused primarily in the southern United States, it offers customers an array of quality homes ranging in size from about 390 to 2,667 square feet consisting of one to five bedrooms, with one to three and a half bathrooms. These homes range in price, at retail, from roughly $22,000 to $95,000. In 2017, the firm sold 3,274 home sections (which are entire modules or single floors).
During the first nine months of 2018, Legacy has sold 3,045 home sections. Legacy commenced operations in 2005 and has experienced strong sales growth and increased equity holders' capital at a compound annual growth rate of approximately 25% between 2009 and 2017. The firm currently has the largest backlog of orders in the company's 13-year history."
Some pull quotes and graphics from the Legacy S1.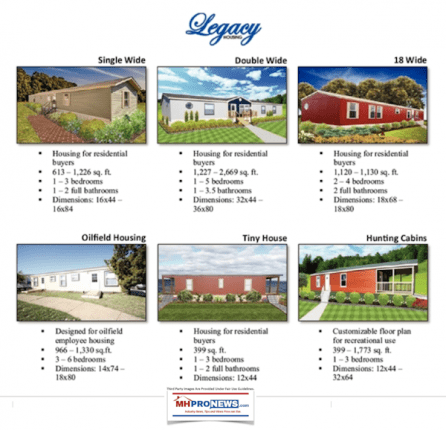 Our Growth Strategy 
We have a strong operating history of investing in successful growth initiatives over the past 13 years. We believe that the solution we are able to provide for our customers, as a result of the vertical integration of our company, enhances our brand recognition as a leading producer, results in higher and more efficient utilization of our manufacturing factories and expands our direct-to-consumer outreach for our wide variety of customizable homes. This operational focus has provided us with sustained net sales and net income growth over the years. Our growth strategy includes the following key initiatives:
Broaden and Deepen Our Retail Presence in Key Geographic Areas.  We currently distribute our products primarily across 15 states through a combination of 11 company-owned retail locations and 117 independent retail locations. We believe that a more robust network of company-owned retail locations will allow us to be more responsive and improve the customer experience at all stages, from manufacturing and design to sales, financing and customer service. We believe our company-owned stores will, on average, be more productive than our independent retail locations and generate higher gross margins due to our ability to select attractive markets and develop highly-trained sales representatives who possess a deep understanding of our business and customer needs.
Expand Financing Solutions for Our Customers.  We recognize that offering financing solutions to our customers is an important component of being a vertically integrated company that provides affordable manufactured housing. Providing financing improves our responsiveness to the needs of prospective purchasers while also providing us with opportunities for loan origination and servicing revenues, which act as additional drivers of net revenue for us. With a portion of the net proceeds of this offering, we intend to expand our financing solutions to manufactured housing community-owner customers, in a manner than includes developing new sites for products in or near urban locations where there is a shortage of sites to place our products.
Continue to Focus on Innovation and Customization for Core Customer Groups.  Our production strategy is focused on continually developing the resources necessary to efficiently build homes that incorporate unique, varied and innovative customer preferences. We are constantly seeking ways to directly source materials to be used in the manufacturing process, which allows us to ensure we utilize and employ quality materials that can be customized to meet our customers' needs. Our principal focus is on designing and building highly functional and durable products that appeal to families of all sizes.
Seek Additional Agreements with Owners of Manufactured Home Communities.  Community housing developments provide us with large, concentrated sales opportunities. These projects vary in size and density but generally include 30 to 300 homes. We believe there are significant growth opportunities to work with our development partners on such projects and view these opportunities as an important driver for both the sale of additional manufactured homes and for financing bulk purchases of those homes by community owners.
Pursue Selective Acquisitions.  We seek to grow through selective acquisitions in both existing markets and new markets that exhibit strong and reliable long-term fundamentals. We also regularly evaluate opportunities tangentially related to our affordable housing business in our geographic markets. We have no current agreements or understandings regarding an acquisition.

The full S-1, which includes more graphics and financial details are found at this link here.
MHProNews congratulates the Legacy team on this announcement.  As a disclosure, with other stocks, MHProNews holds no positions in the company, which their details reveal has been a strong contender, that has reportedly moved to the number 4 position in the industry, behind Clayton, Cavco and Skyline-Champion.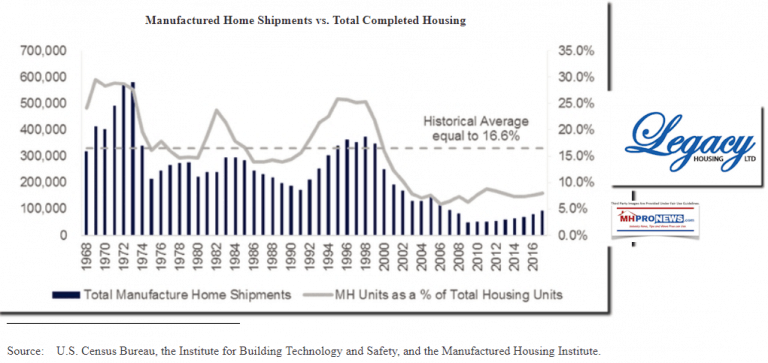 In unrelated developments on a busy news day, see another tracked stock news item below.
Other Tracked Stocks Reports:
Cavco Chairman Joseph H. Stegmayer Steps Down Under SEC Cloud, "Personal, Confidential" SEC Document, Cavco Industries' Statement
Prosperity Now. MHAction. Indivisible Project. Billionaires George Soros and Warren Buffett. Each of those are all interconnected. Each of those are involved in protests against manufactured home businesses, President Donald J. Trump, and his supporters. Who says? Let's follow the facts, evidence, and the money trail. 1) The billionaire George Soros funded "……"
Bloomberg Closing Ticker for MHProNews…
NOTE: The chart below includes the Canadian stock, ECN, which purchased Triad Financial Services.
NOTE: The chart below covers a number of stocks NOT reflected in the Yahoo MHCV, shown above.
NOTE: Drew changed its name and trading symbol at the end of 2016 to Lippert (LCII).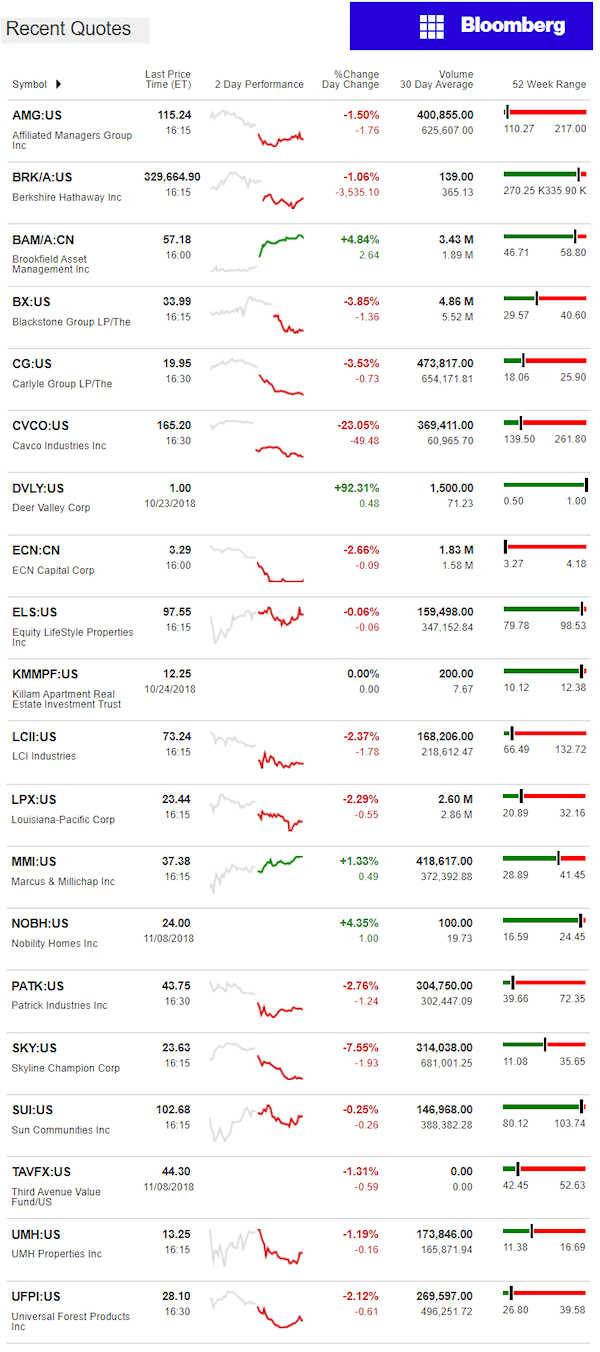 Berkshire Hathaway is the parent company to Clayton Homes, 21st Mortgage, Vanderbilt Mortgage and other factory built housing industry suppliers.
LCI Industries, Patrick, UFPI and LP all supply manufactured housing.
AMG, CG and TAVFX have investments in manufactured housing related businesses.
Your link to industry praise for our coverage, is found here.
For the examples of our kudos linked above…plus well over 1,000 positive, public comments, we say – "Thank You for your vote of confidence."
"We Provide, You Decide." © ## (News, analysis and commentary.)
(Image credits and information are as shown above, and when provided by third parties, are shared under fair use guidelines.)
Submitted by Soheyla Kovach to the Daily Business News for MHProNews.com.