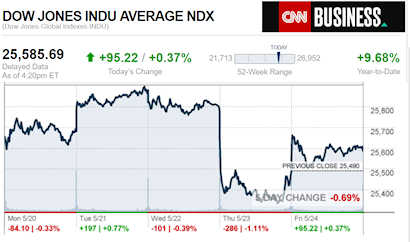 Most of the nation isn't crazy about war. On a day that the markets broadly rose, but were still down for the week, we'll turn to some literal inside information from a global hotspot. The word heard from inside Iran will be our focus for this evening.
If you're new, already hooked on our new spotlight feature – or are ready to get the MH professional fever – our headline report is found further below, after the newsmaker bullets and major indexes closing tickers.
The evolving Daily Business News market report sets the manufactured home industry's stocks in the broader context of the overall markets. Headlines – at home and abroad – often move the markets. So, this is an example of "News through the lens of manufactured homes, and factory-built housing." ©
Part of this unique evening feature provides headlines – from both sides of the left-right media divide – which saves busy readers time, while underscoring topics that may be moving investors, which in turn move the markets.
Readers say this is also a useful quick-review tool that saves researchers time in getting a handle of the manufactured housing industry, through the lens of publicly-traded stocks connected with the manufactured home industry.
This is an exclusive evening or nightly example of MH "Industry News, Tips and Views, Pros Can Use." © It is fascinating to see just how similar, and different, these two lists of headlines can be.
Want to know more about the left-right media divide from third party research? ICYMI – for those not familiar with the "Full Measure," 'left-center-right' media chart, please click here.
Select bullets from CNN Money…
Topshop calls it quits in America
In another sign of the ongoing struggle in retail, Topshop will shutter all 11 locations in the US
Brexit fears have already trashed the pound. May's exit offers little relief
LIVE UPDATES Dow declines for the 5th straight week — its longest slump since 2011
Trump suggests using Huawei as a bargaining chip in US-China trade deal
Microsoft pulls Huawei laptops from its online store
Boeing needs to do more work to get its 737 Max fix approved
Facebook is leaving clues about a possible cryptocurrency launch
Best Buy cancels pre-orders for the Samsung Galaxy Fold
Disney's plan to expand the Star Wars galaxy: Make the fantasy real
Consulting firm McKinsey cuts ties with opioid maker Purdue Pharma
PERSPECTIVES The best way to keep powerful companies in check
Chipotle is up 55% this year
With protesters at the gates, McDonald's talks up its success story
A banker explains why the Uber and Lyft IPOs flopped
Take a look at Star Wars: Galaxy's Edge on Disneyland's new guide map
Can 'Aladdin' bring some magic to the Memorial Day box office?
Should you text with your boss?
Where the CEO sits matters
Your boss' bad mood really does affect the rest of the office
How to look for a new job when you already have one
The gender gap isn't about what you make. It's about what you do
SpaceX launches 60 internet satellites
Beaming cheap internet from space has bankrupted other companies. Here's how SpaceX plans to survive
We now know why SpaceX is suing the US government
Why Jeff Bezos' Blue Origin is a big deal
A small space startup that's never launched a rocket keeps landing big contracts
Select Bullets from Fox Business…
Average 401(k) balance by age group: See how your retirement savings compare
House passes major retirement reform bill: What it means for your 401(k), IRA
Check your credit card statements for this scam charge
401(k) inventor reveals 'key' to 'substantial' retirement savings
Ben Carson responds to calls for his resignation following House testimony
Mega Millions $393M jackpot carries substantial tax bill
Ben & Jerry's CEO says the ice cream company doesn't support Bernie Sanders
Car depreciation by model: How quickly these popular brands lose value
Most affordable cities for first-time buyers
US stocks end higher heading into holiday weekend but down for week
Shocking number of Americans can't cover $400 surprise expense
Bill Gates shocks Tennessee students on their last day of high school
Annuities a good fit for your retirement plan?
Military 'Widow's Tax' under fire on Capitol Hill
Amazon shares to reach $3,000, Piper Jaffray predicts
Honda's small bikes are big business
Facebook contacted Winklevoss twins for cryptocurrency talks: Report
Top S&P 500 CEOs' average percent raises more than double that of workers, study shows
WATCH: US Women's World Cup soccer team looks to repeat 2015 victory
Today's markets and stocks, at the closing bell…
Today's Big Movers
For all the scores and highlights on tracked manufactured home connected stocks today, see the Bloomberg graphic, posted below.
Today's MH Market Spotlight Report –
About 15 years ago, there were millions of Iranians who were hoping that the United States would invade their country, to depose "the mullahs," and "liberate" them from their radical regime.
Iranians were largely pro-American, and pro-Western.
There are still such Iranians today. But a younger generation has grown up that's known years and years of propaganda. While there are not public polls for such things in Iran, for obvious reasons of their general lack of freedom. There is unrest. It very much includes the young. But is it clearly pro-American, or pro-Western? That isn't as clear cut.
As a longtime resident of Tehran, this writer still has several contacts in Iran. As both sides of the U.S.-Iranian saber-rattling have at times amped or softened war rhetoric. But the Persian people are getting a steady diet of anti-American, and anti-Trump propaganda.
Some of that propaganda comes from CNN. True. CNN is arguably not doing our nation a favor in the coverage they provide to the Iranian people.
There were opportunities missed by the Obama Administration in 2009. The Obama era deal with Iran was arguably ludicrous from the perspective of our national interest. It was equally problematic for the Iranians who yearned to be free of the radical Islamists.
We've noted before that the Russians have significant influence with the Iranian regime.
The Trump Administration has announced that some 1500 soldiers – not 10,000 – will be sent to the Middle East to act as an additional deterrent to the threat of Iranian aggression.
"The mullahs" – per our sources – are engaged in back-door talks with the Trump Administration.
If so, to a degree, what we're seeing on TV is mutual saber rattling, feeding their own bases. If it wasn't for the challenges of Washington, this could be easier for the Trump administration, but as it stands, it is more complicated than it ought to be.

This right-of-center Fox Business clip does a good job of summing up some of the economic impacts on Iran.
The Iranian people are struggling. Will it fuel another round of Iranian unrest, aimed at replacing their Islamic regime? Will cooler heads prevail?
Related Reports.
"You Made Me, Promises, Promises…" Historic Iranian, American Lessons in Freedom
Bloomberg Closing Ticker for MHProNews…
NOTE: The chart below includes the Canadian stock, ECN, which purchased Triad Financial Services.
NOTE: The chart below covers a number of stocks NOT reflected in the Yahoo MHCV, shown above.
NOTE: Drew changed its name and trading symbol at the end of 2016 to Lippert (LCII).
Berkshire Hathaway is the parent company to Clayton Homes, 21st Mortgage, Vanderbilt Mortgage and other factory built housing industry suppliers.
LCI Industries, Patrick, UFPI and LP all supply manufactured housing.
AMG, CG and TAVFX have investments in manufactured housing related businesses.
Your link to industry praise for our coverage, is found here.
For the examples of our kudos linked above…plus well over 1,000 positive, public comments, we say – "Thank You for your vote of confidence."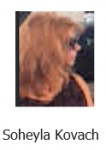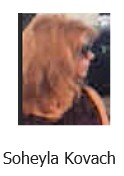 "We Provide, You Decide." © ## (News, analysis and commentary.)
(Image credits and information are as shown above, and when provided by third parties, are shared under fair use guidelines.)
Submitted by Soheyla Kovach to the Daily Business News for MHProNews.com.