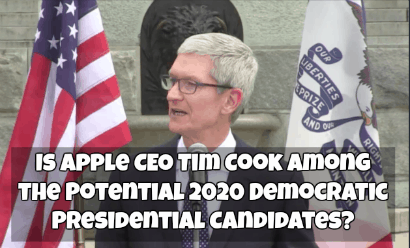 "The old saw that every senator wakes up humming 'Hail to the Chief' now includes just about any Democrat who isn't a convicted felon," quipped Jonathan Tasini, a progressive activist, per MSN.
The internet has been abuzz with potential Democratic candidates to rival President Trump in the 2020 election for months already.
One of the latest suspected hopefuls is Tim Cook, CEO of Apple Inc., part of a large and growing field, listed below.  Cook's personal wealth and the enormous influence of his tech companies are reasons why industry professionals and investors should pay close attention.
The rumors started as far back as June, when Bryan Menegus wrote on Gizmodo that, "He has his platform ready, peppered with just enough heartfelt anecdotes and the occasional wink of contrition for his industry's undeniable role in deepening global wealth inequality."
The most recent speculation started with an article from Need to Know (NTK) Network, titled "Is Tim Cook Running for President?"
NTK Network's foundation for speculation was not uncalled for.
Cook visited Iowa and Ohio, two battleground states, in one day.
Why It May Look Like Preparation for a Presidential Run
His first stop that day was in Harrison, OH.
Harrison is located in the swing county of Hamilton.
"With Cincinnati as its anchor, Hamilton County helped put Ohio in Republican nominee George W. Bush's column, catapulting him to the White House in 2000 and 2004. In 2008 and 2012, the county's voters leaned left, helping Democrat Barack Obama win Ohio and the White House," per the Cincinnati Enquirer on the importance of Hamilton County to presidential hopefuls.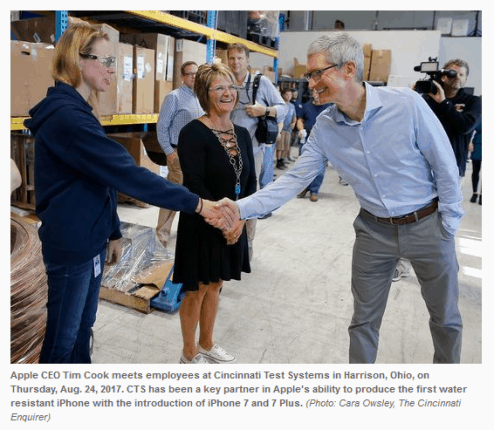 Just after the event at Cincinnati Test Systems in Harrison, Cook was off to Des Moines, Iowa, per USA Today.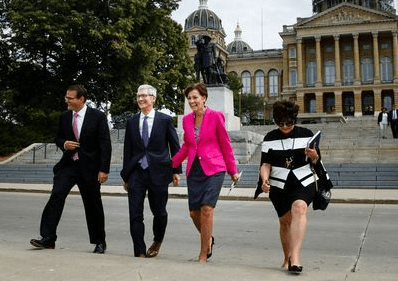 While in Des Moines, Cook headlined a news conference with Iowa Governor Kim Reynolds.
The Iowa Caucus will be the first primary for Democrats running in 2020, per NTK Network. NTK suspects the winner of this primary will see a big boost in momentum for their presidential run (related Article: Local Crisis, and IMHA's Joe Kelly Pushes Back on Overlooked Manufactured Home Solution).
"You've got to be kidding," Cook told The Des Moines Register on Thursday while visiting with employees and customers at an Apple store. "That must be a comedian or something."
"I've got a full-time job. And I love Apple deeply," he said. "So no, there's no connection there at all." Real?  Head fake?  Given that many candidates on both sides of the political aisle begin by saying they are not a candidate – when in fact they are – the denial may not mean much.
Who Are the Other Democratic Hopefuls?
The quote this article opened with is from an MSN article that runs down a list of people who have either shown interest in a presidential run, or have been suggested by the public or someone specific who believes they should run.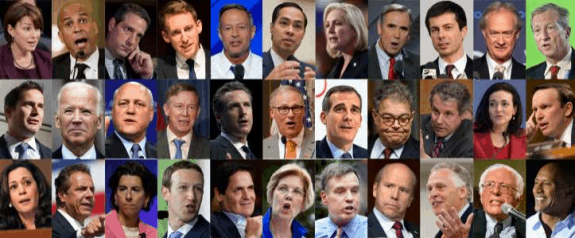 That list included, per NBC News:
Former VP Joe Biden
Senator Bernie Sanders
Senator Elizabeth Warren
Mayor of Southbend Indiana Pete Buttiegie
Senator Jeff Merkley
Former Secretary of State in Missouri Jason Kander
Representative Tim Ryan
Representative Seth Moulton
Mayor of Los Angeles Eric Garcetti
Obama Administration Secretary of HUD Julian Castro
Former Mayrland Governor Martin O'Malley
Former Rhode Island Governor Lincoln Chafee
Actor Dwayne "The Rock" Johnson
Facebook CEO Mark Zuckerberg
Owner of the Dallas Mavericks Mark Cuban
Represnetative John Delaney
The Daily Business News has also reported previously that Facebook CEO and co-founder Mark Zuckerberg might be gearing up for a presidential run.
Would Candidates like Cook, or Facebook's Zuckerberg have an Unfair Advantage?
Tim Cook has a net-worth of about $400 million, per Celebrity Net Worth (note: Wikipedia puts his net worth at $120 million). Apple Inc. has a net-worth of $750 billion, per CNN Money.  Apple is one of the firms in the hunt for becoming  a trillion dollar operation.  That could be a global first.
By contrast, facebook's CEO Mark Zuckerberg's net-worth is $66.7 billion in mid-July, per Forbes.
"Today, politics is a rich man's game," observers Mother Jones. One example of that is that in the 2016 election campaign, Tim Cook hosted a fundraiser for Hillary Clinton's campaign. The tickets to the event cost $50,000 a piece.  Cook was among her contributors, as the Daily Business News reported.
Outside of the monetary influence, candidates like Cook and Zuckerberg's reach and influence on public opinion should be taken into consideration as well.
Last year, a few weeks before the election, the Daily Business News reported on a new feature in Apple's iOS10 update. The new feature provided headlining news before users unlocked their iPhones.
"A working definition of propaganda is the spreading of ideas, information, or rumor for the purpose of helping or injuring an institution, a cause, or a person," per a Standford University paper titled "Media's Use of Propaganda to Persuade People's Attitude, Beliefs and Behaviors."
"While propaganda has been around for almost a thousand years, only recently (last 100 years) with the advent of technologies that allow us to spread information to a mass group has it evolved to a scientific process capable of influencing a whole nation of people," the Stanford paper said.
A Pew Research Study from 2016 found that 2/3 of Americans get the latest news from social media. Tens of millions have iPhones.
The facts suggest that tech giants as presidential candidates would have the opportunity to influence opinions for them, or against their opponents.
"The Dune affect is a term we coined–after the movie Dune–which explains that those who control and have access to media have access to and potential control of public opinion."
The internet giant Facebook and tech companies like Apple Inc. are not the only ones who have such an influence on public opinion.
According to The Guardian, Google has spent millions to fund academic research in the U.S. and Europe to try to influence public opinion and policy makers.
"Google uses its immense wealth and power to attempt to influence policymakers at every level," said Daniel Stevens, executive director of the Campaign for Accountability (CfA).
Some lawmakers are beginning to worry that these companies have too much power over the market. Essentially they are on their way to being monopolies – former White House Chief Strategist Steve Bannon believes they should be regulated as such.
Bannon's Generation Zero looks at the philosophy behind some of these activists.
"They deserve to be highly profitable and highly successful," Senator Elizabeth Warren (D-MA) told  The Wall Street Journal on the subject. "But the opportunity to compete must remain open for new entrants and smaller competitors who want their chance to change the world."
If there is already worry that these companies have too much power, what would be the outcome if the CEO of one of these companies actually ran for president? What if they actually won?
"Indeed, propaganda is so powerful because everyone is susceptible to it," per Stanford's "Media's Use of Propaganda to Persuade People's Attitude, Beliefs and Behaviors."
Professionals in the manufactured home industry understand media spin – because they see it all-too-often when fighting negative stereotypes perpetuated by the media.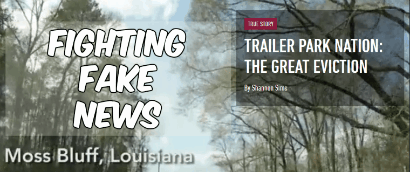 Even though a growing number of people say they don't trust mainstream news, it still has the power to influence the way we think and act. As the Standford paper suggests, the best thing one can do is to be able to analyze propaganda, to see it for what it is – and develop your own opinions. ## (News, analysis.)
(Image credits are as shown above, and when provided by third parties, are shared under fair use guidelines.)
Submitted by Julia Granowicz to the Daily Business News for MHProNews.