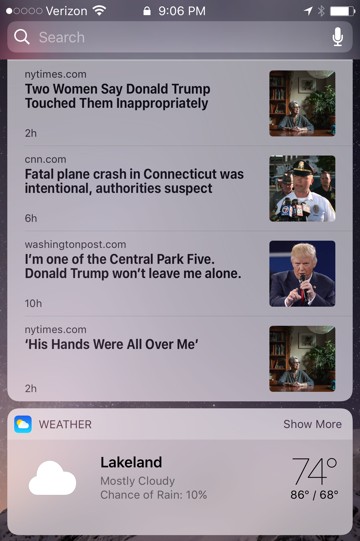 Apple's latest update – iOS10 – produces a screen view shown in the photo at the left that features a news widget with headlines that users did not request.
A call to Apple's support line was connected to a technical service representative, who was asked how these particular news sources were picked? The representative identified herself as "Fabiola," and she explained that these were headlines from various news sites.
When asked why those sites favored Democratic candidates, she apologized and referred us to their customer feedback page and to Apple's media line.
A follow up call from MHProNews to the Apple media office went to voice mail.  This post will be updated if and when Apple's media department answers how they selected news sources that happen to be pro-Hillary Clinton and anti-Donald Trump.
Headlines You Can't Avoid Seeing Without Disabling
For those who lock their iPhones, this news widget screen is shown prior to a user being able to access any functions.
On our personal iPhones, over the course of several days, there has not been one pro-Donald Trump campaign headline since this new "feature" went into effect.
By contrast, anti-Trump and/or pro-Hillary Clinton campaign headlines have appeared with each and every logon.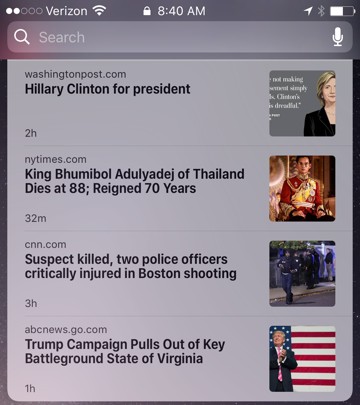 With less than 4 weeks to go to the general election, and with early voting underway in several states, is this an in-your-face reminder of who Apple would like to see users voting for – or against – in 2016?
Given that Apple CEO Tim Cook has hosted a fundraiser for Clinton at up to $50,000 per ticket, and revelations by WikiLeaks of collusion between senior Clinton campaign officials, major corporations and certain media sites, the timing of this new "feature" in the iOS10 update is one that other media should explore and expose.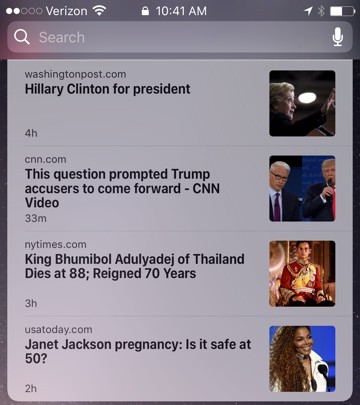 Apple's "Fabiola" emailed the following instructions on how to modify the widgets in iOS10.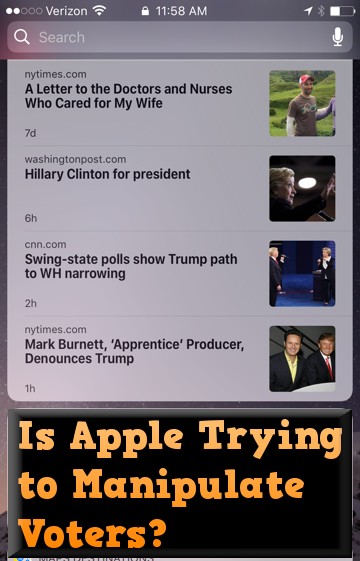 Starting from the home screen:
HOW TO REMOVE WIDGETS:
Swipe to the left
Tap Edit
Remove Widgets by tapping on the left red. ##
(Images are screen captures from Tony Kovach's iPhone 6.)

Submitted by L. A. 'Tony' Kovach to the Daily Business News, MHProNews.