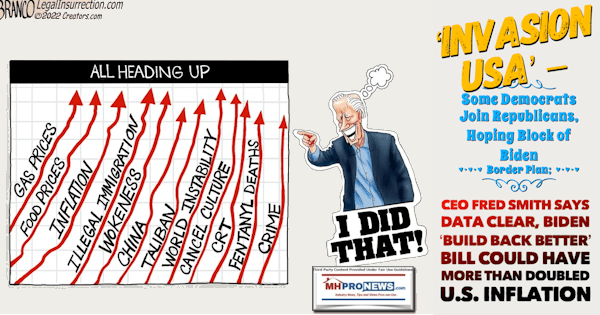 A growing number of public officials and pundits are calling what is occurring at the U.S. Mexico border an "invasion" of the U.S.A. Some are scolding the Biden regime for being concerned about other nation's borders, but not about protecting the U.S. border with Mexico. There is talk that if the GOP takes over in the U.S. House after the approaching 2022 midterm election, that impeachment of Biden for failing to do his constitutional duties – including, but not limited to border control – is on the table.
The CBS News/YouGuv Poll that is unpacked in the report below is an eye-opener that makes for a good backdrop to this report. Tip: immigration and the border are a hot issue for millions of Americans.
As White House, DOE, Manufactured Housing Institute (MHI) Push for What MHARR Says is Costly, Unnecessary MH Energy Standards, CBS Poll Results Should Be Considered; plus MHVille Markets Update
That noted, from the WND NewsCenter to MHProNews is the first of two inter-related reports.
INVASION USA
Democrats joining Republican effort to block Biden's open-border strategy
Agents 'don't have enough resources' to stem the flood of illegals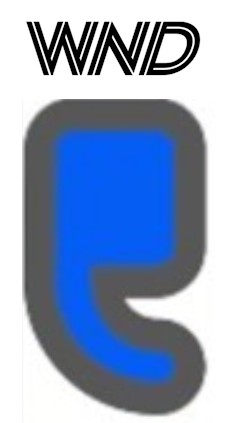 By WND News Services
Published April 24, 2022 at 2:16pm
[Editor's note: This story originally was published by Real Clear Politics.]
By Susan Crabtree
Real Clear Politics
Sen. Maggie Hassan is the latest Democrat in a tough reelection fight to sound the alarm over Biden's decision to overturn Title 42, which allows U.S. authorities to turn away migrants at the border to prevent the spread of coronavirus.
The Department of Homeland Security has warned that reversing the pandemic immigration rule will lead to up to 18,000 illegal crossings a day, up from the current pace of roughly 6,000 a day.
While advocates for looser immigration laws have applauded Biden's decision, Hassan and several other House and Senate Democrats facing difficult midterms are leaning into the border fight with the administration. In recent weeks, they have joined forces with Republicans in backing a bill that would prevent the Centers for Disease Control and Prevention from following through with an order that will stop authorizing Title 42 in late May.
It was an abrupt turn-about for Hassan. During the Trump administration, the New Hampshire Democrat opposed the border wall and voted against punishing sanctuary cities. She also opposed the "Remain in Mexico" policy, which allowed the government to release immigrants with asylum claims to Mexico to await their hearings in the United States. But after a visit to the Texas border this week, Hassan said it drove home her concerns about Title 42 reversal and the flood of illegal crossings since Biden took office.
"Border agents were very clear with me that the end of Title 42 will lead to a steep increase of attempted crossings that they will not be able to effectively handle because they don't have enough resources," Hassan said in a statement after her visit in early April. "In particular, border agents told me that they need additional personnel, physical barriers, and technology at the border to stop unlawful crossings, which is especially important because they expect that smugglers will try to take advantage of the increase in attempted crossings."
Hassan joined Democratic Sens. Kyrsten Sinema and Mark Kelly of Arizona, Jon Tester of Montana, and Joe Manchin of West Virginia in co-sponsoring the bill with several prominent GOP senators. In the House, Rep. Henry Cuellar, who is facing a primary threat from progressive Jessica Cisneros, is one of at least six Democrats to sign on to a similar bill.
After a year of chaotic scenes at the border and reports that a record number of illegal immigrants have entered the country since Biden took office, the issue is splintering Democrats and opening up an easy line of attack for Republicans. House Republicans have launched an effort to force a vote on the floor that would keep Title 42 intact. In the Senate, a vote on an amendment to block the administration's attempt to jettison the pandemic immigration rule derailed passage of a $10 billion COVID-19 relief bill the GOP helped negotiate.
Morning Consult, a polling company, recently called ending Title 42 "Biden's most unpopular move yet," noting that 56% of U.S. voters oppose the White House plan to remove the pandemic-era border controls. Among Democratic voters, those disapproving fall to 26%, with 37% of independents opposed.
But Hassan's hardened position on immigration is not paving the way for an easy glide path to victory in November. Over the last 48 hours, she has taken some hits from the left for criticizing Biden. Eva Castillo, director of the New Hampshire Alliance for Immigrants and Refugees, said she was "beyond disappointed" by Hassan's decision to buck the administration on Title 42.
"I'm upset that she took the time to do this and to make a video out of it and to use us immigrants as political pawns for an election," she said.
Late last week, the executive team of New Hampshire's Democratic Latino Caucus resigned in protest, citing Hassan's and Democratic Rep. Chris Pappas' opposition to Biden's less restrictive border policies.
Republicans, meanwhile, are highlighting the intra-party divisions, arguing that Hassan's immigration flip-flops are too transparent to help win over voters.
"It's hard to understand MAGA Maggie's campaign strategy," T.W. Arrighi, a National Republican Senatorial Committee spokesman, said Friday. "Infuriating your base while winning no votes is a strategy the [National Republican Senatorial Committee] can get behind!"
With the Democratic Party so divided over the issue, in this cycle their most vulnerable members and challengers undoubtedly will alienate a slice of their voters no matter their immigration position. Some appear to be biding their time, trying to avoid taking a position on Title 42 even if previous remarks or voting records suggest a willingness to embrace Biden's less restrictive approach to immigration.
For instance, in southern New Mexico, Gabe Vasquez, a first-generation American born in Texas, is challenging GOP Rep. Yvette Herrell for a seat traditionally held by Republicans. But instead of running to the middle, Vasquez, a Las Cruces city council member, is tacking left. Act-Blue, a Democratic fundraising powerhouse, calls him a champion for "economic justice, affordable housing, and healthcare for all."
When it comes to immigration, however, Vasquez's website appears to try to strike a balance by casting his position as "advancing comprehensive immigration reform."
"I've lived on both sides of the U.S.-Mexico border, and I've seen the challenges and opportunities of our current immigration system firsthand," his campaign website states. "I've seen the immense benefit that immigrant workers and families bring to our communities and the economy. But our immigration system is broken, and we need leaders in Congress who will put politics aside to fix the problem – not play political games. We must reform our immigration systems to protect DREAMERS and provide hard-working families with a permanent path to citizenship, while ensuring we have a safe and secure border."
In the past, however, Vasquez appeared to readily embrace the far left's defund ICE movement, which Biden and other Democratic leaders have tried to distance themselves from. Just days after Democrats lost more than a dozen House seats in 2020, Gabe Vasquez reacted to a tweet stating that "Climate Justice policy must also abolish ICE and CBP" with two fists and the words, "the only ICE we need to be melting."
The Vasquez campaign did not respond to RealClearPolitics questions about the tweet and his position on Title 42.
Texas redistricting made the 15th district more competitive for Republicans, so Rep. Vicente Gonzalez, who previously held the seat, is running to represent the much bluer 34th district. The March 1 Democratic primary results were so close that it prompted a run-off between Ruben Ramirez, an attorney and Army veteran, and Michelle Vallejo, a business owner and progressive activist. Neither Ramirez nor Vallejo have said whether they support Title 42, although Ramirez has equated "border security" with "national security" and won the endorsement of the centrist Democrat Blue Dog Coalition.
The immigration section of Vallejo's campaign website provides some clues. She says she supports a "pathway to Citizenship for all 11 million undocumented" people living in the country, champions stronger asylum laws, and labels the U.S. criminal justice system "racist."
"We must create clear boundaries between the immigration system and the racist criminal legal system," the website states. "We need to embrace the border as a fusing place of ideas and culture and encourage innovation to flourish."
One state over in Arizona's 6th district, which includes the northeast suburbs of Phoenix, three Democratic candidates are competing for a chance to run against Republican Juan Ciscomani, a senior adviser to GOP Gov. Doug Ducey. Redistricting made the district more competitive for Republicans, although Biden still won it by less than a percentage point. Rep. Anne Kirkpatrick, who won the seat by 10 percentage points in 2020, was the first member to announce her retirement from the House this cycle.
Two of the three candidates vying in the Democratic primary have long records in the state legislature, including several votes against a state law enforcement unit devoted to immigration interdiction.
In 2019 and 2020, both Kirsten Engel and Daniel Hernandez Jr., two Democratic state representatives competing for a chance to represent the district in Congress, opposed greater funding for more vigorous border enforcement. Both Engel and Hernandez voted against bills providing millions of dollars for the state's Border Strike Force, a highly trained group of state troopers who have helped fight criminal activity in Arizona communities since its creation by Ducey in 2015.
In early 2020, they both opposed a resolution that would have recognized and thanked the men and women of the U.S. Border Patrol while proclaiming that ICE's work is "critical to enforcing immigration law."
Neither campaign responded to RCP's inquiry regarding their position on Title 42.
Meanwhile, some senators and House members in tough campaigns are eager to get out in front of the issue before the new, even greater flood of immigrants starts arriving in the country, creating more negative headlines for the administration and for Democrats in general. Hassan and Kelly are trying to work behind the scenes with DHS to develop a plan to prevent chaotic scenes at the border in the months leading up to this fall's midterms.
"The administration should not end Title 42 until it has a comprehensive plan in place to strengthen border security and deliver the additional support to the border," said Hassan. "The administration really needs to step up here, develop a plan and get more resources to the southern border."
CORRECTION: The story originally said that the 6th district of Arizona was redrawn to give Republicans a seven-point advantage. In fact, President Biden won the redrawn district by less than one percentage point. RealClearPolitics regrets the error.
Susan Crabtree is RealClearPolitics' White House/national political correspondent.
[Editor's note: This story originally was published by Real Clear Politics.]##
The second of two Biden regime related reports and the impact that Biden's policies are having on the employee and smaller to mid-sized business climate in the U.S. is below. The next report from the WND NewsCenter to MHProNews explains how the founder of FedEx says the data is unmistakable about what are the underlying causes of inflation.
WND MONEY
FedEx founder and CEO lays out how Democrats caused current inflation spike
Says liberal policies clearly to blame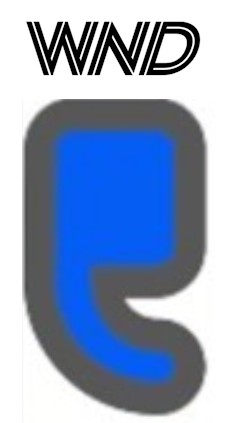 By Randy DeSoto, The Western Journal
Published April 22, 2022 at 4:58pm
FedEx founder and CEO Fred Smith says that Democratic policies are clearly to blame, in part, for the current levels of inflation the U.S. is experiencing.
The consumer price index surged 8.5 percent in March compared to a year ago, up from 7.9 percent in February, CNBC reported. The rate was the highest since December 1981.
By way of comparison, the month former President Donald Trump left office, January 2021, the inflation rate was 1.4 percent.
Asked by Fox News host Bret Baier Wednesday to give his overview of where the nation's economy stands, Smith addressed inflation.
"We still have substantial growth, but as you mentioned substantial inflation. I think the best person that commented on the current situation before it got started was Larry Summers, the former Democratic treasury secretary who forewarned about these inflation pressures," Smith said.
"It's a combination of a lot of things that began with the pandemic and the instant reduction of demand and then the stimulus payments created demand for goods and then the third stimulus payment about a year ago created a significant labor shortage," he added.
In a February 2021 Washington Post opinion piece, Summers wrote that passing the $1.9 trillion American Rescue Plan, given the economy was already well into a recovery, "will set off inflationary pressures of a kind we have not seen in a generation, with consequences for the value of the dollar and financial stability."
After it passed the following month, the former Clinton administration treasury secretary called it "the least responsible macroeconomic policy we've had in the last 40 years."
Smith referenced his own experience at FedEx with the impact of the legislation.
"I'm not making any political statement one way or the other, but we know from our own statistics and can track exactly when the stimulus checks went out in April and May of last year, and we had about 50,000 [job] applications the first week in May," he told Baier.
FedEx CEO Fred Smith said his company's job application numbers show exactly how the Dems' stimulus $1.9T bill helped contribute to inflation. https://t.co/TpCs6GcGpN

— Randy DeSoto (@RandyDeSoto) April 21, 2022
"It took us to December to get back to about 120,000 applications," Smith further stated.
"So it's simply quantitative data. I'm not saying anything based on anybody's politics. It's just the numbers," he reiterated.
The business leader elaborated on the point in a recent interview with The Wall Street Journal.
Smith explained much of the supply-chain crisis was created by government payments incentivizing people not to work.
The Foundation for Government Accountability calculated last summer that when the enhanced unemployment payments and monthly child tax credits being sent at the time were added to existing benefits for lower-income Americans, that worked out to about $3,700 per month for a two-child family, or $44,300 per year in payments.
During this period, Smith told the Journal, "We were 40,000 package-handlers short, and there were people in the media saying that the stimulus checks didn't have anything to do with that." Such people are "divorced from the world we're living in."
"If I'm getting a government check," he said, there's less incentive to "go into a warehouse."
Smith contended the U.S. dodged a hyperinflation bullet last fall when the Democrats' Build Back Better legislation, which some estimated would cost $5 trillion over ten years, fell short.
"Had we passed the Build Back Better bill that [President Joe] Biden wanted, my guess is that we would be [1920s] Weimar Germany right now," he said. "We'd have 25% inflation rather than 9% or 10%."
Smith credited Democratic Sens. Kyrsten Sinema of Arizona and Joe Manchin of West Virginia for saving the U.S. from this fate.
They were "like the Dutch kid with the finger in the dike," he said.
The CEO noted that much of the spending would have been paid for with Federal Reserve "printed" money, which is inflationary.
Smith said you can't "print money without regard to the fundamental laws of economics."
This article appeared originally on The Western Journal. ##
Additional Information, More MHProNews Analysis and Commentary in Brief
Inflation is often described as benefiting bigger firms over smaller ones. Be that as it may, 'woke' corporate stances, plus Biden-era policies and inflation are examined in the context of how it has impacted specific corporate giants. It is also examined in the overall market impact, plus manufactured housing industry specific outcomes.
The Calm Before the Next Manufactured Housing Industry Storm? New Facts and Viewpoints; plus Sunday Weekly MHVille Headlines Review 
See the data-driven report and analysis linked above. These are the kinds of factual, evidence-linked, and common-sense commentary that have made and kept MHProNews the runaway number one trade media in all of manufactured housing since shortly after our launch in October of 2009.
Like fine wine, we hope millions of total visitors here annually agree with the following. Like fine wine, we're not 'getting older,' we are getting better.  See the linked and related reports to learn more. ###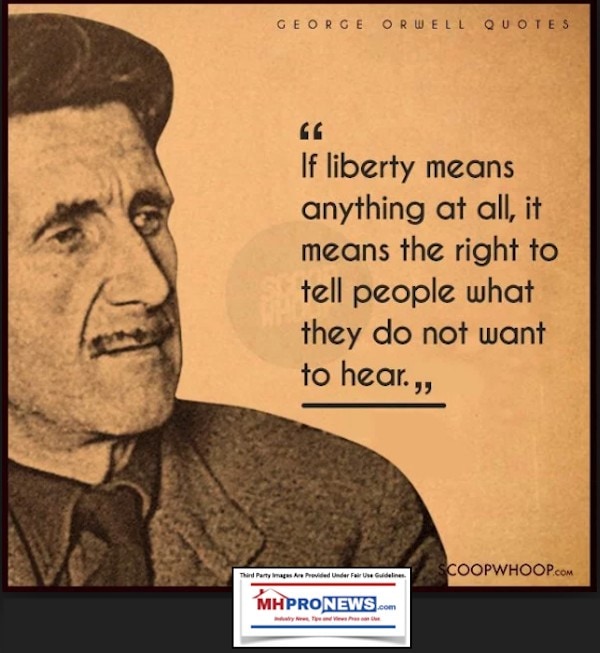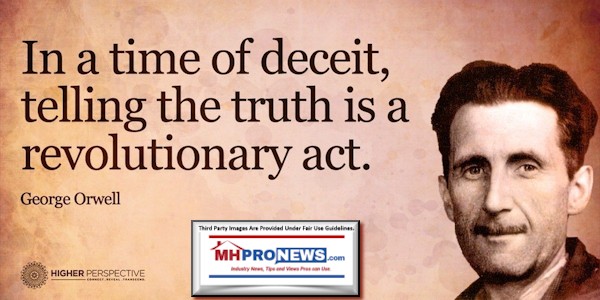 Click here to subscribe in seconds. Enter your desired email address, press submit, confirm in your inbox. Then You're All Set for x2 weekly emailed news updates!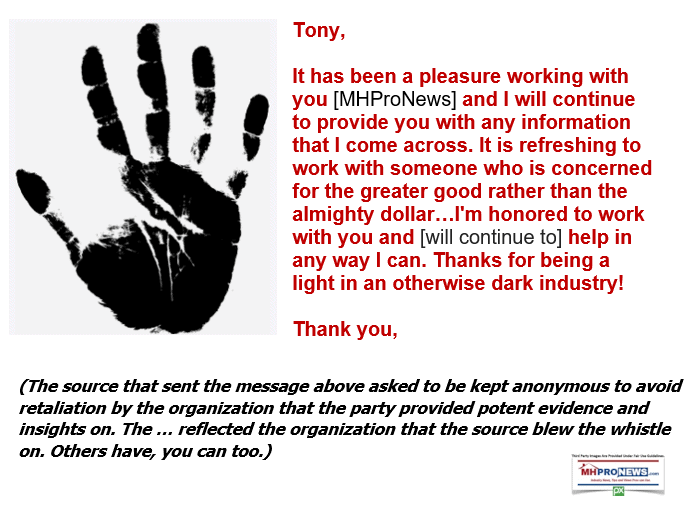 We recommend that news tips NOT use company, nonprofit or organizational emails or cell phones. To report a news tip, click the image above or send an email to iReportMHNewsTips@mhmsm.com – To help us spot your message in our volume of email, please put the words NEWS TIP or COMMENTS in the subject line.
Again, our thanks to you, our sources, and sponsors and God for making and keeping us the runaway number one source for authentic "News through the lens of manufactured homes and factory-built housing" © where "We Provide, You Decide." © ## (Affordable housing, manufactured homes, reports, fact-checks, analysis, and commentary. Third-party images or content are provided under fair use guidelines for media.) (See Related Reports, further below. Text/image boxes often are hot-linked to other reports that can be access by clicking on them.)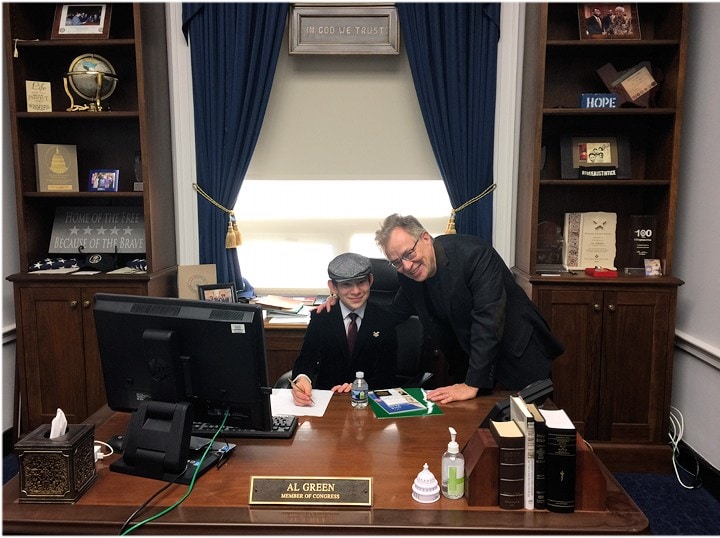 Our son has grown quite a bit since this 12.2019 photo. All on Capitol Hill were welcoming and interested in our manufactured housing industry related concerns. But Congressman Al Green's office was tremendous in their hospitality. Our son's hand is on a package that included the Constitution of the United States, bottled water, and other goodies.
By L.A. "Tony" Kovach – for MHProNews.com.
Tony earned a journalism scholarship and earned numerous awards in history and in manufactured housing.
For example, he earned the prestigious Lottinville Award in history from the University of Oklahoma, where he studied history and business management. He's a managing member and co-founder of LifeStyle Factory Homes, LLC, the parent company to MHProNews, and MHLivingNews.com.
This article reflects the LLC's and/or the writer's position, and may or may not reflect the views of sponsors or supporters.
Connect on LinkedIn: http://www.linkedin.com/in/latonykovach
Related References:
The text/image boxes below are linked to other reports, which can be accessed by clicking on them.
Thousands of Troubling Losses and Near-Death Experiences of the Manufactured Housing Industry – Facts, Evidence, Viewpoints
Sandy Garrett, J.D., Chief Disciplinary Counsel TBPR.org Supreme Court of Tennessee-Tom Hodges, J.D.; How Manufactured Housing Could Achieve Higher Sales, Profits; Sunday Weekly Headlines Recap
Telling Manufactured Housing Story Honestly, Persuasively, Beneficially and Profitably with Facts, Evidence, Bright Line Distinctions – plus Sunday Weekly Manufactured Home Recap
Revealing, Concealing, Teasing, Stealing Proverbial Football-Case for MHI's Lesli Gooch as Lucy to Charlie Brown – Cartoons, Videos, Parody; plus Sunday Weekly Manufactured Home Headlines Review
Enforce the Law? HUD Office of General Counsel "They Would Not Enforce" Enhanced Preemption Provision of Manufactured Housing Improvement Act, Per Tip-Longtime HUD Insider; plus Sunday Headlines Review