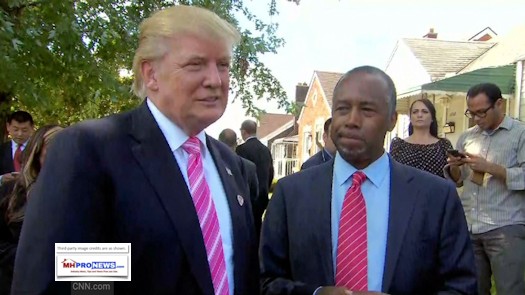 HUD asks for Public Comment to identify regulations that stifle affordable housing and job creation. 
Notice: Industry reactions follow the HUD release, below.

WASHINGTON – The U.S. Department of Housing and Urban Development (HUD) today announced a top-to-bottom review of its manufactured housing rules as part of a broader effort to identify regulations that may be ineffective, overly burdensome, or excessively costly given the critical need for affordable housing.
For the next 30 days, HUD is accepting public comments to identify existing or planned manufactured housing regulatory actions to assess their actual and potential compliance costs and whether those costs are justified against the backdrop of the nation's shortage of affordable housing.  Read HUD's notice.
Shortly after taking office, the President issued Executive Order 13771 ("Reducing Regulation and Controlling Regulatory Costs"), directing federal agencies to identify or streamline regulations that are wasteful, inefficient or unnecessary.  HUD Secretary Ben Carson quickly followed the President's Executive Order by charging the Department's Regulatory Review Task Force to identify HUD's existing rules that may inhibit job creation or impose costs that exceed the public benefit.
Manufactured housing plays a vital role in meeting the nation's affordable housing needs, providing nearly 10 percent of the total single-family housing stock.  It's estimated that more than 22 million American households reside in manufactured housing, particularly in rural areas where this form of housing represents an even greater share of occupied homes.  The manufactured housing industry is also an important economic engine, accounting for approximately 35,000 jobs nationwide.
HUD's regulation of manufactured housing fulfills a critical role to ensure a fair and efficient market that supplies affordable housing for households of modest incomes and protecting consumers.
HUD may adopt, revise, and interpret its manufactured housing rules based upon the public's comments it receives and the recommendations of the Manufactured Housing Consensus Committee, a statutory federal advisory committee comprised of producers or retailers of manufactured housing as well as consumers, residents and public officials.
###
 HUD's mission is to create strong, sustainable, inclusive communities
and quality affordable homes for all. 
—- HUD Release Above, MHARR Reaction to the HUD Release, below —-
TO:                 MANUFACTURED HOUSING INDUSTRY MEMBERS
FROM:           MARK WEISS
RE:                 MHARR'S YEAR-LONG EFFORT WITH TRUMP
ADMINISTRATION POISED TO PAY HUGE BENEFITS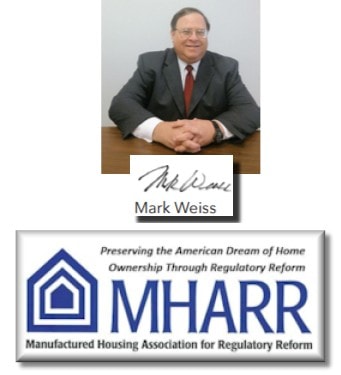 MHARR efforts over the past year to halt and reverse the regulatory excesses of the HUD manufactured housing program based on the regulatory freeze order imposed on all federal agencies by the Trump Administration on January 20, 2017 and subsequent Trump Administration Executive Orders (EOs) – specifically EO 13771 "Reducing Regulation and Controlling Regulatory Costs," issued January 30, 2017 and EO 13777 "Enforcing the Regulatory Reform Agenda," issued on February 24, 2017 – have now produced significant results, with HUD announcing on January 25, 2018 that it will be conducting a "wholesale" review of HUD manufactured housing program regulations and regulatory actions pursuant to those Executive Orders, as specifically requested by MHARR, designed to "identify regulations that stifle affordable housing and job creation."
A complete, high-level review of all such actions by the new HUD administration, together with the re-assignment and replacement of the previous program administrator, have been priority objectives for MHARR since day-one of the Trump Administration. With the previous administrator now having been re-assigned elsewhere within HUD, this latest action – which MHARR had specifically sought during multiple in-person meetings with Trump Administration officials at HUD, in correspondence with the Secretary (and other HUD officials) on March 6, 2017, May 5, 2017, June 29, 2017 and July 27, 2017, and in extensive written comments filed on June 7, 2017 regarding HUD's implementation of EO 13777, and on August 17, 2017 regarding the proposed HUD "frost-free" IB — begins to address the second element of MHARR's effort with the new administration, to halt and where possible, reverse HUD regulatory actions which undermine the fundamental affordability of manufactured housing without providing corresponding benefits to consumers.
A January 25, 2018 news release announcing the HUD regulatory review and a linked Federal Register draft announcement of the review (attached), states that the Department will review – and is seeking comment on – "all current and planned regulatory actions affecting manufactured housing" including, but not limited to: (1) all rules listed in the federal Unified Agenda of Regulatory and Deregulatory Actions (i.e., Semiannual Regulatory Agenda); (2) the pending HUD Interpretive Bulletin (IB) on "frost-free" foundations (which is not listed in the most recent Unified Agenda); and (3) "the effectiveness of HUD's on-site completion of construction regulations, its Subpart I notification and correction procedures, and its Alternate Construction approval process." In the interim, the Federal Register announcement confirms that "HUD does not anticipate moving forward with any manufactured housing regulations pending completion of its review."
With the announcement of this top-to-bottom review of HUD manufactured housing regulation, MHARR will continue to press for the repeal and/or modification of multiple HUD edicts which result in substantial costs for consumers with either little or no corresponding consumer benefits, as well as related matters which have driven such destructive regulation and/or have harmed the industry and consumers, including, but not limited to, full and fair competition for the manufactured housing program monitoring contract and reform of the HUD Federal Housing Administration Title I manufactured housing program, including the withdrawal of the Ginnie Mae 10-10 rule, which has collapsed manufactured home loan originations through that program.
MHARR will keep you apprised of further developments regarding this critical matter as it moves forward.
Manufactured Housing Association for Regulatory Reform (MHARR)
1331 Pennsylvania Ave N.W., Suite 512
Washington D.C. 20004
Phone: 202/783-4087
Fax: 202/783-4075
Email: MHARRDG@AOL.COM
—- End of MHARR release, MHProNews reaction —-
As the Daily Business News has periodically reported for several months, there are sources in the Manufactured Housing Institute (MHI) camp that have pointed to months of resistance by MHI to making a change away from Pam Danner, JD, while posturing to their members and the industry-at-large something different.
I can't improve on what Mark Weiss [MHARR President and CEO] has indicated below: "While MHARR does not claim to speak for the entire industry, we have made it clear that after years of abuse by federal regulators acting contrary to the law and empowering entrenched revenue-driven contractors to target the industry, the new era of regulatory deconstruction being ushered-in by the Trump Administration offers a profound opportunity that must not be missed or squandered.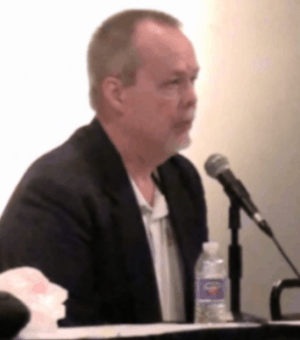 "A major part of that implementation concerns the program director, which, by law, should be a non-career appointee. The director currently in place has overseen the implementation of many regulatory burdens and costs in her 3-year tenure, all of which served mainly to increase costs of the manufacturing process while adding little to no real value to the house itself." – Bob Crawford, President of Dick Moore Housing, per comments filed at this link here.
Beyond other public comments like the above are private ones that pointed to the need to replace Pam Danner as the HUD Code manufactured housing program administrator.
Yet, Lesli Gooch, MHI's SVP in charge of their lobbying efforts – in here otherwise fine letter, linked here – entirely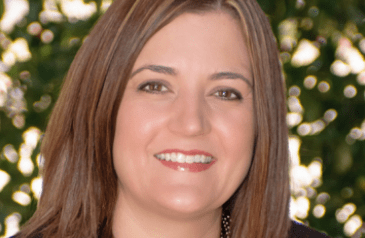 failed to mention the need to replace Danner at the HUD Code manufactured housing program office.
Several others – who are not professional lobbyists – understood the need for Danner to be replaced.
As MHARR pointed out, the person in charge can often thwart the best of intentions.
Did Gooch and MHI not consider the need to replace Danner?  Doesn't that defy common sense?
There is also oblique evidence for the claim that MHI performs 'shadow boxing' with regulators, and has not behaved in a forthright manner.  An example is found from MHI SVP and General Counsel, Rick Robinson, who in the presence of dozens of industry pros at Deadwood – declined trade media questions.
One of the topics Robinson was specifically discussing was HUD and the manufactured housing program management.  As in the case of Gooch, Robinson spoke about all of the gyrations that MHI was using to 'protest' HUD overreach.  And like Gooch, he never mentioned replacing Danner.  Another oversight?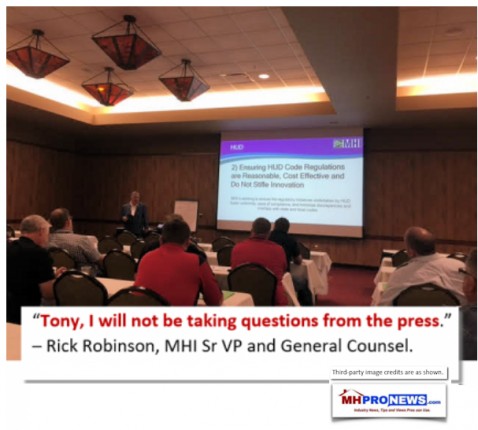 It is further suggested by MHI President and CEO, Richard Jennison's recent behavior in Louisville.
Jennison ducked out, on short notice, from a planned presentation he was to make to industry members during the Louisville Show last week.
Jennison did so following the publishing of the report, linked below.  Among "the top 12 questions" attendees were encouraged to ask Jennison were some specifically related to HUD, and MHI's logically-tortured position in recent years about the federally regulated manufactured housing program.
The Top Twelve Questions for Manufactured Housing Institute (MHI) CEO, Richard "Dick" Jennison
Jennison was seen on the show floor during the timeframe he was supposed to be addressing industry members.
As a text from an award-winning MHI member said, "He should relish the opportunity to talk about all the good things MHI says they are doing.  Strange man."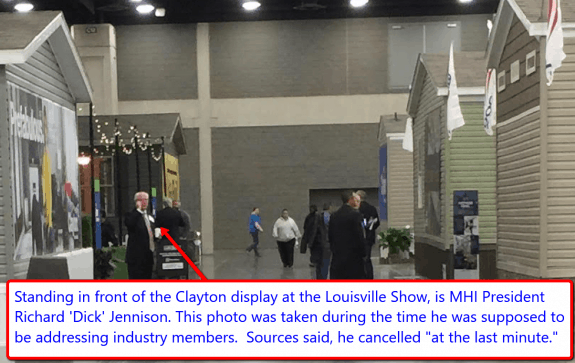 Business and state association executives have said privately that MHI's reluctance to have Pam Danner removed was unfathomable.  As has occurred with the DOE and other issues, it was only after significant, sustained push-back that MHI finally pivoted.
HUD's Pam Danner Announces former MHI VP Lois Starkey Joining HUD
MHI never explained Lois Starkey's leaving MHI, and then appearing at shortly thereafter at HUD.
Shake Up at HUD Manufactured Housing Program May Stop Industry Overregulation, per MH State Association
It is well documented that larger companies can better handle the burdens of heavy regulations that smaller ones.  In case after case, MHI has 'failed' to mitigate regulations.  In fact, in the case of DOE regulations that Gooch mentions in her letter, they supported heavier regulations for some time, until industry push-back caused them to later opposed them.  Coincidence, or another case of 'shadow boxing' to appear to be working for all segments of the industry, when their approach benefited larger MHI member companies?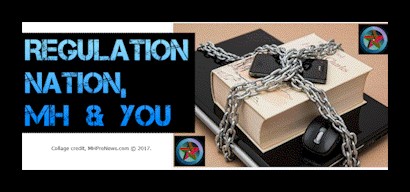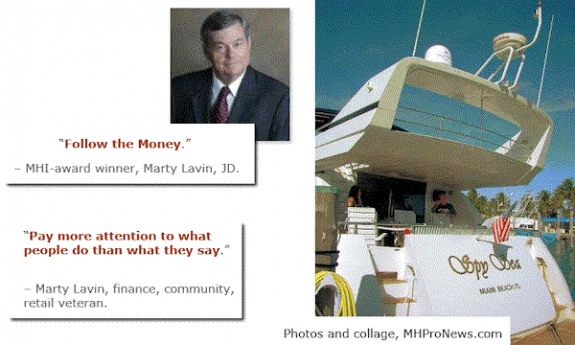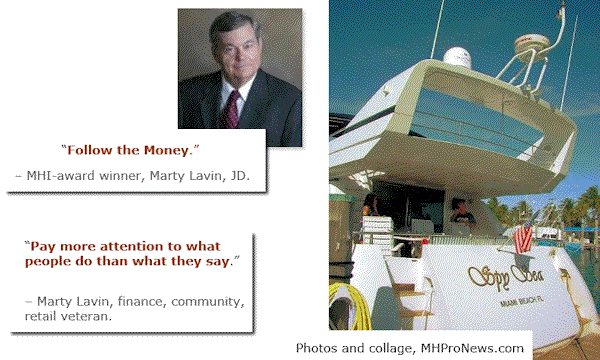 Once Trump administration officials understood more about the industry's concerns about the manufactured housing program office, Danner was removed, and Starkey was dismissed (see report above).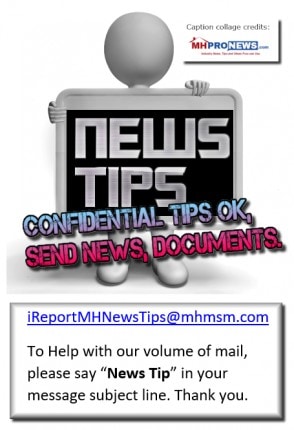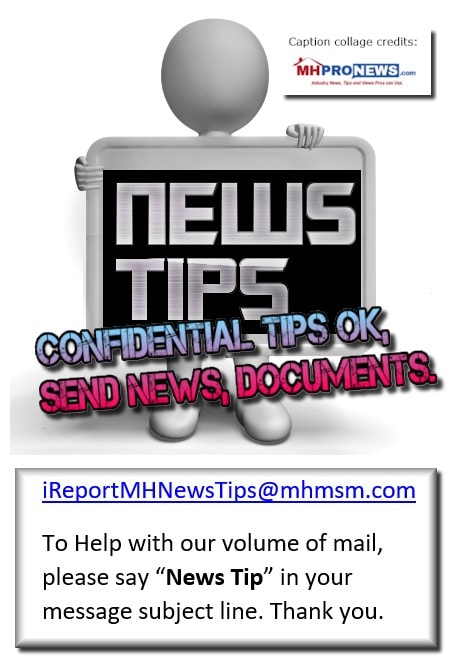 There is a growing awareness that manufactured housing industry units from Berkshire Hathaway have exercised 'strong arm tactics' when it suited their goals.
Examples, per sources – including the words of Kevin Clayton – are found in the report linked further below.  MHI and members of their executive committee – which includes Berkshire Hathaway companies – have not responded recently on the record to the various concerns, association performance, and related allegations.
But sources in management with Berkshire Hathaway/MH units, and others with MHI, are among those that made these reports possible.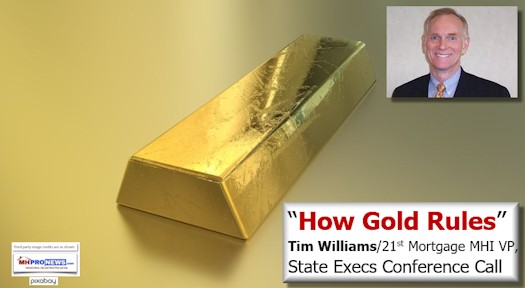 Sources tell MHProNews that Starkey and other current/former MHI staffers are covered by a non-disclosure agreement with the Arlington, VA based trade group.
What is there to hide?  Why was it only at dues renewal time that MHI made any public reply to concerns being raised from a growing number of industry members?
'We Want Your Money' – 2018 MHI Membership, Infographic Fact Check
MHARR has raised a "red flag" about the "new class" of manufactured housing that MHI is pushing.  When affordable housing needs are at or near record levels, why do something that may work against enhanced preemption for manufactured housing?
Given that the HUD Code is performance based standard – as a former HUD manufactured housing program administrator told MHLivingNews – where is the logical need for a "new class" of manufactured housing?
Unless – as several sources suggest – it is to put independent producers and retailers at a disadvantage to a small group of larger competitors?
"…lower rates of crime than you would expect, because they had pride of ownership …" – William P. McCarty , PhD – University of Illinois at Chicago, Department of Criminology, Law and Justice "What may be surprising to real estate licensees is the level of energy efficiency available …"
National Association of Realtors (NAR) and other third-party research all point to the fact that affordable housing needs are growing. Conventional housing builders can't keep up with the demand.
Home Sales slide in December, But Rose Overall in 2017, Import for Manufactured Housing
Award-winning independent retailer Alan Amy states in a matter-of-fact-fashion in the video below what thousands of industry professionals know.
The Warren Buffett's and Kevin Clayton's "moat" seems to be alive and well.  But with a new administration, that may soon change.  ICYMI, see the video interview posted near the end of the report linked below that where Kevin Clayton – in his own words – connects the dots of months of MHProNews reporting.
Kevin Clayton Interview-Warren Buffett's Berkshire Hathaway, Clayton Homes CEO
The Daily Business News will continue to engage with the industry's members, and report as needed on developments related to the Trump Administration's moves with respect to HUD Code manufactured housing. ## (News, analysis, and commentary.)
(Image credits are as shown above, and when provided by third parties, are shared under fair use guidelines.)

Submitted by Soheyla Kovach to the Daily Business News for MHProNews.com.
Soheyla is a managing member of LifeStyle Factory Homes, LLC, the parent company to MHProNews, and MHLivingNews.com.