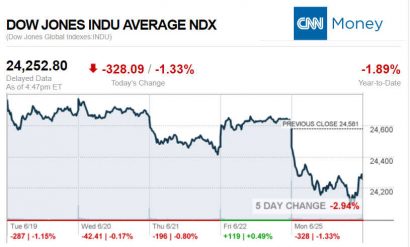 The president is playing high stakes poker, in both foreign and domestic policy with his trade strategy. Earnings are still solid for companies, but fears over the 'trade war" have continued to drag the market.  How do American equities compare with other nations?  What's the outlook in the trade war?  That will be our focus tonight.
If you're new, already hooked on our new spotlight feature – or are ready to get the MH professional fever – our headline reports are found further below, just beyond the Manufactured Housing Composite Value for today.
The evolving Daily Business News market report sets the manufactured home industry's stocks in the broader context of the overall markets.
Part of this unique feature provides headlines – from both sides of the left-right media divide – that saves readers time, while underscoring topics that may be moving investors, which in turn move the markets.
Readers say this is also a useful quick-review tool that saves researchers time in getting a handle of the manufactured housing industry, through the lens of publicly-traded stocks connected with the manufactured home industry.
MH "Industry News, Tips and Views, Pros Can Use." ©
ICYMI – for those not familiar with the "Full Measure," 'left-right' media chart, please click here. 
Selected headlines and bullets from CNN Money:
Campbell Soup is piping hot after reported interest from Kraft Heinz
Trade war fears spread to tech and Dow sheds 328 points
McDonald's and Starbucks hit by plastics ban in India
Toys 'R' Us will close for good this week
Instagram star isn't what she seems. But brands are buying in
How Europe could fight back if Trump taxes car imports
Harley-Davidson will move some production out of US after retaliatory tariffs
Chinese tech investment is the next target in US crackdown
Forget your 401k if you own a home. Do this instead.
Russell Crowe to star as Fox News' Roger Ailes in Showtime miniseries
China is unleashing more than $100 billion into its economy
Facebook launches high-end magazine 'Grow'
This Silicon Valley exec has dedicated her career to empowering women. Has it worked?
Banks are not ready for Brexit, says top regulator
Amazon Prime benefits roll out to all Whole Foods stores
The weird reason that mighty Amazon isn't in the Dow
Here's how Chipotle is making a comeback
'Jurassic World' sequel crosses $700 million at global box office
Why GE may need to stop paying its 119-year old dividend
One innovative solution to the health care worker shortage
What higher wages means for Domino's and McDonald's
Toyota updates the Century, car of choice for Japan's elites
Apple promises free repairs for faulty MacBook keyboards
Chanel reveals earnings for the first time in its 108-year history
Glenn Beck walks off CNN interview over questions about his company
Fox News commentator apologizes for racist remark
Time editor defends crying migrant girl cover after backlash
What's behind Tom Arnold's bizarre anti-Trump media blitz
Selected headlines and bullets from Fox Business:
Dow tumbles 328 points as trade worries hit Wall Street
Wall Street has grown concerned that the U.S. and China will enter a full-blown trade war.
Trump plans new curbs on Chinese investment, tech exports to China
US will crack down on all countries trying to steal its technology
Trump tariffs to hit these countries hardest
South Carolina steel plant reopened by UK industrialist, avoiding tariffs
Liberty Steel said the facility would employ about 125 workers at launch.
Wells Fargo Advisors to pay $5M over improper investment sales: SEC
Final Toys R Us stores to close by Friday
Red Hen New Jersey threatened after unrelated Virginia eatery slams Sanders
Harley-Davidson to take big hit from EU tariffs
Lockheed Martin secures $1.2B contract to sell new F-16 fighter jets
American Express stock climbs on Supreme Court victory
Party City looks to fill Toys 'R' Us void with pop-up stores
Suitors lining up for Campbell Soup?
GE sells distributed power business to private equity company
Trump Space Force could fuel next trillion-dollar economy: Morgan Stanley
The bank sees space as a big investment opportunity.
Red Hen treatment of Sarah Sanders has Mike Huckabee worried
How Illinois can become the fastest-growing state in America
Illinois Gov. Bruce Rauner is working to address the state's $200 billion debt crisis.
American Express stock climbs on Supreme Court victory
US will crack down on all countries trying to steal its technology
Treasury Secretary Steven Mnuchin says statement coming "soon."
Lockheed Martin secures $1.2B contract to sell new F-16 fighter jets
The American aerospace and defense company will produce the jets in Greenville, South Carolina.
All Amazon Prime members will get discounts at Whole Foods
Company expanding special offers, becoming nationwide Wednesday.
Harley-Davidson to take big hit from EU tariffs
Today's markets and stocks, at the closing bell…

Manufactured Housing Composite Value (MHCV)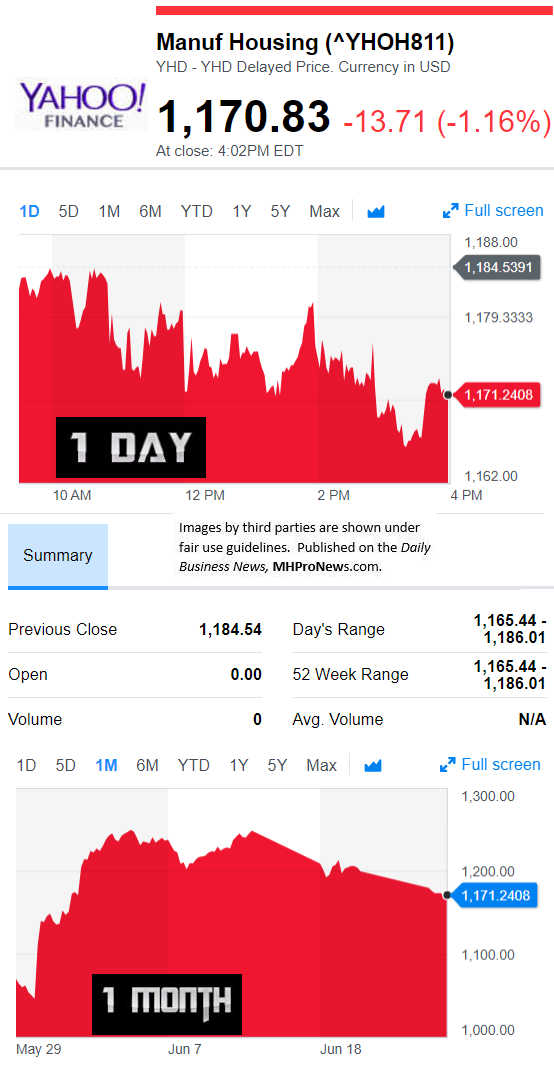 Today's Big Movers
For all the scores and highlights on tracked manufactured home connected stocks today, see the Bloomberg graphic, posted below.
Today's MH Market Spotlight Report –
The Trump Administration has taken the boldest steps in years on the issue of trade imbalances. It's obvious from the market slide that it has the attention of investors.
The president has said that the steps he is taking should have been done years ago, but it is what it is now.
The moves are not surprises, they were part of his campaign.  He's waited until his tax cuts and regulatory cuts kicked in, before taking the steps he has.
We'll consider takes from both CNBC and Fox Business tonight.
US stocks were getting slammed Monday amid trade war fears, but they are still outperforming other global equities this year, said CNBC.
Investors remain focused on strong earnings, low interest rates and generally solid economic fundamentals.
Some economists believe the U.S. has more to gain than lose as the trade rhetoric continues, per CNBC.
Related Reports:
Economy – "There Are Some Worrisome Signs That We Must Confront" – Financial Services Chairman Hensarling
"Trade War Lost" – Ross, Cramer – 'Trump Will Win' Stocks Rebound, Plus MH Market Update
According to CNBC:
Despite jangled nerves over the increasing potential for a global trade war, domestic stocks are outperforming their global counterparts, suggesting the U.S. has the least to lose should the conflict escalate.
As major U.S. indexes notched losses of 1 percent or more Monday, others around the world got slammed as well. The Hang Seng in Hong Kong edged nearer to the brink of an outright bear market, while the German, French and broad European indexes all posted severe drops.
For much of the year as President Donald Trump has continued to saber rattle about tariffs against Chinese and European goods crossing the U.S. border, domestic stocks have outperformed. While the economic brinkmanship has tamped down returns compared with 2017's robust market, the U.S. climate remains mostly constructive.
"So far stateside equity and bond markets have shown a relatively sanguine stance amidst escalating trade tension. This has been reflected in a resilience of the US markets as trade issues garner increasing investor attention," John Stoltzfus, chief investment strategist at Oppenheimer Asset Management, said in a note. "Stateside the economic expansion continues to appear sustainable and expectations for a good Q2 earnings season remain in place. These factors continue to provide positive offset to concerns about trade."
The S&P 500 has managed to scratch out a 4 percent gain year to date (as of Friday) despite the peaks and valleys of how the trade negotiations have transpired. When comparing exchange-traded funds that track major country indexes, no other developed nation has topped the U.S., with France coming closest at a 1 percent or so return, according to Bespoke Investment Management.
There's reason to believe that the U.S. has more to gain than lose, at least in a macro sense, from a protracted trade battle.
Trade agreements implemented since the early 1990s — around the time NAFTA came into being — add about 0.2 percent a year to U.S. GDP, according to Societe Generale. Any reversal, then, would have a "modest impact" on the economy, the firm's economists said.
For investors, then it's a matter of calibrating risks and developing an appropriate response.
Bloomberg Closing Ticker for MHProNews…
NOTE: The chart below includes the Canadian stock, ECN, which purchased Triad Financial Services.
NOTE: The chart below covers a number of stocks NOT reflected in the Yahoo MHCV, shown above.
NOTE: Drew changed its name and trading symbol at the end of 2016 to Lippert (LCII).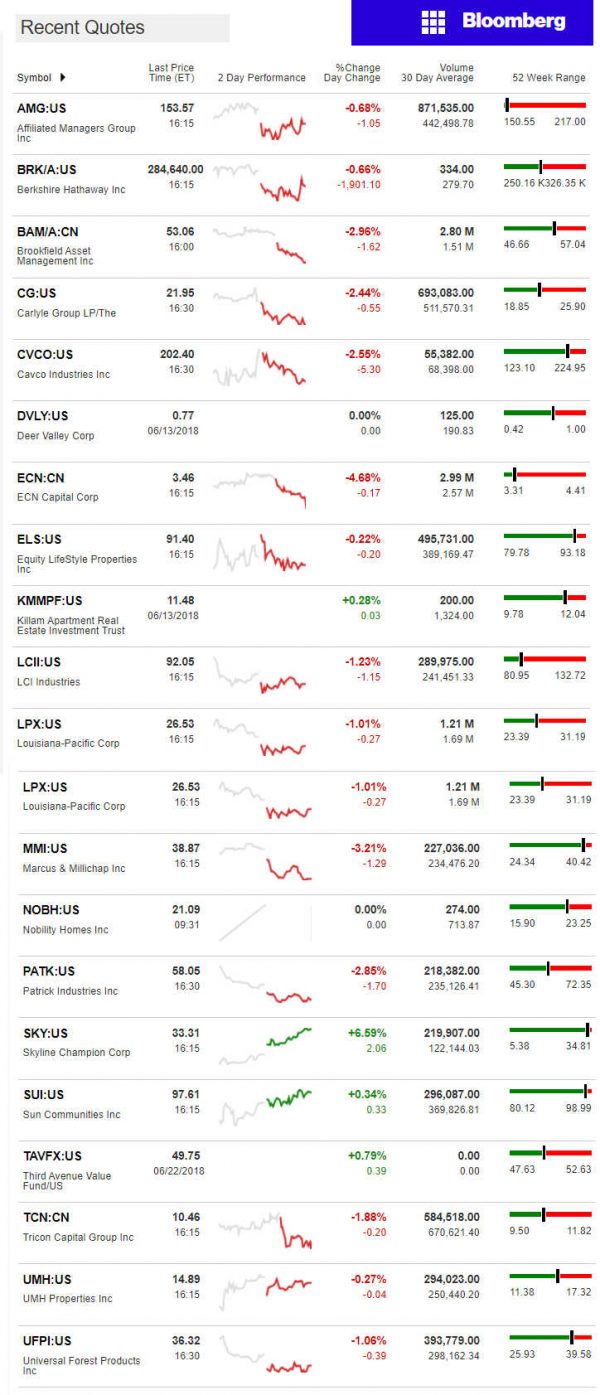 Berkshire Hathaway is the parent company to Clayton Homes, 21st Mortgage, Vanderbilt Mortgage and other factory built housing industry suppliers.
LCI Industries, Patrick, UFPI and LP all supply manufactured housing.
AMG, CG and TAVFX have investments in manufactured housing related businesses.
Your link to industry praise for our coverage, is found here.
For the examples of our kudos linked above…plus well over 1,000 positive, public comments, we say – "Thank You for your vote of confidence."
"We Provide, You Decide." © ## (News, analysis and commentary.)
(Image credits and information are as shown above, and when provided by third parties, are shared under fair use guidelines.)
Submitted by Soheyla Kovach to the Daily Business News for MHProNews.com.