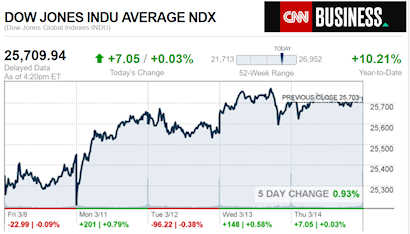 The proverbial crystal ball has never worked, so it would be inaccurate to say that its broken. But trend-lines, a little logic, and track records can go a long way to reading tea leaves that could provide useful clues that might impact companies and stocks.  Tonight's feature is a report from Financial Headlines, much of which was off-the-mark, but some of it was worth noting.  On a mixed day for the broader markets, and with more losers than gainers among manufactured home tracked stocks, what Financial Headlines said about Skyline Champion – and didn't say – will be our featured focus this evening.
If you're new, already hooked on our new spotlight feature – or are ready to get the MH professional fever – our headline report is found further below, after the newsmaker bullets and major indexes closing tickers.
The evolving Daily Business News market report sets the manufactured home industry's stocks in the broader context of the overall markets.  Headlines – at home and abroad – often move the markets.  So, this is an example of "News through the lens of manufactured homes, and factory-built housing." ©
Part of this unique evening feature provides headlines – from both sides of the left-right media divide – which saves busy readers time, while underscoring topics that may be moving investors, which in turn move the markets.
Readers say this is also a useful quick-review tool that saves researchers time in getting a handle of the manufactured housing industry, through the lens of publicly-traded stocks connected with the manufactured home industry.
This is an exclusive evening or nightly example of MH "Industry News, Tips and Views, Pros Can Use." © It is fascinating to see just how similar, and different, these two lists of headlines can be.
Want to know more about the left-right media divide from third party research?  ICYMI – for those not familiar with the "Full Measure," 'left-center-right' media chart, please click here.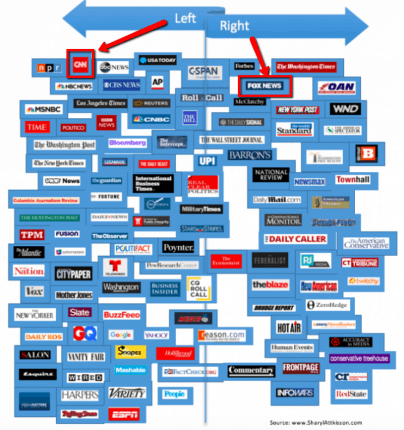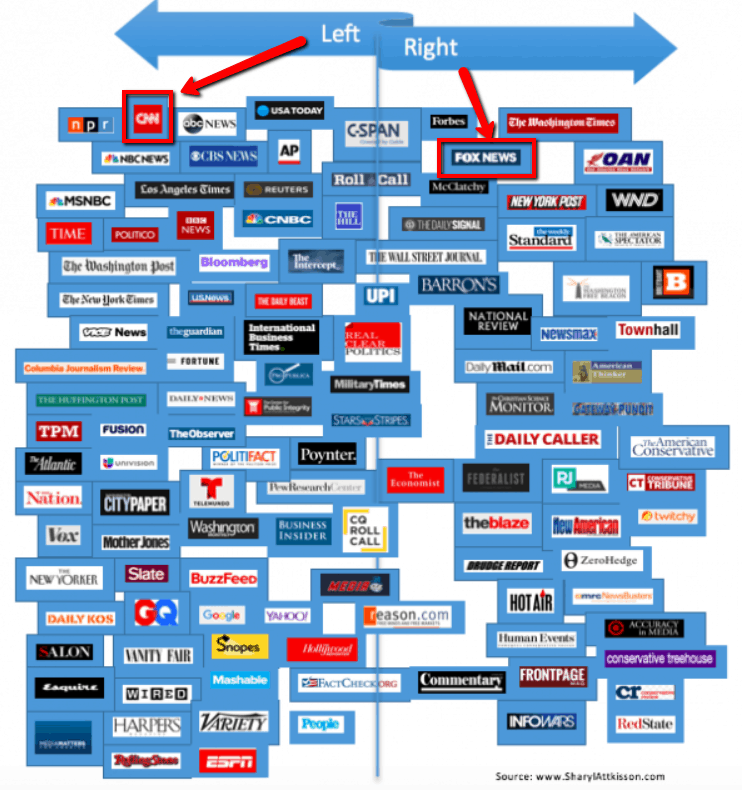 Select bullets from CNN Money…
A lofty goal for 2030
Coca-Cola wants to collect and recycle the equivalent of every bottle it sells
LIVE UPDATES Markets are in positive territory
Facebook says it's resolved outage issues, denies attack
Why the Model Y will be Tesla's most important car
GE warns of bleak 2019 but promises brighter future
The 737 Max crisis has wiped more than $25 billion off Boeing's market value
American businesses are finally getting more productive
Huawei pleads not guilty to charges it violated US sanctions on Iran
Dick's Sporting Goods removes guns and ammo from 125 stores
PERSPECTIVES Banks don't want to work with marijuana companies. It's time for that to change
A horrific school shooting was the last straw for the CEO of Dick's Sporting Goods
Dollar General will open 975 stores this year
What wealthy parents do to get their kids into elite colleges (legally)
You have $100,000 to invest. Now what?
30-year fixed rates just declined. See if you qualify
This artificial leaf wants to help fight climate change
Theranos was a Silicon Valley darling. Now former employees can't find jobs
This Indian tech billionaire just gave $7.5 billion to charity
Verizon will soon offer 5G in select cities for $10 extra
Everything you need to know about 5G
Samsung unveiled its first ever 5G phone
PERSPECTIVES 5G will have an enormous impact on the world
Sprint sues AT&T, alleging it falsely brands 4G as 5G
Why space is becoming a dangerous place to do business
She turns Elon Musk's bold space ideas into a business
Toyota wants to send an electric car to the moon
SpaceX Crew Dragon returns from historic test flight
Watch Crew Dragon land with a splash
Select Bullets from Fox Business…
Lawsuits seek over $500B in damages over college admissions scandal
College admissions cheating scandal: What school alumni earn
Kaplan, Princeton Review, The College Board react to college admissions cheating scandal
College admissions scandal: There's more we don't know about, college consultant says
US Senate rebukes Trump over wall, but he vows veto
The 59-41 vote marks the second Senate rebuke of Trump in two days.
Gary Cohn on US-China trade talks: Trump is 'desperate' for resolution
NYC inching towards bankruptcy, economist warns
Homes are flying off the market in these five cities
Beto O'Rourke's economic, business views
Connecticut high court: Gunmaker Remington may be sued for Sandy Hook shooting
WATCH: Is the Boeing 737 Max a cost-saving failure?
Google directly benefiting Chinese military, says top US general
Eli Manning to become NFL's highest-earning player ever, despite recent struggles
SEC Chairman Clayton on bitcoin: Buyer beware
BlackBerry morphs into billion-dollar AI cyber company
Tesla Model Y: What we know so far
How much the average American spends per day
Toyota boosts US investments to $13B by 2021
4 reasons you should work for a small business
Weekly jobless claims increase more than expected
SoftBank, Toyota in talks to invest $1B in Uber's self-driving unit: Report
The investment would give the unit a value of $5 billion to $10 billion.
7 online and mobile banking safety tips
Today's markets and stocks, at the closing bell…

Today's Big Movers
For all the scores and highlights on tracked manufactured home connected stocks today, see the Bloomberg graphic, posted below.
Today's MH Market Spotlight Report –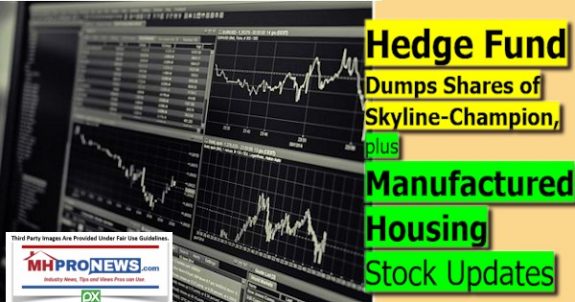 Some of the online 'market reports' – for whatever reasons – like the ones below are a mix of what is arguably junk mixed with useable nuggets of information.
They are mostly of necessity, backward looking.  So what happened in Q4, while interesting, may or may not reflect what happened today or more recently.
With those 'stating the obvious' points noted, this evening we'll look at two serious moves, in the wrong direction for Skyline-Champion (NYSE:SKY).
First, the major pull quotes, and then some commentary.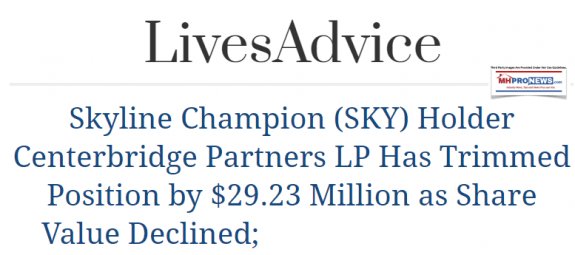 Lives Centerbridge Partners Lp decreased its stake in Skyline Champion Corporation (SKY) by 31.63% based on its latest 2018Q4 regulatory filing with the SEC. Centerbridge Partners Lp sold 2.09 million shares as the company's stock declined 5.55% while stock markets rallied. The hedge fund held 4.51M shares of the homebuilding company at the end of 2018Q4, valued at $66.30 million, down from 6.60 million at the end of the previous reported quarter. Centerbridge Partners Lp who had been investing in Skyline Champion Corporation for a number of months, seems to be less bullish one the $1.13 billion market cap company. The stock decreased 2.78% or $0.57 during the last trading session, reaching $19.95. About 463,122 shares traded. Skyline Champion Corporation (NYSEMKT:SKY) has risen 0.46% since March 14, 2018 and is uptrending. It has underperformed by 3.91% the S&P500. 

Sankaty Advisors Llc decreased its stake in Skyline Champion Corporation (SKY) by 29.6% based on its latest 2018Q4 regulatory filing with the SEC. Sankaty Advisors Llc sold 2.01M shares as the company's stock declined 5.55% while stock markets rallied. The hedge fund held 4.79M shares of the homebuilding company at the end of 2018Q4, valued at $70.32M, down from 6.80M at the end of the previous reported quarter. Sankaty Advisors Llc who had been investing in Skyline Champion Corporation for a number of months, seems to be less bullish one the $1.16B market cap company.
The stock decreased 0.05% or $0.01 during the last trading session, reaching $20.52. About 292,223 shares traded. Skyline Champion Corporation (NYSEMKT:SKY) has risen 0.46% since March 13, 2018 and is uptrending.
It has underperformed by 3.91% the S&P500.
Some Historical SKY News:
02/05/2018 – Wells Capital Management Inc. Exits Position in Skyline;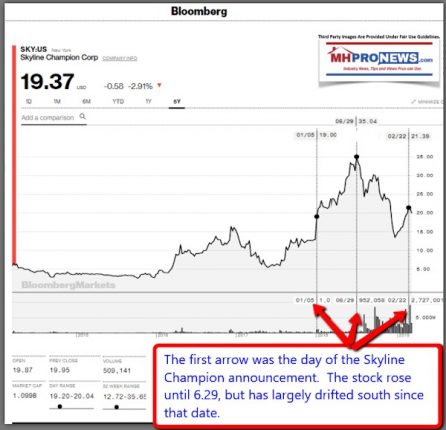 For balance, here is a broader sampling of headlines from today about SKY.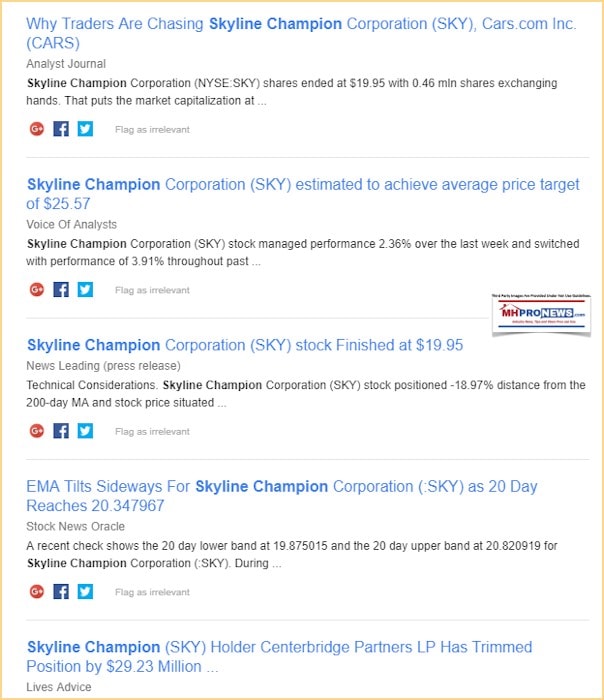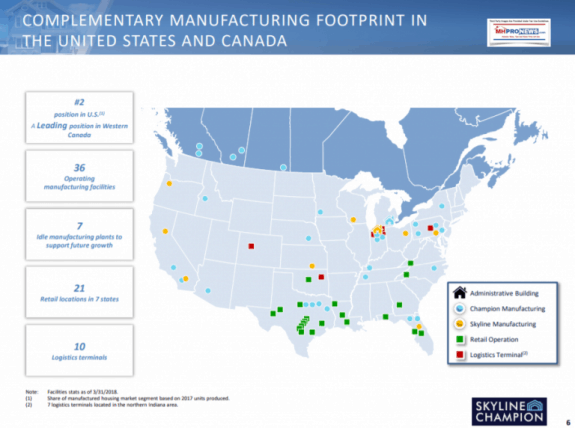 With that backdrop, what this longtime industry observer sees – and we have interest, insights, but no direct dog in the equities market hunt – is that many investors seem to have only a modest thought about how the controversy at Cavco could potentially spill over to some of the larger players at the Manufactured Housing Institute (MHI).
Antitrust interest in the U.S. is heating up, as several of our reports have tracked, especially over the last two years. It's a thing in Europe too, where some observers say its been a stronger movement, and that the U.S. is playing catch up.
MHI puts out an antitrust statement at their meetings. While there is evidence and allegations from several mainstream sources, including a ground breaking report linked below, none of them have yet risen to the status of a formal case being announced.  Will such an announcement by DoJ, the FTC, or plaintiffs attorneys occur in 2019?  2020?  2021?
Time will tell, but linked below via the text image box shown are purported Exhibits 1, 2, and 3.
America woke up today to division. But perhaps 75 percent (+/-) of the nation's people could come together on a plan that demonstrably could do the following. Increase the U.S. Gross Domestic Product (GDP) by some $2 Trillion Annually, without new federal spending.
Perhaps more important to several MHI members, is once the shoe drops on allegations of antitrust activity among Berkshire Hathaway owned brands – and we believe that it is likely to occur, for reasons that will be covered in a future report that builds on the one above – the question then becomes, is there spillover effect to other larger players in the industry?  Recall that the SEC declined to confirm or deny that they are looking into antitrust concerns with respect to Cavco Industries, and their legal woes connected to Joe Stegmayer, former Cavco President but still MHI Chairman.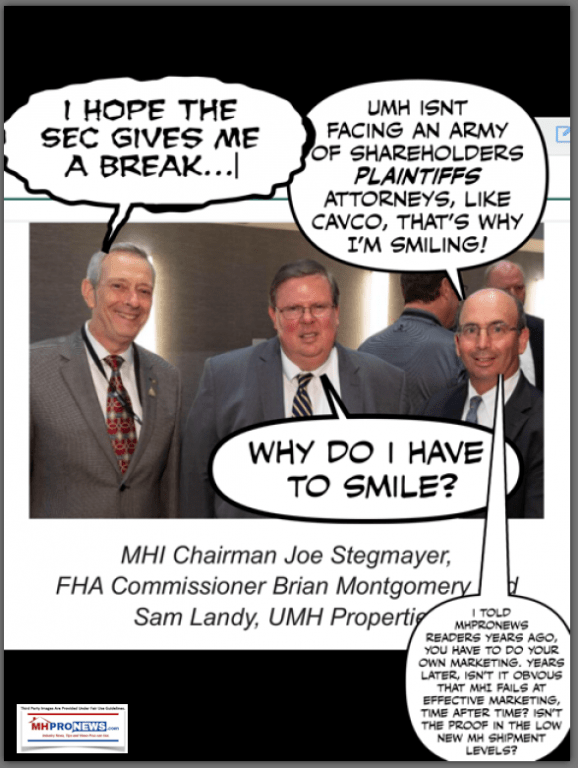 MHProNews has obtained some communications as news tips that reflect statements by Stegmayer that some may say makes his statements look more-weighty than his now reduced title at Cavco ought to reflect. Stegmayer's historic ties to Clayton Homes are clear.
What may be a problem for some tracked stocks, could at the same time benefit others.
But perhaps the most heady consideration is MHI's ongoing pattern of posturing efforts for growth, when they are doing – or not doing – common sense steps that arguably help some brands, while harming others.  See the related reports, for more details.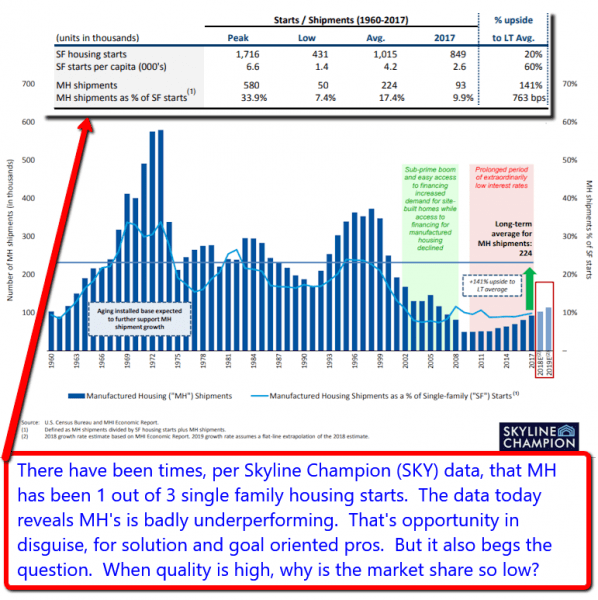 Bottom line for tonight.  The industry is under-performing. SKY's own graphic above says as much. The national association that claims to represent 'all segments of factory-built housing' has been rebuked by both an independent producers association, a newly emerging community association, and several of their own members and staff, past and present.
The hubris at MHI is breathtaking, but they apparently feel confident that they won't get 'caught' with a hand in the cookie jar.  The better question is, hasn't enough information already emerged to reflect that their hands have titled the scales already in a ways that have rigged the markets? Doesn't that potentially impact the values of MHI member stocks?
Those are the questions that shareholders and other plaintiffs' attorneys and corporate suits are/will be sorting through.  See the related reports, just below.
Related Reports

:
Tim Williams, PBS News' Bad Bargain, Manufactured Housing Institute, Buffett's Mirror, and Clayton's Costume
https://manufacturedhomepronews.com/masthead/tonykovach/warren-kicked-hornets-nest-how-move-may-connect-with-mh-renters-professionals/
https://manufacturedhomepronews.com/masthead/warren-buffetts-moat-understanding-manufactured-housing-requires-grasping-strategic-economic-moats/
Investors, Professionals, Planners, Advocates – Examining Affordable Manufactured Home Industry Market Potential
DTS Manufactured Home Lending Committee Member Says MHI in "Unholy Alliance" to Divert Needed GSE Support Away from Manufactured Housing
Warren Buffet's Quotable Quotes on Business, Institutions, Behavior, and News Reporting
HUD, Census Bureau Releases Mainstream January 2019 Housing Starts Data, How Does Manufactured Housing Compare?
Anti-Monopolistic or "Antitrust" Action Heating Up in Washington, D.C., What It Could Foreshadow for MHVille
MHI's Growth Agenda? Rick Robinson, JD, SVP Manufactured Housing Institute, Preemption Evidence, Writ of Mandamus, and Addressing HUD Code Manufactured Home Shipment Woes
Bloomberg Closing Ticker for MHProNews…
NOTE: The chart below includes the Canadian stock, ECN, which purchased Triad Financial Services.
NOTE: The chart below covers a number of stocks NOT reflected in the Yahoo MHCV, shown above.
NOTE: Drew changed its name and trading symbol at the end of 2016 to Lippert (LCII).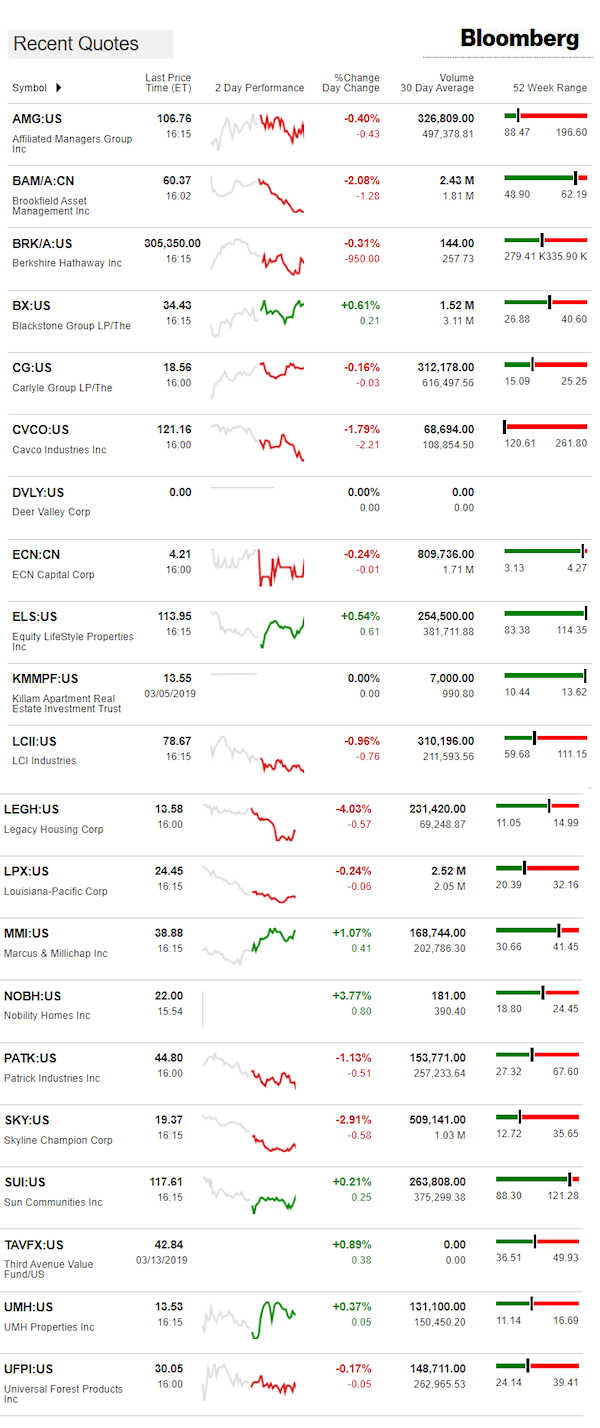 Berkshire Hathaway is the parent company to Clayton Homes, 21st Mortgage, Vanderbilt Mortgage and other factory built housing industry suppliers.
LCI Industries, Patrick, UFPI and LP all supply manufactured housing.
AMG, CG and TAVFX have investments in manufactured housing related businesses.
Your link to industry praise for our coverage, is found here.
For the examples of our kudos linked above…plus well over 1,000 positive, public comments, we say – "Thank You for your vote of confidence."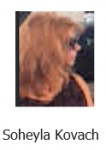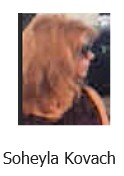 "We Provide, You Decide." © ## (News, analysis and commentary.)
(Image credits and information are as shown above, and when provided by third parties, are shared under fair use guidelines.)
Submitted by Soheyla Kovach to the Daily Business News for MHProNews.com.