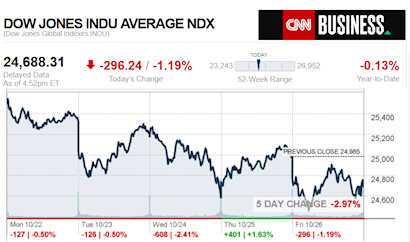 It's the worst October for the markets in years.
But why?  The fundamentals are overall good.  The U.S. was recently rated the best economy in the world, as MHProNews reported.
There are numerous good reasons to source and curate information across the media and political divides, as the Daily Business News on MHProNews has said and done for years. News ought to be news, regardless of who publishes it, but sadly, that's not the case and hasn't been for some time.  While there are a variety of opinions on the recent correction, including the FED, rising rates, etc. tonight's focus is a dual feature.  Is the bull market over?  Guggenheim's Scott Minerd, the $265 billion AUM firm's global chief investment officer and chairman of investments says no.  Then, a pollster who predicted the Trump victory in 2016 says the GOP can pull another surprise in less than two weeks.  As important, he says that the calls he gets from hedge fund managers tells him that the markets are down due to fears that the Democrats might take the House.  Those two tidbits are tonight's featured report.
If you're new, already hooked on our new spotlight feature – or are ready to get the MH professional fever – our headline report is found further below, after the newsmaker bullets and major indexes closing tickers.
The evolving Daily Business News market report sets the manufactured home industry's stocks in the broader context of the overall markets.  Headlines – at home and abroad – often move the markets.  So, this is an example of "News through the lens of manufactured homes, and factory-built housing." ©
Part of this unique evening feature provides headlines – from both sides of the left-right media divide – which saves busy readers time, while underscoring topics that may be moving investors, which in turn move the markets.
Readers say this is also a useful quick-review tool that saves researchers time in getting a handle of the manufactured housing industry, through the lens of publicly-traded stocks connected with the manufactured home industry.
This is an exclusive evening or nightly example of MH "Industry News, Tips and Views, Pros Can Use." © It is fascinating to see just how similar, and different, these two lists of headlines can be.
Want to know more about the left-right media divide from third party research?  ICYMI – for those not familiar with the "Full Measure," 'left-center-right' media chart, please click here.
Select bullets from CNN Money…
Megyn Kelly's show at NBC has been canceled
Facebook takes down more Iranian pages targeting US and UK
Newsrooms beef up security after a week of threats
US economy keeps growing strong at 3.5% in the third quarter
GM pushes national electric car plan as Trump tries to roll back emissions standards
Google addresses harassment allegations detailed in NYT report
Meet the new, profitable, Tesla
McLaren reveals $2.25 million three-seat hybrid supercar
The king of YouTube is about to be dethroned
What went wrong after NBC hired Megyn Kelly
Can Saudi Arabia win back its global business partners? 'Time will tell'
A tired dad and his hungry infant led to a radical new baby bottle
20181026-sp500-twin-peaks
The aging bull market is showing signs of decline – and investors are worried
Market may be scary but now is not the time to panic and run away
The big fear spooking investors
Warning: 14 of 19 bear market signals triggered, Bank of America says
Market volatility isn't going anywhere
Amazon is investing millions to keep packaging out of landfills
Don't sweat Amazon's weak holiday sales forecast
Amazon can sell you stuff. But can it clean your house?
Why Amazon may want a big city for HQ2
eBay sues Amazon, accusing it of poaching sellers
REVIEW The Model 3 Performance is an amazing car, but it's got some issues
Does Tesla's Model 3 Performance earn its pricetag?
How Consumer Reports rates the Model S and Model X
A new, cheaper Model 3 is on its way
Jim Chanos: Tesla falling behind GM, Audi in software
Select Bullets from Fox Business…
Dow falls nearly 300 points, S&P 500 flirts into correction levels
Microsoft unseats Amazon in race toward $1 trillion valuation
DNA led authorities to mail bomb suspect Cesar Sayoc: Terror expert
These 5 jobs boast a six-figure salary and a slew of openings
Snap falls to a record low as more users flee
College majors offering best, worst employment prospects
'Fortnite' maker just raised a ton of cash
California's $77 billion bullet train will be one of the state's great embarrassments: Larry Ellison
Oil glut is a 'snapshot in time': Energy Secretary Rick Perry
Amazon and Alphabet were among the biggest losers.
The Trump tax cut benefit Americans may have overlooked
These tech giants lost $187 billion combined amid market rout
Facebook leadership is 'lipstick on cancer': NYU professor
How Joe Montana went from NFL quarterback to angel investor
Sears' bankruptcy may power Craftsman sales, Stanley Black & Decker says
Retirement chasers and how to catch up on savings goals
Kennedy: Avenatti has no future in politics
Democrats are locked into contempt and hate: Varney
Immigration was supposed to be a Democrat issue, but it's not: Varney
This entrepreneur with Down syndrome is generating $500,000 in sales
FDA approves first ever single-dose pill to fight flu
Retail hiring expected to skyrocket this holiday season
Despite IRS warnings, taxpayers slow to check withholding
Left-leaning billionaires Soros, Bloomberg, Steyer trying to 'buy' Congress: Kevin McCarthy
Tesla turns a profit as CEO Elon Musk delivers on pledge
USPS price hikes could cost Amazon this whopping amount
Today's markets and stocks, at the closing bell…

Manufactured Housing Composite Value (MHCV)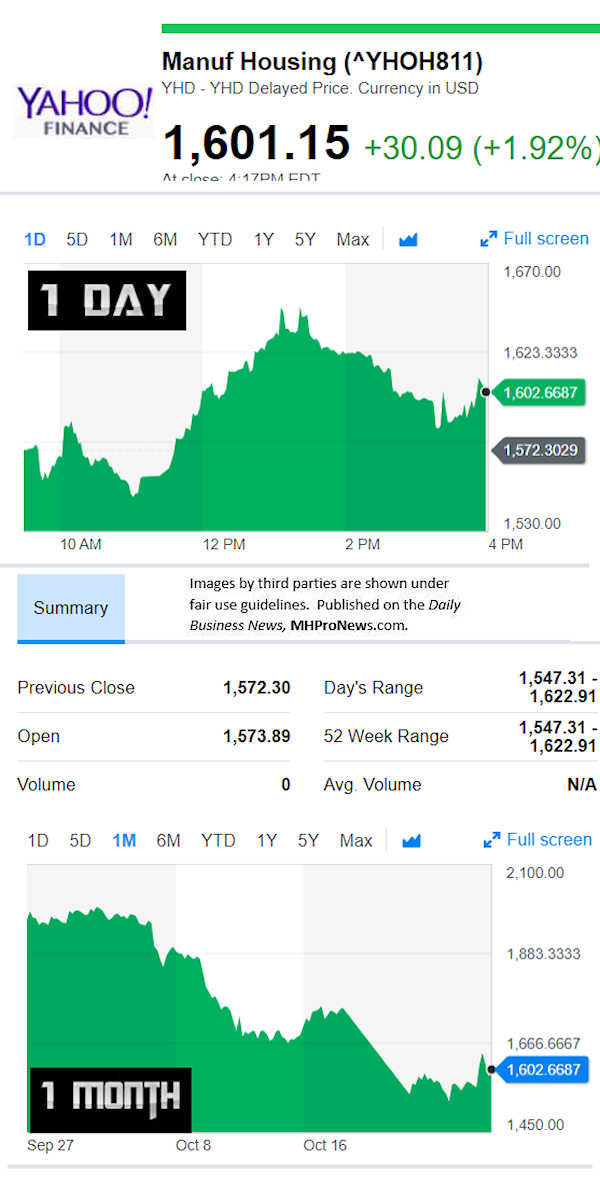 Today's Big Movers
For all the scores and highlights on tracked manufactured home connected stocks today, see the Bloomberg graphic, posted below.
Today's MH Market Spotlight Report –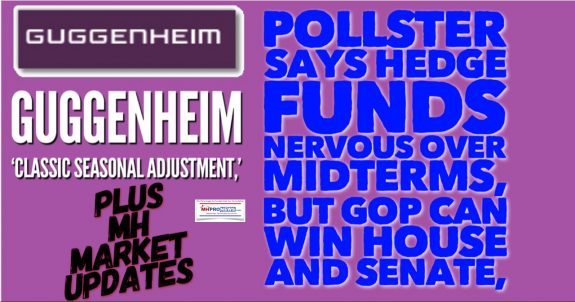 Mindful that sources routinely have an agenda, in the CNN and Fox bullets shown daily above, but well beyond those, we routinely scour the web for information and topics that those who rely on only a single source of information may otherwise miss.
Our agenda is open and stated.  We are pro-manufactured homes, pro-free enterprise, pro-consumer, for timeless ethics, and for Constitutionally-limited government that uses common sense. Those factors ought to be kept in alignment, and has been our position since we began publishing 9 years ago this month.
The stock market hasn't peaked yet.  The dump is a classic seasonal adjustment. Who says?  Scott Minerd, Guggenheim's Global Chief Investment Officer (CIO) and chairman of investments. Guggenheim has $265 billion of assets under management, per CNBC.  It is worth noting that Guggenheim's own home page reports AUM at $208 billion.  Either way, it's a huge pile of assets, and one more reminder why fact checks are useful.
Pollster says GOP Can Win, But Here's How…
John McLaughlin was a pollster for the Trump campaign in New York in 2016.  He touts that he correctly called his path to victory that year.  His opponents pan him and his track record, of course, but he has been used by dozens of prominent campaigns over the years.
In an Op-Ed to NewsMax, McLaughlin said that in 2016, "Donald Trump created the momentum he needed to win." On the Sean Hannity radio show today, he said that hedge funds are calling him, saying concerned that if the Democrats win the House, that it will tie the Trump Administration up, and will hurt the economy.
Of course.  Democrats have all but said as much, saying they want to impeach the president, and investigate everything in sight.   Control of the House would give them that opportunity, even though GOP control of the Senate would mean that judicial and other appointments would still go forward.
"President Trump is not on the ballot," McLaughlin wrote, "but the Democrats are making the mistake of making the campaign a referendum on President Trump's policies, instead of promoting their own agenda. But then when you see their agenda of higher, job-killing taxes, open borders, government run healthcare, abolishing ICE, etc, you can understand why."
He cited the results of "our latest national poll:
The number of voters who say the country is headed in the right direction up to 43 percent which is the highest level in last 4 years.
The plurality of voters, 46 percent, want to change and move away from the policies of Barack Obama and 44 percent want to continue the policies of Obama.
The president's job approval is 48 percent with 50 percent disapprove. This is up from 46 percent approval last month.
Only 41 percent approve the job the Republican majority is doing in Congress; the majority of voters, 51 percent, disapproves. They are significantly less popular than the president.
The majority 51 percent prefers smaller government with fewer services, 31 percent favor larger government with more services.
The majority says the economy is getting better, 52 percent, to 36 percent who say it's getting worse.
The majority approves of repealing and replacing Obamacare, 51 percent to 41percent.
One quarter (25 percent) of all voters follow the president on Twitter 15 percent, Facebook 12 percent, or Instagram 7 percent (they can follow on more than one social media, and most follow more than one). If they follow the president on social media, 76 percent approve the job he's doing. If they don't follow the president on social media his job approval is only 39 percent.
When asked who they will be voting for Congress on a generic ballot, 46 percent, say that they will be voting for a Democrat, and 44 percent say that they will be voting for a Republican with 10 percent firmly undecided." He said that the momentum is toward the GOP.
He says that Minority Leaders Nancy Pelosi and Chuck Schumer are both less popular than President Trump.  Even NBC's recent poll show POTUS Trump as ahead of where former President Barack Obama was at this time in his administration.
McLaughlin says the GOP should personalize the campaign, framing it as Trump vs. Pelosi. "Republicans need to focus the Stop Pelosi campaign on key important issue contrasts that the majority of voters agree with them and not the Democrats.
Stop the Pelosi Democrats From Raising [taxes] and Killing Jobs. The tax cuts that are growing the economy and creating millions of new jobs are the president's greatest accomplishment. The majority of voters currently say the economy is getting better 52 percent to 36 percent. The Pelosi Democrats that want to repeal the Trump tax cuts would raise tax rates on 90 percent of all voters, cut the child tax credit from $2,000 to $1,000 and cut the personal standard tax deduction from $2,000 to $1,000. We've been testing this in many congressional races and it works.
Stop the Pelosi Democrats From Opening the Borders to More Terror, More Drugs, More Criminals, and More Illegal Immigrants. In our September poll with Pat Caddell, among all voter only 28 percent said "the United States should have an open borders immigration policy." Two-thirds, 65 percent, said "illegal immigration is just that illegal."
That's telling, because here in Florida, the latest word from the state is that the GOP early voting has outpaced that of Democrats. In line yesterday for early voting, our publisher said that several people were talking about immigration related issues, and they appeared to be pro-Trump.
We've said for months that it is all about turnout, but that the GOP was poised to win both the House and the Senate.  More in the mainstream media are beginning to admit that the Senate will likely stay Republican, and that seats will be picked up.  In the House, with over 40 Republicans retiring, that makes it tougher.  But there are still plenty of facts that indicate that the GOP can win, including, but not limited to the Kanye effect and the strong economy.
Don't just stay tuned, vote your wallet.  See the related report, below.
Related Reports:
Painful or Pleasurable Discoveries, True Manufactured Home Confession
Apple CEO Tim Cook Warns Your Data is 'Being Weaponized' Against You, Stocks Sink, MH Market Updates
Bloomberg Closing Ticker for MHProNews…
NOTE: The chart below includes the Canadian stock, ECN, which purchased Triad Financial Services.
NOTE: The chart below covers a number of stocks NOT reflected in the Yahoo MHCV, shown above.
NOTE: Drew changed its name and trading symbol at the end of 2016 to Lippert (LCII).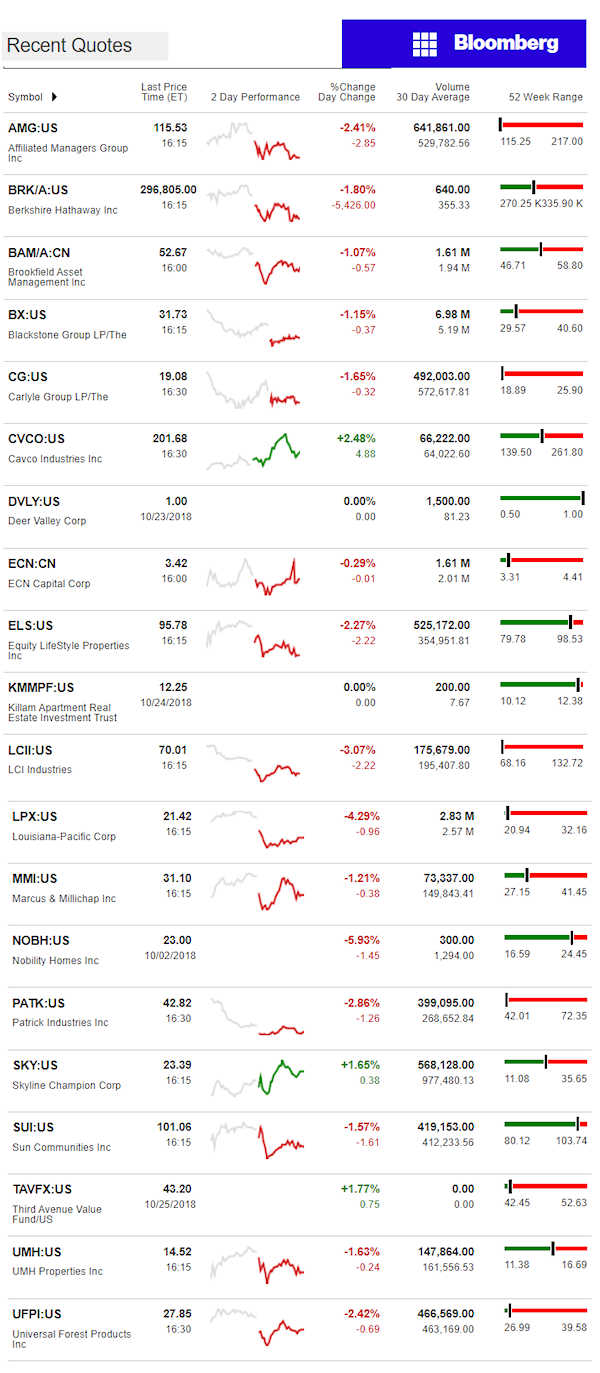 Berkshire Hathaway is the parent company to Clayton Homes, 21st Mortgage, Vanderbilt Mortgage and other factory built housing industry suppliers.
LCI Industries, Patrick, UFPI and LP all supply manufactured housing.
AMG, CG and TAVFX have investments in manufactured housing related businesses.
Your link to industry praise for our coverage, is found here.
For the examples of our kudos linked above…plus well over 1,000 positive, public comments, we say – "Thank You for your vote of confidence."
"We Provide, You Decide." © ## (News, analysis and commentary.)
(Image credits and information are as shown above, and when provided by third parties, are shared under fair use guidelines.)
Submitted by Soheyla Kovach to the Daily Business News for MHProNews.com.