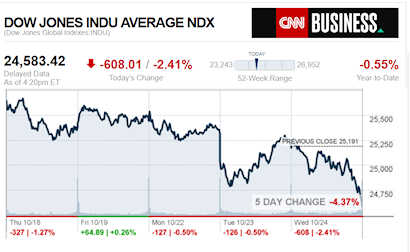 There are readers that say words to the effect that, 'you need to remind readers how often your projections and topics have proved to be accurate.'  As one industry executive said, "If MHProNews is writing about it, I want to know about it." Manufactured housing doesn't exist in a silo.  There are a variety of forces that impact the industry, from inside and out, day by day.  One of those forces is big tech.  It isn't just tech itself, which is serious, but the fact that big tech is and will be deploying competing solutions to HUD Code manufactured homes. But tonight the theme is tech itself.  When Apple CEO Tim Cook issued his latest warning on the topic of the threat by big tech, it seemed like a good time to remind the industry's readers – most notably the independents – on just how this subject matters to you, your investments, and your business. On a big down day, that will be our focus for this evening, found further below.
If you're new, already hooked on our new spotlight feature – or are ready to get the MH professional fever – our headline report is found further below, after the newsmaker bullets and major indexes closing tickers.
The evolving Daily Business News market report sets the manufactured home industry's stocks in the broader context of the overall markets.  Headlines – at home and abroad – often move the markets.  So, this is an example of "News through the lens of manufactured homes, and factory-built housing." ©
Part of this unique evening feature provides headlines – from both sides of the left-right media divide – which saves busy readers time, while underscoring topics that may be moving investors, which in turn move the markets.
Readers say this is also a useful quick-review tool that saves researchers time in getting a handle of the manufactured housing industry, through the lens of publicly-traded stocks connected with the manufactured home industry.
This is an exclusive evening or nightly example of MH "Industry News, Tips and Views, Pros Can Use." © It is fascinating to see just how similar, and different, these two lists of headlines can be.
Want to know more about the left-right media divide from third party research?  ICYMI – for those not familiar with the "Full Measure," 'left-center-right' media chart, please click here.
Select bullets from CNN Money…
SPECIAL REPORT Amazon can sell you stuff. But can it clean your house?
Exxon 'systematically' misled investors, NY Attorney General says
CNN evacuated in New York: How we covered the news
Boeing says its future is bright — despite the trade war
Tim Cook wants stricter privacy laws
Apple CEO: Being gay is God's greatest gift to me
Now Beijing wants to stop buying American soybeans entirely
Saudi Arabia's crown prince says his economic dream will survive
'I'm very unhappy': Trump launches new broadside against the Fed
How to find your dream home, according to a Zillow executive
NBC shows Megyn Kelly no mercy over blackface comments
Coach pledges to stop using some furs by fall 2019
Stocks plunge
Traders work on the floor of the New York Stock Exchange (NYSE) in New York, U.S. on Monday, October 22, 2018.
Dow plunges more than 600 points and Nasdaq falls into correction
Buckle up: Bank of America says 14 of 19 bear market signals are triggered
AT&T stock drops after mixed earnings report
Tesla's stock soars after notorious short seller changes his tune
Why it's time to stop investing in FAANG stocks
McDonald's adds its first new breakfast sandwich in 5 years
Dunkin' is serious about high-end espresso
Welch's says grape juice is for men now
Walmart and Target are trying to capitalize on Trader Joe's 'Two-Buck Chuck' success
Starbucks opens its first US sign language store in Washington, DC
Get the credit you deserve at work, without bragging
How to tell your boss you're pregnant
When you love your job, but hate your coworkers
When it comes to promoting more women, progress has stalled
Select Bullets from Fox Business…
Dow tumbles over 600 points as late-day selling accelerates
How much in taxes do you pay for winning a Mega Millions jackpot?
Chevy, Ford, Tesla slip in Consumer Reports' reliability survey
Widespread food recalls hit Whole Foods, Walmart and Trader Joe's
The Trump tax cut benefit Americans may have overlooked
Despite IRS warnings, taxpayers slow to check withholding
The left knows America doesn't want an open border: Varney
Steelers star Le'Veon Bell has forfeited $6M this season. Here's why
Likely one person sent explosive devices to Clinton, Obama: Expert
Apple CEO Tim Cook warns your data is 'being weaponized' against you
Tesla raises mid-range Model 3 price days after launch
After Trump push, Germany to invest in US gas imports
Trump proposes second tax cut ahead of midterms. Can he do it?
US new home sales drop to near 2-year low in September
The latest evidence showing the housing market's issues
Zillow offers instant cash to sell real estate online
How to tell if your Facebook was hacked
How should you discuss compensation at a job interview?
America's 'good' jobs going to these workers
This is how many US jobs China's WTO membership cost
Why lottery jackpots keep ballooning
Lottery jackpot winners face big IRS tab
Lottery luck? The most and least drawn numbers
Today's markets and stocks, at the closing bell…

Manufactured Housing Composite Value (MHCV)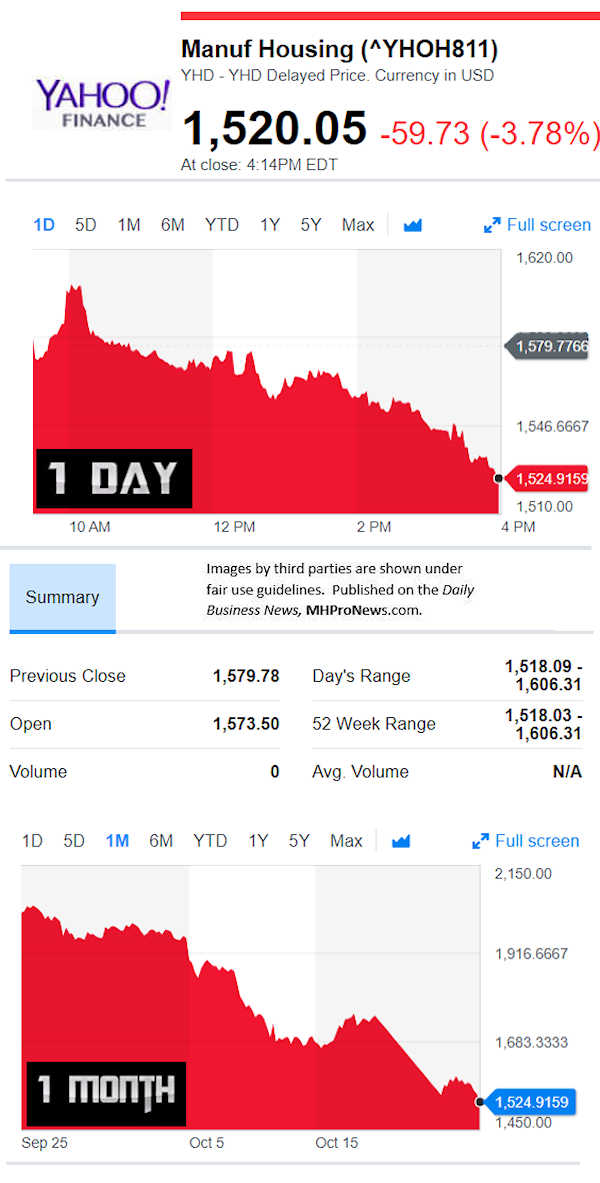 Today's Big Movers
For all the scores and highlights on tracked manufactured home connected stocks today, see the Bloomberg graphic, posted below.
Today's MH Market Spotlight Report –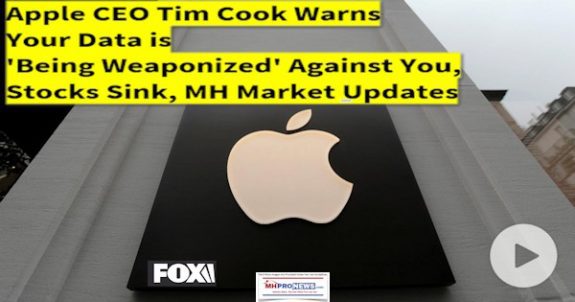 It's a subject that MHProNews has been periodically spotlighting for over 2 years.
Apple CEO Tim Cook is sounding the alarm and calling for the U.S. and countries around the world to enhance their privacy protections for consumers, warning that failing to do so could prove destructive, said Fox Business this evening.
"Today [the private information] trade has exploded into a data industrial complex. Our own information, from the everyday to the deeply personal, is being weaponized against us with military efficiency," Cook said at a conference in Brussels on data privacy Wednesday.
While praising countries in the European Union for implementing stricter privacy regulation throughout recent years – including the General Data Protection Regulation (GDPR) – Cook specifically called out the U.S. for not doing enough.
Cook said Apple supports implementation of comprehensive federal privacy laws globally that minimize data collection, let users know what data is being collected, allow users to access that data and keep all of their information secure.
Cook went on to say that opposing privacy regulation "isn't just wrong, it is destructive."
As companies collect more and more data, he warns, businesses may have a fuller profile of an individual than the individual even has of herself.
"We shouldn't sugarcoat the consequences. This is surveillance," Cook said. "This should make us very uncomfortable. It should unsettle us."
In the video posted, the round table discussion includes those who say that regulation may cure this, but Charles Payne suggests that antitrust may be the answer.
It is part of the broader picture that MHProNews, spotlighting experts across the left-right divide, has said threatens business and can sway less informed voters.  To get a richer and more complete picture, see the related report and watch the video, "The Creepy Line," which looks in depth on this vexing issue.  Note too the Trump Administration draft of an executive order on antitrust (anti-monopoly) actions, which could be deployed after the midterms.
Let's be blunt regulations won't cut it.  This requires aggressive anti-trust breakup.
Related Reports:
"The Creepy Line" Video DocuDrama, Manufactured Housing – The Problem, Solution, and You
Brad Says POTUS Trump is Right: More than Facebook & Twitter, Google Threatens Democracy, Online Freedom
Draft EO for Trump Administration AntiTrust Order Obtained by MHProNews
Bloomberg Closing Ticker for MHProNews…
NOTE: The chart below includes the Canadian stock, ECN, which purchased Triad Financial Services.
NOTE: The chart below covers a number of stocks NOT reflected in the Yahoo MHCV, shown above.
NOTE: Drew changed its name and trading symbol at the end of 2016 to Lippert (LCII).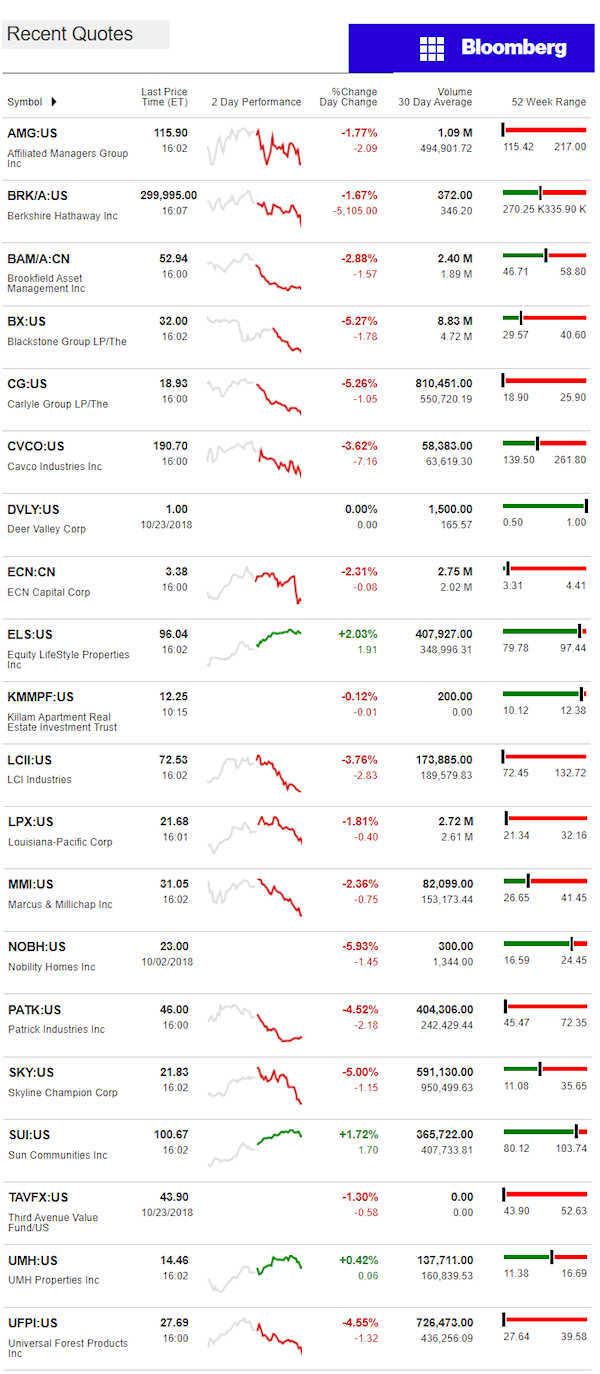 Berkshire Hathaway is the parent company to Clayton Homes, 21st Mortgage, Vanderbilt Mortgage and other factory built housing industry suppliers.
LCI Industries, Patrick, UFPI and LP all supply manufactured housing.
AMG, CG and TAVFX have investments in manufactured housing related businesses.
Your link to industry praise for our coverage, is found here.
For the examples of our kudos linked above…plus well over 1,000 positive, public comments, we say – "Thank You for your vote of confidence."
"We Provide, You Decide." © ## (News, analysis and commentary.)
(Image credits and information are as shown above, and when provided by third parties, are shared under fair use guidelines.)
Submitted by Soheyla Kovach to the Daily Business News for MHProNews.com.