Hang onto your wallets. Industry professional and investors need to ask themselves, do they want a return to heavier regulations by HUD, or elsewhere?  There are serious issues on the line.  Spin, disinformation, conveniently overlooked history, and blatant lies are among the tools that could help-or-harm manufactured housing, workers, and professionals involved in business and investing.
"Billionaire donors George Soros and Tom Steyer are directing $650,000 to [Andrew] Gillum's political committee, Forward Florida," reported Tampa Bay, just days before the election which resulted in an upset win in the Democratic side of the primary.
"Hedge fund billionaire Tom Steyer," said left-of-center Politico, put millions into the 2016 campaign, usually in favor of Democratic candidates. Steyer and Soros hold similar positions, as their support for "Democratic Socialist" Gillum underscores.  Steyer and Soros made their money as capitalists, so why are they keeping their wealth, and only using part of it to back socialists?  Isn't that an arguably hypocritical disconnect?  Or does their politics point to something else?
Gillum, as the Daily Business News on MHProNews reported, won an upset victory in the Democratic primary, and will be facing off in Florida – the #3 manufactured housing state in recent years – for governor of the Sunshine State.  In the linked report with photo below, Congressman Ron DeSantis is on the left, and Mayor Andrew Gillum is on the right.
Epic Battle for MHVille Mainstay Looms, With "Not the Most Popular Guy" and His Rival
Soros is pro-open borders.  He's long been a strong supporter of leftist causes and politicians, as a prior Daily Business News report reflected.
https://www.manufacturedhomepronews.com/follow-the-money-100s-of-immigration-protests-moveon-george-soros-the-border-mexicos-amlo-and-manufactured-housing/
Within hours of their victories, Gillum went to the 'race card' accusing Congressman Ron DeSantis of using the term "monkey this up" as more of a "bull horn," more than the "dog whistle" accusation made for alleged racism.
Really?  Was it racist when Barack Obama used the phrase?
"Democrats have been known to MONKEY around with elections," said Barack Obama Sep 4, 2008, per Me. C-SPAN quoted the former President Obama on Oct 21, 2016 saying, "so, I want to be honest, its not as if its just Republicans who monkey around with elections…"  The term "monkey around" is a neutral expression, which blacks – including the former POTUS Obama, and all other racial groups have used in the U.S. for decades.
But this faux issue is a reminder of what happens during campaign season. It's common for many, not all, Democratic candidates to 'play the race card.' That's not to excuse GOP canards, such as their traditional view on trade. But this latest Democratic allegation begs a look at some background, that sets the question of Democrats vs. the GOP and related racial issues into an accurate, historic context.
This video by professor Carol Swain at Vanderbilt University will be stunning to many, and will be unsurprising but useful to others. It's already been viewed some 4.6 million times. Viewer 'thumbs up' on this date outscored thumbs down by about 10 to 1. That suggests it's worth viewing.
For those who aren't familiar with PragerU, conservative Jewish businessman Dennis Prager helped establish that wildly popular platform. PragerU has had a broader range of informed presenters like Steve Forbes, Sharyl Attkisson, Alan Dershowitz, Guy Benson, Ben Shapiro, David Clarke, Tammy Bruce, Dinesh D'Souza, Walter Williams, and Candace Owens among others.  Prager works with good presenters with often impressive credentials, as the screen capture from the PragerU presenter's page reflects.
The historical facts presented by Professor Swain are accurate. They are also politically inconvenient.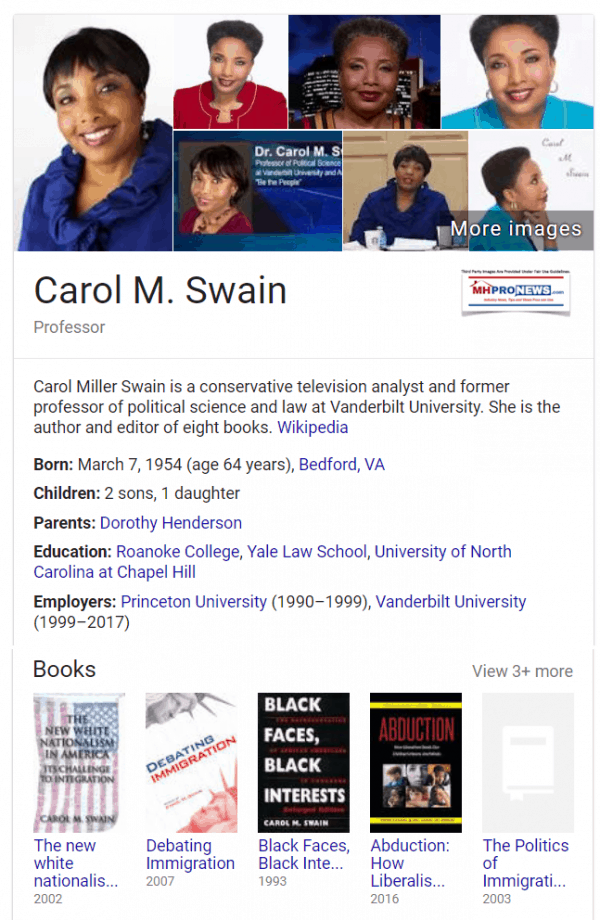 As a disclaimer, keep in mind, MHProNews' principals are not members of either major party. We are true political independents. Our friends and supporters include people of all political, ethnic, religious, and other groups. That said, we are editorially strong believers that the truth well told sets people free.
The nation watches the continued drift towards socialism among Democrats.  It's exhibited by primary victories like Alexandria Ocasio-Cortez in New York, and Mayor Andrew Gilliam in FL. These are topics that have and will impact businesses. Moderate Democrats, like former Clinton advisor Doug Schoen, are begging their fellow party loyalists to reject that push to the socialist left.
Facts are facts. Facts and the truth may be inconvenient. But with an economy rapidly rising under the leadership of a former Democrat turned Republican – President Donald J. Trump – this is a good time to grasp what's gone wrong in the past.  This is the time to make adjustments, and turn towards a brigher future founded on free enterprise. There is progress being made to an economy that increasingly works for all Americans.
Doug Schoen, Clinton Adviser, warns – "Democrats must advance an agenda…to create a society of opportunity for all – not guaranteed outcomes achieved through wealth redistribution."
The Daily Business News and other features here on MHProNews has reported on related topics previously. Some examples are linked herein, or in the related reports, further below.
If you or a friend are members of either of the two political parties discussed in this video, the questions should be simple. Is the information accurate? What relevance does it have to the upcoming voting in November?  Do we want to let America buy into the lies that promoted the crisis in Venezuela?  Start sharing these ideas now.
The Ultimate Manufactured Home Industry Fact$, Data, Insights, Bullets, plus at-a-Glance Infographic, Manufactured Home Living News, MHLivingNews, video, photos, Soheyla Kovach, L A "Tony" Kovach,
As PragerU says, exposing people to the truth well told can open and change minds. That's "News through the lens of manufactured homes, and factory-built housing," © where "We Provide, You Decide." © ## (News, analysis, and commentary.)
(Third party images and content are provided under fair use guidelines.)
1) To sign up in seconds for our MH Industry leading emailed news updates, click here.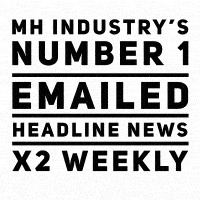 2) To provide a News Tips and/or Commentary, click the link to the left. Please note if comments are on-or-off the record, thank you.
3) Marketing, Web, Video, Consulting, Recruiting and Training Resources
Submitted by Soheyla Kovach to the Daily Business News for MHProNews.com. Soheyla is a managing member of LifeStyle Factory Homes, LLC, the parent company to MHProNews, and MHLivingNews.com.
Related Reports

:
Some say it is an attempt to emotionally manipulate you and your neighbor's common sense, or the evidence from your own eyes. Let's examine that by stepping
How to Avoid Losing Billions, Huge Loses Reported by WSJ, Other Media
Stunning Degree of Corruption, Collusion, Manipulation, and Ignorance Threatens MHVille