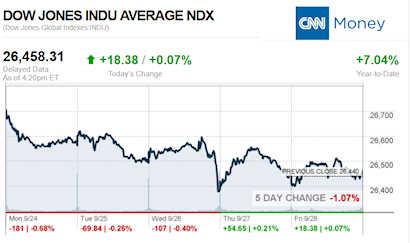 Manufactured home industry marketers and others use social media, including Facebook, on a routine basis.  Facebook has been drawing fire for much of this year, and was catching heat prior to 2018 too. An update on the news surrounding Facebook – including the latest allegations and data breach impacting tens of millions – is our spotlight tonight.
If you're new, already hooked on our new spotlight feature – or are ready to get the MH professional fever – our headline report is found further below, after the newsmaker bullets and major indexes closing tickers.
The evolving Daily Business News market report sets the manufactured home industry's stocks in the broader context of the overall markets.  Headlines – at home and abroad – often move the markets.  So, this is an example of "News through the lens of manufactured homes, and factory-built housing." ©
Part of this unique evening feature provides headlines – from both sides of the left-right media divide – which saves busy readers time, while underscoring topics that may be moving investors, which in turn move the markets.
Readers say this is also a useful quick-review tool that saves researchers time in getting a handle of the manufactured housing industry, through the lens of publicly-traded stocks connected with the manufactured home industry.
This is an exclusive evening or nightly example of MH "Industry News, Tips and Views, Pros Can Use." © It is fascinating to see just how similar, and different, these two lists of headlines can be.
Want to know more about the left-right media divide from third party research?  ICYMI – for those not familiar with the "Full Measure," 'left-center-right' media chart, please click here.
Select bullets from CNN Money…
Arriving soon: Tesla's moment of truth for the Model 3
10 years after the crisis, some investors are still scared of stocks
Sears is now a penny stock
JCPenney is without a CEO or a CFO
The S&P 500 just had its best quarter since 2013
Walgreens knew its profit forecast was wrong but didn't tell investors, SEC says
Jeff Bezos's rocket company beats out spaceflight veteran for engine contract
Amal Clooney calls on Myanmar to pardon jailed Reuters journalists
Viewers gathered around the TV in high numbers for Ford-Kavanaugh hearing
Ted Turner reveals he has dementia
BlackBerry's comeback continues
How to catch up on retirement savings in your 50s
September is usually the worst month for US stocks. Not this year
Inside Amazon's new store that only sells its highest-rated stuff
McDonald's is removing artificial additives from its burgers
Fox News fires contributor over tweets on Kavanaugh hearing
How Fox News covered Christine Blasey Ford's testimony
How Fox News covered Christine Blasey Ford's testimony
Late night reacts to the Kavanaugh hearing
Left and right reactions to the Ford-Kavanaugh hearings
How do you know you're really ready to retire early?
In your 40s with no retirement savings? Make these your next moves
Facebook announces new Oculus Quest VR headset
Federal Reserve hikes rates for the third time this year
Trump is 'not happy' with the Fed for raising interest rates
Uber to pay record $148 million over data breach
John Carreyrou: Theranos' scandal is a cautionary tale
Fox and Disney agree to sell Sky stake to Comcast
Nike shows that its business isn't just Colin Kaepernick
Why struggling Sears is selling off its brands
CBS has a new 'interim chairman'
AT&T unveils new advertising business
Select Bullets from Fox Business…
Facebook says 50 million accounts exposed to security issue, Zuckerberg to address on call
House passes tax reform 2.0 to make cuts permanent
Stocks take a breather to end month and quarter
Why American stocks are hitting record highs
Former Pinnacle Airlines CEO shot dead in Memphis
Honda announces recall of over 200,000 cars
Terrafugia's flying car, the first of its kind, will go on sale soon
How this Yankees hurler threw away $500,000 with one pitch
Boeing wins $9.2 billion Air Force contract to build training jets
Tesla short sellers score after SEC sues Elon Musk
Hacker backs off, says Zuckerberg's Facebook page won't be erased on livestream
Tesla's Elon Musk hires Mark Cuban's former attorney after rejecting SEC settlement
Seattle City Council faces deadline to turn over 'head tax' repeal documents
Nouriel Roubini: Is there a second recession coming?
Slack, workplace-messaging app firm, going public
Forget 90210. These are now the hottest zip codes in America
Americans' optimism on economy near two-decade high
America's new workforce trend: Refusing to retire
America's GDP advances by 4.2% in 2Q
Top CEOs join panel to discuss global youth initiative
Walgreens to pay $34.5M to settle SEC charge of misleading investors
JC Penney shares hit record low as CFO quits
Demi Lovato's overdose sparked massive interest in Narcan, president says
McDonald's new, cleaner burgers are better for you, according to Ed Rensi.
Delta Air Lines CEO sees $2B higher fuel bill this year
Bed Bath & Beyond shares plunge as customers turn to other options
Today's markets and stocks, at the closing bell…
Manufactured Housing Composite Value (MHCV)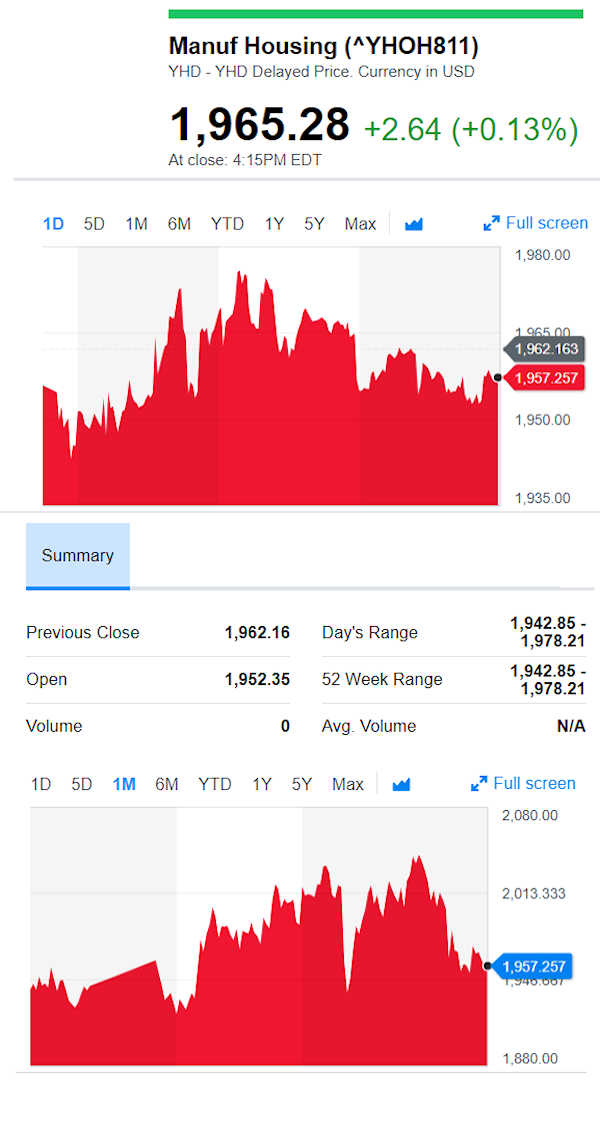 Today's Big Movers
For all the scores and highlights on tracked manufactured home connected stocks today, see the Bloomberg graphic, posted below.
Today's MH Market Spotlight Report –
Watch this development with Jeff Bezo's Amazon carefully.
It can become a game-changer for factor-builders, and/or could signal even more entries into the factory-building market.
Remember that the Daily Business News on MHProNews has previously reported that Facebook has hired 'an army' of lobbyists.  They are playing nice with Congress, and spending money to ease their way into what sources say are a hoped-for soft landing of regulation, vs. a feared antitrust break-up.
MHProNews has been spotlighting since the Trump Administration has come into office the various news and reports related to antitrust action.  While our focus has been on Warren Buffett's Berkshire Hathaway, we've also been tracking the tech giants, including Facebook, Apple, Amazon, Netflix, and Google (i.e.: Alphabet, YouTube et. al.).
The Trump campaign's Brad Parscale sounded off on one of those related issues recently.
Brad Says POTUS Trump is Right: More than Facebook & Twitter, Google Threatens Democracy, Online Freedom
With that backdrop, here's tonight's focus video and bullets from CNBC
Zuckerberg created a monster 14 years ago, and now he's trying to figure out how to control it, said CBNC in the video further below.
CNBC's Jim Cramer Says People in Silicon Valley tell me Facebook is a hated company that broke their trust
People in Silicon Valley say Facebook violated their trust, Jim Cramer says.
"This company is a rogue in the eyes of a lot of other tech companies," Cramer says.
Mark Zuckerberg, chief executive officer and founder of Facebook Inc. attends the Viva Tech start-up and technology gathering at Parc des Expositions Porte de Versailles on May 24, 2018 in Paris, France.
A number of people in Silicon Valley hate Facebook and believe the social network's problems will result in difficulties for everyone else in the tech community, CNBC's Jim Cramer said Friday.
"They say, 'How do they even have any trust at all?'"
Cramer said people in recent days have told him off the record that Facebook broke the tech community's trust.
"I've been out here, and everybody tells me off the record, they violated our trust," Cramer said Thursday night on "Mad Money." "Violation of trust is what brings in the government."
Facebook did not immediately respond to CNBC's request for comment.
Cramer, whose charitable trust owns shares of Facebook, has been critical of the platform ever since reports on March 17 that Cambridge Analytica had harvested the data from more than 50 million users of the social network without their permission.
At the time, Cramer said Facebook CEO Mark Zuckerberg and COO Sheryl Sandberg were notably silent, and said Facebook should hire a special counsel to show it has nothing to hide.
Breaches of data privacy have compromised the personal information of millions of U.S. internet and social media users, prompting lawmakers to doubt that tech firms successfully regulate themselves.
Sandberg, along with Twitter CEO Jack Dorsey, spoke with lawmakers earlier this month on social media's role in protecting elections from misinformation and disinformation.
Note, that MHProNews is not endorsing all of the points in the video below.  Frankly, as left-of-center media, their anti-Trump bias can crop up in various ways.  Be it Facebook or Google, leaders of both giants actually favored candidate Trump's opposition candidate, namely, Secretary Hillary Clinton.  That gets no mention in their report below.
These are all reasons why Shadows of Liberty is must-viewing for those who've not yet skipped a comedy or other show, to watch something that will help make sense for them in their everyday life.
"Shadows of Liberty" Movie Introduction, Affordable Housing, and You
NY Stern University's Scott Galloway on Facebook Founder Mark Zuckerberg's Capitol Hill Hearings
Bloomberg Closing Ticker for MHProNews…
NOTE: The chart below includes the Canadian stock, ECN, which purchased Triad Financial Services.
NOTE: The chart below covers a number of stocks NOT reflected in the Yahoo MHCV, shown above.
NOTE: Drew changed its name and trading symbol at the end of 2016 to Lippert (LCII).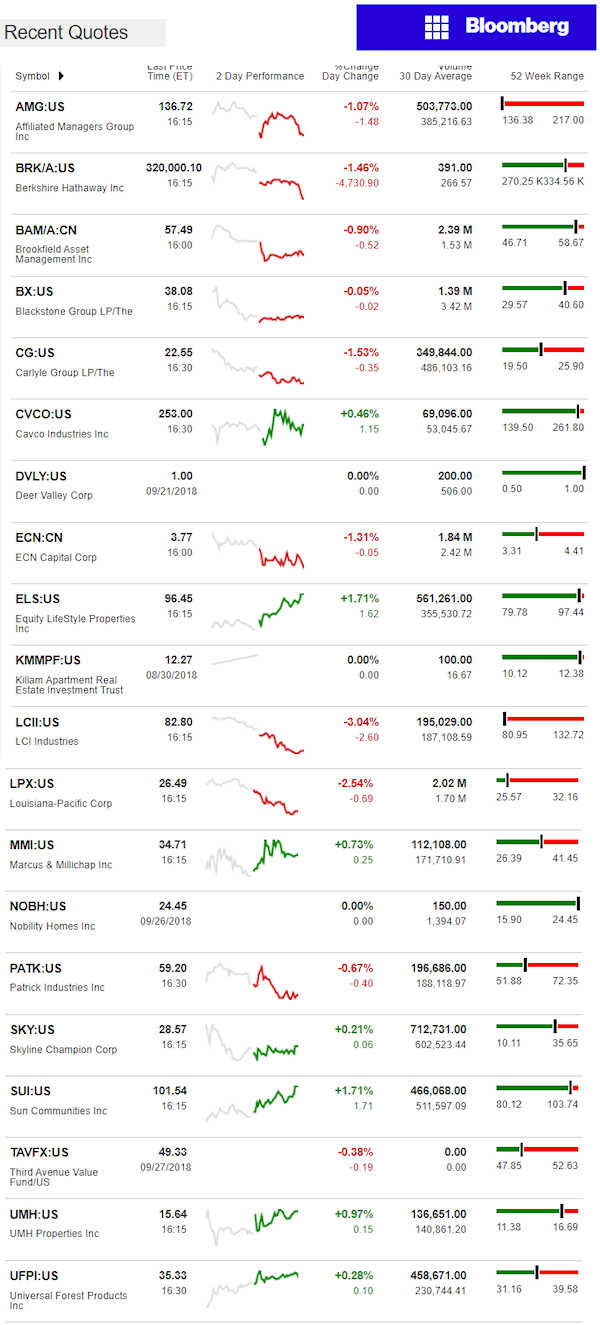 Berkshire Hathaway is the parent company to Clayton Homes, 21st Mortgage, Vanderbilt Mortgage and other factory built housing industry suppliers.
LCI Industries, Patrick, UFPI and LP all supply manufactured housing.
AMG, CG and TAVFX have investments in manufactured housing related businesses.
Your link to industry praise for our coverage, is found here.
For the examples of our kudos linked above…plus well over 1,000 positive, public comments, we say – "Thank You for your vote of confidence."
"We Provide, You Decide." © ## (News, analysis and commentary.)
(Image credits and information are as shown above, and when provided by third parties, are shared under fair use guidelines.)
Submitted by Soheyla Kovach to the Daily Business News for MHProNews.com.