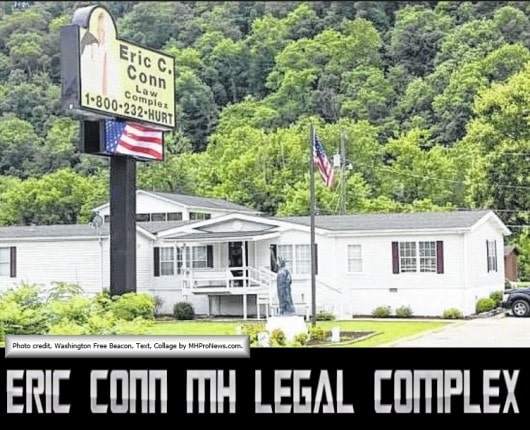 Social Security disability lawyer Eric C. Conn plead guilty earlier this year to a scheme that defrauded the federal government of over half-a-billion dollars. While a legacy factory-built housing professional yesterday quipped, tongue in cheek, that the real Ponzi scheme is social security itself, "The Conn Mann," a judge and psychologist are the ones in the legal hot seat.
What makes this unfortunate case manufactured housing news is regrettably where Conn's offices are.
That shouldn't be news, but is because it's prominently mentioned by local media – and is shown in photos published even on national news websites.
Conn has now jumped bail, and has reportedly fled the country to a nation that has no extradition treaty with the U.S.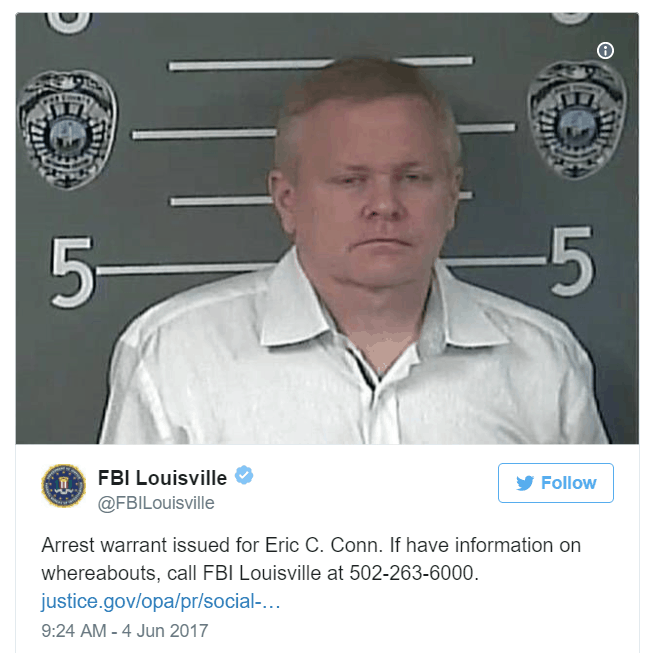 Conn, along with retired administrative law judge, David Daugherty, and Dr. Alfred Bradley Adkins, a psychologist, were the big names tied up with this massive fraud case, that's drawn national attention.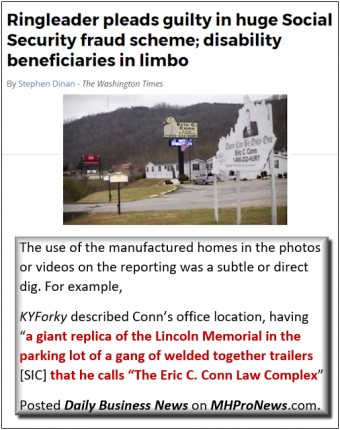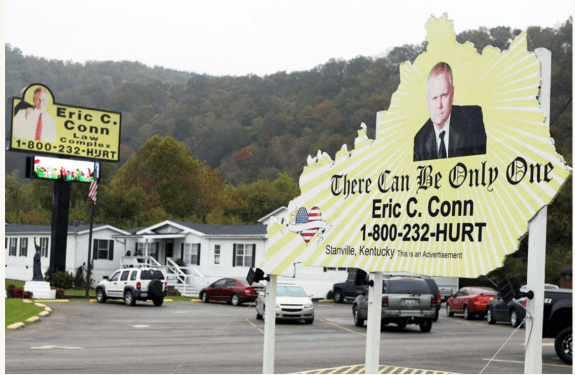 Part of the tragedy is that roughly half of those who use Conn's services reportedly may lawfully be due social security benefits, but this matter has cast a cloud over all, even though so far none of Conn's clients are actually implicated in the case.
Two Sides of the coin for Manufactured Housing's Image
MHLivingNews and others in media – such as TMZ – have pointed out that celebrities like Stevie Nicks, Matthew McConaughey, Minnie Driver, Pamela Anderson and Betsy Russell are among those who have or do live in elegant, upscale manufactured homes.
https://www.manufacturedhomelivingnews.com/oh-paradigm-shift-million-dollar-manufactured-homes-for-rich-and-frugal/
Those stars are arguably a plus to uplifting the image and acceptance of the industry, especially given the growing need for quality affordable homes in the U.S.
But the opposite side of the coin are those cases – such as Conn's sad saga – when a notorious celebrity is associated with manufactured homes. When the local drug dealer – or the guilty-plead, fleeing felon, like Conn – get dragged through the mud, the image of our industry often unjustly gets pulled with it.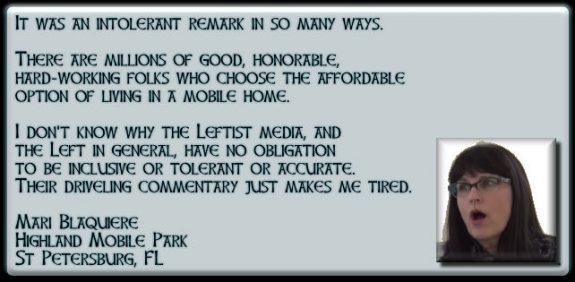 Because millions living in manufactured homes hate the stigma – as has often been reported here and on MHLivingNews – the industry would be wise to put more muscle behind efforts to lift the image, and protect against one of the last seemingly acceptable derogatory smears tolerated in the U.S.
CNBC's Take on "The Conn Man"
"Where to begin?" asks CNBC.
"There's the one where Conn — better known in Kentucky as "Mr. Social Security" — cruises around town in a Rolls-Royce, pulls up in front of a Lincoln Memorial replica, and banters with a young woman in a trench coat."
"The colorful attorney — who had been charged with conspiracy, fraud, false statements, money laundering and other related offenses in connection with the scheme — faces up to 12 years behind bars."
"It was totally predictable that he would flee," attorney Ned Pillersdorf, who represents Conn's ex-clients, per the Associated Press (AP). "I was always shocked that, when he was arrested, he was actually allowed out on bond. And there has been a betting pool going on in Prestonburg on not if he would flee," but when.
From Outrageous Celebrity, Hoping for an Obama Appointment, to Now Being a Fugitive
Kentucky lawyer Eric Conn hired the "Obama girl" for what was dubbed as a campaign video, which in the video news report on this page, Conn claims that President Obama himself saw.
Conn's Recent Flight from Justice, and MH
The case is a stark reminder of how much work the HUD Code manufactured home industry has ahead of it, in distancing itself from the 'trailer house' and 'mobile home' era images.
The Daily Business News reported on the dust-up caused by Keith Olbermann who outlandishly accused some of President Trump's white house guests of being "trailer park trash."

As community professional and MHI/NCC member, Frank Rolfe said, "Newscasters and journalists are losing their careers over the use of every other insulting slang term — however minor — simply from special interest groups threatening to boycott the advertisers. So why is 'trailer trash' the one insulting term in the U.S. that you can use without any fear of reprisal?"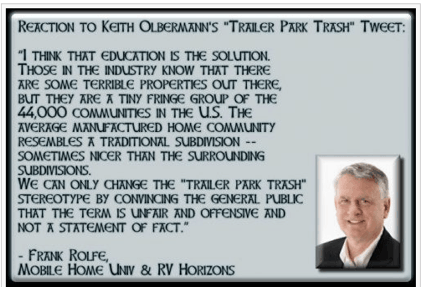 "Is it because the average American feels it's true," asks Rolfe, "thanks to the consistent negative portrayal of the industry in the media?" "In today's politically correct world, why is it acceptable to use such a derogatory term as "trailer park trash"?
"It's the ongoing negative news drum-beat that caused us to launch Manufactured Home Living News," said publisher L. A. 'Tony' Kovach. "It's been called the best thing ever done in the HUD Code Manufactured Home industry to boost the education and image of our homes ever done to date.  But this needs more support to grow the effort, as incidents like Conn's and Olbermann's make clear. The Manufactured Home Industry needs the equivalent of what the Jewish ADL does to fight anti-Semitism. We need to fight prejudice and promote the good of our industry too," he said.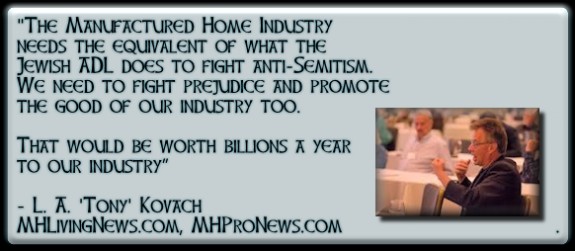 "That would be worth billions a year to our industry." ##
(Image credits are as shown above, and when provided by third parties, are shared under fair use guidelines.)

Submitted by Soheyla Kovach to the Daily Business News on MHProNews.com.