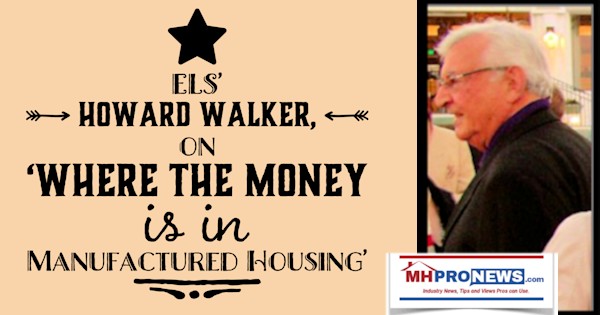 Some years back, the late Vice Chairman for Equity LifeStyle Properties (ELS), Howard Walker, JD, said this to our publisher. "Tony, the money in manufactured housing is in a book."
Walker went onto explain that manufactured housing was filled with stories.
For example.
·        There are the personalities, like Sam Zell, ELS Chairman who Walker served for many years.
·        There is Warren Buffett, who is either the third or fourth richest man on the planet, depending on whose list is considered.
·        There are other titans, but also the mom and pops.
·        There are the rising stars.
·        There are some who's star has slid or fallen.
·        There are the millions of homeowners, millions who live in a land lease, or live on privately owned land, or in a cooperative.
But there are more.
·        There are the tales of politicians who have or still do impact our industry.
·        There are stories about regulators and public officials who have or do interface for good, ill, or meh with manufactured housing.
·        There are the viewpoints of lobbyists.
·        There are various experts from a range of disciplines who have studied or worked with the manufactured home industry.
·        There are investors.
·        There are trade associations.
·        There are other nonprofits and foundations.
·        There are business of all sizes.
·        And never last, never least, and always worthy to be mentioned again, there are the tens of millions who do or have lived in a manufactured home.
·        Then there are the millions more who could learn to love manufactured housing, if they only understood it.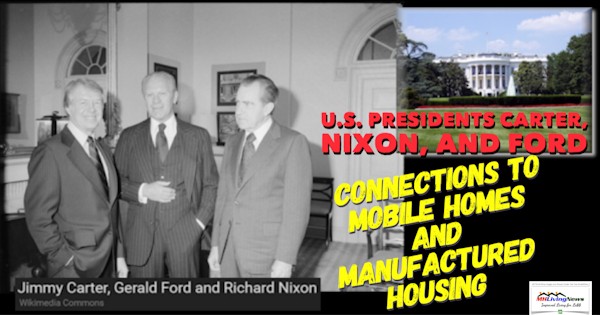 Dead Presidents…
There are past and present, living and dead presidents who have impacted manufactured housing.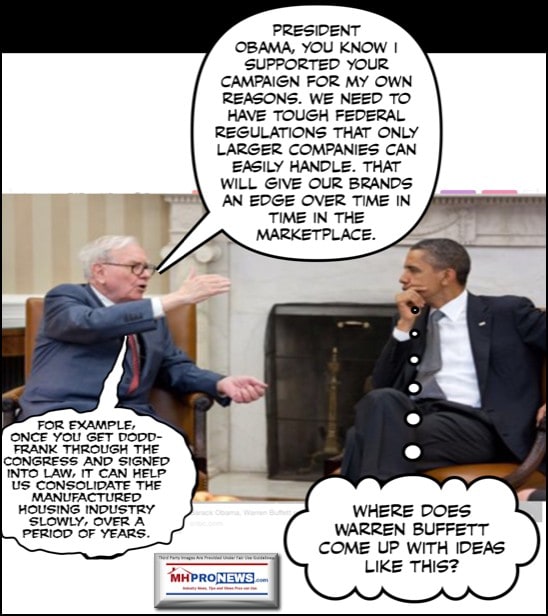 There are the rich and famous, living and dead, who have lived and or invested in manufactured housing.
President Donald J. Trump Visit to Manufactured Home Community, Video, Hurricane Florence Update
When on considers that partial list, clearly Howard Walker had a point.
But with all due respect, that's not one book, that would be volumes of books. When Walker's words are taken less literally but more in the sense of their implied meaning, it is that the manufactured home industry has many stories to tell.
Only by understanding the truth about manufactured homes – which can be done via various stories – can one begin to grasp the enormous opportunities. Only by understanding, at least superficially, the reality vs. outdated myths or misconceptions, can the industry begin to recover to its glory days, or exceed them to achieve its true and impressive potential.
Recent Events Opening Opportunities in Manufactured Housing for Business, Investors, Affordable Home Seekers?
Storytelling is essential to manufactured housing. But it must be authentic tales, not the sanitized, weaponized, manipulated versions spun by this or that nonprofit, some uber conglomerate, or a bought-and-paid for trade publisher, bloggers, etc.
Ten years ago, this month, our publisher embarked on the odyssey that two months later led to the launch of what became MHProNews. It has been an evolutionary process.
Dozens and dozens of messages of congratulations have been coming in via LinkedIn. Our thanks to all who have shared their kind thoughts and words of encouragement.
We are approaching the end of a decade of publishing. There are well over 20,000 posts on MHProNews. It is one of the largest websites in all of manufactured housing. It is by far the most popular for "Industry News, Tips, and Views Pros Can Use." ©  It is also the only place online that does "News through the lens of manufactured homes and factory-built housing." ©
And perhaps that too was part of Walker's point. Reading leads to understanding.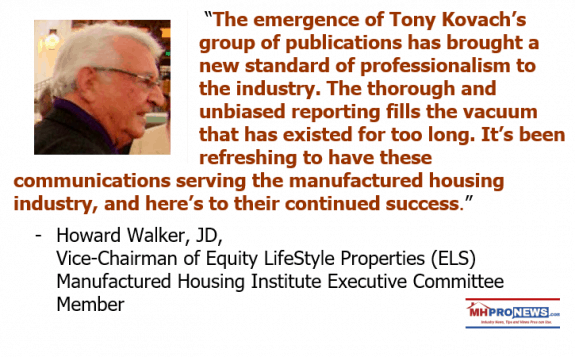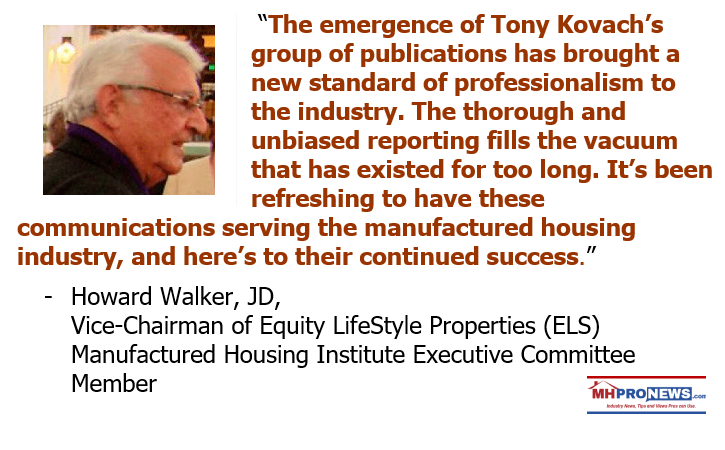 Walker shared the above on the record.
In candor, we have had our share of typos or misunderstandings. But when we get clarity on an issue, we do what the Society for Professional Journalists – which we aren't a member of, but whose Code of Ethical Conduct we respect – says that when errors are identified, they should be publicly corrected. We've held to that standard, as Tim Williams at 21st has attested.


Perhaps the best praise has been from clients and competitors alike.  Perhaps we made it look easy? That's a compliment, but as some who have already come and gone, or come and later cut back on publishing have learned, it takes dedication to earn and keep the industry's runaway largest audience.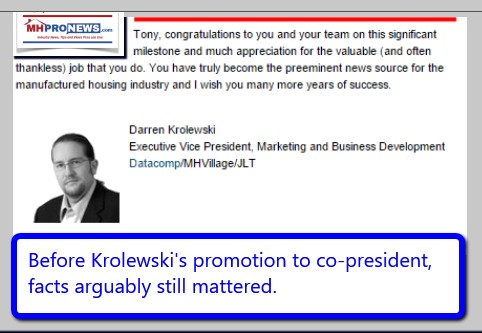 One of our competitors, perhaps not realizing that it was a backhanded compliment said that the controversial topics that we write about are the ones that are discussed in bars and over dinner conversations.
Another competitor, recently said this on the record.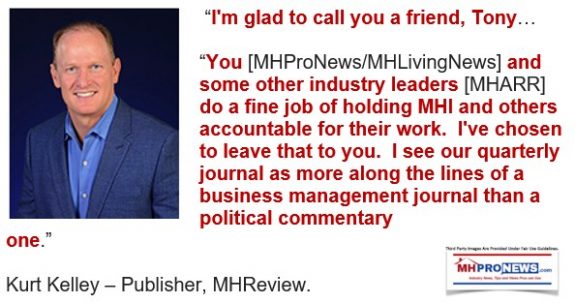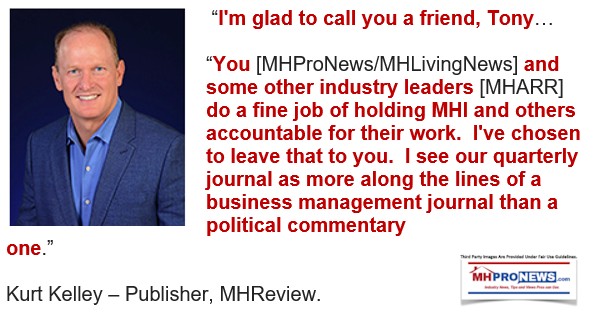 We track what others say and put the puzzle pieces together.  A Berkshire Hathaway unit leader said the following in writing, perhaps not realizing that she was slamming the Manufactured Housing Institute (MHI) with their comment.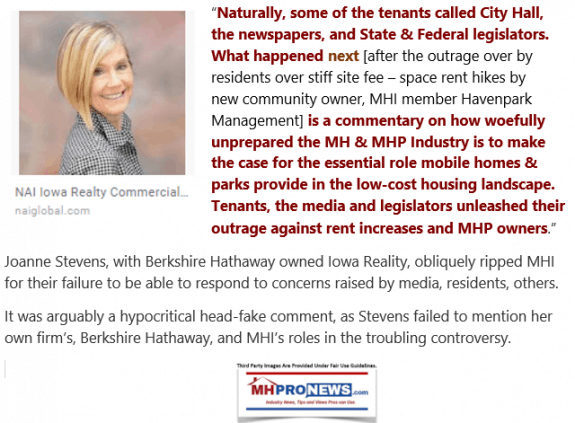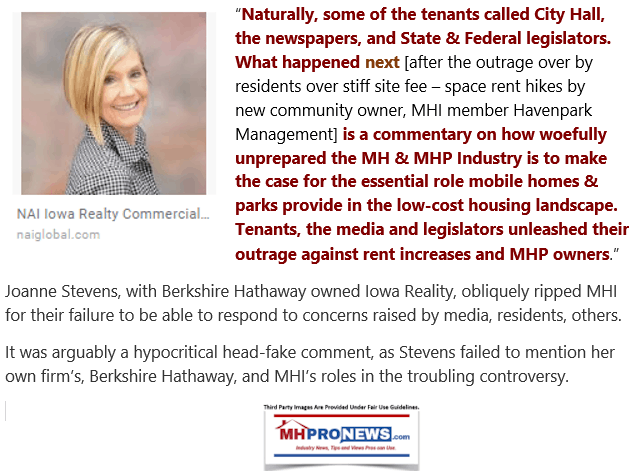 The ten-month industry downturn during an affordable housing crisis demonstrates in a sobering way the point we've hammered away on for some years. For manufactured housing to advance, there must be change from the industry's so-called leaders.  One of many possible examples of how lame other media in our industry are is the fact that they have either ignored or excused the 10 month downturn which has been carefully tracked and reported on here.  In an affordable housing crisis, when publicly traded firms are de facto saying that the industry is less than half of its historic norm, isn't it a clear miss that others aren't addressing such issues and their root causes?
Outrageous Manufactured Home Production Decline Persists – When Will Manufactured Housing Institute, 'Big Boy Brands,' Act? June 2019 Data
The third-party data and evidence are clear. Whatever others may claim, there is no one that even comes close to the level of reader engagement or total number of readers in industry trade media as MHProNews.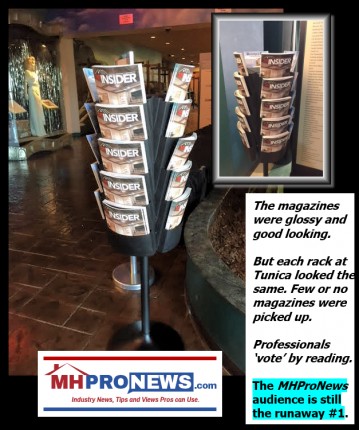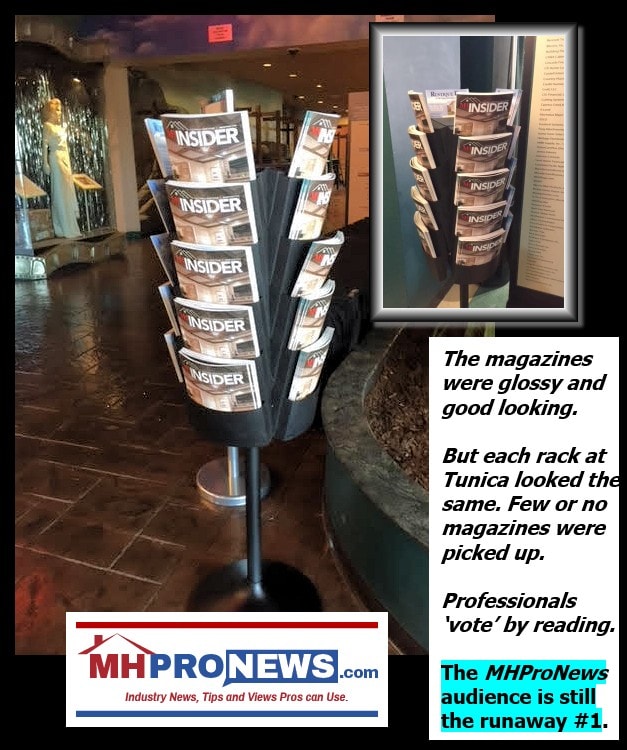 As we approach the mid-October celebration of 10 years of online publishing, we are rededicating ourselves to focusing on issues that matter to professionals, investors, researchers, and advocates of manufactured homes and factory-built housing. Our thanks for the kind messages sent. 


We thank our sponsors, clients, news tip sources – and our strong and growing core of readers – who make this effort possible and relevant.




Thanks to one and all for your respective support, kind thoughts, and readership.
There are billions to be made in manufactured housing.  But it will take new approaches – not the storytelling of the 'big boys' to accomplish that potential. 


That's a wrap on our second episode of manufactured home "Industry News, Tips, and Views Pros Can Use," © where "We Provide, You Decide." © ## (News, analysis, and commentary.)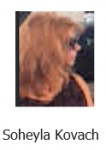 Submitted by Soheyla Kovach for MHProNews.com.
Soheyla is a managing member of LifeStyle Factory Homes, LLC, the parent company to MHProNews, and MHLivingNews.com. Connect with us on LinkedIn here and here.
Related Reports:
Click the image/text box below to access relevant, related information.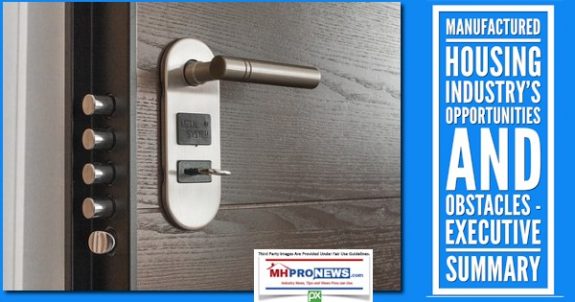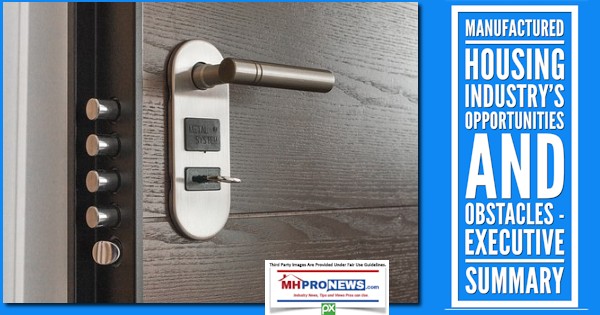 Manufactured Housing – Cold, Hard Facts vs. Effective, Appealing Storytelling, and Florida Case
What Are Federal Officials Researching About Manufactured Housing?
B2B Statistics, Trends 2019 – April 2019 Snapshot of Manufactured Home Professional Readers
What is Marketing? What is Selling? Succeeding with Manufactured Homes in Your Local Marketplace(s)