Knowledge is Power.
So those who get more news, knowledge and views they can use get a professional edge to better navigate their careers and companies for success.
In the next few minutes, you'll see the future of our Industry's business to business communications and profit-making business development systems.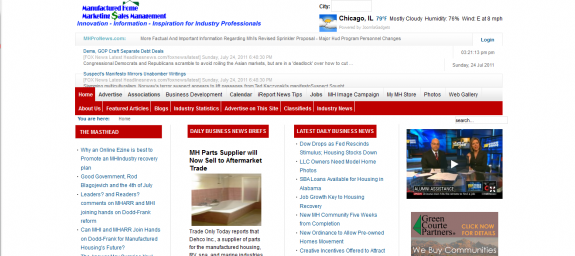 You will also get insights about the upcoming Manufactured Housing PR Image and Marketing Campaign.
Welcome to this sneak peek of the New MHMSM.com development site. Our online trade media site is still undergoing testing and refining, but should be live before summer's end 2011. You can learn more and earn more by using our site and industry services.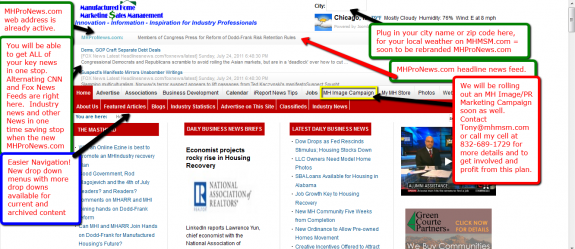 We will soon re-brand our website as MHProNews.com. The MHProNews.com web address is already active and ready for your immediate use.
At MHProNews.com you will find facts you want and need, from your local weather report, to CNN and Fox News feeds. You'll get our Industry's single best information, ideas and intellects resource in one easy daily stop.
Because you can get all your key news in minutes a day, you can save time and earn more buy using our marketing, advertising, web development and other contract services.
Let's summarize some of the new or improved features:
• Easier navigation – you will be able to access virtually the entire site from our new and improved home page.
• Our new top navigation drop down menu system will make it faster and easier to find the content you crave.
• This will include all archived content, including feature articles and reports that can help you improve and grow your career, improve your team and drive more business.
• We also have a site search tool located here for your ease of use.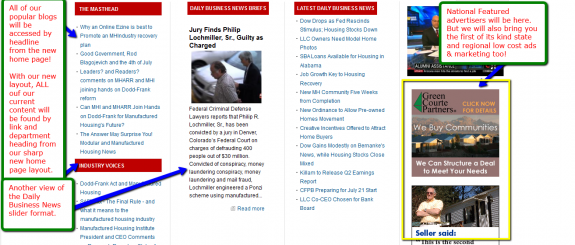 • You will be able to scroll our new home page for all current content, including the blogs.
• Starting at the top center column, we have dramatically revised our must have Daily Business News.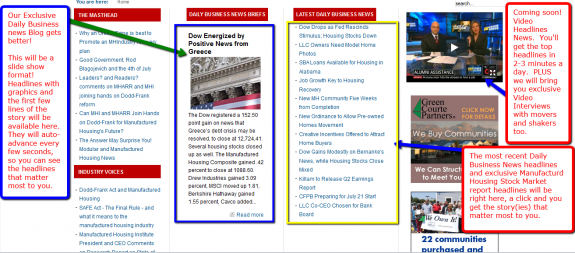 • The revised daily business news will have a modern slide show news format.
• Every few seconds, you will see a new headline, graphic and intro to the latest daily business news stories.
• You can also read the latest headlines with links just to the right of our slide show graphic in this module.
• You will also find our exclusive MHProNews.com market report, featuring business daily manufactured home industry stock summaries.
• Just to the right of our Daily Business News will be our Video Headline News. In 2-3 minutes a day, and we will cover the key news for the day in a video format.
• We also plan video interviews with Industry movers, shakers and decision makers. You will access video interviews in this upcoming video news department.
• Immediately below our video news will be our national featured advertiser module. Make a big mental note that we will add a new feature that will let you target a state or region at a dramatically reduced cost. This will be a breakthrough for small to mid sized companies who currently have no easy or cost effective way to market their business to business products and services throughout the year.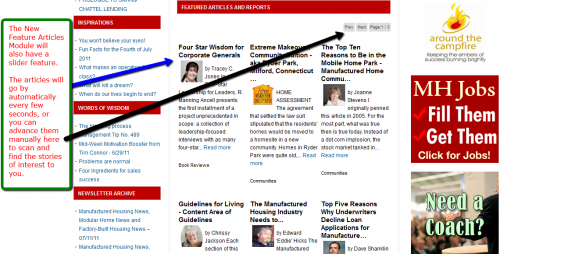 • Just below the Daily Business News modules will be our new and improved Feature Article module. This will be on a rotating carousel, so all our featured authors will be at our near the top of the feature article department. You can scan headlines as the automatically advance every few seconds, or you can manually advance articles clicking these buttons.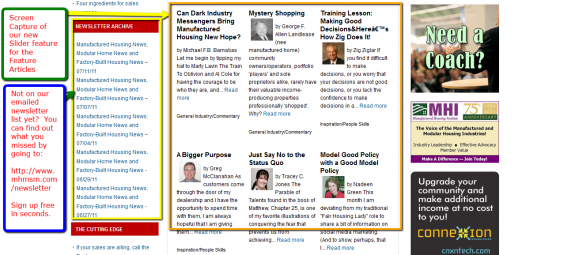 • To the left will be the links our latest headlines in our popular blogs.
• Discover what makes the Masthead, Industry Voices Guest Blog, Inspirations, Words of Wisdom, and the Cutting Edge of Sales and Marketing Blogs must have reading for tens of thousands of industry pros.
• If you aren't already getting our twice weekly emailed MHMSM.com manufactured and modular housing news early every Monday and Thursday, then see what you have been missing at our Manufactured and Modular Housing e-Newsletter blog! 15,000 messages go out weekly to pros like you. Sign up free in seconds at our current site in the Register tab or in the Newsflash modules. Stay Informed, inspired and ahead of the pack. Make sure your entire team is reading our exclusive e-news, insights, inspirational and training resource.
• You will see the latest Comments posted on our site in this new module. You can join the Industry discussion anytime day or night by posting a comment with our Disqus system.
• This white space will become over 50 state, provincial and regional blogs that will give you local news and marketing opportunities.
• This new section will become a must have resource. The state and regional blogs can provide associations a great way to attract and drive business with the lowest possible cost to factories, lenders, insurance, suppliers and vendors of all kinds. Small to mid size companies will love this cost effective way to market their products and services day or night.
• If you have something to buy, sell or trade, come here, as well as our classifieds or to our national advertisers.

• In the far right you will find our exclusive Industry in Focus Reports. You will also get MHI and MHARR news modules here. When it comes to Industry News, think
• MHProNews PROVIDES and YOU Decide.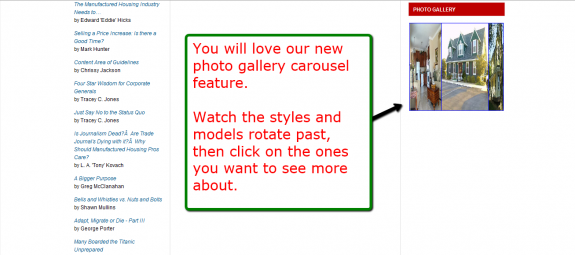 • At the bottom of our home page will be our social networking icons, a recap of all our navigation, terms of use, legal and copyright notices. Connect with us on Twitter, Facebook and Linkedin to stay on top of all the latest news and developments automatically updated for your convenience.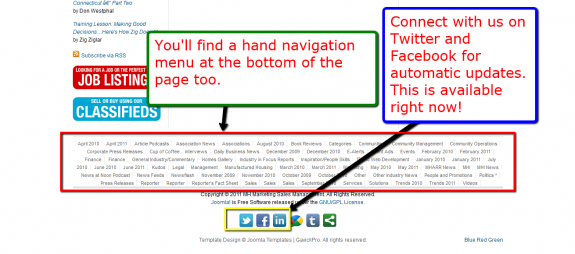 • Let's scroll back to the top for just a moment. Two more features to point out. We have already activated the iReportMHNewsTips@MHMSM.com. Many of our Daily Business News and other stories are provided by industry pros, Association leaders, public officials and other interested parties. We will soon provide you with improved ways of sharing your thoughts, news and perspectives with the rest of the factory built housing world here.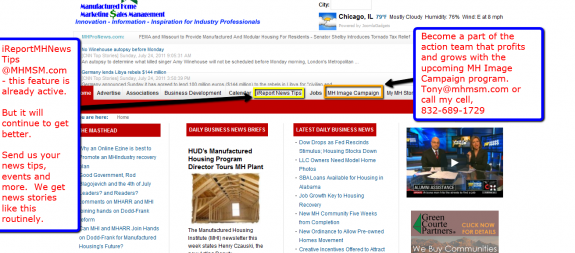 • Our one-of-a-kind plan for the MH Image/PR and Marketing Campaign can become a self-funding medium to boost industry new home sales for the first time in over a decade. We believe we can profitably return to 6 figure annual home production and shipments. This Image and Marketing Campaign will be a key tool to get us there.
• The Image/PR/Marketing Campaign is being developed with input from Industry business and association leaders.The plan will be for a coast to coast PR, Image and Marketing campaign, which will use a customized state and regional focus. To learn more on how you, your company or association can benefit, please send me an email at tony@mhmsm.com mailto:tony@mhmsm.com or call my cell at 832-689-1729.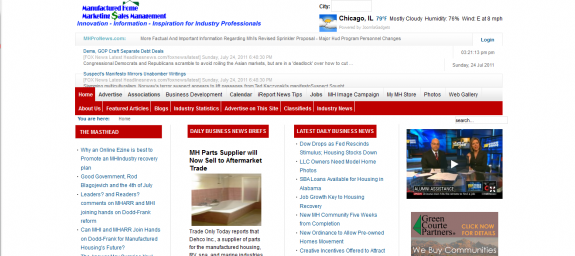 • There is no finally with MHProNews.com, because we plan to keep evolving to better respond to you and our Industry's needs.
Think MHProNews.com first, last and always when it comes to your industry news, tips and views you can use.
Think of MHMarketingSalesManagement – MHMSM.com – first, last and always for your training, business and web development needs. We have the eyes and ears of tens of thousands of leaders, owners and decision makers.
My personal thanks to you, all our writers, contributors and sponsors for making us #1. Published figures tell us we are now larger than all other similar online resources combined. Contact us now to see how you can grow with us as all this new format and features start coming online soon. Email tony@mhmsm.com or call my cell at 832-689-1729.
We are MHMSM.com = MH Marketing Sales Management.
Innovation Information and Inspiration for Industry Professionals.
Put the power of more knowledge to work for you daily with MHProNews.com. This is your professional place, like no place else on earth.
Remember, most of these news features are already active. You can start Growing your career and your organization's bottom line with us today. Use MHProNews online and via the mobile web. Thanks for taking this sneak peek into how we can make your future brighter. We hope to see you, your industry friends and associates here again soon. # #
————
Previous posts in this new Cutting Edge in Manufactured Home Marketing and Sales series:
1. Selling More Manufactured Homes What is our Industry's Market Potential? These online facts provide important clues
2. If your Sales are Ailing, call a Doctor
3. Liar! Thief!
4. Manufactured Home Marketing and Sales: The Power of Testimonials
5. Defining Your Market Methods and Message
—————————————-
new posts are by:
L. A. 'Tony' Kovach, MHM
To learn about award winning, record breaking results:
http://www.linkedin.com/in/latonykovach
832-689-1729 (cell)