I was shopping with my wife and son in Ikea the other day. There is an amazing energy in their stores. If you have not been to one, make the point to go and check it out. We will look at Ikea stores as a lesson in marketing and sales success in another column. For now, the point I want to make has to do with the power of testimonials.
Personal Testimonials
My wife and son had stepped away for a bit, and I was looking a set of scales. Ours works, but it just doesn't dazzle me. I had tested this (using myself as the test of course). The results looked reasonably accurate. I was beginning to think, I'll buy it, when a woman came up to me and said:
"I bought one of those, and it was just terrible. The readings were not consistent. I wouldn't recommend it."
I didn't know her at all, but I put that set of scales back down. Mine were reliable, why would I buy a new set of scales that wasn't?
That was a reverse testimonial. This is something that sadly happens all too often in our business, a reverse testimonial! But it underscores the point.
Social Networking
Why are social networks like Facebook or LinkedIn being used so much for marketing and business development purposes? It is due in part to the power of testimonials. If you are thinking about using a service, don't testimonials influence you? They do me, and millions of others. Before LinkedIn came on the scene, I saved and used letters of reference. As an example, some of these letters I've posted at my personal site, www.LATonyKovach.com – the recommendations on Linkedin can be found here:
http://www.linkedin.com/in/latonykovach
Positive Media Coverage
One of the most powerful types of 'testimonial' is to get positive media coverage. In my marketing/sales/management contract work for clients, one of the things I shoot for on a project is to get positive press coverage. There are a variety of ways to obtain that, some of which were covered in a panel discussion that we did for MHI's 2011 Congress in Las Vegas, "Engaging the Media Successfully." We got high marks from attendees for this presentation. But the point is, if you make an effort to get positive press, you can often obtain it.
Once you have a positive press item, be it a video or "print" story, use it!
Have the article scanned and posted on your website
Have the article copied in a professional fashion, and share it with customers
Frame the article and hang it on your wall where customers can see it. The lobby can be a great place for this, but so can your personal offices where you may meet with clients.
We will plan a future column on the topic of how to get positive media coverage. For those interested in a free webinar on the topic, please send me an email with your V-card or contact information.
One of the audio books I'm waiting to get into is titled:
Satisfied Customers tell three friends, Angry Customers tell 3000
Really, the title alone tells it all, doesn't it?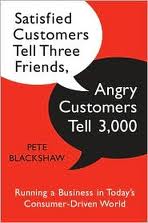 If you have an unhappy customer, try your best to deal with it. One of the most powerful things that can happen for your business referrals is to get an unhappy customer turned around, and bragging about you.
One of the most successful land lease communities in the country is a short drive from where we hang our hat. Word has it that the community – with some 1400 occupied sites – has been built primarily on referrals.
Referrals! Testimonials! Two sides of the same coin. It is 'word of mouth' – be it in person, electronic or a combination of those ways.
Put the power of testimonials – and referrals – to work for you. The discipline to do so will set you apart from your competitors. Doing so will pay you in rich rewards for years to come. # #
———————–
Previous posts in this new Cutting Edge in Manufactured Home Marketing and Sales series:
1. What is our Industry's Market Potential? These online facts provide important clues
Selling More Manufactured Homes
2. If your sales are down, how do you start a turn-round project?
If your Sales are Ailing, call a Doctor
3. Liar! Thief!
———————–
new posts are by:
L. A. 'Tony' Kovach, MHM
To learn about award winning, record breaking results:
http://www.linkedin.com/in/latonykovach
832-689-1729 (cell)