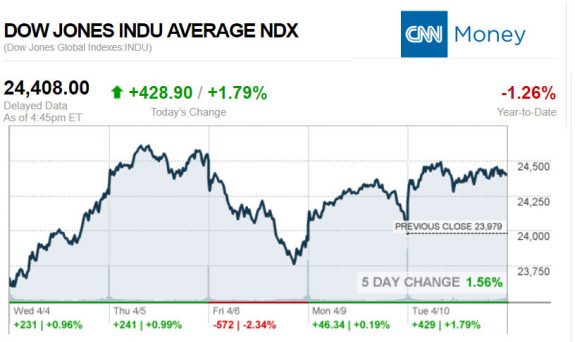 Chinese tariffs could be eased – says their President Xi – so trade war fears diminished. The raid of the president's personal attorney's offices and residences are all making headlines. With just a brief nod in our bullets to the over-reported Facebook/Mark Zuckerberg hearings – China, tariffs, trade plus the Attorney Michael Cohen raid will be our market-moving featured report for tonight.
If you're new, already hooked on our new spotlight feature – or are ready to get the MH professional fever – our headline reports are found further below, just beyond the Manufactured Housing Composite Value for today.
The evolving Daily Business News market report sets the manufactured home industry's stocks in the broader context of the overall markets.
Part of this unique feature provides headlines – from both sides of the left-right media divide – that saves readers time, while underscoring topics that may be moving investors, which in turn move the markets.
Readers say this is also a useful quick-review tool that saves researchers time in getting a handle of the manufactured housing industry, through the lens of publicly-traded stocks connected with the manufactured home industry.
MH "Industry News, Tips and Views, Pros Can Use." ©
ICYMI – for those not familiar with the "Full Measure," 'left-right' media chart, please click here. 
Selected headlines and bullets from CNN Money:
Mark Zuckerberg testifies before Congress
What to do if your Facebook data was exposed
Dow rallies 429 points after Xi Jinping calms trade fears
Why trillion-dollar budget deficits may be on a fast track to $2 trillion
Legendary investor Jim Chanos to appear on CNNMoney's 'Markets Now'
Retail defaults soar to record high in 2018
You'll pay 14% more for gas this summer, forecast says
Bankers worry Dodd-Frank rollback bill could be in peril
China's Xi Jinping pledges to cut auto tariffs
Chinese investment in the United States dropped 36% last year
How American cars are really sold in China
How a US-China trade war could hurt (and help) others
How did China end up posing as the defender of global trade?
Head of world's largest hedge fund 'worried' about a trade war
Volkswagen CEO could be out in shock management shakeup
Apple is now completely powered by clean energy
Sinclair CEO fires back at 'politically motivated attacks'
Celebs are jumping on the marijuana brand wagon
UK supermarket chain ditches palm oil. Who's next?
Saudi Arabia and France's Total to build 'giant' chemicals plant
Mark Zuckerberg's growing up moment
The biggest Black Lives Matter page on Facebook is fake
Hundreds of flights canceled as German workers strike
Woman awarded $6.45 million in revenge porn case
New Trump sanctions cost Russian oligarch
Why tax season is good (and bad) for Americans' health
Trump administration offers two more ways to escape Obamacare's penalty
Trump promises to 'make it up' to farmers hit by China tariffs
Why it's better to search for a job when you already have one
Selected headlines and bullets from Fox Business:
Facebook posts biggest gain in 2 years during Zuckerberg hearing
Facebook CEO Zuckerberg grilled on Capitol Hill: LIVE BLOG
Dow surges more than 400 points on China tariff signal
Sprint, T-Mobile revive merger talks again: report
Theranos said to lay off most of remaining workforce
Economy in 'good shape'; inflation a risk: Plosser
Did Cambridge Analytica access your Facebook data? How to check
The social media company is informing affected users at the top of "News Feeds."
Tesla corporate campaign costs UAW hundreds of thousands
This iPhone game is grossing more than $1.2M a day
Venezuela: Is a default imminent?
Former Escobar DEA agents say drug dealers are now targeting cancer patients
CBS sued: Desilu name claimed by California entrepreneur
Small business optimism slips, though fewer say taxes No. 1 issue
South Carolina, Arkansas may be next to back Trump border fight
Austin, Texas, named 2018's best place to live
Today's markets and stocks, at the closing bell…
S&P 500 2,656.87 +43.71(+1.67%)
Dow 30 24,408.00 +428.90(+1.79%)
Nasdaq 7,094.30 +143.96(+2.07%)
Russell 2000 1,543.43 +28.97(+1.91%)
Crude Oil 65.58 +2.16(+3.41%)
Gold 1,343.10 +3.00(+0.22%)
Silver 16.57 +0.04(+0.25%)
EUR/USD 1.2353 +0.0032(+0.26%)
10-Yr Bond 2.80 +0.01(+0.39%)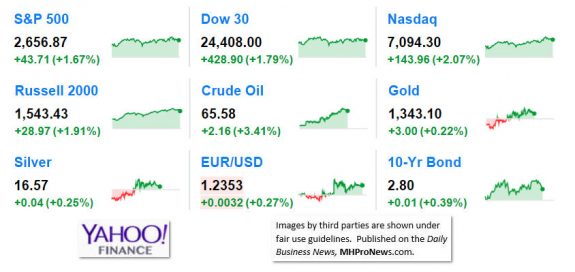 Manufactured Housing Composite Value (MHCV)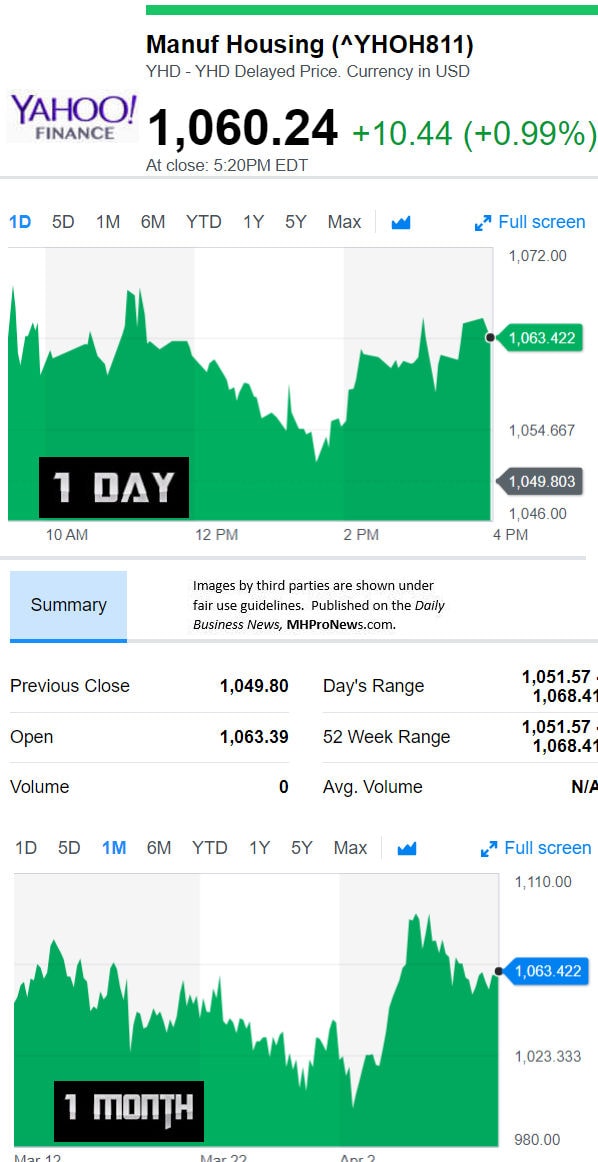 Today's Big Movers
For all the scores and highlights on tracked manufactured home connected stocks today, see the Bloomberg graphic, posted below.
Today's MH Market Spotlight Report –
When tensions escalated last year of North Korea, the markets were roiled. President Trump took numerous hits from talking heads.
Last August, in a media release, Attorney General Jeff Session said the following, "I directed the National Security Division and U.S. Attorneys to prioritize cases involving unauthorized disclosures. The Department will not hesitate to bring lawful and appropriate criminal charges against those who abuse the nation's trust."
Every time a report is heard about a pending criminal or classified communications or investigations, it may well constitute a criminal leak. So, as you notice day-by-day reports about Special Counsel Muller's investigation that isn't a public disclosure, think "potential criminal leak."  It's one of the most under-reported realities about what President Trump has called "A witch hunt," and "a disgrace."
While voices on the left keep saying, Russia, Russia, Russia, if there was collusion, with all of the leaks that have taken place, wouldn't we have known months ago?
Once more, the Daily Business News notes that starting a year ago, Democratic supporter and Harvard Law professor emeritus – Alan Dershowitz – has said that there is no such thing as a federal crime of "collusion." Even if true, it can sound or look bad, but isn't illegal.
Rephrasing, those reports are a form of agenda driven journalism.  Those political agendas are on full display in Washington, D.C, and New York City.
The goal?
Simple. Make the president look bad.  The appearance of guilt through a drip-drip-drip of leaks and reports that have little or no direct connection with the 2016 presidential campaign.
The president, as part of a statement emailed to the Daily Business News, said this evening, "Let me be clear. Since Day One, this witch hunt has never been about me.
Their target is you [i.e., the American people].
The swamp doesn't want you to take your country back, and they will fight to the bitter end to stop you," the presidential email said.
Economic, Wage, ISIS…Progress at Home and Abroad
With numerous third-party studies indicating that some 90 percent of the mainstream media's reports are tilted against the president, there are millions who only hear bad things about this administration.
"The media's coverage of President Trump has been overwhelmingly negative, more than three times more critical than the initial coverage of former President Barack Obama and … The media story reviewed the tone of coverage of Trump's first 60 days in office and found that just 5 percent was "positive," reported the Washington Examiner.
Other reports since have been similar.
President Trump and his team have done significant work on domestic and foreign issues, seeking to fulfill campaign promises and to advance the interests of the American people.
Business conditions have improved. Stocks are up, even after the recent downturn.
But it may be that the one side-barrage might backfire, as it appeared to before the 2016 election. Public polling shows the president is rising in the polls, even after the Stormy Daniels and other related negative reports.  With Rasmussen, POTUS Trump has been hovering around 50 to 51 percent in recent tracking polls, ahead in the same poll as President Barack Obama was at the same point in his presidency.
It's an obvious campaign strategy by Democrats and their media allies, with some on the right frankly falling into a similar pattern. Which reminds independent-minded Trump supporters of the pre-2016 election maxim. "When you find a man attacked by the elites in both major parties, you've found your candidate."
The left-of-center Daily Beast said in August of 2016, "I think there's the belief that somehow the whole system in Washington is not on the level—that it's tilted against the ordinary citizen. And the reason …. In 1996, the two major parties spent $448.9 million on the general election; in 2012, they spent $6.3 billion, according to the Center for Responsive Politics."
Manufactured housing would never have had the regulatory relief its been getting from Congress, HUD, EPA and DOE – among others – absent the presidency of one Donald J. Trump.
Oh, Zuck…
One brief mention on the Mark Zuckerber/Facebook matter. Don't expect Zuck to run for the White House in 2020 as a Democrat, as was rumored during parts of last year, after all of this drama. Also, in typical agenda media fashion, with all of the focus on Cambridge Analytics, what too many have forgotten is that in 2012, Facebook was supporting the reelection of President Barack H. Obama.
As the British paper, The Guardian, among dozens of others reported pre-election 2012, "A unified computer database that gathers and refines information on millions of potential voters is at the forefront of campaign technology – and could be the key to an Obama win." That harvesting of data was from Facebook.
So the left-right split, and the anti-Trump movement found in both major parties is alive and well.
Let's dive into some related videos from both sides of that left-right media divide.
Cohen, China's Xi and Markets – Fox Business
"Disgraceful" Trump on Michael Cohen Raid – CNBC
Trump Attorney Cohen – Fox Business
Trump on Cohen Raid, CNBC
It's a sad state of affairs for America, as a duly elected president's administration has been slowed by these kinds of treacherous tactics.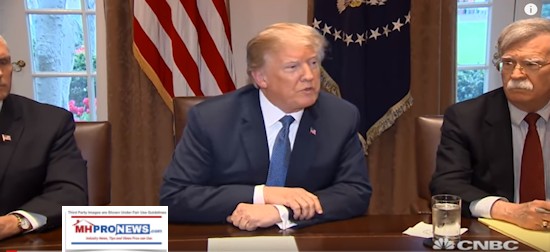 Bloomberg Closing Ticker for MHProNews…
NOTE: The chart below includes the Canadian stock, ECN, which purchased Triad Financial Services.
NOTE: The chart below covers a number of stocks NOT reflected in the Yahoo MHCV, shown above.
NOTE: Drew changed its name and trading symbol at the end of 2016 to Lippert (LCII).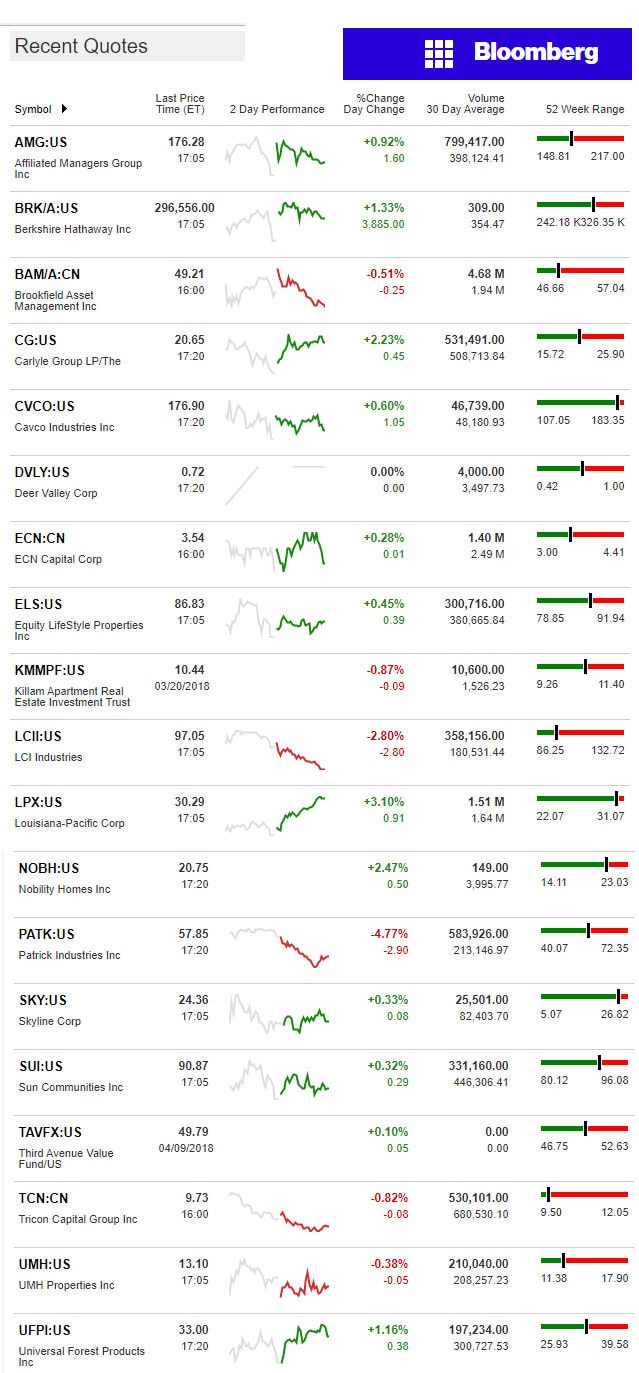 Berkshire Hathaway is the parent company to Clayton Homes, 21st Mortgage, Vanderbilt Mortgage and other factory built housing industry suppliers.
LCI Industries, Patrick, UFPI and LP all supply manufactured housing.
AMG, CG and TAVFX have investments in manufactured housing related businesses.
Your link to industry praise for our coverage, is found here.
For the examples of our kudos linked above…plus well over 1,000 positive, public comments, we say – "Thank You for your vote of confidence."
"We Provide, You Decide." © ## (News, analysis and commentary.)
(Image credits and information are as shown above, and when provided by third parties, are shared under fair use guidelines.)

Submitted by Soheyla Kovach to the Daily Business News for MHProNews.com.