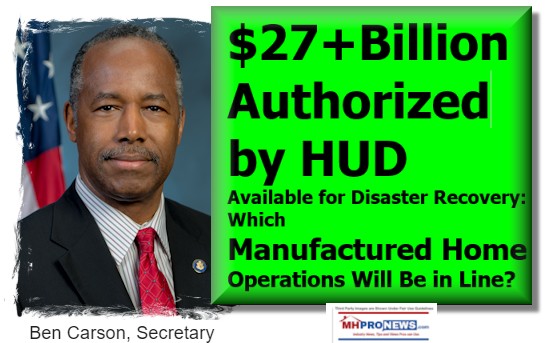 The Department of Housing and Urban Development (HUD) has announced today that they have awarded nearly $28 billion in federal aid to help "hard hit areas in nine states, Puerto Rico and the U.S. Virgin Islands."
In a release to the Daily Business News, HUD stated that "Disaster recovery funds to help repair damaged housing, businesses and infrastructure" has been authorized.
So while not all of the funds are available for housing use, local jurisdictions involved will make a chunk of that for precisely that purpose.
More details on the manufactured housing connection to this will follow the complete, formal HUD release to MHProNews, as shown below.


— start of HUD release —
HUD AWARDS RECORD $28 BILLION TO HELP HARD-HIT AREAS IN NINE STATES,
PUERTO RICO AND U.S. VIRGIN ISLANDS RECOVER FROM MAJOR DISASTERS
WASHINGTON –  The U.S. Department of Housing and Urban Development (HUD) today awarded nearly $28 billion to support long-term disaster recovery in hard-hit areas in nine states, Puerto Rico and the U.S. Virgin Islands.  These funds are provided through HUD's Community Development Block Grant – Disaster Recovery (CDBG-DR) Program and will address seriously damaged housing, businesses and infrastructure from major disasters that occurred since 2015.
The grants announced today represent the largest single amount of disaster recovery assistance in HUD's history and include more than $12 billion for major disasters that occurred in 2017 and nearly $16 billion to support 'mitigation' activities in areas that experienced major Presidentially declared disasters since 2015.  Mitigation can broadly be described as actions taken to protect communities from the predictable damage from future events.
"It's clear that a number of states and local communities are still struggling to recover from a variety of natural disasters that occurred in the past three years," said HUD Secretary Ben Carson. "These grants will help rebuild communities impacted by past disasters and will also protect them from major disasters in the future."
Background
On February 9, 2018, President Trump signed Public Law 115-123, which provides $28 billion in CDBG-DR funding.  Congress requires that these funds be used for two purposes:
Up to $16 billion to address remaining unmet needs from major disasters in 2017, including Hurricanes Harvey, Irma and Maria as well as California wildfires and subsequent mudslides.  Congress specified that at least $11 billion of this amount be targeted to Puerto Rico and the U.S. Virgin Islands, with $2 billion targeted to repair and upgrade the electrical grid in these jurisdictions.
At least $12 billion to support mitigation activities among CDBG-DR grantees that experienced presidentially declared disasters from 2015 through 2017.  After addressing remaining 2017 unmet needs, the Department is able to make an additional $3.9 billion available for mitigation, bringing amount available for mitigation to nearly $16 billion for recent CDBG-DR grantees.
CDBG-DR grants support a variety of disaster recovery activities including housing redevelopment and rebuilding, business assistance, economic revitalization, and infrastructure repair.  Grantees are required to spend the majority of these recovery funds in "most impacted" areas as identified by HUD.  HUD will issue administrative guidelines shortly for use of the funds to address grantees' long-term recovery needs, particularly in the area of housing recovery.
— end of HUD release —
HUD's Mission
"HUD's mission is to create strong, sustainable, inclusive communities and quality affordable homes for all," added their release to the Daily Business News.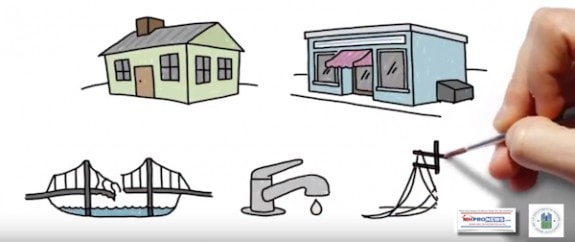 HUD Grants and Manufactured Housing Industry Connections
In a follow up question to a HUD official about the follow up and steps involving implementation of what's announced in this release, MHProNews received the following response.
"Each of these states and local communities are now our grantee," according to our source at HUD. "They must first develop a disaster recovery action plan and publish that for the public to comment upon.  Then they submit to us…we accept…and they begin to implement their long-term recovery strategy.  So, early days."
Because of association and other legwork, there are potential opportunities for those willing to navigate the bureaucratic system in search of these HUD opportunities.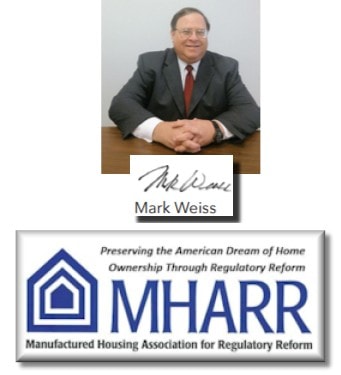 "MHARR has always taken the position that manufactured homes can and should be utilized not only as emergency relief housing in areas affected by natural disasters, but as permanent replacement housing as well," said Mark Weiss, President and CEO of the Manufactured Housing Association for Regulatory Reform (MHARR).
"MHARR has raised this issue repeatedly with FEMA, HUD and other agencies, and strongly believes that HUD Code manufactured housing — which can be placed in communities quickly and affordably — should have a major role in helping disaster-stricken communities to fully-recover as rapidly as possible," Weiss told MHProNews
Scope of the Funds
To understanding the scope of the dollars available, according to the U.S. Census Bureau, the average cost of a manufactured home in November 2017, was some $71,800.
At that figure, the 92,900 manufactured homes produced in 2017, per federal data, would yield $6,670,220,000 – or $6.7 billion dollars.
So, the HUD community block grants for disaster relief, which often sees local funds included, would be several times the size of what the industry produced at retail in 2017.
As always, MHProNews will provide additional information as it comes available. Stay tuned. ## (News, analysis, and commentary.)
(Third party images are as shown, and when sourced from third parties, are shown under fair use guidelines.)
Related Articles

:
True State of the Manufactured Housing Industry
at the end of the first quarter of 2018 series:
Investors' View of Manufactured Housing Industry Production & Retail – Cavco Industries (CVCO)
Job and Career Recruiting, Manufactured Housing and You, Part I
"Move, Open, Live" De Rose Industries & Senator Thom Tillis' Mobile Home Comments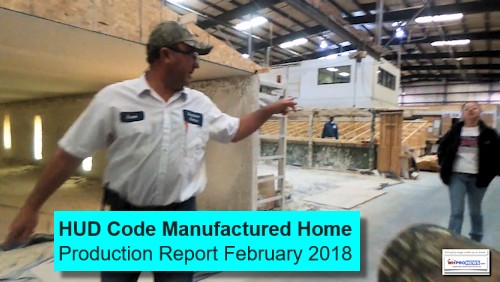 Sun Communities Annual Data and Manufactured Housing Industry Investor Presentation Highlights
Intelligence Report – MHI Producer Spotlights "the Plan" for MHCs, Community REITs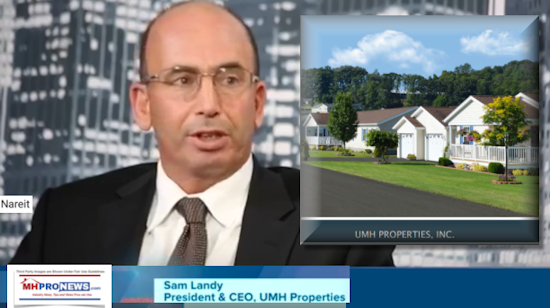 HUD Secretary Ben Carson, MD, Senator Thom Tillis, Affordable Housing, Senate Oversight Hearing, Manufactured Homes, Mobile Homes, Trailer Houses, Manufactured Home Living, Factory Built Housing 101, Evolution Trailer Houses Mobile Homes Manufactured Homes, Compare Site Built with Manufactured Homes, video, home tours,
Marketing, Web, Video, Consulting, Recruiting and Training Resources
To sign up in seconds for our industry leading emailed news updates, click here.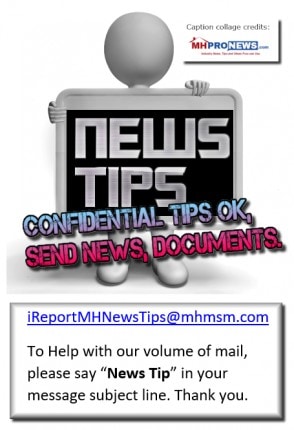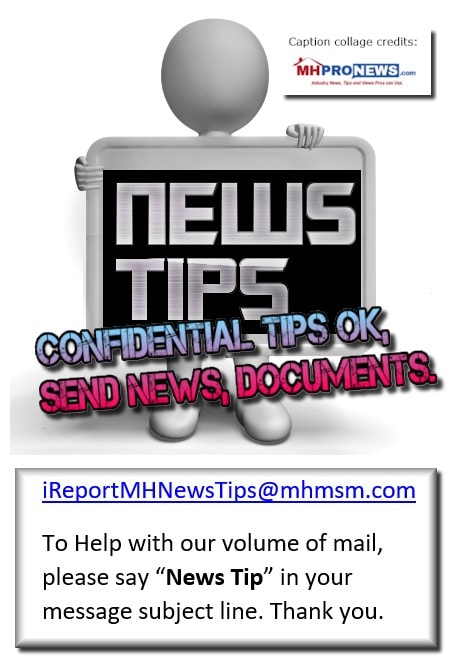 To provide a News Tips and/or Commentary, click the graphic to the right.
Business Development and Professional Services from Industry Leaders:
Marketing, Web, Video, Consulting, Recruiting and Training Resources

Submitted by Soheyla Kovach to the Daily Business News for MHProNews.com.
Soheyla is a managing member of LifeStyle Factory Homes, LLC, the parent company to MHProNews, and MHLivingNews.com.