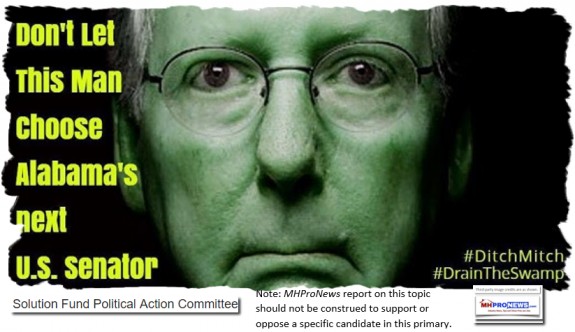 "Corrupt and incompetent" is how former White House Chief Strategist Steve Bannon described the leadership of the Republican Party on Capitol Hill.
In an interview with Sean Hannity on Fox News, Bannon – now back with the right's popular Breitbart – stressed his support for President Donald J. Trump's agenda.  He does so even as he supports a candidate other than the one the president formally endorsed, as reported by the Daily Business News.
In a release to MHProNews, the "Solution Fund Political Action Committee" has sent a colorful statement that accurately depicts the support of some high profile conservatives for Judge Roy Moore.  Meanwhile, their statement paints Strange as, "But those corrupt, deal-cutting liberal Republicans have their candidate, too, in Luther Strange, a man so thoroughly under Mitch McConnell's thumb there's nothing left to see of his Abe Lincoln-sized frame."
Alabama, a Manufactured Housing Production State in Deep Red Trumpland
Alabama is a deep red state that President Trump won by a wide margin.  It is home to over a dozen HUD Code manufactured housing production centers, and hundreds of thousands of manufactured home owners, that the New York Times says tends to lean toward POTUS Trump.
As efforts such as the repeal and replacement of ObamaCare languishes in the Congress, there is an effort among conservatives to purify the GOP of anti-Trump, "RINO" Republicans.

The Solution Fund PAC release states, "Praised by Ann Coulter and Ben Carson, Judge Moore is the candidate of choice for Sean Hannity, Mark Levin, Phil Robertson, Chuck Norris, James Dobson, Mike Huckabee, Louie Gohmert, Sarah Palin, Sebastian Gorka, Steve Bannon and a hundred other good conservatives."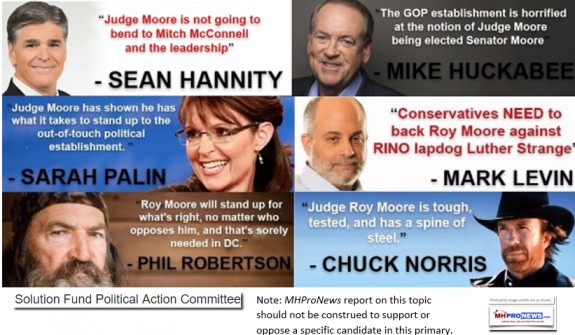 The "liberal wing of the Republican Party" has "outspent Judge Moore by a factor of more than 20 to 1."  They frame this election as RINO (Republican in Name Only) vs. true Trump supporting Republicans.
The Daily Business News reported on this controversial campaign at this link here.
Given the hyperbolic language from Solution Fund and others – such as speaking of Strange as an S.O.B. and then, "call him "Big Luther," Alabama's version of the New York mafia's "Fat Tony Salerno" and "Vinnie the Knife."
So it is no surprise that several in the mainstream media have and will frame this as a civil war within the GOP.
Perhaps more accurate is the notion that if Moore wins, both Trump and Bannon and those with Breitbart's leader still win.
While Moore has maintained a lead in the polls, for a normally low-turnout primary, it will come down to turnout of each group's motivated voters. ## (News, analysis.)
(Image credits are as shown above, and when provided by third parties, are shared under fair use guidelines.)

Submitted by Soheyla Kovach to the Daily Business News for MHProNews.com.