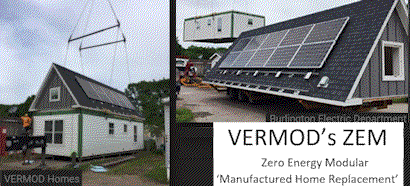 Being "green" is all the rage for millions of Americans.  Indeed, sustainability is good – and all forms of modern factory building are demonstrably more sustainable than their on-site built counterparts tend to be.  Just the reduction in wasted materials, which sources say runs about 30 percent, is significant for the environment and for holding down the costs of construction.
In some states, such as California, being green is a looming mandate. For example, GreenTechMedia reports that in CA,  "By 2020, the hope is that the state's Codes and Standards board will regulate ZNE homes [Zero Net Energy]. As with any ambitious project, the devil is in the details."
In Vermont, VERMOD is making news with their ZEM.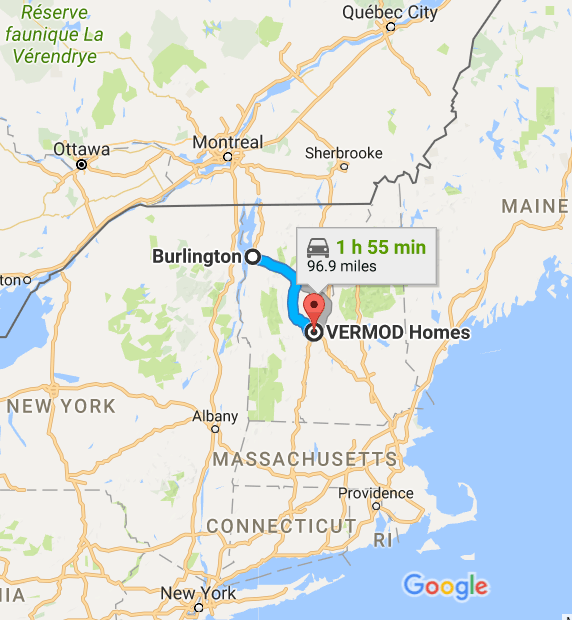 ZEM is short for Zero Energy Modular.  It's designed to do as claimed, saving their home owners significant dollars on the energy usage side (see chart further below).
To get some clarity on the facts not covered by mainstream media reports, MHProNews contacted the builders of the ZEM, and did some follow up questions in the wake of a story that is found at this link. Phoebe Howe replied for their company.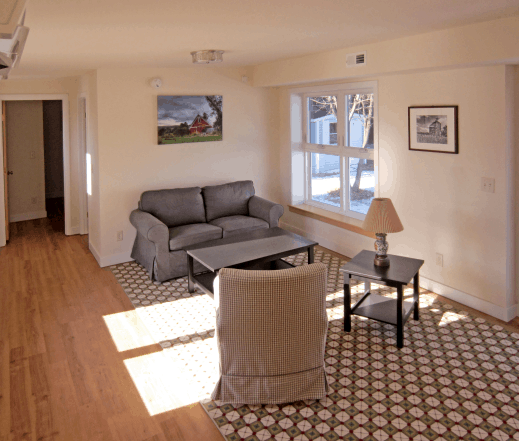 Q1) What building code is the ZEM made to, please?
"ZEM is a modular home, meets the latest IBC requirements, is set directly on a frost protected foundation and is built to meet the Efficiency Vermont Certified: High Performance standard," Howe said, providing a link to additional information (see download above for more details).
Q2) Was the energy use data broken out by pre-HUD Code homes – true mobile homes – and post 1976 Code Manufactured Housing?
"The comparison looks at a new HUD manufactured home delivered today in the same climate, Vermont, with the same program elements (square footage, beds, bath and geometry) as compared to a ZEM," Howe said, again, see the link above for more details.
Q3) What size is the ZEM, total cost at retail, cost per square foot?
"The ZEM homes are custom designed and come in many different configurations but are primarily designed to replace single wide and double wide manufactured homes in parks and on private land.  Most homes are a 14x70ft single box or 26x42ft two box home. The completed homes run approximately $120/sf FOB, which includes a full ENERGY STAR appliance package including dishwasher, clothes washer and ventless heat pump dryer in addition to a ductless cold climate heat pump for heating and cooling, heat pump water heater and fresh air ventilation system.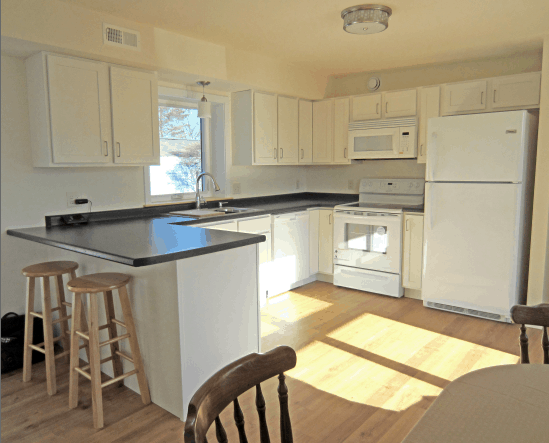 With crawlspace foundation, delivery, set, utility hookup, and solar, the homes run approximately $160/sf.," once more added information was provided by Howe, which is shown in the graphic below.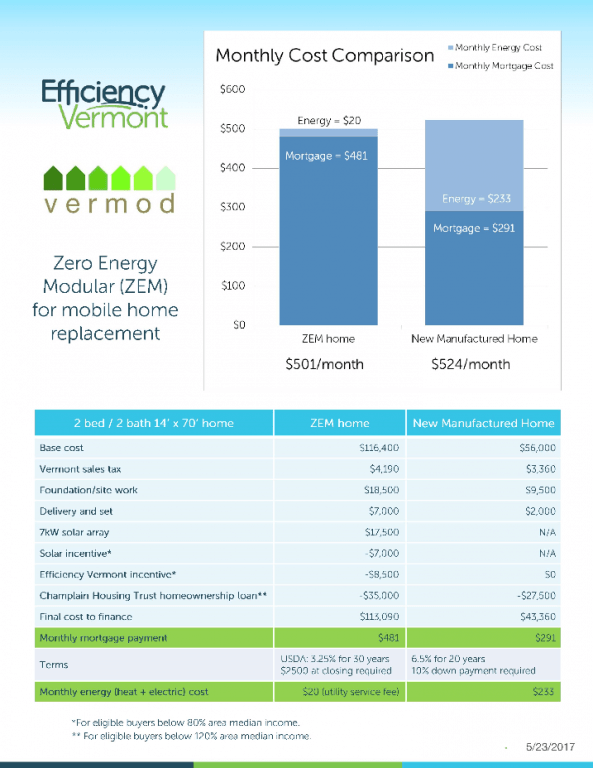 Apples to Apples?
It isn't easy to determine from the information VERMOD provided if this is a standard manufactured home insulation package they're comparing to their ZEM or not.  The implication is that it is the same size, but the HUD Code home could be a standard model, as opposed to an upgraded insulation or Energy Star ™ rated home.
As Dr. Harold Hunt pointed out in the snippet quoted below, those involved in ordering manufactured homes know that virtually all builders offer upgraded insulation packages.  There are not many HUD Code builders at this time that offer a net zero production model, but several companies are doing testing and sales of such designs, as the Daily Business News and MHLivingNews have reported.
Howe would find wide agreement among retailers and communities who say that many customers care more about the down payment and monthly payment than total costs (see payment chart above).
What is certain is that while the monthly payment shown in the VERMOD example is lower, it is also lower because of incentives offered, plus a 50 percent longer loan term.  Apples to apples on the loan term, the ZEM would clearly be higher.
It's also worth noting that with a shift in U.S. energy policy being signaled in the Trump Administration, energy costs may not be rising at the same rates as we've seen in the past 8 years.  See our linked report above on that topic.
The builder of the ZEM states that they are scheduled out for several months.  So their project seems to be stable and doing well, based upon the current dynamics of energy rebates and other incentives that are artificially lowering those costs to the buyers of a ZEM.
MHProNews and our sister site, MHLivingNews, will continue to track such developments, to keep professionals, investors, and the public informed.
"We Provide, You Decide." © ## (News, analysis.)
(Image credits are as shown above, and when provided by third parties, are shared under fair use guidelines.)

Submitted by Soheyla Kovach to the Daily Business News for MHProNews.com.