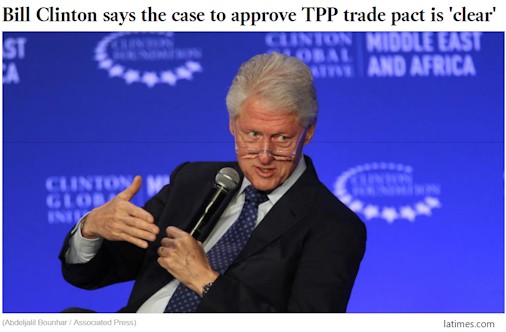 Continuing our periodic series of headline news from around the web and various left-right-center news sources, leading up to the November 8, 2016 vote for the next president of the United States.
Save time here: grab your campaign news at a glance, pick the topics you want to know more about.
Wash Post, Clinton: 'Why aren't I 50 points ahead?' 
Trump opposes plan for USA to cede internet oversight…
Americans ditching houses to live in vans, save money…

Terrifying signs of looming housing crisis…
LA Times – Bill Clinton says the case to approve TPP trade pact is 'clear' (translation/meaning = Hillary plans to change her stated opposition to TPP, if she gets elected…)
YOUNG ADULTS 'WORN DOWN AND WORRIED ABOUT THE FUTURE'…
LIMBAUGH: Riots new normal under first black president…
BREITBART NEWS DAILY: BILL'S FAREWELL ADDRESS TO HIS SCANDAL-PLAGUED FOUNDATION
HOT AIR: GOP Rep. Trent Franks: #NeverTrump Republicans are "betraying the Constitution"
The candidate Obama's 2007 memo on Hillary Clinton, 'Its all about the money.'
Farrakhan to Obama: Let Trump Do Want He Wants, You Failed Inner City Blacks
Poll: 84 Percent of Working Class Whites Say Govt Doesn't Represent Our Views

Previous report with graphs, charts, video and electoral college map:
Hillary Clinton's Abe Lincoln Moment? Mo-Trump; POTUS 2016 News & Analysis.
Start of routine Election Headline series, linked here. "We Provide, You Decide." © ##
(Image credits are as shown.)

Submitted by L. A. 'Tony' Kovach to the Daily Business News, MHProNews.