Senator Bill Nelson (D-FL), Senator Marco Rubio (R-FL), state and federal officials are praising the pre-storm response coordination for Hurricane Irma per reports on Fox News and USA Today.
Nelson speaking on Fox, called the federal response, "seamless" with state, local officials and first responders.
Irma is reportedly one of the largest if not the largest hurricanes in a century to hit the United States.
An estimated 6 million plus Floridians were under some level of evacuation orders.  As of 10:12 PM ET, Fox was reporting 3.3 million without power. That total was expected to rise.
Law enforcement has imposed curfews in several cities, such as Miami and Orlando, attempting to suppress looting and other dangers.
MHProNews on the Scene
As MHProNews was moving north on I75 in Florida Saturday, as a steady stream of vehicles were moving south that were pre-positioning for storm response.
Ambulance, fire, law enforcement, tree services, electric services, and generators were all moving south.
Law enforcement presence was heavy on the northbound side of I75.
North of the toll road, about every 1/3 miles, a state trooper vehicle was stationed. When a breakdown occurred – which was not common on Saturday where MHProNews traveled – troopers and service vehicles were able to quickly respond.
Fuel supplies were good in most stations.
Traffic was steady, but not bumper-to-bumper as had been previously reported on Friday.
Seen and Unseen
A classic Rolls Royce, Mercedes and BMWs were traveling north, along with vehicles by American, European, and Asian car makers.  What wasn't evident was older vehicles.  Perhaps many with older vehicles were unwilling to risk a breakdown, and opted to shelter in Florida instead?
Unlike Super Storm Sandy or Hurricane Katrina, the response to Harvey and now Irma seemed far better prepared. As was reported previously, FEMA Manufactured Housing Units (MHU) are reportedly among the assets that are being pre-positioned for post-storm housing needs.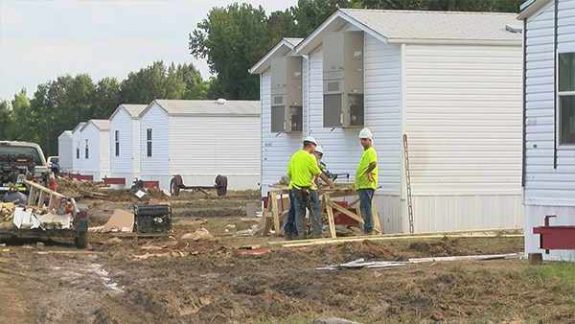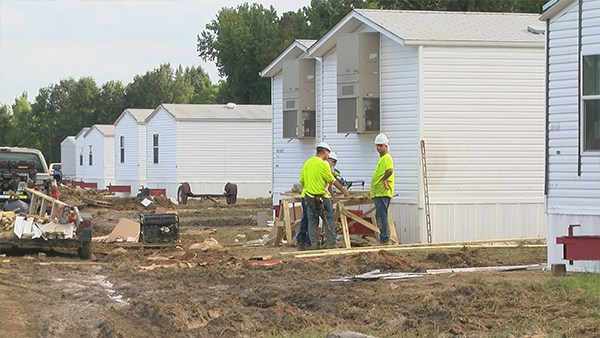 MH Communities Preparing, Days in Advance
Community operators told MHProNews that they were preparing for days in advance of the storm.  Knowing that flying debris is one of the threats from such storms, making sure that items outdoors around homes that could become projectiles were a focus for them to dump, secure, or put away.
With tens of billions in damage anticipated, numerous manufactured housing supply impacts and opportunities are expected.  The early fatalities being reported have included first responders.  But all over the state, and in neighboring states, church and civic organizations have already been responding to those in need.
The storm could track into parts of Georgia and the Carolinas, but more will be known tomorrow.
MHProNews' team offers its prayers and best wishes to all those in the impacted areas.
(Update at 7:54 AM ET, Now over 6 Million reportedly without power, according to Florida Power and Light.)
## (News.)
(Image credits are as shown above, and when provided by third parties, are shared under fair use guidelines.)

Submitted by Soheyla Kovach to the Daily Business News for MHProNews.com.