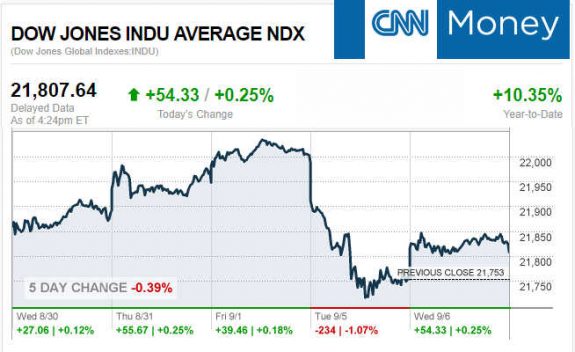 As today's report below – and an upcoming one from Julia Granowicz will reflect – the costs on building supplies and other components going into manufactured housing are and will be expected to rise.
Those who recall the post-Katrina recovery will know what that event's impact on pricing and order delays were like.
If you're new, already hooked on our new spotlight feature – or are ready to get the MH professional fever – our headline reports' are found further below, just beyond the Manufactured Housing Composite Value for today.
The evolving Daily Business News market report sets the manufactured home industry's stocks in the broader context of the overall markets.
Part of this unique feature provides headlines – from both sides of the left-right media divide – that saves readers time, while underscoring topics that may be moving investors, which in turn move the markets.
Readers say this is also a useful quick-review tool that saves researchers time in getting a handle of the manufactured housing industry, through the lens of publicly-traded stocks connected with the manufactured home industry.
MH "Industry News, Tips and Views, Pros Can Use." ©
Selected headlines and bullets from CNN Money:
DACA repeal will make doctor shortage worse
Hurricane Irma is wreaking havoc on cruise lines
Dreamers forced to rethink careers
4 ways White House says tax reform will fill your wallet
Swiss firm claims to crack secret of red chocolate
Scandals are sabotaging deregulation push
200 Gap and Banana Republic stores closing
Billionaire to ride out Hurricane Irma in wine cellar
Why paying off student loans early could be a mistake
Florida's struggling orange growers brace for Irma
For Caribbean residents, Irma could last months
Selected headlines and bullets from Fox Business:
Harvey caused 'broad disruptions' to U.S. economy: Fed
Fed sees pickup in economic growth, but inflation remains muted
S. House approves $8B in initial Hurricane Harvey relief
Trump takes tax tour to North Dakota refinery
Energy shares lead broad rebound on Wall Street
Oil up after Harvey fallout; Irma heads toward Florida
Trump, siding with Democrats, agrees to 3-month debt-limit rise: Lawmakers
Hillary Clinton will not run for president in 2020: Robert Wolf
Amazon in hot water for pushing up water prices ahead of Irma, residents say
Hurricane Irma: These airlines are offering free travel changes
Nike cutting 745 Oregon jobs by end of month: Report
Apple, Amazon bid for James Bond film rights: Report
Goldman CEO says former No. 2 Cohn would do a 'great job' as US Fed chair
North Korea Nuclear threat: EU withdrawn from role on world stage, Farage says
Fed's Fischer announces resignation, to leave mid-October
T-Mobile giving Netflix for free to family plan subscribers
ICYMI – for those not familiar with the "Full Measure," 'left-right' media chart, please click here.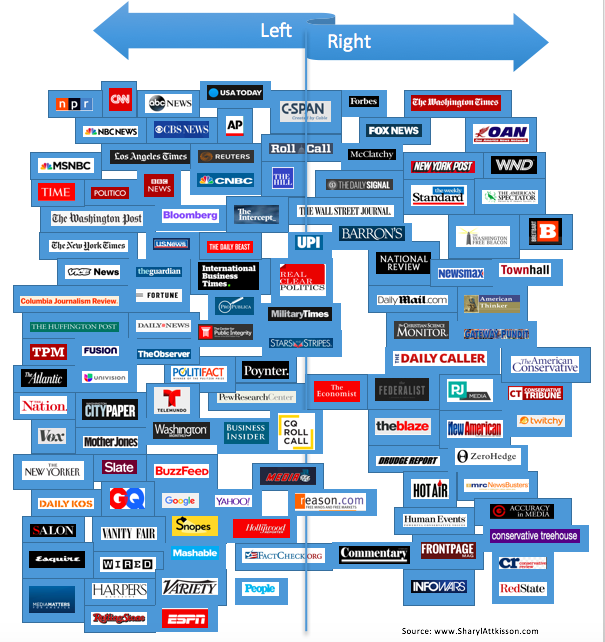 Today's markets and stocks, at the closing bell…
S&P 500 2,465.54 +7.69 (+0.31%)
Dow 30 21,807.64 +54.33 (+0.25%)
Nasdaq 6,393.31 +17.74 (+0.28%)
Crude Oil 49.15 +0.49 (+1.01%)
Gold 1,339.10 -5.40 (-0.40%)
Silver 17.94 +0.00 (+0.02%)
EUR/USD 1.1919 +0.0007 (+0.06%)
10-Yr Bond 2.11 +0.04 (+1.84%)
Russell 2000 1,402.20 +2.54 (+0.18%)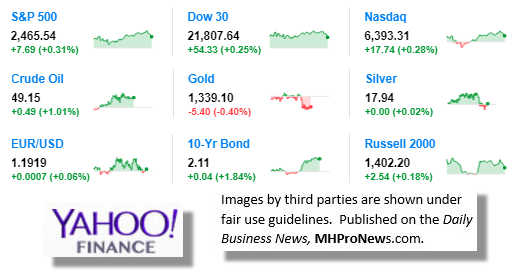 Manufactured Housing Composite Value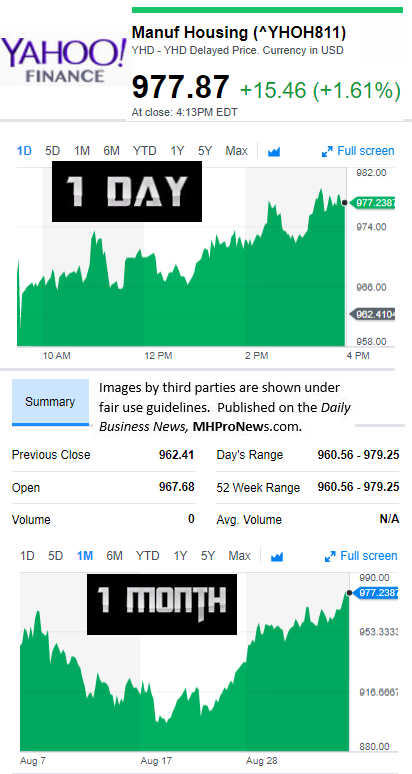 Today's Big Movers
For all the scores and highlights on tracked stocks today, see the Bloomberg graphic, posted below.
Today's MH Market Spotlight Report – 
With Storms, Prices Rise – LPX Spotlight. 
As another upcoming industry report will reveal, prices on building material are expected to spike as a result of Hurrican Harvey – and soon – Irma. No surprise that industry suppliers watched their stocks rise.  Among those risers, LPX.
Per the Louisiana Pacific investor relations page, "Based in Nashville, Tennessee."
"Louisiana-Pacific Corporation, together with its subsidiaries, engages in manufacturing and distributing building products for new home construction, repair and remodeling, manufactured housing, and light industrial and commercial construction."
Ticker: LPX
Exchange: NYSE
Per a report today from Clayton News:
Louisiana-Pacific Corp (LPX) Needle Moving on Volume
"Shares of Louisiana-Pacific Corp (LPX) are moving on volatility today 1.23% or $0.315 from the open. The NYSE listed company saw a recent bid of $25.955 and 1195953 shares have traded hands in the session.
There are many factors that can affect the health of a certain company. Because of this, it can be extremely difficult to find one single strategy that will prove successful in the stock market. Investors are able to study all the different data, but figuring out the relevant information can be a struggle. There is plenty of company information that can easily be measured such as revenue and profits. There are also elements that aren't as easily computed such as reputation and competitive advantage. Finding a way to gather all the information and craft a strategy that incorporates all aspects of a company may be a challenge for investors. Because there is a highly inherent human element to picking stocks, price action may not follow expectations. Human emotion can reverse course rapidly over a short period of time. Investors need to always be prepared for market uncertainty while attempting to keep emotions in check. 
Deep diving into the technical levels for Louisiana-Pacific Corp (LPX), we note that the equity currently has a 14-day Commodity Channel Index (CCI) of 134.94. Active investors may choose to use this technical indicator as a stock evaluation tool. Used as a coincident indicator, the CCI reading above +100 would reflect strong price action which may signal an uptrend. On the flip side, a reading below -100 may signal a downtrend reflecting weak price action. Using the CCI as a leading indicator, technical analysts may use a +100 reading as an overbought signal and a -100 reading as an oversold indicator, suggesting a trend reversal.
Louisiana-Pacific Corp's Williams Percent Range or 14 day Williams %R currently sits at -10.76. The Williams %R oscillates in a range from 0 to -100. A reading between 0 and -20 would point to an overbought situation. A reading from -80 to -100 would signal an oversold situation. The Williams %R was developed by Larry Williams. This is a momentum indicator that is the inverse of the Fast Stochastic Oscillator.
Currently, the 14-day ADX for Louisiana-Pacific Corp (LPX) is sitting at 21.67. Generally speaking, an ADX value from 0-25 would indicate an absent or weak trend. A value of 25-50 would support a strong trend. A value of 50-75 would identify a very strong trend, and a value of 75-100 would lead to an extremely strong trend. ADX is used to gauge trend strength but not trend direction. Traders often add the Plus Directional Indicator (+DI) and Minus Directional Indicator (-DI) to identify the direction of a trend.
The RSI, or Relative Strength Index, is a widely used technical momentum indicator that compares price movement over time. The RSI was created by J. Welles Wilder who was striving to measure whether or not a stock was overbought or oversold. The RSI may be useful for spotting abnormal price activity and volatility. The RSI oscillates on a scale from 0 to 100. The normal reading of a stock will fall in the range of 30 to 70. A reading over 70 would indicate that the stock is overbought, and possibly overvalued. A reading under 30 may indicate that the stock is oversold, and possibly undervalued. After a recent check, the 14-day RSI for Louisiana-Pacific Corp (LPX) is currently at 66.77, the 7-day stands at 75.90, and the 3-day is sitting at 80.85."
 See Recent Exclusive 1 Year Snapshot of All Tracked Stocks
http://www.MHProNews.com/blogs/daily-business-news/manufactured-housing-industry-markets-wall-street-reacts-to-trumponomics-1-year-data-snapshot/
NOTE: the chart below covers a number of stocks NOT reflected in the Yahoo MHCV, shown above.
NOTE: Drew changed its name and trading symbol at the end of 2016 to Lippert (LCII).
Manufactured Home Industry Connected Stock Markets Data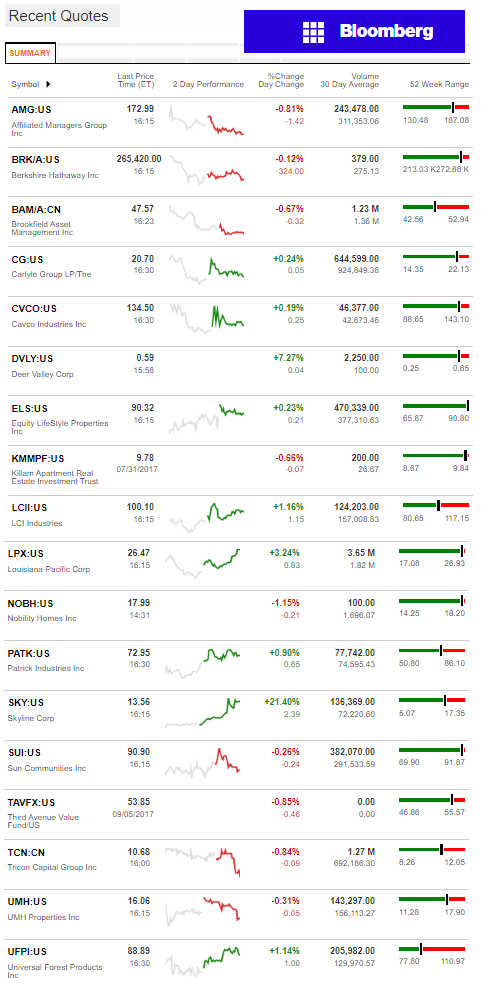 Berkshire Hathaway is the parent company to Clayton Homes, 21st Mortgage, Vanderbilt Mortgage and other factory built housing industry suppliers.
LCI Industries, Patrick, UFPI and LP all supply manufactured housing.
AMG, CG and TAVFX have investments in manufactured housing related businesses.
Your link to a recent round of industry praise for our coverage, is found here.
For the examples of our kudos linked above…plus well over 1,000 positive, public comments, we say – "Thank You for your vote of confidence."
"We Provide, You Decide." © ## (News, Analysis.)
(Image credits are as shown above, and when provided by third parties, are shared under fair use guidelines.)

Submitted by Soheyla Kovach to the Daily Business News for MHProNews.com.