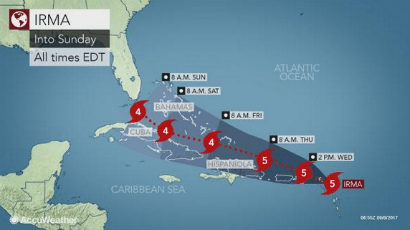 "In Florida, we always prepare for the worst and hope for the best," said Florida Governor Rick Scott, "and while the exact path of Irma is not absolutely known at this time, we cannot afford to not be prepared."
Less than two weeks have passed since Hurricane Harvey made landfall in Texas as a Category 4 storm, leaving a mass of destruction in its wake.
Now, a similarly terrifying storm is making its way through the Atlantic, with enormous potential to make landfall in southern Florida.  While not a record, Fox News said that it could be the first time in 102 years that two category 4 hurricanes make landfall in the U.S.
Hurricane Irma is now a Category 5 hurricane, making landfall in the northern Caribbean Islands. The storm is expected to downgrade to a Category 4 before potentially making landfall in southern Florida, per AccuWeather.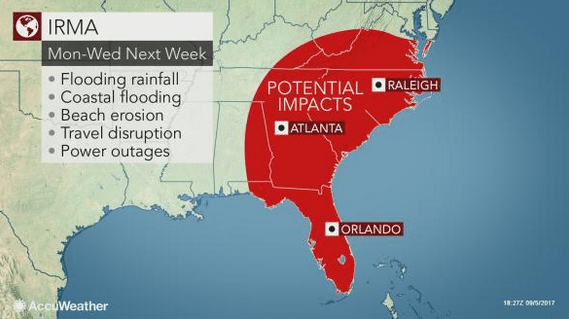 At this time, it is too soon to tell where or if it will hit in Florida.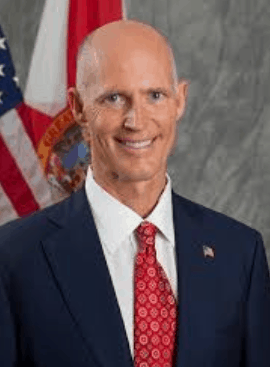 But given the computer models, Governor Scott has already declared a State of Emergency for all counties in the state.
He has also activated the Florida Air and Army National Guard, with 100 members called to duty immediately.
All 7,000 members of the state's guard are expected to report Friday morning, per the Orlando Sentinel.
"Our state emergency management officials are working with our federal and local partners to prepare for any potential impacts from this dangerous storm," Scott said. "And it is crucial that we have access to every available resource to protect our families and communities."
Emergency measures that may be taken include shoring up beach dunes, building emergency beams, and plans for potential evacuation.
"It is incredibly important that all Floridians pay attention to this incredibly dangerous storm,'' Scott urged residents. "Do not sit and wait to prepare. Prepare now."
Residents, both new and life-long, are not taking chances when it comes to this storm. According to the Herald Tribune, keeping water on the shelves was nearly impossible for stores on Tuesday.
Since the storm isn't expected to reach the state until sometime Friday to Sunday, residents have time to plan."Time is definitely on our side," said Matt Bragaw, a forecaster at the National Weather Service in Melbourne. "It's definitely daunting, but it's times like this where being calm and collected are a necessity."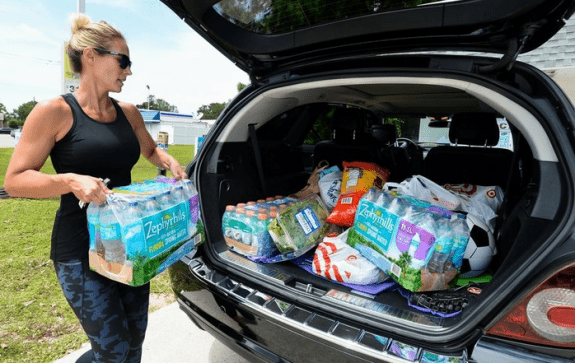 Even for those who will not experience a direct impact with Irma there will be high winds and heavy rains over the weekend.
"This is definitely a serious situation for everyone in the Florida peninsula," Bragaw said. "If [the storm] steers east or west, we'll still feel some impacts."
FEMA Could Pre-Position Manufactured Homes, Buy Others from HUD Code Home Sellers
As the Daily Business News report linked from the graphic below stated, now is a good time for manufactured home sellers to contact FEMA officials, who are already seeking manufactured homes in disaster impacted Texas and Louisiana.
MH Event Impact?
It is unknown at this time what effect, if any, a weather related disaster may have on planned manufactured housing industry events in Florida.
Can FEMA Keep Up With Two Category 4 Hurricanes?
"Since FEMA and other government resources will be strained due to last week's destruction in Texas, more preparation and storm aftermath may rest on individuals, Myers said. It may be crucial to evacuate ahead of the storm, so preparation is key," per AccuWeather.
The Federal Emergency Management Agency (FEMA) is already working around the clock in Texas to help get the nearly 40,000 people who lost their homes out of shelters, and into a more permanent form of housing. Just yesterday, the agency issued an urgent call for manufactured homes for Hurricane Harvey survivors.
In Texas, relief efforts came quickly because President Trump declared a State of Emergency ahead of time, as the Daily Business News has previously reported.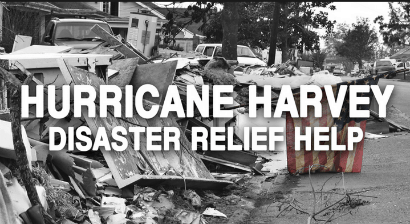 In preparation for Irma, President Trump has done the same – declaring a State of Emergency in Florida, Puerto Rico, and the U.S. Virgin Islands on Tuesday, per Fox News.
However, with relief efforts only beginning in Texas, will FEMA be able to keep up with the needs of Americans if Irma makes landfall as a Category 4 hurricane?
"The U.S. has not sustained a direct hit from two Category 4 or above hurricanes in more than 100 years," Evan Myers, AccuWeather expert senior meteorologist and chief operating officer, said.
Readers from Florida – as well as anyone who wants to keep track of where Hurricane Irma is headed – can keep watch with the livestream below.
"If there is an evacuation order in your area, please follow it," Gov. Rick Scott said Tuesday. "We can rebuild your home but we cannot rebuild your life." ## (News.)
(Image credits are as shown above, and when provided by third parties, are shared under fair use guidelines.)
Submitted by Julia Granowicz to the Daily Business News for MHProNews.