Big horn sheep and mountain goats.
Mixers. Meals. Networking. Gaming. Dining. Local and nearby tourist sights. Buffalo burgers.
And let's not forget business, golfing, presentations, deal making, auctions, and meetings.  All this and more were found at the popular 5 State Convention in Deadwood, South Dakota.
Some snapshots from the presentations at 3 day event are as follows.
Selling the American Dream
"Selling the American Dream" was the theme of author, speaker, industry veteran, and consultant, Ken Corbin.
Corbin spoke about several topics.
They included company and industry life-cycles, why businesses and industries grow, whither, die and how they can revive.
"Ken's years of experience showed," said L. A. "Tony" Kovach, who attended the morning session.
One of Corbin's several points was that since the peak of 1998, some 10,000 independent retailers have vanished in the manufactured housing industry.  It was a point in keeping with a Daily Business News report, linked here.
Maximizing Sales & Compliance
Ron Gorsline, Hudson Cook Law Firm did what attorneys addressing professionals often do.  He got into the nitty gritty of how the Consumer Financial Protection Bureau (CFPB) is dealing with business in general and the manufactured housing industry in particular.
In some cases, Gorsline said, the CFPB is making it up as they go along.
Among Gorsline's points was that a company being investigated could spend $500,000 defending an action, one that the CFPB might later decide no error or wrongdoing had occurred on the part of the investigated company.
The burden that kind of enforcement creates on a small business can be devastating.
The issues Gorsline raised have been a periodic focus on MHProNews for years, and is one reason why editorially this publication opposed Secretary Hillary Clinton for president, as she was a strong advocate of the CFPB and Dodd Frank.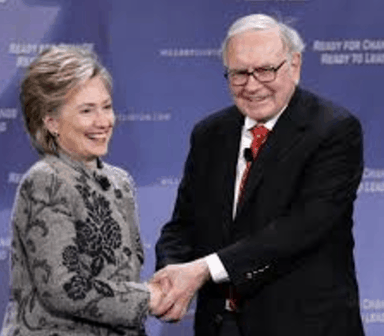 By contrast, candidate-now-President Donald Trump has promised to do away with the overbearing powers of the agency.
The attorney's presentation was interrupted when fire alarms went off, and the building was ordered evacuated. Jerry Vogler of the S.D. Manufactured Housing Association said it was the first time in 30 years that he's had that experience.
It turned out to be a false alarm, and the warmly applauded meeting resumed.
How to Dominate Your Local Market
Kovach is a well know speaker in manufactured housing circles. Feedback on L. A. "Tony" Kovach's presentation was robust from association as well as business attendees.
For example, "I thoroughly enjoyed your program.  It was on target and had the attendees fully involved.  I'm looking forward to hearing you speak again in the future!" – said Ken Corbin.
The popular presentation may be laced with hot links and provided to the industry at large at some time in the future. The key themes were the industry's tremendous potential, while often facing misinformed, bigoted, or prejudiced head winds from media, officials, and others.
He also addressed the fact that home owners wanted to be part of the solution in dispelling the myths and misconceptions about today's manufactured homes.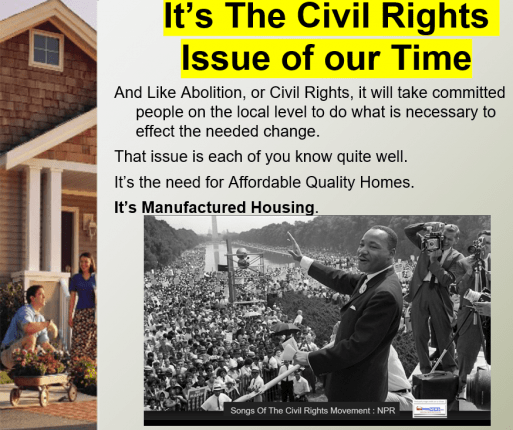 Kovach said there are several examples of how those issues can be successfully addressed at the local level. He pointed to an interview with Tom Fath at New Durham Estates, and third-party video interviews sponsored by Sunshine Homes, along with other examples.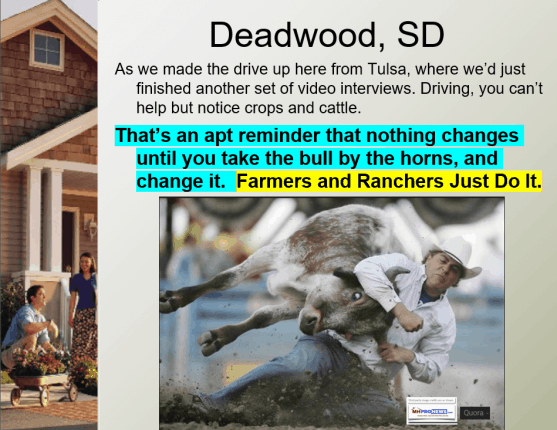 He also gave a flash version of how the actively retired businessman, the Rev. Donald Tye, Jr. and he met.  He explained how they are collaborating in efforts to improve the lives of others through a proper understanding and respect for manufactured homes.
HUD Secretary Ben Carson has said that home owners have an average  The net worth of $200,000, while renters only have a $5000 net worth.  Home ownership, says Tye and Kovach, is a cause that's good for society at large.
Tye and Kovach issued a joint statement of hope and healing recently, at this link here.
"What's wrong is that we don't ask what's right," Kovach quotes Chesterton.
He said it was a mistake for the industry's independents to wait for anyone from Washington to come riding into save the industry. That has to be done at the local level by dedicated, honest, and willing-to-learn and develop professionals.
Kovach said that the industry can return to 500,000+ new manufactured home shipments annually sustainably, ethically, and with happy customers by following proven steps at the local market level.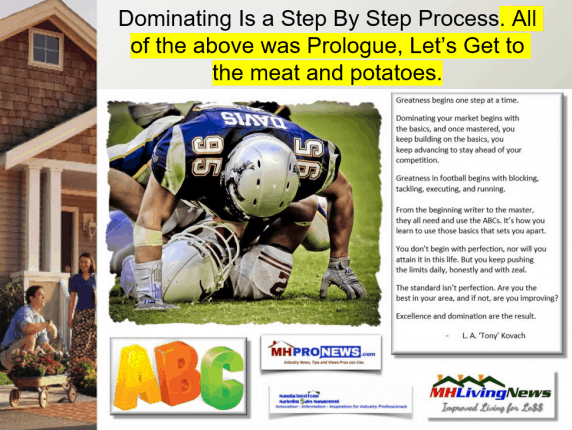 What's New in Washington, D.C.
Rick Robinson, JD, Sr. Vice President, and General Counsel of the Manufactured Housing Institute made some surprising statements, admissions, and alleged omissions during his regulatory D.C. talk.
Some of those will be featured in-a periodic series of Daily Business News reports in the days ahead.  We will give MHI a chance to respond to questions that dozens there noted were deliberately not answered during their presentation. Robinson focused at the end for new members to join the big company dominated group. Stay tuned…
"Robinson is an affable, engaging person. But likeablity doesn't always equal performance," Kovach said. "He was polite each time we spoke. That said, MHI claims to represent the industry at large, so why do they try to avoid accountability for their performance?"
Kovach, along with industry professionals like award winning Bob Crawford, routinely praise state association executives at being far more effective than MHI is at actually getting something positive done for their members.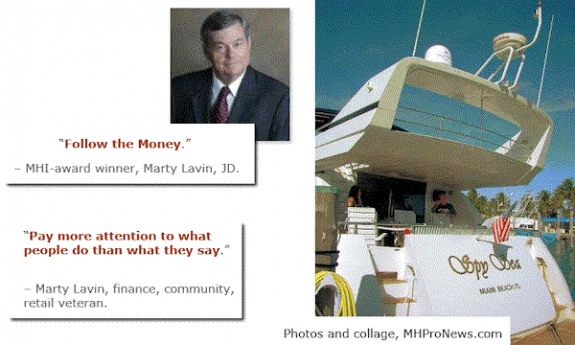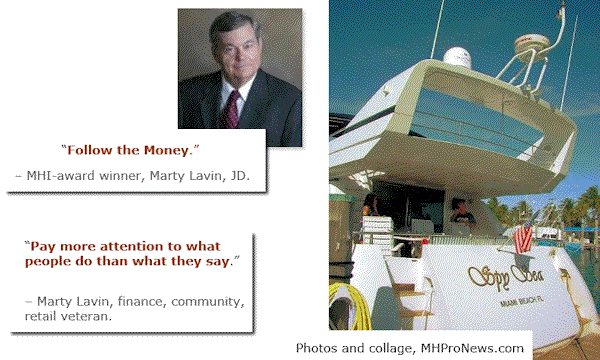 Kovach applauded the industry professionals and state association leaders in Deadwood, saying that they had gone through the ups and downs that have occurred since the late 1990s, and are striving day by day to serve the public and residents well.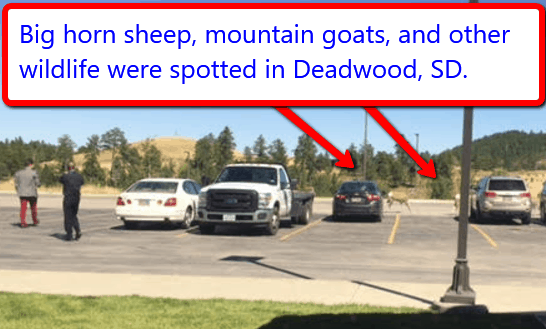 Auctions, Golf, SEBA/HUD and More
Cayttie Heister, from Minot North Dakota told MHProNews that "We at Kopper Creek would like to say thank you to all who put so much effort into the program for 5 State Convention!"
"This is the first time we have attended and have enjoyed it tremendously!! The speakers have been inspirational and very educational!! Again," Heister said, "a sincere thank you! Great to hear Tony again!"  ## (News, analysis.)
(Image credits are as shown above, and when provided by third parties, are shared under fair use guidelines.)

Submitted by Soheyla Kovach to the Daily Business News for MHProNews.com.