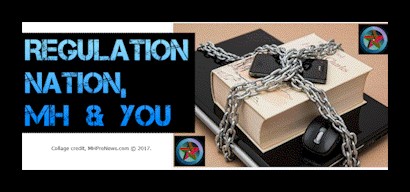 "You are entitled to your own opinions. But you are not entitled to your own facts."
So said Daniel Patrick Moynihan, who was paraphrased recently by Tim Williams of the Ohio Manufactured Housing Association, in that association's efforts to battle the Kasich Administration's ongoing plan to over-regulate manufactured housing in OH (see a report on that issue, linked here).
Regulation, The Nation, and Manufactured Housing
While many would agree that some level of regulation is necessary and good regarding health and safety in a society, how much is too much?  Where are those lines for 'enough' regulation versus 'too much' regulation?
How much those regulations cost a business, the impact on jobs, an economy, and thus the U.S. have become matters of great importance.  Because regulatory costs have risen for decades under both Republican and Democratic administrations.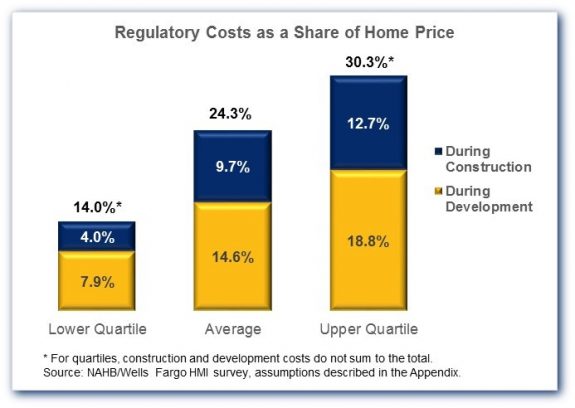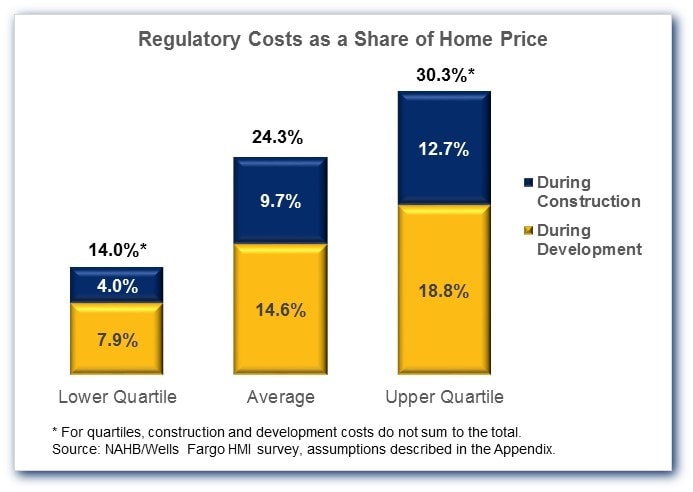 These issues impact federally regulated manufactured housing daily.
Other aspects of the industry are regulated at the state or local levels.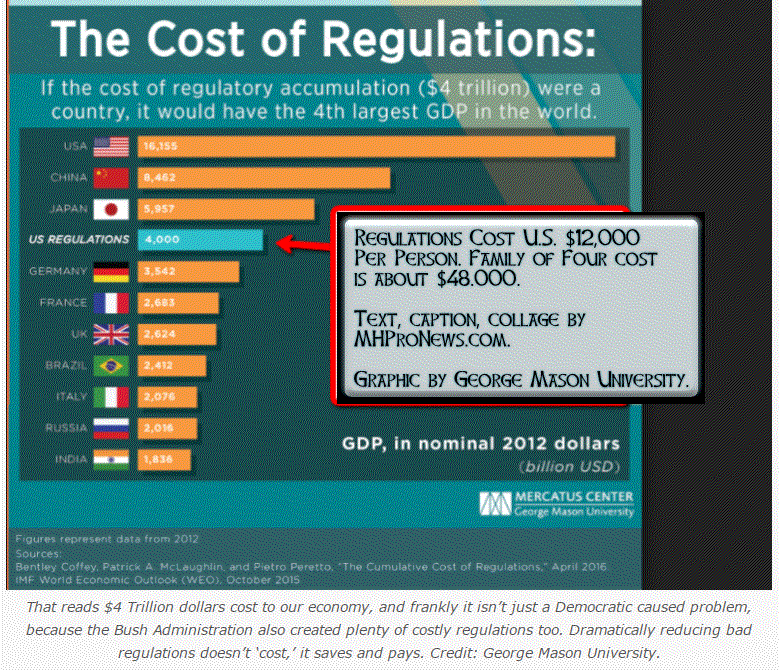 What that means is that whatever you do in manufactured housing, the impact of regulations on you and your business are essentially inescapable.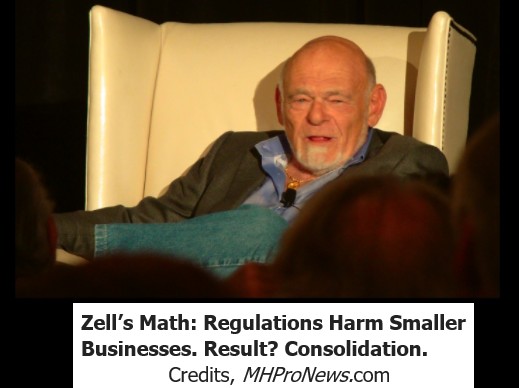 Sam Zell, chairman of the board of Equity LifeStyle Properties (ELS) is among those who has recently addressed the issue of how regulatory overkill creates pressures that forces consolidation.
MHProNews has often referred to the chart above that asserts that the cost of federal regulations under the Obama Administration to be at roughly 4 trillion dollars annually.
The Daily Business News and the Masthead blog's editorial commentary have also referred to research by the National Association of Home Builders (NAHB), or the National Association of Manufacturers (NAM), which spells out the facts on the costs – and impacts – of regulations in building and production.
A significant part of what has moved the stock markets for months is that the Trump Administration has tackled regulations at the executive level.  Some regulations have been cut back.  Others are being delayed or blocked from taking effect.
Because investors largely know that fewer regulations means more profitability, the markets have been rising.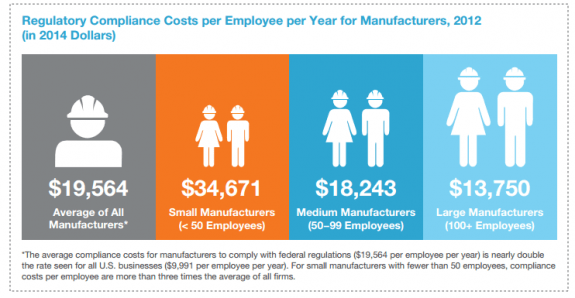 The hope for administration-promised reforms of ObamaCare, Dodd-Frank, energy policies, and the tax system are among the other drivers of the markets, which have hit some 2 dozen record highs since Donald Trump's election.
The exact amount of regulation maybe subject to some level of interpretation.  CFPB directory Richard Cordray himself suggested that in a video, linked here.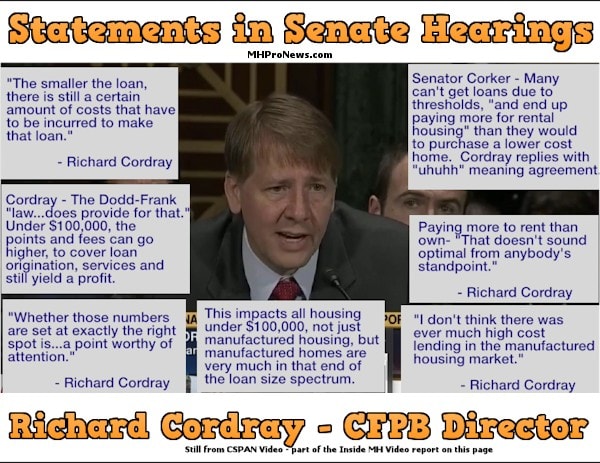 That there is a high cost to regulations is a matter of fact.  That's not an opinion, and that's where the Moynihan quote at the top applies.
Excessive regulations are harmful, a reality.  Supreme Court Justice John Marshall wrote that "The power to tax is the power to destroy" – a fact – in more recent years, the Wall Street Journal, or Townhall's Jeff Jacoby have morphed that truism into another reality, "The power to regulate is the power to destroy."
Fighting Regulations and Manufactured Housing
Fighting regulatory policies are one of the reasons why companies organize themselves into trade associations.
In manufactured housing at the national level, we see three key players.
1)    The National Federation of Independent Businesses take – which boasts hundreds of MH Industry members, has an astonishing 325,000 independent businesses as members. NFIB tackles macro issues such as taxes, health care, and the overall business environment. But NFIB does not claim to get into the weeds of specifics that impact HUD Code manufactured homes.
2)    The Washington D.C. based Manufactured Housing Association for Regulatory Reform (MHARR), which for decades has focused solely on the interests of independent producers of federally regulated HUD Code manufactured homes. Some industry writers  and commentators outside of MHProNews or MHLivingNews have at times conflated the roles of MHARR with MHI.  That's a factual error. The two trade groups have distinctive missions. MHARR represents HUD Code home producers.  MHARR does not claim – at present – to work for the interests of retailers, communities, installers, transporters, service providers or lenders – even though MHARR's positions may in fact benefit such other industry groups.  It should be noted that MHARR is studying the possibility of opening up its membership more broadly, to include communities, retailers, lenders and others. That decision will be considered during a planned November call of MHARR members.
3) The Arlington, VA based Manufactured Housing Institute (MHI). MHI describes themselves in these terms:
"The Manufactured Housing Institute is the only national trade organization representing the factory-built housing industry. Its members come from all sectors of the manufactured and modular housing industries and include builders, lenders, home retailers, community owners and managers, suppliers, 50 affiliated state organizations and others associated with the industry. MHI members are responsible for more than 85 percent of the homes produced each year."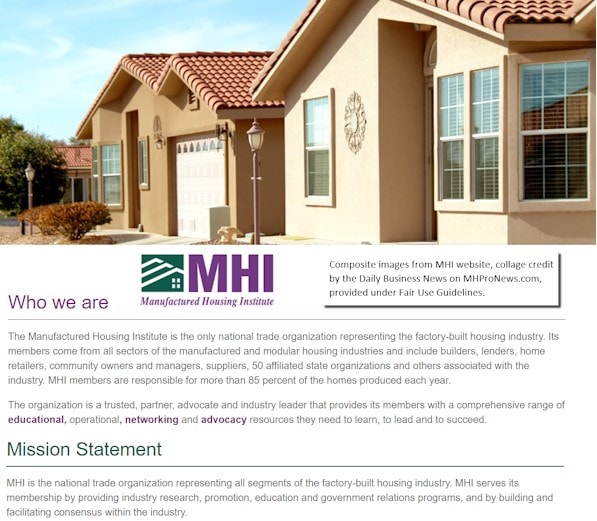 Contrasting MHI and MHARR
These facts about MHI, and how they are distinct from MHARR, are significant.
From time to time, readers contact MHProNews and ask, 'why do you focus on MHI related issues?'
The answer lies in how each trade group embodies their stated mission.
MHARR members do not complain about what MHARR does, nor how they are doing it.  While there are internal politics in any organization, literally no MHARR member has contacted MHProNews to say that MHARR has drifted from their mission.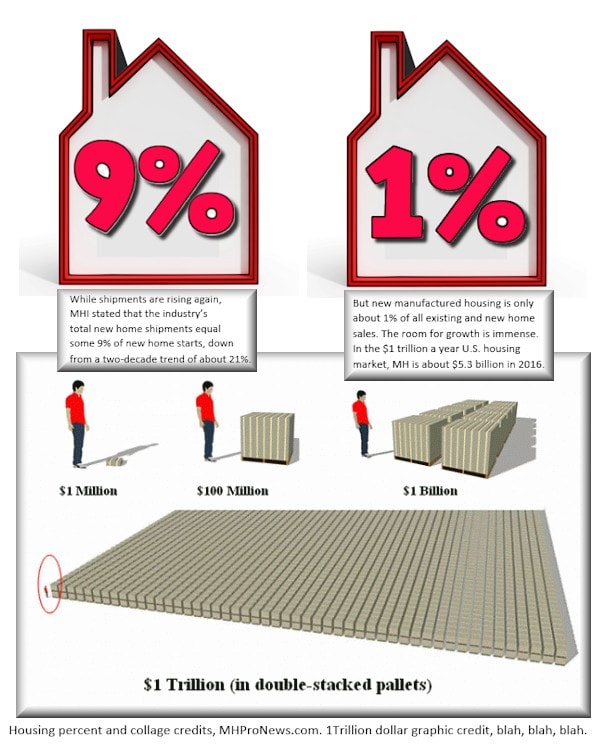 By contrast, a significant number of MHI members – including past and current MHI board members – have expressed concerns about the effectiveness of the trade body at doing one of the key things a trade organization is supposed to do.  Namely, to work to mitigate the impact of regulations.
As we've also reported, there's been friction alleged from within MHI among their staff – that has gone off-and-on for some years.
Because regulatory impacts matter, how an association functions, fails, or succeeds also matters.
What Happens When Regulations Aren't Mitigated?
The answer to that is supplied once more by MHI member and ELS' legendary leader, Sam Zell.
Too much regulation, said Zell in a report linked here, tends to force consolidation. That's a reality – a fact – not an opinion.  In the finance world, Dodd-Frank's heavy-hand has forced hundreds of independent community banks out of business.
Similarly, in the world of manufactured housing, thousands of businesses have vanished or were consolidated by larger players, often directly or indirectly caused by regulations.
Why MHI Effectiveness and Accountability Matters
Thus, there are those in manufactured housing who express concerns about how effective MHI is at achieving their own stated agenda items.
Be it:
Preserving Access,
the Duty to Serve,
mitigating HUD's impact on the industry, etc.
– the de facto beneficiaries of those regulatory pressures are those larger businesses that can better withstand the regulatory costs.
That's the precise reason that MHARR exists, to help level the playing field between MHI – which MHARR claims 'goes along to get along'  with regulators – and thus is de facto harming smaller producers.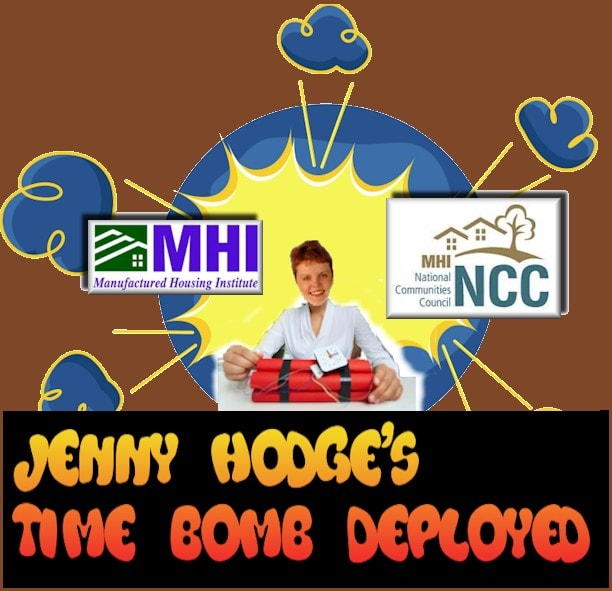 But it isn't just small producers of HUD Code homes who are harmed.
MH Retailers
Independent retailers have closed or were consolidated by the thousands. That trend began in the early 2000s, and accelerated in the aftermath of the 2008 recession.  That trend of the loss of independent retailers was the focus of the controversial IBISWorld report a few years ago. The Atlantic paraphrased IBISWorld as saying that independent manufactured home retailers (what the Atlantic incorrectly termed 'mobile home dealers') were being pushed to extinction. Meanwhile the larger, vertically integrated companies would survive – and later, thrive.
Has that not in fact been the case?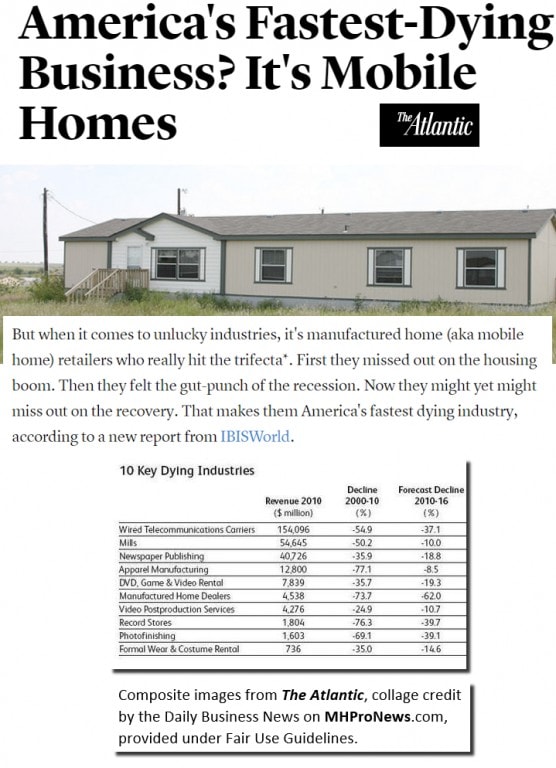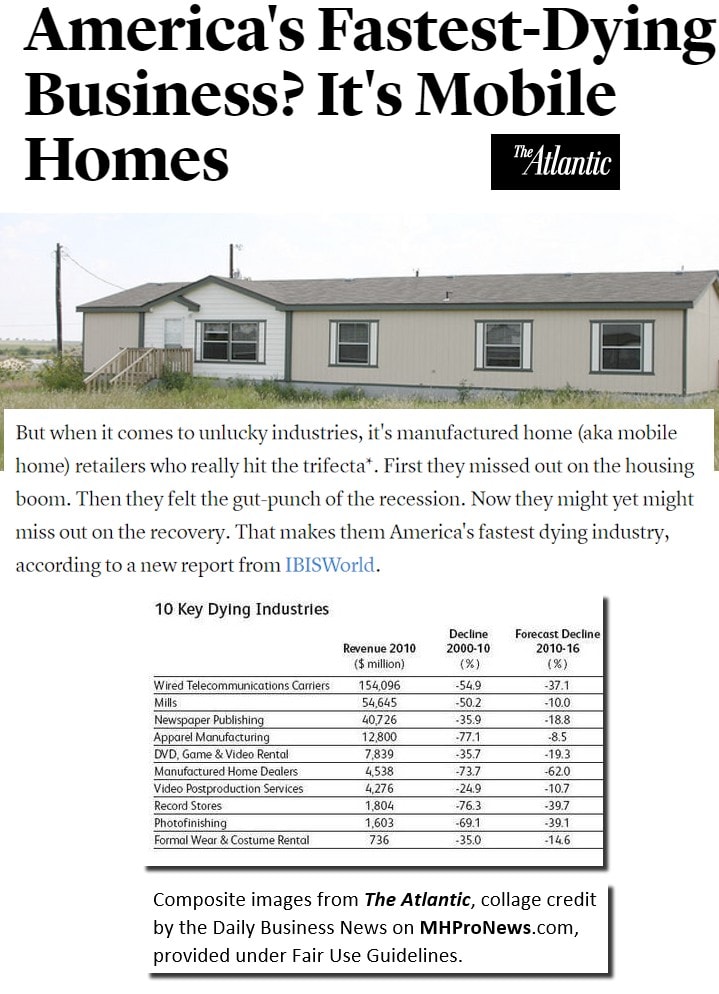 Manufactured Home Communities
Independent communities have been consolidating by the hundreds per year.  One industry source put the number of communities changing hands annually at some 2,000 properties.
Oversimplifying, those land-lease communities that were 'mom and pop' operations often watched as the industry changed, and they were being left behind.
The loss of manufactured home retailers – that historically filled their vacant home sites – meant that vacancies were going unfilled.
That trend forced some to become retailers within their own community. Those sales were often made using some form of lease-to-own or other type of seller-financing.
When Dodd-Frank hit, the loss of seller-financing and the legal headaches of lease-to-own being described by regulators as a 'disguised credit transaction' pushed several community operations into becoming renters of inventory instead of owner-financed or sellers of homes.
That means that one of the greatest losers were those consumers seeking affordable home ownership.
But for those community owners who for whatever reasons –
lack of capital,
regulatory fatigue,
no heir interested in taking over the business, etc. –
who failed to adapt enough, often sold for less than they would have had their properties had full physical and economic occupancy of leased home sites.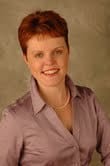 The sales prices of properties are often based in part upon an MH Community's net revenues.
So, when occupancy and collections are not maximized, a property is often being sold at less than its potential value.
Rephrasing, those wishing to sell their community as a community – the greater the lease-site vacancy rate, the lower the value of their MH Community.
Those facts mean that literally billions of dollars in property values have thus been impacted.
While some of that can be traced to a lack of lending, or capital – those factors were also impacted by regulations.
So, the goal of reforming the Dodd-Frank birthed CFPB as it impacts manufactured housing is a sound one.  The question is, when that goal or others set by MHI are not obtained, who benefits?
The answer is larger companies that buy-up – consolidate – the smaller ones.
To rephrase, when MHI succeeds at mitigating a regulation, many can benefit.
But when MHI fails to mitigate a regulation, the larger players and those who seek to become larger via an access capital and expertise can benefit.
The smaller players who can't or don't adapt for whatever reasons are the routine losers.
Thus, when MHProNews – which editorially believes in identifying and looking at the root causes of issues, focuses on MHI, it is because they've taken that mantle of representing the industry in Washington upon themselves.
It is also important to note that MHProNews routinely has offered MHI to comment on stories, which they decline to accept.  But nor do they try to refute statements like those above. By contrast, when Doug Ryan – with then CFED – blasted MHI for monopolistic practices, Lesli Gooch rapidly replied.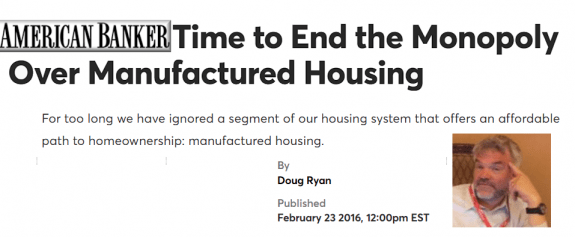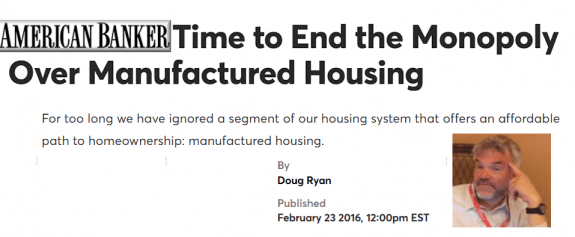 To reflect the MHI position, the Daily Business News often quotes MHI's own documents and materials – see the example above – or those who are satisfied members of the association.
State Association Effectiveness vs. MHI effectiveness
Bob Crawford, president of award-winning and historic Dick Moore Housing, has given state associations a routinely good grade on their lobbying efforts. He gives MHI "a 5 out of 10 at best" – a failing grade (see his photo, above).
On the issue of regulatory reforms and the need to change leadership over the HUD Code manufactured home program, multiple MHI award winning retailer Doug Gorman has sided with MHARR over MHI.
In an upcoming report, the Daily Business News will highlight a state association that set their agenda for their legislative session, and achieved it.
That happens routinely at the state association level.  It's the umbrella national association – MHI – that has failed to deliver on its own stated goals.  And it is the national association – MHI – that has engaged in what past and present board members call "secrecy."
Why does MHI seek to control the industry's news?
Why does MHI reveal information only to select 'insiders,' while leaving others largely in the dark – as was recently exemplified in the alleged terminations of two top staffers?
Why have they at times allegedly distorted their reporting – even to their own members?
While it is obvious that if you are going to 'consolidate' – buy out – companies, is part of MHI's strategy to pressure their smaller rival MHARR by buying out MHARR members, or pushing them into MHI membership?
We will explore that and related issues in the days ahead.  Because MHARR for years has provided news items that often reveal a very different perspective than that of MHI.
Media as Watchdog
As part of the job of media is to investigate and report, MHProNews has and continues to do just that – holding MHI accountable to their own goals and that of the industry.
The Daily Business News does so mindful of the motto – "We Provide, You Decide." ©
And when a Daily Business News article includes a mix of analysis in a new items – such as this one – and commentary, we so note that at the end of the article's double pound sign. ## (News, analysis.)
(Image credits are as shown above, and when provided by third parties, are shared under fair use guidelines.)

Submitted by Soheyla Kovach to the Daily Business News for MHProNews.com.