Following the lead reported in the Daily Business News of several large investors – including a huge international move in the MHC sector – Shinko Asset Management Co. Ltd. increased its position in Sun Communities Inc. (NYSE:SUI) by 14,305.3% during the second quarter, according to Shinko's most recent 13F filing with the SEC.
Sun Communities stock finished up 1.48% for the day.
Prior to the filing, the fund owned 374,538 shares of Sun Communities stock after buying 371,938 shares during the period. As of the most recent SEC filing, Shinko Asset Management Co. Ltd owned about 0.58% of Sun Communities, valued at $28,705,000.

The move signals an emerging trend by international investors in the hot U.S. manufactured home community sector. International interest in developing manufactured home communities (often known as "mobile home parks," though the term is often used errantly) has been noted in Australia and elsewhere in developing manufactured home communities as a solution for affordable quality living is growing, as a recent and pending reports from MHProNews indicate.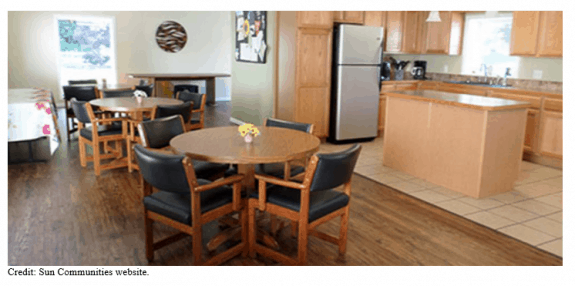 Shinko, an asset management company and investment trust based in Tokyo, has over 4,119 billion yen ($4B USD) under management with 352 funds, according to their website. Besides their big increase with Sun Communities, Shinko has also made moves the follwoing moves in other U.S. firms:
Increased position in General Growth Properties Inc. (NYSE:GGP) by 87.8% in Q2;
Increased position in Parkway Properties Inc. (NYSE:PKY) by 19.8% in Q2;
Increased position in Care Capital Properties Inc. (NYSE:CPP) by 0.5% in Q2;

In related news, BMB Daily reports that BMO Capital Markets has upgraded shares of Sun Communities from "Market Perform" to "Outperform."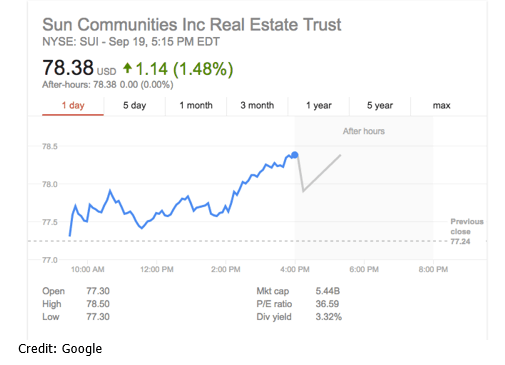 As many manufactured home community focused professionals and investors know, Sun owns and operates 338 manufactured home and recreational vehicle communities located in 29 states throughout of the United States and Ontario, Canada. Sun Communities' portfolio consists of approximately 117,000 developed sites, according to their reported data. The firm has one of largest portfolios of MH Community operators in the United States.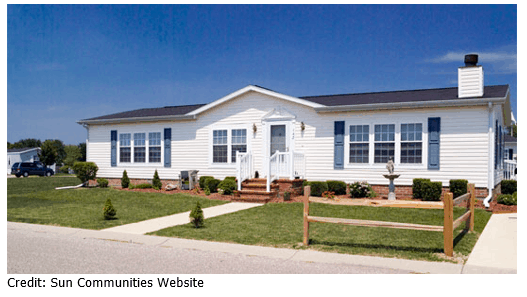 The movement by Shinko continues the trend of foreign investors making key investments in the U.S. MH industry, as reported in the DBN here and here.  Personalities and investment legends such as the Trump family, Warren Buffett and Sam Zell are among those who have been drawn to the manufactured and modular home industry.
Sun is one of the manufactured home industry stocks monitored each business day on the MH Industry's leading professional news resource, the Daily Business News, on MHProNews.  For yesterday's closing numbers on all MH industry-connected tracked stocks, please click here.  ##
(Image credits are as shown.)

Submitted by RC Williams to the Daily Business News on MHProNews.
(Editor's Note: This post represents #10,000 published Daily Business News items, a milestone in manufactured housing industry publishing.)