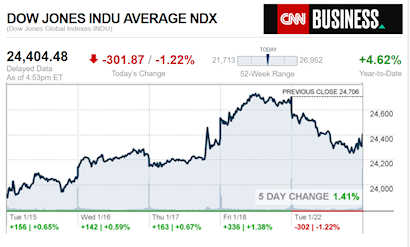 All but two tracked stocks today took the slide down, along with the broader markets.  That will be our focus for this evening's manufactured housing connected stock report.
If you're new, already hooked on our new spotlight feature – or are ready to get the MH professional fever – our headline report is found further below, after the newsmaker bullets and major indexes closing tickers.
The evolving Daily Business News market report sets the manufactured home industry's stocks in the broader context of the overall markets.  Headlines – at home and abroad – often move the markets.  So, this is an example of "News through the lens of manufactured homes, and factory-built housing." ©
Part of this unique evening feature provides headlines – from both sides of the left-right media divide – which saves busy readers time, while underscoring topics that may be moving investors, which in turn move the markets.
Readers say this is also a useful quick-review tool that saves researchers time in getting a handle of the manufactured housing industry, through the lens of publicly-traded stocks connected with the manufactured home industry.
This is an exclusive evening or nightly example of MH "Industry News, Tips and Views, Pros Can Use." © It is fascinating to see just how similar, and different, these two lists of headlines can be.
Want to know more about the left-right media divide from third party research?  ICYMI – for those not familiar with the "Full Measure," 'left-center-right' media chart, please click here.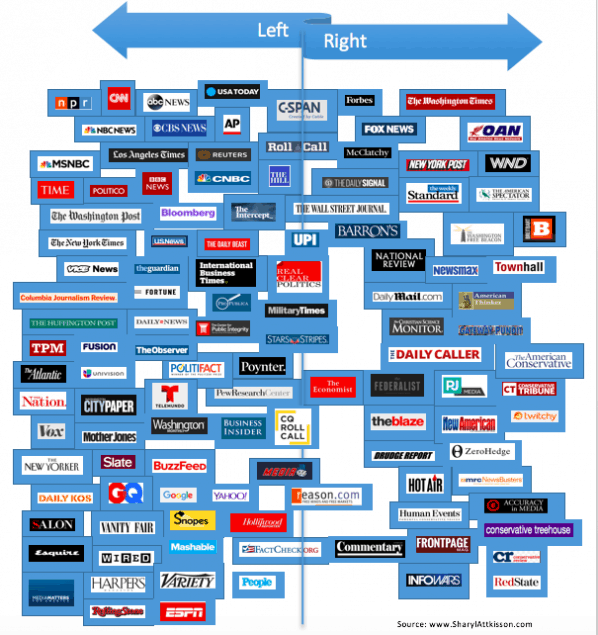 Select bullets from CNN Money…
Coal keeps shrinking
Solar and wind are booming as the longtime king of the power industry continues to decline
Dow slides on weak economic outlook and China trade concerns
What moved the markets today
The stock market storm may not be over just yet
Business leaders in Davos are worried about central banks
DAVOS RECAP What happened on Day 1
December's home sales were seriously ugly
James Dyson is moving his company HQ to Singapore
Brazil's president says the country is open for business
Canada expects US to formally request extradition of Huawei CFO soon
73% of investors are worried about a recession
IMF warns the world economy is slowing
The 26 richest billionaires are as wealthy as 3.8 billion people combined
Content by CompareCards
The fastest way to pay off $10,000 in credit card debt
JCPenney stock sinks on turnaround doubts
Twitter suspends account that helped ignite controversy over viral encounter
Why ageism hurts men more than women
Memo: 1,200 safety cases per week overwhelmed Uber investigators
103 Uber drivers accused of sexual assault or abuse
Uber says it's one step closer to delivering data on sexual assaults
This is how Uber's CEO plans to fix its image
Uber CEO on fixing its workplace culture problem
THE BUSINESS OF CANNABIS
Cannabis company says CBS won't air its Super Bowl ad
More big consumer companies will bet on pot this year
The world's biggest beer company is looking at making cannabis drinks
Marlboro owner invests $1.8 billion in cannabis company
Cannabis in Canada: Big banks are missing a boom
Select Bullets from Fox Business…
US stocks down on weak home sales, global growth worries
Is J.C. Penney heading down the same path as Sears?
Kamala Harris raises $1.5M in 24 hours
CEOs worried about global growth, and they have a record of being right
Supreme Court agrees to hear gun rights challenge to NYC transport law
How the Academy Award best picture nominees performed at the box office
This is what Kamala Harris thinks about the US economy
US existing home sales tumble to 3-year low
A look at Robert Kraft, the billionaire owner of the Patriots
What's wrong with pretax retirement accounts
Soccer superstar Cristiano Ronaldo fined $21M for tax fraud
Cost of the government shutdown could rival Trump's border wall
Verizon CEO sees 5G rollout spurring new uses for wireless
Why did Gillibrand, Warren launch presidential exploratory committees?
Fannie Mae, Freddie Mac conservatorship could end in near future
Patriots' Rob Gronkowski's business advice to younger athletes
Meet Stan Kroenke, Los Angeles Rams owner and real estate billionaire
Super Bowl: Will Chick-fil-A at Mercedes-Benz Stadium be open on Sunday?
US economy will grow at 3 percent rate in the fourth quarter: Kevin Hassett
PG&E secures $5.5B to fund 2-year bankruptcy process
UPS CEO: US economy not slowing down
Financial advice for unpaid federal workers
Lincoln's throwback ride sold out in 48 hours
China's slowdown is world's slowdown: Ray Dalio
Americans are drinking less alcohol, and it's changing the focus of retailers
Why America's small businesses and entrepreneurs win under USMCA
America, the land of opportunity … or government?
Voters must dig deeper into Kamala Harris: Kennedy
Steny Hoyer has thrown doubt on Democrats' unity: Varney[overlay type]
Steny Hoyer has thrown doubt on Democrats' unity: Varney
PayPal offers $500 credit to workers affected by government shutdown
Retail Apocalypse: These big retailers closing stores, filing for bankruptcy
Los Angeles district estimates teachers' strike has cost $97M
Tax season tips: Get your 2018 refund quicker
Super Bowl: Most Americans oppose political statements in commercials, poll finds
Rock star trades drum sticks for brushes to help veterans
Today's markets and stocks, at the closing bell…

Manufactured Housing Composite Value (MHCV)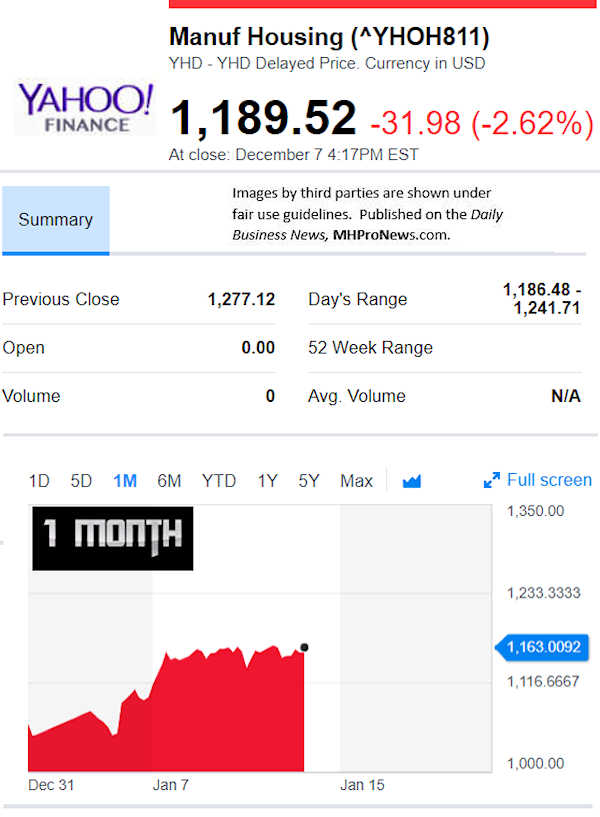 Today's Big Movers
For all the scores and highlights on tracked manufactured home connected stocks today, see the Bloomberg graphic, posted below.
Today's MH Market Spotlight Report –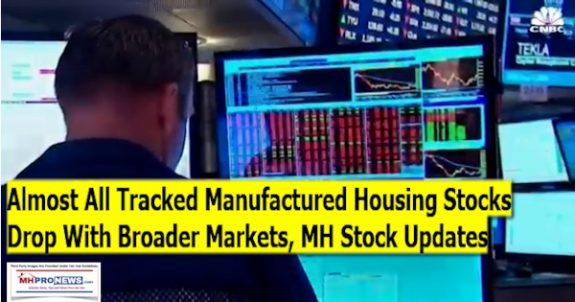 Conventional exiting housing sales slipped in December, as a report linked here explains.
CNBC warns that some builders will be impacted by broader housing trends.  While they don't mention manufactured housing, that in itself is a clue as to what's wrong.
ELS and Sun (SUIU) today, and Third Ave (TAVFX) on Friday were the only tracked equities that reported an uptick in today's Bloomberg closing ticker, see further below.
As MHProNews has noted previously, the manufactured housing industry has for some years been held captive by forces often seemingly beyond its control.  But where they?
In fact, for those willing to look with open eyes and consider the actual evidence, the causes for the industry's relatively low point are knowable.  Just start by reading 21st's Tim Williams, Warren Buffett corresponding annual letter, and then listen to Clayton Homes CEO – Kevin Clayton.
Or ponder what a former MHI President and Vice President has said.  Isn't it only logical that the reason that the powers that be won't debate this directly, is because that means they are arguing against their own past words?
When manufactured housing was riding higher in the saddle, the industry was able to pull off high-level meetings that actually resulted in meaningful action.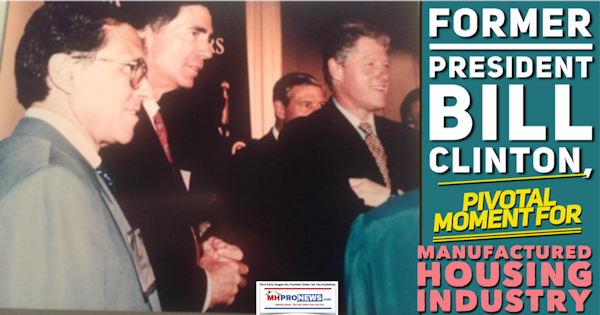 Today, when the Manufactured Housing Institute (MHI) brags about their photo opportunities with administration or political officials, that is arguably all that they are.  Bragging about photo opportunities.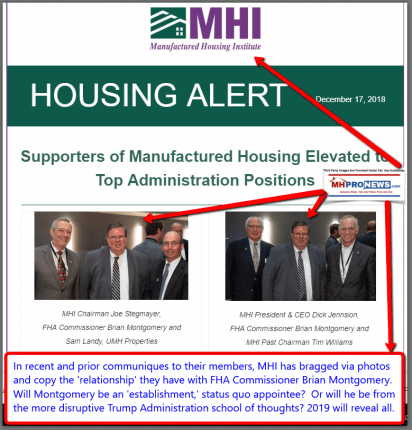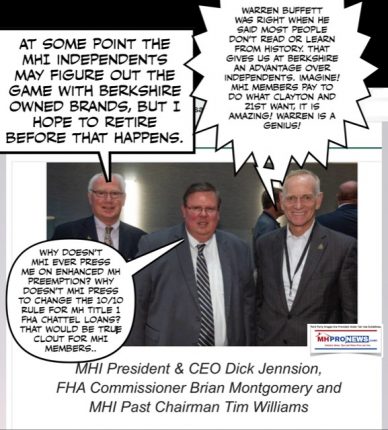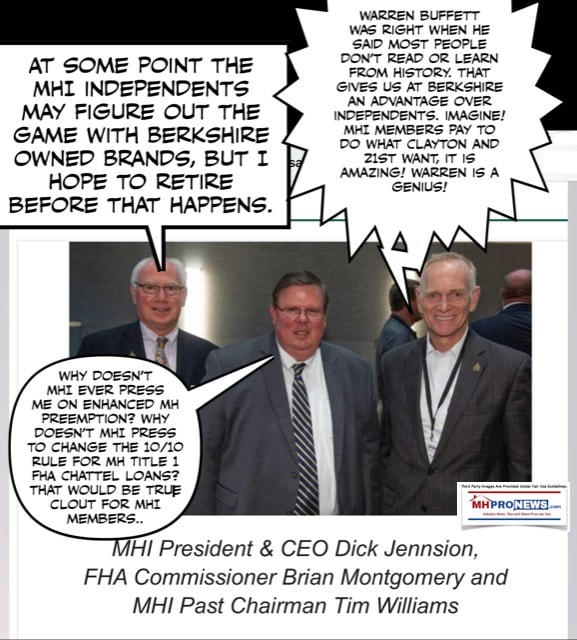 What is MHI, Clayton's, 21st or other "insider" firm's response to these #nettlesome issues?  Several, but they are indirect once.  Among them is to have a purported surrogate call for a boycott of one of the few industry voices that dares to publicly tell the uncomfortable truth.
What is harmful to smaller firms, is seen as beneficial by several larger ones. Who has said?

Marty Lavin, Frank Rolfe, and several other industry voices.

Another manufactured housing industry source will be publishing a report on a related vexing issue, at about mid-day tomorrow.  Watch for it on the Daily Business News on MHProNews.
Manufactured housing should be performing at a much higher level that it now is, based on industry history pre-2003. It may take federal, state, shareholders', and plaintiffs attorneys to break up the forces that are arguably working to the detriment of the industry at large.
Of course, in conjunction with that is the need for sound information and insight.  The Omaha-Knoxville-Arlington Amen corner, have they given it to you?  Will they?
As more shareholders attorney law firms are piling on Cavco, is it possible that some law firms will realize that it is more than just Cavco that has possible problems?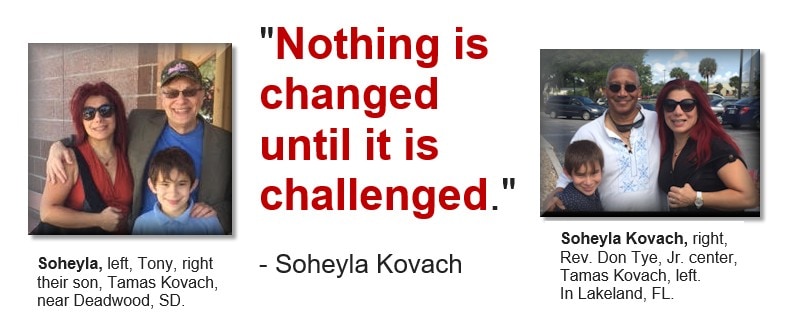 Nothing is changed until it is challenged. Stay tuned, sign up for our industry leading emailed headline news, at this link here or below.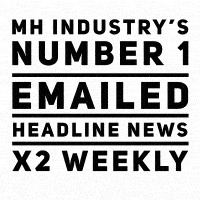 Bloomberg Closing Ticker for MHProNews…
NOTE: The chart below includes the Canadian stock, ECN, which purchased Triad Financial Services.
NOTE: The chart below covers a number of stocks NOT reflected in the Yahoo MHCV, shown above.
NOTE: Drew changed its name and trading symbol at the end of 2016 to Lippert (LCII).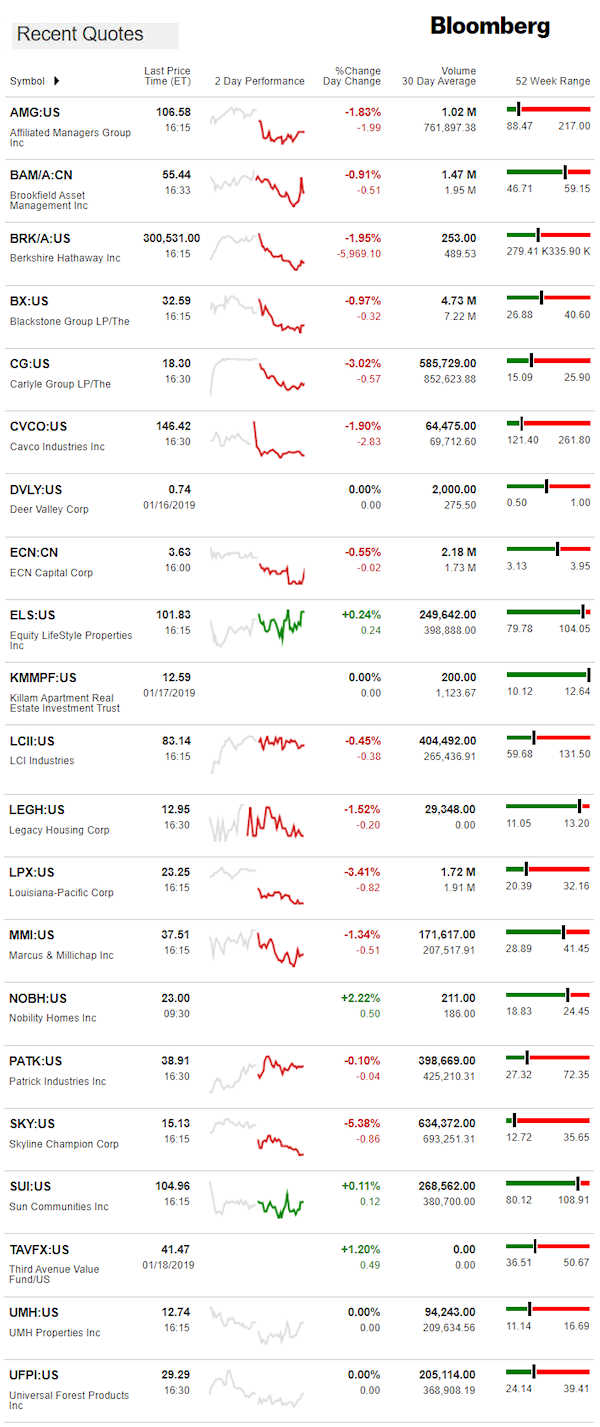 Berkshire Hathaway is the parent company to Clayton Homes, 21st Mortgage, Vanderbilt Mortgage and other factory built housing industry suppliers.
LCI Industries, Patrick, UFPI and LP all supply manufactured housing.
AMG, CG and TAVFX have investments in manufactured housing related businesses.
Your link to industry praise for our coverage, is found here.
For the examples of our kudos linked above…plus well over 1,000 positive, public comments, we say – "Thank You for your vote of confidence."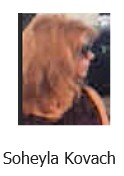 "We Provide, You Decide." © ## (News, analysis and commentary.)
(Image credits and information are as shown above, and when provided by third parties, are shared under fair use guidelines.)
Submitted by Soheyla Kovach to the Daily Business News for MHProNews.com.