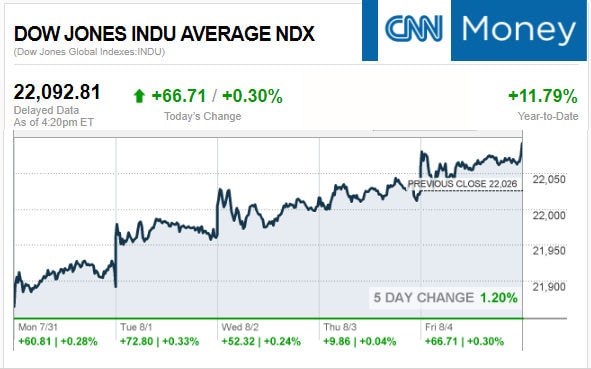 Today's spotlight showcases the all important small business sector.  While the operations that are publicly traded are important to the industry, so too are those 'mom and pop' operations to manufactured housing, and the nation as a whole.
If you're hooked on our new spotlight feature – or are ready to get the fever – our headline reports are found further below.
The evolving Daily Business News market report sets the manufactured home industry's stocks in the broader context of the overall market stocks.
By spotlighting the headlines – from both sides of the left-right media divide – this report also helps readers see what are the trends and topics that may be moving investors, which in turn move the markets.
Readers say this is also a useful quick-review tool that saves researchers time in getting a handle of the manufactured housing industry, through the lens of publicly-traded stocks.
MH "Industry News, Tips and Views, Pros Can Use." ©
Selected headlines and bullets from CNN Money:
Shkreli convicted of securities fraud, conspiracy
Checking in on Trump's promise of 25M jobs (Publisher's note: this is an example of just how devious the anti-Trump media is. They are trying to derail his duly elected presidency, and then, when he is not meeting his objectives, they make it look like he's not keeping his promises. See "Sabotage" article, linked here.)
What Justice Department leak review could mean for the media
Trump hasn't held a solo press conference in 6 months
Overdraft fees cost Americans billions last year
Trump jumps the gun on jobs report tweet — again
How Trump compares with Obama so far on jobs
Where's my raise? Wage growth still sluggish
Trump Milestone: 1M new jobs in six months
Why America's pastime can't afford to rest
Netflix steps up its battle with Amazon in India
Selected headlines and bullets from Fox Business:
'Pharma Bro' Shkreli trial verdict: Guilty on 3 counts of 8
US economy adds more jobs in July than expected
Dow chalks up eighth record close in a row
Oil prices rise on strong U.S. jobs data
The Democrats turned their backs on me over tax reform: Governor Jim Justice
Mexican court forbids imports of US potatoes
Leon Panetta on how John Kelly can stop the White House leaks
Neil Cavuto discredits Newsweek's Trump 'Lazy Boy' cover
Cannabis company plans to turn desert town into pot paradise
Workers at Nissan's Mississippi plant cast ballots in union vote
Leon Panetta warns on North Korea: China is either with us or against us
Furloughs approved for 1st time in Puerto Rico's history
Chevy Bolt beats Tesla in electric range: report
Texas schools create high-tech ID badges to track students on buses
ICYMI – for those not familiar with the "Full Measure," 'left-right' media chart, please click here. 
Today's markets and stocks, at the closing bell…
S&P 500 2,476.83 +4.67 (+0.19%)
Dow 30 22,092.81 +66.71 (+0.30%)
Nasdaq 6,351.56 +11.22 (+0.18%)
Crude Oil 49.48 +0.45 (+0.92%)
Gold 1,264.80 -9.60 (-0.75%)
Silver 16.26 -0.36 (-2.19%)
EUR/USD 1.1779 -0.0093 (-0.78%)
10-Yr Bond 2.267 +0.039 (+1.75%)
Russell 2000 1,412.32 +7.09 (+0.50%)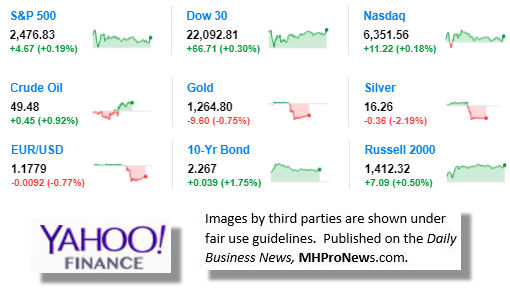 Manufactured Housing Composite Value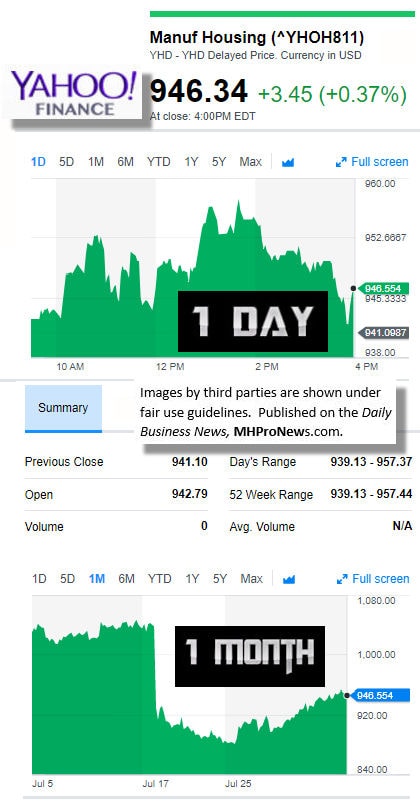 Today's Big Movers
For all the scores and highlights on tracked stocks today, see the Bloomberg graphic, posted below.
Today's MH Market Spotlight Report – Small Business Snapshot in 5 Charts, per NFIB
Hundreds of manufactured housing related companies – and some 325,000 businesses overall – are part of the National Federation of Independent Businesses (NFIB), per sources with that organization. The following commentary and analysis, plus the charts, are provided by them below under fair use guidelines.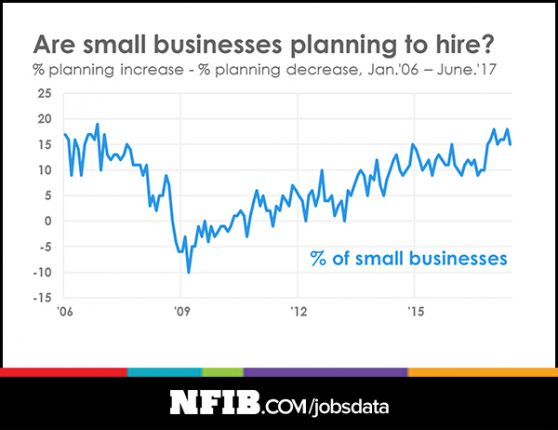 The links inserted are by MHProNews.
"Lower energy prices are once again providing "dividends" to fuel users, consumers, and businesses alike. This ubiquitous benefit is not as powerful for the economy as it used to be because energy production is now significant in the U.S. economy. Historically, lower oil prices impacted producers outside of the U.S. economy but now affect our large and growing energy sector. Even so, energy related profits are dominating the profit picture among the Fortune 500 firms. Cheap oil looks to be a dependable source of reduced costs for the near term.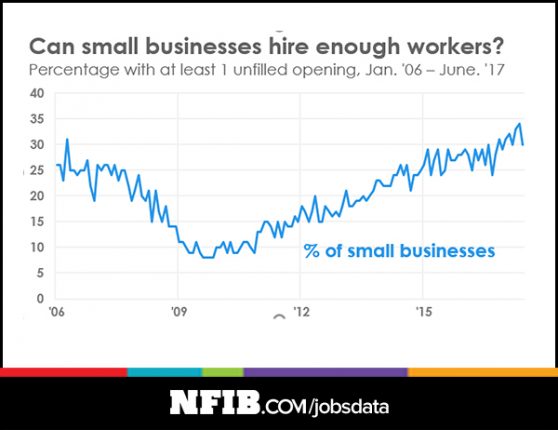 Headline unemployment rates of 4.3 percent (U-3) and 8.4 percent (U-6) are at recovery low levels. This excludes 4.5 million workers who say they want work but haven't looked in 12 months. Including them would take the U-6 rate up near 11 percent. Labor force participation rates for men and women remain below levels of the past few decades and "employed part-time for economic reasons" remains above levels typical of an expansion.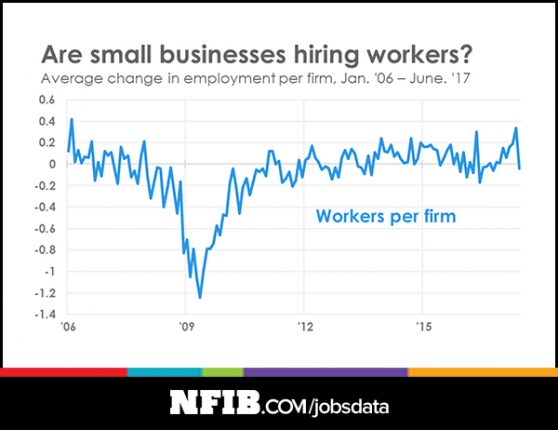 A continuation of the high levels of optimism in the small business sector will depend heavily on Congressional progress on the major issues for small business owners: healthcare, tax reform and regulatory relief. The Republicans have the votes to pass any bill that they agree on, but seem unable to agree on any bill, unable to find one that satisfies all the "opinion camps" in their membership. Because of this, by withholding all their votes on anything, the Democrats can block any bill which has only a few senators in opposition. More substantial progress is needed on these major issues if owner optimism is to be sustained and produce accelerated hiring and spending."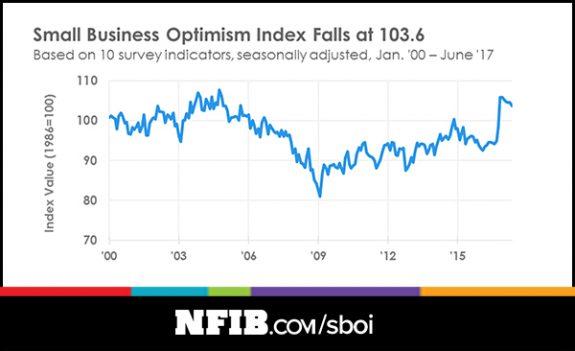 As was noted above, "
Trump Milestone: 1M new jobs in six months"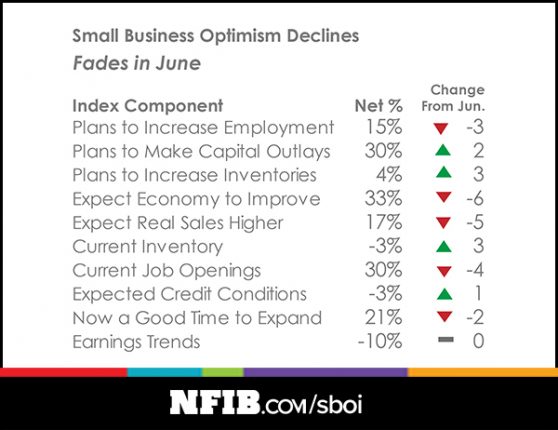 The Daily Business News previously reported that the NFIB wants to see the repeal and replace on ObamaCare, and tax reform to happen, pronto. That report – complete with a video – is linked here.
See Recent Exclusive 1 Year Snapshot of All Tracked Stocks
http://www.MHProNews.com/blogs/daily-business-news/manufactured-housing-industry-markets-wall-street-reacts-to-trumponomics-1-year-data-snapshot/
NOTE: the chart below covers a number of stocks NOT reflected in the Yahoo MHCV, shown above.
NOTE: Drew changed its name and trading symbol at the end of 2016 to Lippert (LCII).
Manufactured Home Industry Connected Stock Markets Data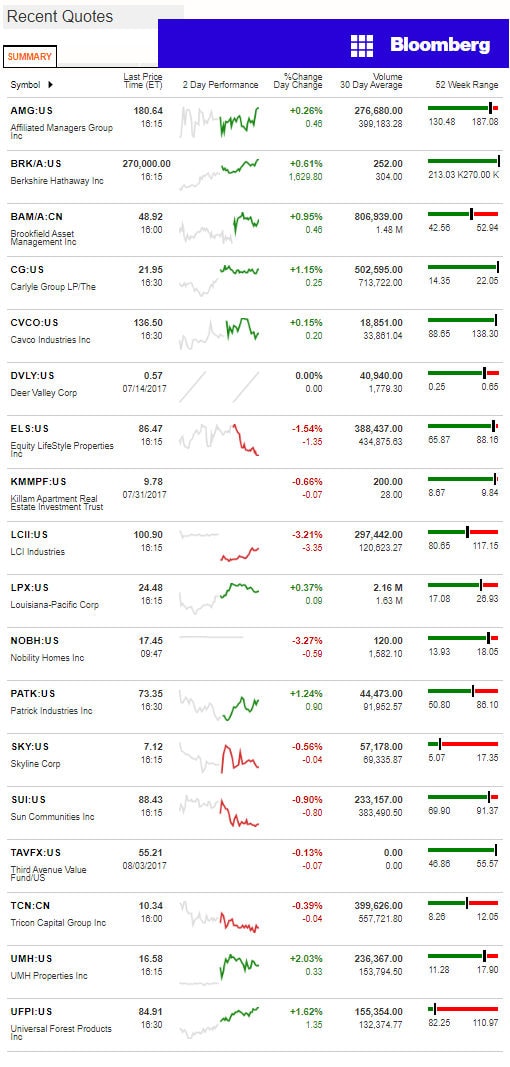 Berkshire Hathaway is the parent company to Clayton Homes, 21st Mortgage, Vanderbilt Mortgage and other factory built housing industry suppliers. LCI Industries, Patrick, UFPI and LP all supply manufactured housing, while AMG, CG and TAVFX have investments in manufactured housing related businesses.
Your link to a recent round of industry praise for our coverage, is found here.
Thank you for your vote of confidence.
"We Provide, You Decide." © ##
(Image credits are as shown above, and when provided by third parties, are shared under fair use guidelines.)

Submitted by Soheyla Kovach to the Daily Business News for MHProNews.com.