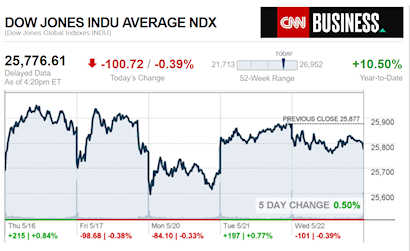 President Barack Obama had two years to get the Democratic Party agenda through during his first term in the Oval Office.  While there was much of the usual back-and-forth, Democrats largely got their way. But with President Trump, objectively speaking, the charge of "Russian Collusion" has hung over his presidency since early on.  For months during his first year in office in 2017, Republicans seemingly feared the worst. As the issues advanced, confidence among the GOP grew, and tax cuts and reform was passed, among other achievements. But not unlikely former President Obama losing the House in the first midterm, President Trump lost the House in his first midterm.  Even after Special Counsel Robert Muller's report that no Trump campaign officials involved in "Russian collusion," that narrative lives for numbers of Democrats and their allies under the revised guise of 'obstruction' and 'cover ups.' That drama was on full display today.  After the infrastructure announcements today, stocks connected to those projects reportedly lead the losers.  So, on a day that the major Wall Street markets slid, that wild ride in Washington today will be our featured report tonight, with 2 different videos, reporting each side of the story.
If you're new, already hooked on our new spotlight feature – or are ready to get the MH professional fever – our headline report is found further below, after the newsmaker bullets and major indexes closing tickers.
The evolving Daily Business News market report sets the manufactured home industry's stocks in the broader context of the overall markets.  Headlines – at home and abroad – often move the markets.  So, this is an example of "News through the lens of manufactured homes, and factory-built housing." ©
Part of this unique evening feature provides headlines – from both sides of the left-right media divide – which saves busy readers time, while underscoring topics that may be moving investors, which in turn move the markets.
Readers say this is also a useful quick-review tool that saves researchers time in getting a handle of the manufactured housing industry, through the lens of publicly-traded stocks connected with the manufactured home industry.
This is an exclusive evening or nightly example of MH "Industry News, Tips and Views, Pros Can Use." © It is fascinating to see just how similar, and different, these two lists of headlines can be.
Want to know more about the left-right media divide from third party research?  ICYMI – for those not familiar with the "Full Measure," 'left-center-right' media chart, please click here.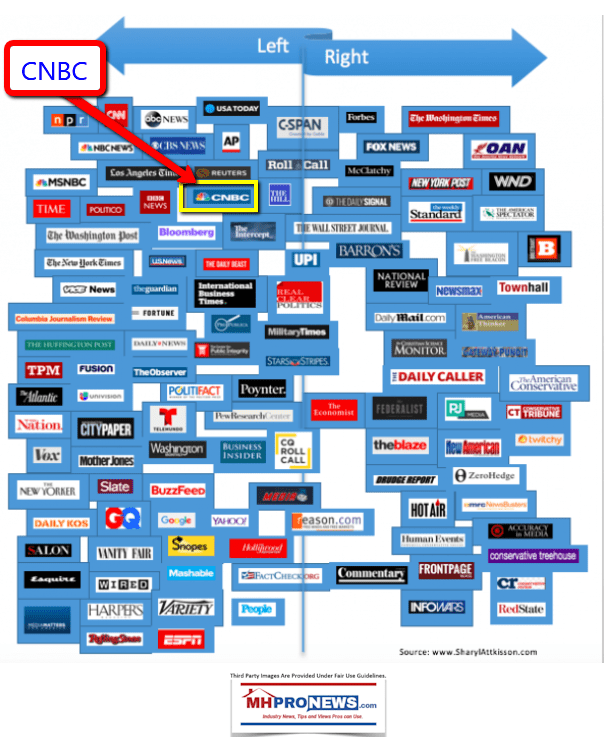 Select bullets from CNN Money…
Wall Street's love affair with Tesla is over
As sales slow and competition ramps up, investors are no longer sold on Elon Musk
Mobile networks are already suspending orders for Huawei smartphones
LIVE UPDATES Markets move lower as trade war fears continue
Want to invest in cannabis? Here's one way
Saudi Arabia wants to buy tons of American natural gas
The smartphone industry could completely change after Qualcomm's disastrous ruling
All 12 resolutions at Amazon's annual shareholder meeting fail
Shares in Chinese surveillance firm plunge after reports of possible US ban
PERSPECTIVES Where Trump went wrong in the US-China trade war
End of an era: 133 year-old Avon may sell to Body Shop parent
UPS is turning trash into gas to clean up its emissions
Facebook was flooded with far-right content ahead of the EU election, campaigners say
Ford's delivery robot walks like a human
20190521 wealth coach insider selling
If the CEO is selling company stock, should you?
IN PHOTOS A rare look inside Huawei, China's secretive tech giant
British Steel collapses, putting nearly 25,000 jobs at risk
Celebrity chef Jamie Oliver's restaurant chain collapses
Ford will cut 7,000 white-collar jobs
Fred's is closing nearly 30% of its stores
The company that makes Scotch tape slashes 2,000 jobs
A 5G WORLD
How 5G is changing the game for first responders
Samsung's first 5G phone is out for Verizon customers
Intel gets out of the 5G smartphone modem business
Looking for 5G? Here are the US cities that have it
Senators question how to roll out 5G without Chinese technology
Select Bullets from Fox Business…
Fed minutes reveal no interest rate moves coming for 'some time'
Bernie Sanders plans tax on Wall Street speculation
Trump slams Pelosi, Schumer after Rose Garden remarks: 'You can't investigate and legislate simultaneously'
Retail industry chasm resumes after blockbuster 2018
Baby boomers staying in homes versus downsizing after retirement, report says
Women's professional sports hit a major crossroad
Retirement bill ups savings levels and expands 401(k)s for small businesses
How Michael Avenatti spent his fortune, while allegedly dodging taxes
Conor McGregor says LeBron James unknowingly taught him crucial lesson about money
Want cheap plane tickets? Here's the best time to book flights this summer
Philip Morris going totally smokeless, looks to quit nicotine, executive says
Harriet Tubman $20 bill redesign postponed
Ex-Navy SEAL that killed Bin Laden says human tape measure was used to confirm identity
Bill Gates suggests you read these five books this summer
These US companies say Trump's tariffs will hurt their bottom line
Pricey engagement rings a no-go for younger Americans
Tom Daschle, Joe Crowley join cannabis advisory board for Northern Swan
Amazon shareholders reject facial recognition sales ban
Worst product failures, from Coca-Cola's New Coke to Microsoft's Zune
Axon Enterprises CEO could receive a $246M pay day
Trump's Pennsylvania rallies are a better indicator than polls: Former GOP pollster
Apple earnings would plummet by 30% if China banned it: Goldman Sachs
Today's markets and stocks, at the closing bell…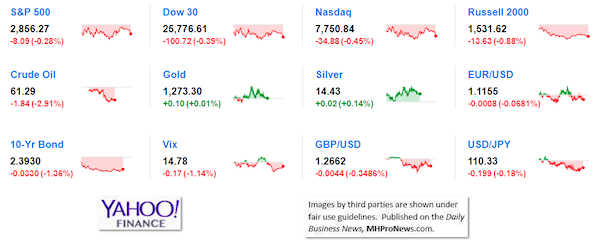 Today's Big Movers
For all the scores and highlights on tracked manufactured home connected stocks today, see the Bloomberg graphic, posted below.
Today's MH Market Spotlight Report –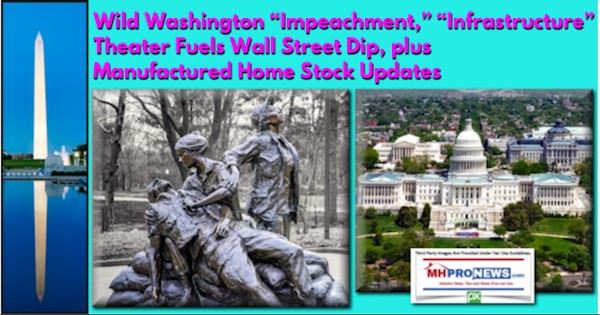 Per left-of-center CNBC:
Stocks that would benefit from infrastructure spending fall and hit their lows of the day after President Donald Trump says he won't make an infrastructure deal while Democrats investigate him.
Trump cuts short a meeting at the White House with Democratic leadership.
Stocks such as Fluor, Simpson Manufacturing and Martin Marietta Materials have larger losses than the overall market.
This is the first part of what left-of-center MSNBC reported, from the Democratic side of the aisle today.
Left-of-center CNBC said that the president stressed that he 'doesn't do cover ups.'  The roughly 12 minutes in the Rose Garden today captured a more combative tone of a White House ready to move on after 4 investigations cleared him.
For those who listen only to left-of-center news sources, it is understandable that millions believe that there is some 'cover up' or 'obstruction,' etc.  Here at MHProNews, as these videos demonstrate:
There are accurate reports on both sides of the media divide, even if each side has an agenda.
In the instance of the 'Russia hoax,' the next few weeks and months may be quite surprising to many on the left, if in fact Attorney General William Barr, Department of Justice Inspector General Michael E. Horowitz, and others press the kind of investigations that are being wafted from Washington.
It is entirely plausible – based on reports such as by John Solomon, from the centrist The Hill – could underscore that much of what the 45th president has said is true. That there was a hoax, that it was a clever de facto attempted coup, and that the ploy to drive the president out of the Oval Office under a barrage of horrible sounding headlines failed to achieve its goal.
But if evidence supporting those allegations by Solomon and federal investigations end up being substantial, as some sources in Washington claim, that could result in those connected to the 'dirty dossier' and several intelligence sources that drove the 'Russia Collusion' narrative being the ones that face indictments, instead of the president and his campaign.
In the meantime, the nation waits while party politics and the early stages of the 2020 campaign goes on. Buckle up. It could be a wild 18 months.
There is one possible silver lining. Numbers of the Democrats that won swing districts in 2018 may be willing to be more flexible, precisely with their own reelection in mind.  Time will tell.  But that could be a path to limited bipartisanship.
The win in the special election in Pennsylvania this week could fuel that potential for swing Democratic representatives. As CNN put it, "Republican Fred Keller easily defeated Democrat Marc Friedenberg by 68% to 32% in Tuesday's Pennsylvania 12th special congressional election."
Related Reports:
https://www.manufacturedhomepronews.com/senator-elizabeth-warren-takes-shots-at-former-vp-joe-biden-team-trump-supporters-ponder-improving-economy/
https://www.manufacturedhomepronews.com/home-is-where-our-hearts-are-president-trump-address-to-american-housing-professionals/
https://www.manufacturedhomepronews.com/trailer-parks-presidential-candidate-prior-hud-secretary-julian-castro-on-mh-community-operators-residents-not-knowing-their-rights/
https://www.manufacturedhomepronews.com/facebook-ceo-sheryl-sandberg-discusses-antitrust-breaking-up-what-kevin-clayton-joe-stegmayer-mhi-can-learn-plus-manufactured-home-market-updates/
Bloomberg Closing Ticker for MHProNews…
NOTE: The chart below includes the Canadian stock, ECN, which purchased Triad Financial Services.
NOTE: The chart below covers a number of stocks NOT reflected in the Yahoo MHCV, shown above.
NOTE: Drew changed its name and trading symbol at the end of 2016 to Lippert (LCII).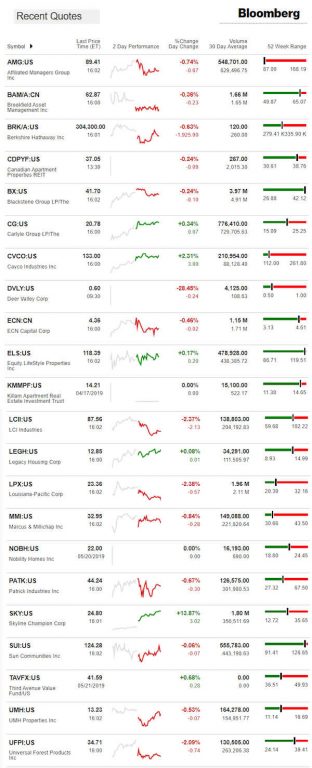 (Image credits and information are as shown above, and when provided by third parties, are shared under fair use guidelines.)
Submitted by Soheyla Kovach to the Daily Business News for MHProNews.com.