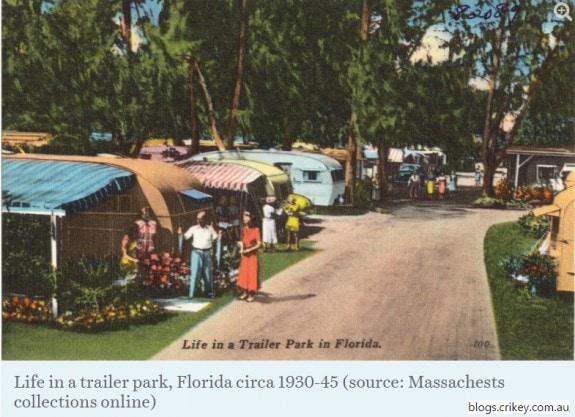 Alan Davies, editor of The Urbanist on Crikey, has taken a unique look at U.S. "trailer parks" (sic). His provocative, yet witty, headline tees it up well, "Should trailer parks be trashed?"
Davies notes the rather colorful view of "trailer parks" – which he later identifies as "manufactured housing communities" (sic) – as places where "TV bad guys" – i.e.: criminals – are depicted as living.
But some of what Davies writes appear to be are clever rhetorical devices, and where his facts or nomenclature may error, his insights ought to be of keen interest to his Australian audience; and it could be to American MH professionals too.
Davies cites Alanah Semuels, Lisa Margonelli and Nolan Gray, and then notes "These writers make the point that trailer parks provide the largest source of unsubsidised affordable housing for households of modest means or on low incomes in the US."
"The key reason so many Americans choose to live in trailer parks," writes Davies, "is they're remarkably low-cost, requiring an all-up outlay on trailer and park site of between $300-$1,000 per month. They have other benefits too. They have an effective governance mechanism for managing services, facilities and relationships between residents; and they promote social interaction more effectively than other housing forms."
Davies presses on with his pro-MH Communities case by quoting Nolan Gray's work, "If you had 70% home plots/15% roads/15% shared amenities like parks and squares, 1000 sf plots, and 2.5 people per household, that works out to population density of 46,000 people per square mile — with one or two story construction! At this level of density, compared to about 9,000/mile for the denser Los Angeles suburb, you could easily have a lot of neat commercial stuff (bars, restaurants, shops, schools, etc.) within walking distance."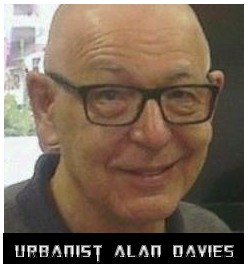 Davies elaborates by saying, "That's around 180 persons per hectare. By way of comparison, new fringe suburban developments in Melbourne are around 16 persons per hectare and the NSW government says its new Waterloo redevelopment will be 220 persons per hectare…"
"The major negatives," Davies writes, "are a lower level of privacy and limited private indoor and outdoor space compared to detached houses (but not apartments). It's also inevitable that some operators will be unscrupulous. That's important because while some residents own their manufactured house, they mostly rent the site from the park manager. Another issue is finance to purchase a manufactured home – like any vehicle, it depreciates – is expensive."
Here, manufactured home veterans in the U.S. know – and the Daily Business News must note – that less than half of manufactured homes are in communities, the majority are on privately owned land. The finance issue has been dealt with in depth on MHLivingNews, see the most recent article, linked here, or on the professional side by Triad Financial's chairman and CEO, Don Glisson Jr.'s explained in the video embeded below.
Further, while depreciation can occur, it does so for the same reasons as in conventional housing, see the video report with an MH home owner and community leader, linked here.
This is an arena that MHLivingNews and MHProNews has editorially sounded off on, because with the proper approaches – which Australians and Americans alike could certainly implement – appreciation could become more common place.
While some hairs could be split, the thrust of the points made by Davies is that the proper use of manufactured housing and manufactured home communities could create advantages in affordable quality living for Australia.  His points are well laid out.  A similar reasoning can apply here in the U.S. too. ##
(Editor's Note: For a recent report on manufactured housing in Australia – and an American connection – please click here.)
(Image credits are as shown above.)

(Editor's note 2: with Matthew Silver taking some time off, L. A. "Tony" Kovach is filling in.  We are also doing 'tryouts' for an addition to the Daily Business News team, for example, see Joe Dyton's report linked here).
Submitted by L. A. "Tony" Kovach, to the Daily Business News, MHProNews.com.