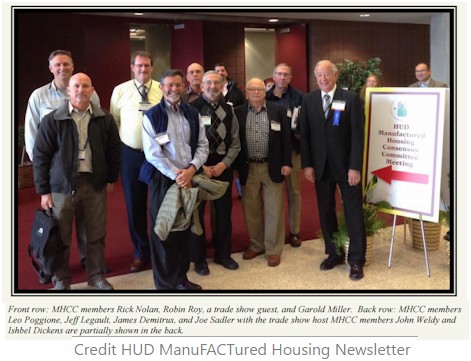 One of the areas that witnessed broad manufactured housing industry consensus was the opposition to the HUD onsite completion rule, which goes into effect Sept 7, 2016.
Manufactured homes that include the following features, says MHI, are among those which will be impacted by the new and costly rule.
A fireplace hearth that cannot be completed in the factory because it spans the mating line of a multi-section manufactured home.
Exterior French doors that cannot be completed in the factory due to potential damage during home shipment.
Roof dormers, including windows in dormers, which cannot be completed in the factory due to shipment height limitation.
Hinged roofs and eaves not considered to be installation. Homes with hinged roofs and eaves that are considered installation and not subject to the rule are homes located in Wind Zone I in which the roof pitch of the hinged roof is less than 7:12.
Siding not considered close-up, such as stone, brick, stucco, or other materials that cannot be installed at the factory due to transportation challenges.
For previous commentary on this topic, seen through the lens of the Pam Danner appointment to head the HUD Code manufactured housing program, please click here.
Resources:
NTA's White Paper on the final rule is linked here as a download.
MHI's statement, download linked here.
Some of MHARR's prior commentary, linked here.
HUD's FAQs, are linked here.
HUD's Newsletter with some of their related commentary, is linked here.
The final rule as published in the Federal Register, is linked here. ##
(Image credit, HUD's ManuFACTured Housing Newsletter.)

Submitted by L. A. 'Tony' Kovach, Daily Business News, MHProNews