Mayor Tom Hoye and state Sen. Marc R Pacheco were among those who attended the celebration at Colonial Estates in Taunton, MA when the resident association formally purchased the community.
Colonial Estates residents organized and collectively purchased the community for $10.2 million from the previous owner, Shamrock Redwood Colonial LLC of Delaware, stated the TauntonGazette.
Back in March, the residents of Oak Hill manufactured home community across the street purchased their community through ROC-USA, and that inspired Colonial Estates residents to do the same.
Under a Massachusetts law sponsored by Pacheco (D-Tauton), residents of a manufactured home community have the right of first refusal when an owner plans to sell. The price from the residents would typically be the same to the seller as from another investor.
There are now some 15 ROCs in the state.
ROC-USA (Resident Owned Community = ROC) provided technical assistance and the financing that helped made the deal possible.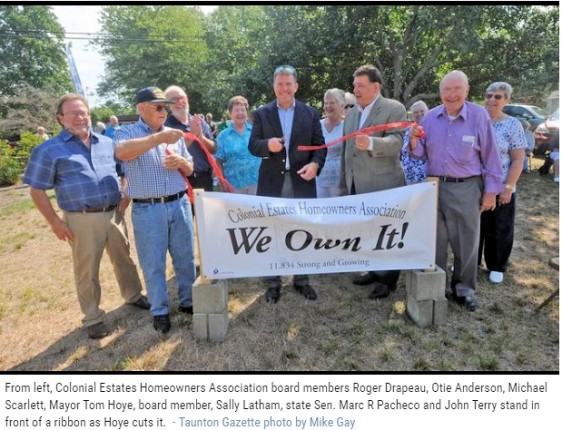 ROC Communications and Marketing Manager Mike Bullard stated that site fees would go from $500 monthly to $580.
"Resident ownership is a very attractive option because the residents can control spending and expenses and there's no profit margin, so the rent is stable," Bullard told the Gazette.  There are some $800,000 in reserves for future upgrades, Bullard stated.
The 55+ community boasts a bocce court, bingo night, cribbage clubs, an active social committee, plus the clubhouse as shown.
ROC USA has been doing about 10 (+/-) conversations a year recently in states where they have technical assistance available, which makes the purchase process as smooth for all parties involved as possible.  A Cup of Coffee with…Paul Bradley of ROC-USA is linked here. ##
(Top photo, Facebook, second photo, TautonGazette.)

Submitted by L. A. 'Tony' Kovach, Daily Business News, MHProNews.