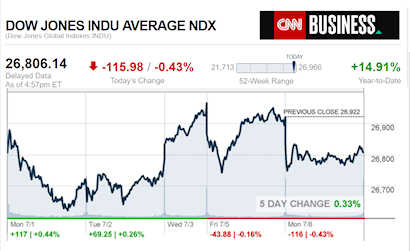 There are those who say that the growing federal debt is a threat to the economy.  They point a finger at President Trump, the GOP, and the tax cuts of 2017. In fairness, many of those same finger-pointers were mute when the Obama Administration and Congressional Democrats added roughly an amount of debt that equaled all of his 43 predecessors combined.  That factual balance noted, on a day when the markets slid ahead of the Federal Reserve and other market movers, we'll look at how the U.S. debt stacks up compared to other nations around the world, pondering its impact.
If you're new, already hooked on our new spotlight feature – or are ready to get the MH professional fever – our headline report is found further below, after the newsmaker bullets and major indexes closing tickers.
The evolving Daily Business News market report sets the manufactured home industry's stocks in the broader context of the overall markets.  Headlines – at home and abroad – often move the markets.  So, this is an example of "News through the lens of manufactured homes, and factory-built housing." ©
Part of this unique evening feature provides headlines – from both sides of the left-right media divide – which saves busy readers time, while underscoring topics that may be moving investors, which in turn move the markets.
Readers say this is also a useful quick-review tool that saves researchers time in getting a handle of the manufactured housing industry, through the lens of publicly-traded stocks connected with the manufactured home industry.
This is an exclusive evening or nightly example of MH "Industry News, Tips and Views, Pros Can Use." © It is fascinating to see just how similar, and different, these two lists of headlines can be.
Want to know more about the left-right media divide from third party research?  ICYMI – for those not familiar with the "Full Measure," 'left-center-right' media chart, please click here.
CNN Business
Target wants a piece of Amazon's Prime Day profits
The retailer has announced two days of deals to compete with Amazon's big summer event
Turkey is the poster child for what happens when politicians mess with central banks
SunTrust is the latest bank to stop lending to detention centers
Jeffrey Epstein's arrest shows the power of one newspaper's investigation
This is what happens when Amazon comes for your business
New Nike ad honors US women's World Cup triumph
British Airways faces $230 million fine over data breach
Breitbart's White House correspondent expected to join White House
NYU professor: Regulators must keep Facebook's Libra from becoming a default currency
Here's another scary sign from the bond market
Deutsche Bank just launched its last, best chance to save itself
How to protest your company — and keep your job
CNN EXCLUSIVE Bill Gates calls Steve Jobs a 'wizard' who saved Apple
Apple shares fall 2% after analyst issues bleak forecast
Jony Ive: The British designer who made Apple cool again
Apple may have found a fix for the MacBook keyboards everyone hates
Apple won't be the top stock on a key market index for the first time in 7 years
Saudi airline goes all in on Airbus as Boeing struggles
Boeing's 737 Max crisis will stretch into next year
Boeing and Airbus made huge mistakes, but their dominance is under no threat
Boeing finds the first buyer for a 737 Max
Airbus unveils design for world's 'longest range' narrow-body plane
Fox Business
AS USWNT FIGHTS FOR EQUAL PAY, LEAGUE REVENUE SLOWS EFFORTS TO CLOSE SALARY GAP
US women's World Cup winnings: Here's how much the soccer players will take home
Trump 'favored-nation' drug pricing order could hammer profits
$15 MINIMUM WAGE WOULD BOOST SOME WORKERS' PAY, ELIMINATE OTHERS' JOBS: CBO
Moving to the $15 rate by 2025 would raise prices for businesses and consumers, the study found.
These are the fastest-growing jobs in each state, study says
Kris Kobach announces US Senate run in Kansas
WATCH: How a former gym teacher became North Dakota's first and only billionaire
An Alexandria Ocasio-Cortez Democratic Party won't win elections: Joe Lieberman
Jeffrey Epstein has a 'limitless' potential to flee, prosecutors list reasons why
MLB Home Run Derby features $1M prize, largest bonus pool ever
Judge rejects Johnson & Johnson request to end opioid lawsuit
Gloria Vanderbilt's son Anderson Cooper to inherit less than $1.5M, report says
Marianne Williamson raising money for 2020 rival
Top 10 cities where people are spending the most on housing costs: report
Trump must confront Qatar for US airlines' future: Gingrich
2020 candidates release campaign finance reports
How long will the US economic boom last?
Not a surprise OPEC, Russia decided to extend their cuts: Oil analyst
Using the lessons learned as a Marine to become an entrepreneur
Today's markets and stocks snapshot, at the closing bell…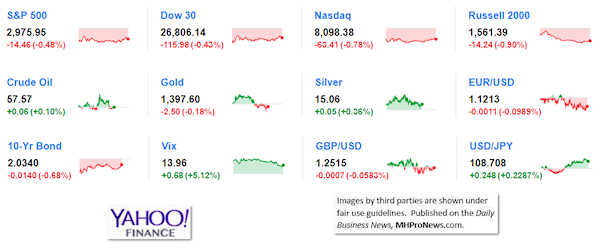 Today's MH Market Spotlight Report –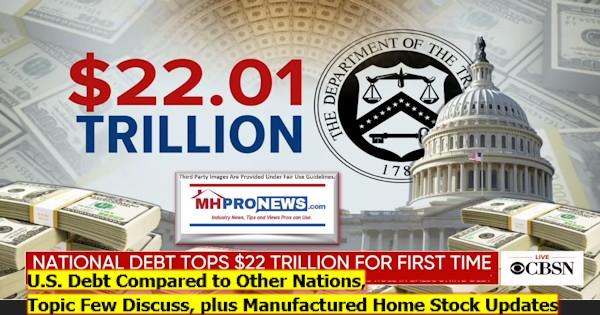 The last time there was a balanced budget with a surplus was during the waning time of the Clinton Administration when Newt Gingrich and Republicans struck a bargain with Bill Clinton and Democrats. It was one of those items that arguably caused Clinton to proclaim that the era of big government was over.
But 'compassionate conservativism,' Medicare Part D, and the Middle Eastern wars that began during the Bush 43 Administration sent the debt rising anew.  That was accelerated by President Barack H. Obama, who campaigned on the notion that the Bush debt and deficits was immoral.  That talk was forgotten after the 44th president set the historic record for adding to the national debt.
The pace by the Trump Administration is rivaling that of his predecessor. Some wring their hands and say that no one in Washington cares about deficits and debts anymore.  That's not quite so, but certainly concern has taken a back seat to other issues among lawmakers.
In fairness to team Trump and the GOP, if Democratic plans – such as the Green New Deal, or Medicare for all – ever became law, estimates on the costs for those proposals would make the current deficits look tame.
Visual Capitalist's infographic below is – while new – a bit outdated on the amount of the U.S. debt, and presumably that of other nations. Nevertheless, it reflects at a glance how the United States stacks up against other countries on the issue of governmental debt. Nearly 1/3rd of all government debt in the world is American debt.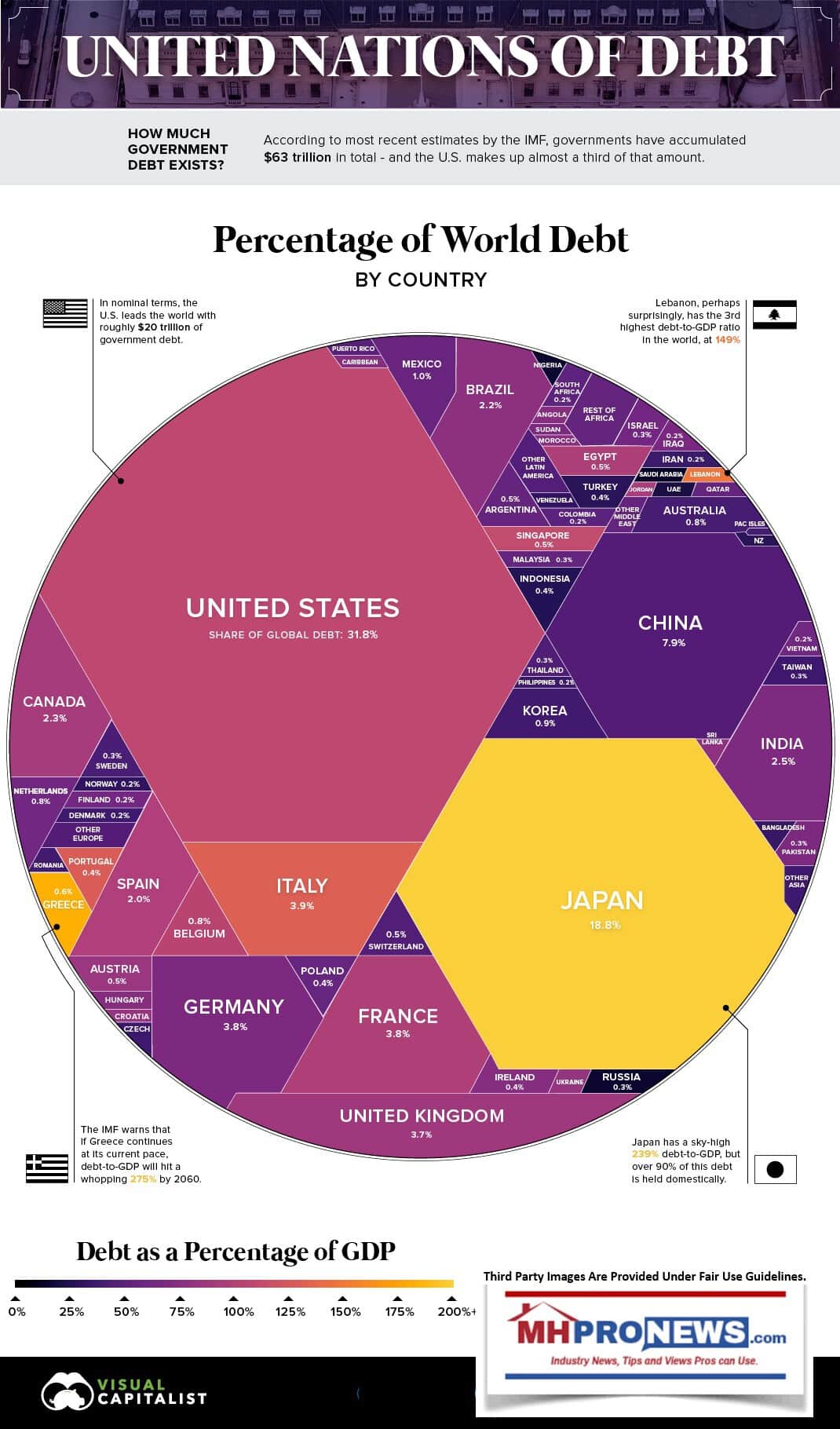 So, whichever major party one is listening to, this is a topic that has eluded resolution by either major party thus far in the 21st Century.
Among the concerns that the rising debt should have is that as interest rates rise, and the debt goes up, the cost of debt service as a share of the national budget grows.
What the compromises between Clinton-Gingrich in the late 1990s achieved that resulted in a modest U.S. budget surplus demonstrated is that the federal government can live within its means. There are paths to accomplishing that again. It is a subject that isn't a crisis, but it is a concern.  But don't let a politico convince you that as they blast the 45th president for the rising debt, that it means that they will control it. A close look at most policy proposals by 2020 Democratic hopefuls is packed with 'free stuff' that would have to be paid by taxpayers.  'Free' is often code for increased federal borrowing. All borrowing has its limits.
TANSTAFL.  There Is No Such Thing As A Free Lunch.
Someone always pays. That 'someone' has often been the middle class taxpayer, as even Bernie Sanders admitted in the Democratic presidential debates in Miami that middle class taxes would rise if Medicare for all became law. He didn't say it, but it is obvious that the same would occur if the Green New Deal or other proposals become law.  As investors have learned, government policies and intervention, for good or ill, has been a driver of the profitability, or the lack thereof of by private companies.
Related Reports:
Strong U.S. Jobs Report, Markets Slide, plus Manufactured Housing Stock Updates
Nobility Homes Bucks National Trends, Reported Serious Growth, plus Manufactured Home Stock Updates
Yahoo Finance Closing Ticker for MHProNews…
NOTE: The chart below includes the Canadian stock, ECN, which purchased Triad Financial Services.
NOTE: Drew changed its name and trading symbol at the end of 2016 to Lippert (LCII).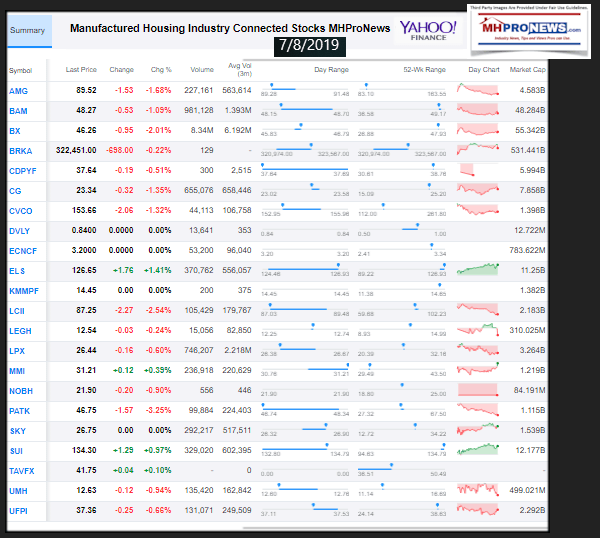 Updated:
Berkshire Hathaway is the parent company to Clayton Homes, 21st Mortgage, Vanderbilt Mortgage and other factory built housing industry suppliers.
LCI Industries, Patrick, UFPI, and LP all supply manufactured housing.
AMG, CG and TAVFX have investments in manufactured housing related businesses.
Your link to industry praise for our coverage, is found here.
For the examples of our kudos linked above…plus well over 1,000 positive, public comments, we say – "Thank You for your vote of confidence."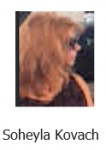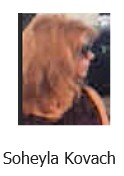 "We Provide, You Decide." © ## (News, analysis and commentary.)
(Image credits and information are as shown above, and when provided by third parties, are shared under fair use guidelines.)
Submitted by Soheyla Kovach to the Daily Business News for MHProNews.com.