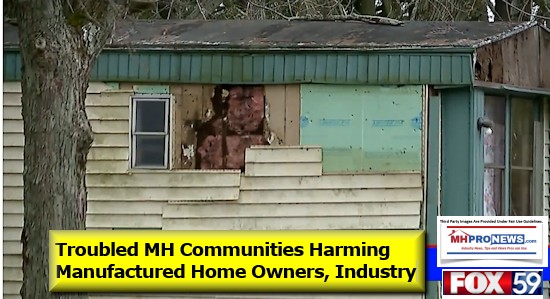 Frank Rolfe and his associates say there are some 44,000 land-lease communities for mobile and manufactured homes in the U.S..
There are several indications that the vast majority are well run.
Yet, there are enough troubled properties that draw headlines every year to give good businesses, and honorable home owners, a black eye.  It's a problem that Rolfe has previously lamented on several occasions.
The latest 'shiner' is found in Zionsville, Indiana. An apparently failing property has attracted adverse legal action by what Fox 59 reports by that state's health department and the Environmental Public Health Division
Several homes were ordered removed, as sanitation and other problems prevailed.
Court records reportedly indicate that the property owner, Laura Lei, has been in a legal battle since 2015. Fox 59 said, "Lei is listed as owing a restitution payment in the amount of $279,950.00. She's scheduled for a telephone conference with the special judge in court in May."
"In 2017 more than a dozen residents of the park were forced to relocate after a judge ordered parts of the park [sic] shut down. Now the remaining residents say Lei has made no attempts to make repairs, so they're concerned the courts will shut the entire park [sic] down.

"It's not if, it's when, when is it going to go, you know," Jill Talyor said. Her father is 88 year old Louis Herring, and a 25 year resident of the community.  "She [the owner] could come and tell us or whoever can come and tell us 'hey he's got to be out by the weekend.'" Taylor said.
Tayler's father is "adamant that he doesn't want to move, but knows there's a strong likelihood he'll have to," per local media. They said the property owner declined to be interviewed, but said by phone she thought that legal authorities had other motives involved in their actions against the troubled community.
"And I think that's the same for all the people, the uncertainty of what's going to happen," she said.
Currently, the community is down to about five remaining residents. The rest of the property "is filled with vacant trailers in various stages of disrepair."
These are the images of a troubled community that are read, streamed, and cable-cast into people's homes.  It's what Marty Lavin called the manufactured home "industry's other image campaign."
Marty Lavin Lashes the Manufactured Housing Institute's (MHI) Latest Initiative
Lavin, is a long-time community owner himself, and an award winning Manufactured Housing Institute (MHI) member. He's blasted MHI numerous times over issues such as failure to get to the root of issues, such as media engagement.
Back in Zionsville… 
"If she's [the property owner] not going to do anything, and they [the court] are going to do something legally, that's fine, but get it to somebody else," said Benny Louden, who's taken matters into his own hands as far as doing what he can around the community he too calls home. "City, give us a little help, somebody help us out, get her out of here and let's get this place back to where it was," Louden said.
What is certain is that like an untreated illness, such stories project an image that lead millions of Americans into an unrealistic view of the realities about manufactured housing.  Q&A's with industry professionals suggest that it harms business.  When will MHI – which has media relations people and millions in their budget, claiming to represent all aspects of the industry – step up and actually deal with such ongoing issues? ## (News, analysis, and commentary.)
(Third party images are provided under fair use guidelines.)
Related Reports:
For those who don't want the above to be their image of the industry…
Today we'll keep it shorter than normal, because we want you to be able to focus on the infographic and data provided below. We could sum this up like this. There is a lot of misinformation about modern manufactured homes, starting with terminology. From there, one can move on to issues of quality, durability, appreciation, and more.
To sign up in seconds for our industry leading emailed news updates, click here.
2) To provide a News Tips and/or Commentary, click the link to the left. Please note if comments are on-or-off the record, thank you.
3) Marketing, Web, Video, Consulting, Recruiting and Training Resources

Submitted by Soheyla Kovach to the Daily Business News for MHProNews.com.
Soheyla is a managing member of LifeStyle Factory Homes, LLC, the parent company to MHProNews, and MHLivingNews.com.