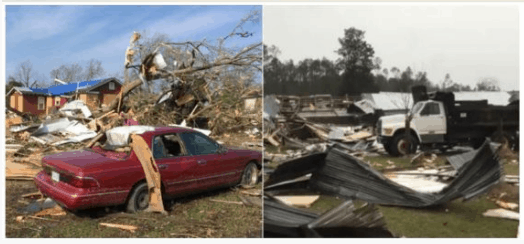 The southern U.S. was severely affected this weekend, as tornadoes and storms destroyed homes, injured dozens and killed 16.
According to the Chicago Tribune, a tornado blew through a manufactured home community in rural Cook County in southern Georgia causing damage and killing seven people.
"The tornado leveled the park [sic] before dawn Sunday," said Coroner Tim Purvis.
"Emergency responders searched for survivors for hours after the twister struck."
Purvis also said the community had about 40 manufactured homes, and roughly half were destroyed.
As Daily Business News readers are aware, officials, news agencies and the general public continue to specifically point out manufactured homes and communities – often identified incorrectly as "mobile homes" and "mobile home parks" – vs. site-built homes in damage reports.
On average, about 1 in 5 structures identified as "mobile homes" by the media are in fact pre-HUD code mobile homes.  They are routinely the ones that suffer the most damage, because HUD Code manufactured homes are more durable by design.
Where a storm strikes determines if more site-built housing is destroyed than factory-built homes.  See the related report, linked here. For example, in Joplin, MO, the deaths reported in 2011 were in conventional housing.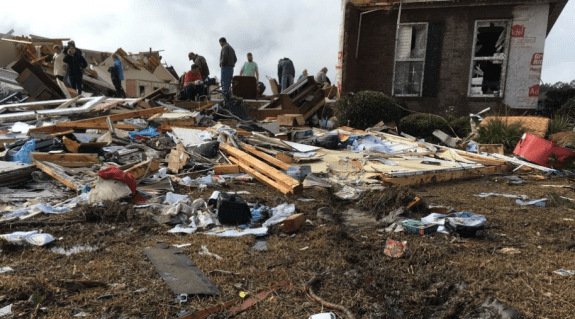 As the video below shows, tornadoes, hurricanes and other natural disasters do not discriminate between site built homes, manufactured homes, apartments or any other structure. It should also be noted that properly installed manufactured homes that are built to HUD code are designed to withstand the same elements as site-built homes.  For an interview related on that topic with a former federal official, please click here.
Proof of Parity
Not far from the manufactured home community, Jenny Bullard, injured and wearing a sling on her arm, combed through the rubble of her family's site built brick house.
All that remained standing Sunday afternoon was the master bedroom and parts of the kitchen.
"It's a horrible tragedy," said Bullard.
"But all this stuff can be replaced. We can't replace each other. We're extremely lucky."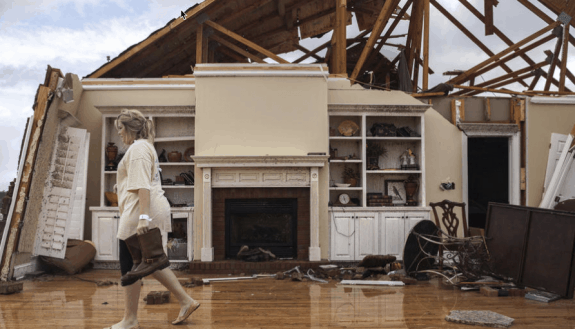 Per the Tribune, Bullard said she awoke before dawn Sunday to the sound of hail pounding the roof. When she went outside her bedroom door, a collapsing wall in the hallway knocked her down.
She managed to get up and found her father calling for her, trapped under a pile of debris.
She pulled him free, and they found her mother in the master bedroom. They escaped by climbing over piles of furniture and debris where the wall to their home office once stood. Their home was one of many.
A number of homes appeared to be destroyed along a road within about two miles of the manufactured home community, with cinderblocks scattered on the ground, and pine trees uprooted and snapped in half.
President Donald Trump said that he spoke with Georgia Governor Nathan Deal on Sunday and expressed his condolences along with his commitment to help.
"Tornadoes were vicious and powerful and strong, and they suffered greatly," said Trump. "So we'll be helping out the state of Georgia."
An in-depth report that corrects the record on tornadoes, hurricanes, conventional housing and manufactured housing is linked here. ##
(Image credits are as shown above.)

Submitted by RC Williams to the Daily Business News for MHProNews.