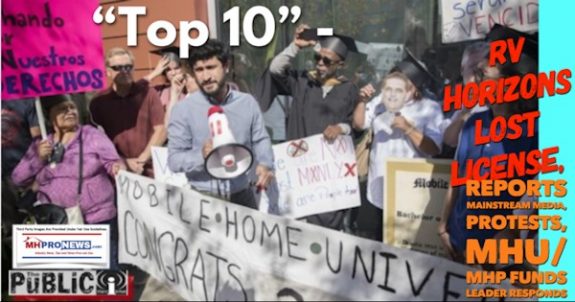 "Since Colorado-based RV Horizons purchased Houlton's St. Croix Meadows RV Park in the fall of 2015, Town of St. Joseph Town Board has twice voted to deny renewal of the park's operating license, citing various infractions including failure to pay its bills to the city," said the Wisconsin-side of the St. Paul/Minneapolis, MN metro's Hudson Star Observer.
The Hudson newspaper cited this as one of their top 10 stories for 2018. An official for RV Horizons said off the record about that point from the newspaper's report, "I guess it's good that a community license renewal is a top story in this town and there are no bigger issues to report on. That's the kind of town we like to invest in!"
The Hudson paper did make it clear, later in their story, that the RV Horizon's license was renewed.  RV Horizon confirmed that in an extensive comment published further below.
But an industry's activist group, MHAction has put this incident out to their followers in a variety of ways.  They played a prominent part of that news media's report.
That further muddies the waters, when MH spin and their own media efforts, are more commonly entering the media mix.  The image below is from earlier in this effort by MHAction.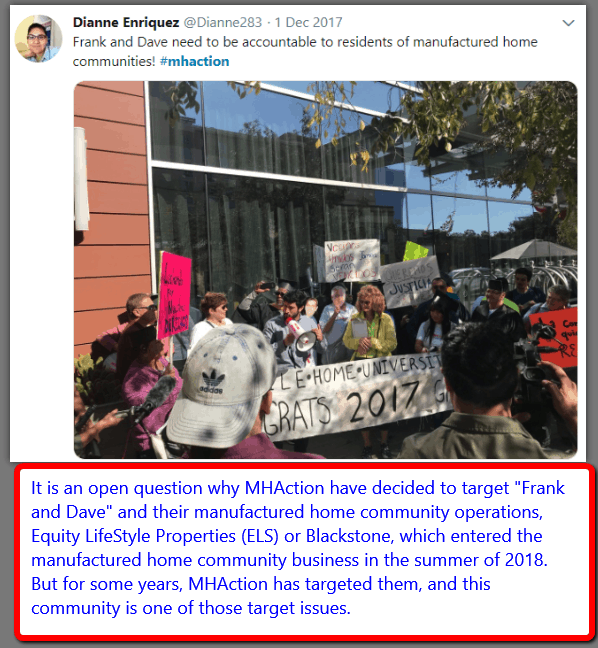 The photo at the top is from a December protest of MHAction of a different 'Frank and Dave' event.
Beyond the Mainstream Report
To get both sides of the story, MHProNews reached out to Dave Reynolds and Frank Rolfe, principals in RV Horizons and other manufactured home related operations.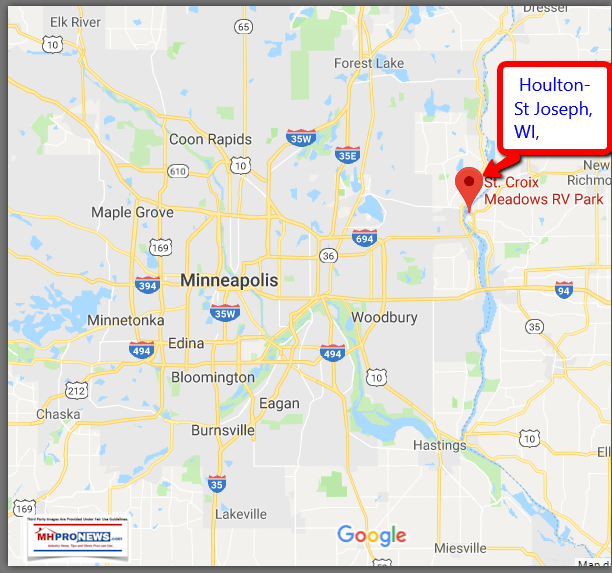 Dave Reynolds sent the following, detailed response to a series of questions from MHProNews to RV Horizons.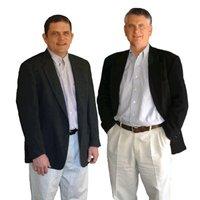 "Tony,
Here is my response:
Status of water issues  –  water is tested regularly as required by Wisconsin DNR and is safe for consumption.   We have just recently installed a second well to provide more capacity as well as a backup.

Status of Payments  –  We are current on our payments and actually tried to prepay this a year in advance and the Town would not accept that payment due to their accounting procedures.    We are in constant contact with the Town and provide them a report each month that includes a community occupancy map and the monthly parking fee tax payment.

Shandra/MHAction Statements –  I would be happy to talk to her to hear her concerns.

Cosmetic vs. structural changes  –  We are doing both, and both are important.  Structural improvements include the upcoming sewer project at a cost of over $200,000 which will be completed in the spring, a new well has already been drilled, a generator will ensure water is always flowing to the residents even in the event of a power outage, dangerous trees and tree limbs have been removed or trimmed back.  The majority of improvements are infrastructure improvements and not cosmetic.  But cosmetic improvements are important as well and we will continue to improve property appearance  – something we will never apologize for.    To date we have spent approximately $250,000 on property improvements on top of over $200,000 in new home inventory.

Management Problems  –  We have had excessive turnover in the Community manager position, and the district manager position for that matter.  This is where the miscommunication stemmed from and we have addressed that situation to highlighting the importance of maintaining a strong commitment to our relationship with the Town, our residents, and towards continued improvements to the community.    This community went for many years with no improvements prior to our ownership.    While we look forward to completing all of our projects to improve the community, it doesn't happen overnight.     There is a strong need for affordable housing in this market and our goal with this and every community we own is to improve them each and every year

."
Dave Reynolds
PO Box 457
Cedaredge, CO 81413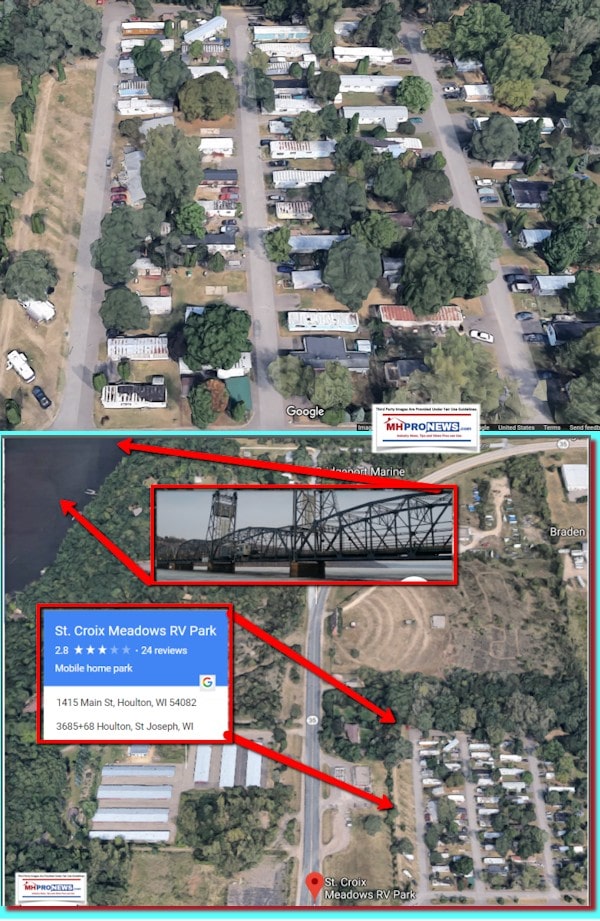 Returning to Local Media Report
Back to quotes from the Star Observer about RV Horizons -"Both votes — the first in June 2017 and the second in June 2018 — were reversed, allowing the company's continued presence in the community."
"I wish I could change what's happened in the past," RV Horizons district manager Rod Engh told town officials in September before they voted to reinstate the license, per John Russett's narrative. "I can't. But I can say that it's going to get better — I promise."
Russett added that, "What preceded the vote was nearly two years of back-and-forth between Houlton MHP, LLC — the subsidiary created by RV Horizons to run St. Croix Meadows RV Park — and town officials on the company's failures to meet its obligations to the town."
Mark Hazelbaker, an attorney with Kasieta Legal Group, LLC, in Madison, attended the Sept. 13 meeting on behalf of RV Horizons with Engh.
There is some back and forth of events, including claims- and counter-claims about improvements.  But perhaps the most important part of the account to potentially thousands of manufactured home industry professionals is that a spokesperson for MHAction was cited and quoted extensively.
What follows is the conclusion of their  article, which appears to rely solely on Sandra BP-Weeks, as if she was a manufactured home community expert, or a neutral third-party.
Here is that extended quote from the Star Observer follows below, between the — lines, but the entire, original report is at this page linked here.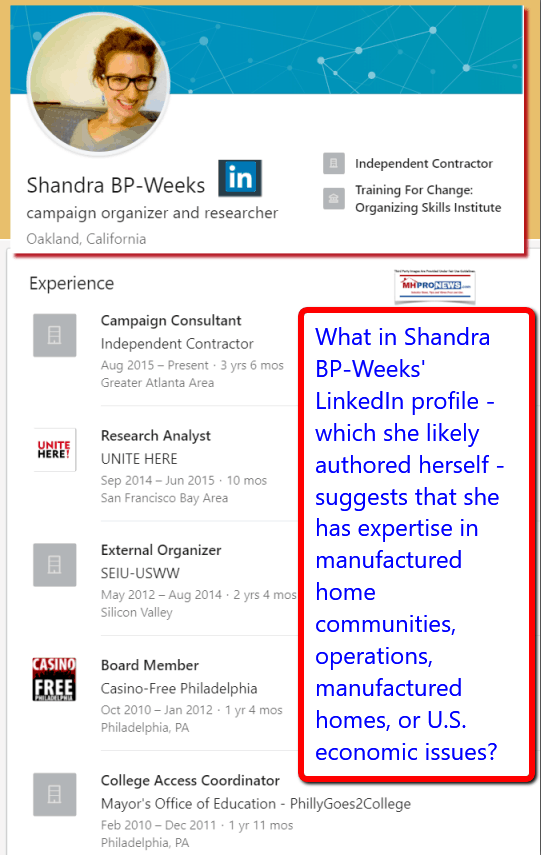 ---
"Since the mid-1990s, manufactured home communities have shifted largely from locally owned entities to ownership by multi-state corporations, according to Shandra BP-Weeks, one of three organizing directors for MHAction, a national movement of manufactured homeowners pushing back against the consequences of corporate ownership.
"There's not a clear process at most of these companies for residents to make their concerns heard," BP-Weeks said. She added many corporate models are designed with a focus on a return for investors as opposed to quality of life improvements for residents.
While some corporate owners make a point to maintain local management, she said a growing trend is to consolidate parks under one manager by purchasing multiple parks in the same area.
"I think that the management style is something that seems to be sort of led by RV Horizons, so we've seen recently that a couple other companies are starting to do that," Weeks [reportedly] said. "So this is definitely a pattern we've seen with them in that they've mentioned on their mobile home university website as a good strategy with buying mobile homes to buy them in regions so they can share managers between the communities."
— end of Hudson Star Observer  report. —
The above quote framed the account in a fashion that made not just RV Horizons, but other firms in the manufactured home industry appear to be problematic. There was no balance on that from RV Horizons, which is one reason MHProNews sought their vantagepoint.  Professional readers now have some balance, with this report.
As a relevant bookend, the Public, a progressive publication sympathetic to MHAction, recently said about different cases that, "…Residents have joined the Manufactured Housing Association of Illinois (mhoia.org) and Manufactured Housing Action (mhaction.org). In December, 2017, Jeff and Debbie Kiel of Urbana joined other protesters in confronting RV Horizons at a Mobile Home University Workshop in Austin, Texas.
This month (December, 2018), the Manufactured Housing Association of Illinois is launching a campaign to call attention to the destructive business model used by RV Horizons and Kingsley…"
What the Star Observer and the Public have in common is this. There is a multi-state effort underway by MHAction, often teaming with other state-based resident groups, to advance their agenda. The MHAction narrative is to call significant swaths of the community sector as a "destructive" business model.
Would the improvements at St. Croix Meadows have occurred in the absence of private capital?
MH Industry Takeaways?
While this account is about RV Horizons and 'Frank and Dave,' it is more broadly a case of the manufactured home industry in the U.S. currently having no effective post-production national association.  Modestly funded MHAction has a spokesperson that is actively engaging the media, to essentially attack the industry.  Where is something similar occurring for industry professionals?
Rolfe has made that point previously, and rather politely, before going quiet on such issues.

The absence of an engaged-on-such-issues, post-production national manufactured home trade association means that no one routinely steps-up-to-the-plate to defend such cases with communities.
That also applies to retailers, who do battle with zoning and other officials.
It is essentially true for almost anyone else in the industry, save for selected cases that may tilt toward a favored MHI member.
With MHAction actively engaged with media, and with politicos – such as Senator Elizabeth Warren (MA-D), who is 'exploring' a run for the Democratic nominee for president in 2020 – the industry's members should be keenly aware of the potential risks from having no effective voice to respond to such issues.
So MHPros are left with an ironic, #nettlesome, and troubling picture.  MHAction is more active with the mainstream media to create a poor image than the Manufactured Housing Institute is to defend the industry from such problematic reports.
And 'Frank and Dave' are MHI members.
The bottom line in this particular case appears to be that RV Horizon did what they needed to do to resolve the matter with local officials in Wisconsin. But the ongoing activities by MHAction to stir-the-pot against private enterprise is not to be overlooked.
While this isn't the only issue creating artificial headwinds for the industry, no wonder industry shipments are down.  See the related reports, further below the byline and notices.
MHProNews will monitor select cases of such matters and report accordingly. "We Provide, You Decide." © ## (News, analysis, and commentary.)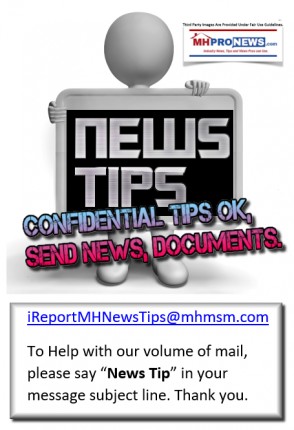 NOTICE: You can get our 'read-hot' industry-leading emailed headline news updates, at this link here. You can join the scores who follow us on Twitter at this link. Connect on LinkedIn here.

NOTICE 2: Readers have periodically reported that they are getting a better experience when reading MHProNews on the Microsoft Edge, or Apple Safari browser than with Google's Chrome browser. Chrome reportedly manipulates the content of a page more than the other two.
(Related Reports are further below. Third-party images and content are provided under fair use guidelines.)
1) To sign up in seconds for our MH Industry leading emailed news updates, click here.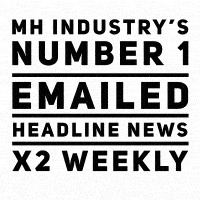 2) To pro-vide a News Tips and/or Commentary, click the link to the left. Please note if comments are on-or-off the record, thank you.
3) Marketing, Web, Video, Consulting, Recruiting and Training Re-sources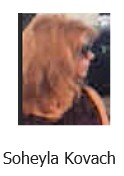 Submitted by Soheyla Kovach to the Daily Business News for MHProNews.com. Soheyla is a managing member of LifeStyle Factory Homes, LLC, the parent company to MHProNews, and MHLivingNews.com.
Related Reports

:
You can

click on the image/text boxes

to learn more about that topic.
Facts & Analysis – Senator Elizabeth Warren re: Manufactured Housing Institute Memo to MHI Members, 10-3-2018
Expose! Why Has Warren Buffett/BH Funded Anti-MHC Activists, MHAction? Why Fund Attacks on ELS, Frank Rolfe, Blackstone Group?