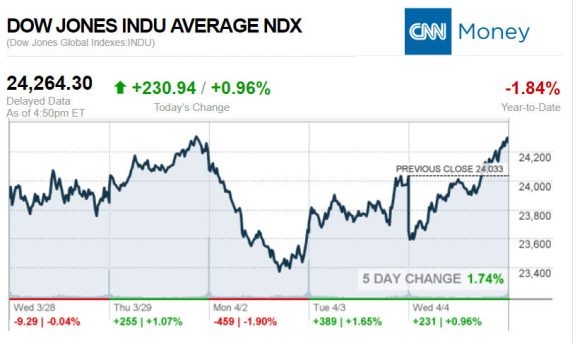 Former White House strategist and 2016 Trump Campaign team leader Steve Bannon "defended" President Trump's trade moves in an…unusual way.  Saying, "To Hell with Wall Street."  Hmmm…helpful? Bannon's controversial comments will be our focus for tonight.
If you're new, already hooked on our new spotlight feature – or are ready to get the MH professional fever – our headline reports are found further below, just beyond the Manufactured Housing Composite Value for today.
The evolving Daily Business News market report sets the manufactured home industry's stocks in the broader context of the overall markets.
Part of this unique feature provides headlines – from both sides of the left-right media divide – that saves readers time, while underscoring topics that may be moving investors, which in turn move the markets.
ICYMI – for those not familiar with the "Full Measure," 'left-right' media chart, please click here. 
Readers say this is also a useful quick-review tool that saves researchers time in getting a handle of the manufactured housing industry, through the lens of publicly-traded stocks connected with the manufactured home industry.
MH "Industry News, Tips and Views, Pros Can Use." ©
Selected headlines and bullets from CNN Money:
Stocks surge back for big gain after plunging on China tariffs
US business to Trump: Don't go through with China tariffs
US-China trade war fears: How bad could this get?
'We'll get past this.' Top economist on the market turmoil
NYSE trader: Don't get emotional about the market
Why trade fears rattle stocks
China fires back with tariffs on US planes, cars and soybeans
Are we in a trade war yet?
US-China trade battle: How we got here
Ford Escape fails passenger crash test
Six key takeaways from the AT&T trial so far
Terms of Bill O'Reilly settlements revealed for first time
Sinclair producer in Nebraska resigns to protest 'obvious bias'
Golf wins with Tiger Woods back at the Masters
Outrage. Disbelief. What women say about the UK gender pay gap
Travis Kalanick joins board of StyleSeat, a beauty startup
It's time to hold Tesla to a higher standard
Finally, some good news for Tesla
How states are changing teacher pension plans
China's bike-sharing competition heats up with Mobike sale
China is pumping $10 billion into Waldorf Astoria owner Anbang
Looking to buy your first home? Good luck with that
Where can I find no-risk investments?
Selected headlines and bullets from Fox Business:
Dow's wild ride claws back 510 points to close higher
Blame China for unfair trade, not Trump: Larry Kudlow
Facebook says data breach affected up to 87M users
Facebook breach tip of iceberg: Missouri attorney general
Soybeans farmers 'extremely frustrated' over China tensions
Fight for $15 fast-food campaigns suffering funding cut?
Union says public filing reflects changing organizational strategy.
Amazon said to weigh bid for Indian e-commerce firm in talks with Walmart
This is how CFOs feel about the economy
Trump vs. Amazon: Kudlow says president trying to level retail playing field
Toys 'R' Us gift card holders face Bed Bath & Beyond deadline
Home prices on the rise: These cities are getting slammed
Boeing hopeful over US-China trade resolution
Homebuilder stocks: The bright spot in this market
NASA awards Lockheed Skunk Works $247.5M supersonic X-plane
Today's markets and stocks, at the closing bell…
S&P 500 2,644.69 +30.24(+1.16%)
Dow 30 24,264.30 +230.94(+0.96%)
Nasdaq 7,042.11 +100.83(+1.45%)
Russell 2000 1,531.66 +19.51(+1.29%)
Crude Oil 63.56 +0.05(+0.08%)
Gold 1,337.00 -0.30(-0.02%)
Silver 16.29 -0.10(-0.62%)
EUR/USD 1.228 +0.0011(+0.09%)
10-Yr Bond 2.79 +0.00(+0.14%)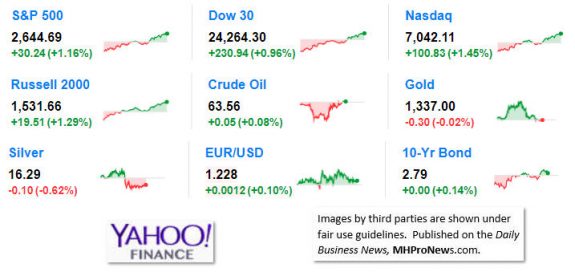 Manufactured Housing Composite Value (MHCV)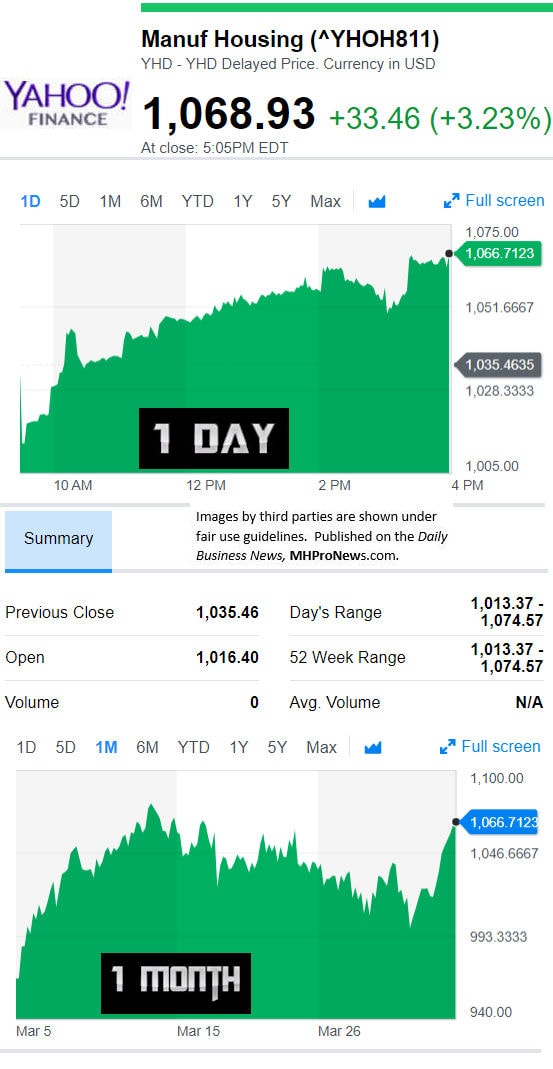 Today's Big Movers
For all the scores and highlights on tracked manufactured home connected stocks today, see the Bloomberg graphic, posted below.
Today's MH Market Spotlight Report –
Steve Bannon is back.
Former President Donald J. Trump's strategist and 2016 campaign CEO, had an inflammatory response on Wednesday to Wall Street's concerns over Trump's trade actions against China.
"Ask the working people in Ohio, Pennsylvania and Michigan about Wall Street. Wall Street supported and cheered on the export of their jobs. To hell with Wall Street if they don't like it. Its time somebody stood up to them and Donald Trump is the perfect guy. Wall Street is always short term. Trump is trying to protect the beating heart of American capitalism — our innovation," he told Reuters in a telephone interview.
Bannon and the Trump Administration has public sparks weeks ago over comments Bannon allegedly made to the author of the partially debunked anti-Trump book, Fire and Fury.  That was then.
"It's full throwdown. Trump has planned this out for a long time. He led with the smart things, forced technology transfers. It's obvious the Chinese have no real response to this. I think they played completely into his hands. By putting tariffs on agricultural products and avoiding addressing the technology questions they've shown once again they consider us nothing more than a tributary state," per CNBC.
"This is the beating heart of American capitalism: Technology innovation that the Chinese have either stolen or forced American companies to turn over. Trump has signaled that those days are over," Bannon said.
China has struck back with a similar level of tariffs to match those announced by the Trump administration.  While the markets are clearly nervous, Trump's team and some observers insist that the U.S. holds the cards, because China hold so much U.S. debt, and won't want to lose access to our markets with their hundreds of billions in trade deficits.
After decades of complaints, but no real action, this president is acting. The markets are turbulent. Stay tuned for the outcome.

Bonus Video – Martin Luther King Jr.'s I Have A Dream
Remembering him on the 50th anniversary of his assassination.
Bloomberg Closing Ticker for MHProNews…
NOTE: The chart below includes the Canadian stock, ECN, which purchased Triad Financial Services.
NOTE: The chart below covers a number of stocks NOT reflected in the Yahoo MHCV, shown above.
NOTE: Drew changed its name and trading symbol at the end of 2016 to Lippert (LCII).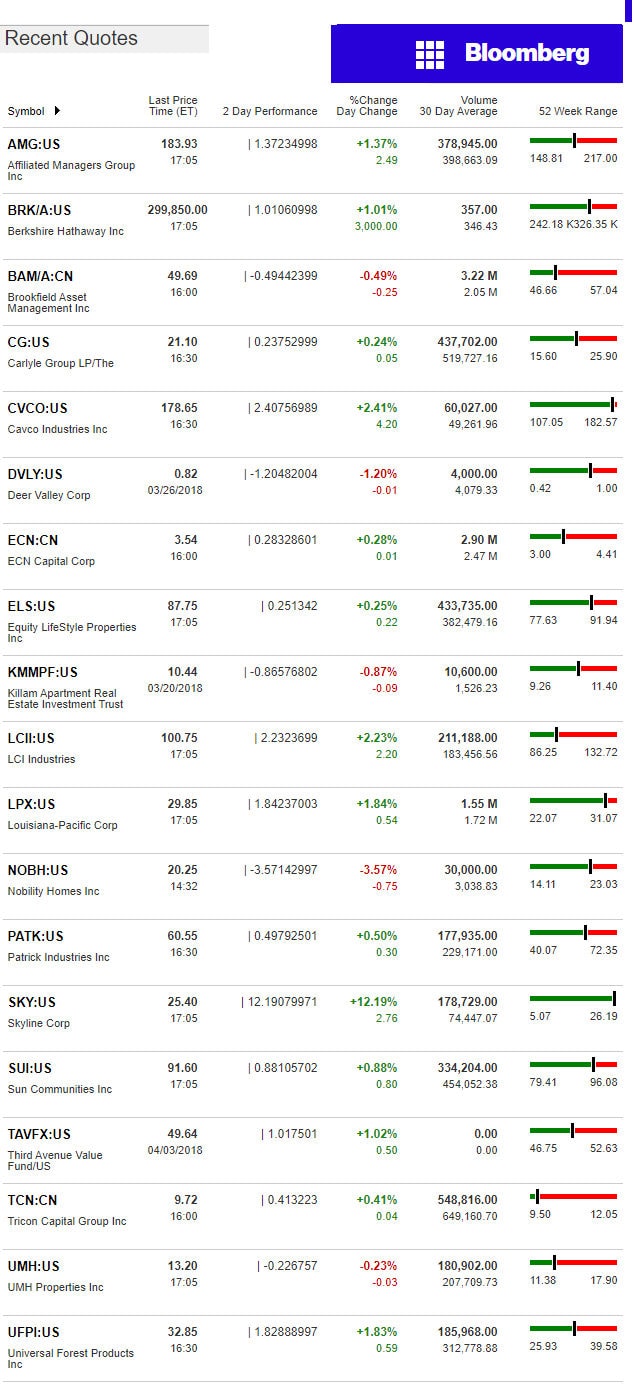 Berkshire Hathaway is the parent company to Clayton Homes, 21st Mortgage, Vanderbilt Mortgage and other factory built housing industry suppliers.
LCI Industries, Patrick, UFPI and LP all supply manufactured housing.
AMG, CG and TAVFX have investments in manufactured housing related businesses.
Your link to industry praise for our coverage, is found here.
For the examples of our kudos linked above…plus well over 1,000 positive, public comments, we say – "Thank You for your vote of confidence."
"We Provide, You Decide." © ## (News, analysis and commentary.)
(Image credits and information are as shown above, and when provided by third parties, are shared under fair use guidelines.)

Submitted by Soheyla Kovach to the Daily Business News for MHProNews.com.