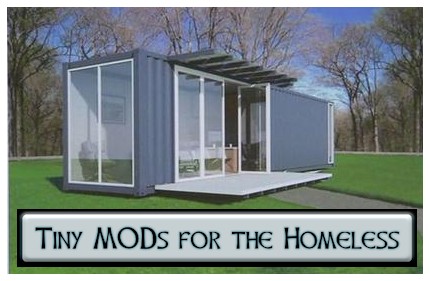 Look beyond the argument that manufactured and modular homes benefit millions of moderate income households, and could benefit millions more. Is it also possible that the tiny house trend applied to modular units is the answer to homelessness in the U.S.?
Eyewitness News Channel 7 in Los Angeles featured a homeless veteran and his family who were given a modular home, donated by Affordable Homes 4 U, a company which builds new eco-modular homes made from steel containers.
Tommy Weir and his family, who had been living in a homeless shelter, are now calling one of these innovative prefabricated homes built from steel containers, their own home.  Affordable Homes 4U produces steel and container-based homes as a way to house the homeless.
Las Vegas was the first place the firm's container units were used to help homeless veterans, and they are now being used in Los Angeles by Holmes Stoner Jr.
Las Vegas's KSNV News 3LV reported "The Department of Veterans Affairs has declared Nevada at 'functional zero' when it comes to veterans who are homeless."
Arnold Stalk, who opened up Veteran's Village in Las Vegas, is using the emerging technology of steel container homes to solve affordable housing problems. The shipping containers housing can be used completely off the electrical grid.
"This will solve a severe social problem right now, which is veterans that are homeless in the streets," Stalk said.
The Las Vegas container is described as having its own living room area, kitchen, bedroom and full bathroom. The report notes that SolarCity,  is working with Stalk to help "soak up power" for the community, while Tesla agreed to donate a state-of-the-art battery system.  ##
(Image credits: screen shot ABC 7 video, text by MHProNews.)

Article submitted by Robin Gardner, to the Daily Business News, MHProNews.com.