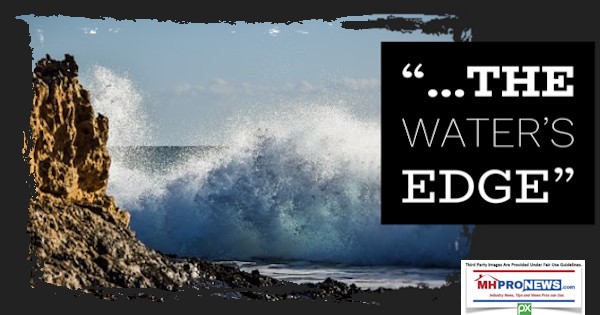 The 1980s was the first full decade that HUD Code manufactured housing – as distinguished from pre-code mobile homes – existed.
It was during the early 1980s that manufactured housing – even with interest rates often as high as 21 percent on an adjustable rate loan – that new HUD Code manufactured home sales were more than double the rate nationally that occur today.
The 1980s witnessed the S&L crisis. They were the years of the Reagan Administration. And in those years the brother of the prior president – Jimmy Carter's sibling Billy Carter – became a professional promoter of manufactured homes. Imagine the stir that would occur if the brother of Barack Obama were promoting manufactured housing?
One could go further to identify other direct and indirect impacts and connections between former President Carter, affordable housing, and manufactured homes. One example that should leap to mind is the Habitat for Humanity program.
But none of those are the focus today. Rather, they are the backdrop to the latest example of the erosion of yet another long-standing American principle that politics stopped at "the water's edge."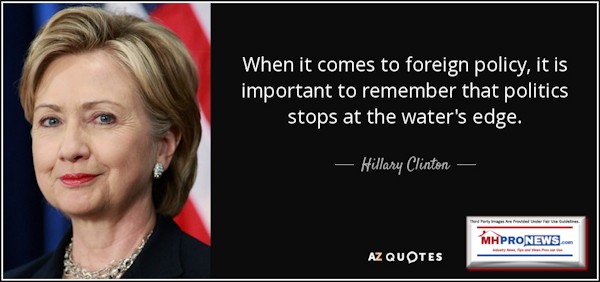 What the expression of 'politics stopping at the waters edge' meant in part was that when the American president was overseas, there were no cheap shots or efforts to undermine his – or potentially, her – administration. Years before Donald J. Trump said "America First," Democrats and Republicans largely agreed that each must put the national interest over partisan gameplaying.
That mantra of politics stopping at the waters edge largely held for decades between Democrats and Republicans. Even news media toned it down when a president of either party was overseas. Why? Because it was in the best interests of the country to do so. To do otherwise would give fodder to political and economic opponents overseas.
Much has happened since those somewhat more collegial days in our industry and others, or in American politics.
While President Donald J. Trump is in Japan for the G20 Summit meetings, former President Carter alleged on 6.28.2019 that the 45th president is in the Oval Office because of election interference by the Russians. The video clip is below.
Jimmy Carter suggesting that President Trump is somehow illegitimate because of Russian election meddling is absurd on several levels. Not the least of which was Special Counsel Robert Mueller's recent findings to the contrary. There was no collusion, said Mueller's investigation and others in Congress. They reflected a total lack of evidence that Russian interference changed any votes. Russians were indicted in 2016 election meddling, but not one American was indicted for that cause. But the issue begs a larger question. How common is election meddling historically?
Election Meddling U.S. Politics, and Policy
The idea of interfering in the foreign affairs of other nations is hardly new. The U.S. and Russia – including the old Soviet Union – have each 'interfered' in the internal affairs of each other's and numerous other country's internal affairs for decades. Right or wrong, that's part of what a given nation's spy services do.
There was U.S. involvement in Russian elections. One example? Per Wikipedia, "The first Russian president Boris Yeltsin won his second term in the 1996 presidential elections.
A team of private US citizens, campaign experts organized by Felix Braynin, provided assistance to the Yeltsin campaign.[40] The team consisted of Steven Moore, Joe Shumate, George Gorton and Richard Dresner, who worked in Russia four months and received $250,000, plus payment of all costs and unlimited budget to conduct surveys and other activities.[41]
Simultaneously the US administration ensured a US$10.2 billion IMF loan to Russia[42] as it was drowning in the economic and social disaster, to keep the national economy and pro-Western liberal government afloat.[43] The loan funds were fraudulently misused by Yeltsin's inner circle, and the IMF knowingly turned a blind eye to these facts.[44] Although the aggressive pro-Yeltsin campaign boosted his approval rate from an initial 6%[45] to the 35% that he got during the first round of elections, and later made him win the second round against the left-wing competitor with 54% to 40%, there were wide speculations that the official results were rigged."[46]
Former President Barack Obama's Administration allegedly interfered with Israel's election in 2016, notes Wikipedia.
"During the administration of President Barack Obama, the U.S. State Department sent $350,000 to an Israeli organization, OneVoice, which used the funds to try to oust Israeli Prime Minister Benjamin Netanyahu."[28]
The overview of how Wikipedia introduces the notion of electoral interference in the elections of foreign nations is even more sobering, and therefore, more important to be aware of on this hot-button topic.
"Theoretical and empirical research on the effect of foreign electoral intervention had been characterized as weak overall as late as 2011; however, since then a number of such studies have been conducted.[1] One study indicated that the country intervening in most foreign elections is the United States with 81 interventions, followed by Russia (including the former Soviet Union) with 36 interventions from 1946 to 2000—an average of once in every nine competitive elections."[2][3][4][5]
The bottom line is that none of this election tampering concerns are new. Are millions in this nation going to be so naïve as to believe that the Chinese or other nations aren't doing the same as the Russians?
The 2016 instance of Russian 'election meddling' has been arguably overblown because one political party and their media allies didn't like the outcome of the 2016 U.S. presidential election.
Then President Barack Obama Said It
Left-of-center Poltifact, in it's narrative about voter fraud, cited this quote from former President Obama in the weeks before the 2016 election: "But the larger point that I want to emphasize here is that there is no serious person out there who would suggest somehow that you could even rig America's elections, in part because they're so decentralized and the numbers of votes involved. There's no evidence that that has happened in the past, or that there are instances in which that will happen this time. And so I'd advise Mr. Trump to stop whining and go try to make his case to get votes."
Frankly, while the first phrase has some merit, what followed in that quote from former President Obama claim is obviously dubious, as the election interference study referenced by Wikipedia cited above reveals.
Richard Nixon was convinced that there was domestic election cheating in key states in 1960 that gave the White House to John F. Kenney. Nixon, right or wrong, kept largely silent about the matter.
Thus, what former President Carter did yesterday was just the latest example of a more openly polarized political climate. Carter's was a political claim, demonstrably misleading, and not worthy of an elder statesman who has debatably done more outside of the Oval Office than during his years in it.
Former Democrat turned Republican President Ronald Reagan was able to get legislation passed during a Democratic dominated Congress. Similarly, House Speaker Newt Gingrich (GOP) likewise found common ground with former President Bill Clinton (D). Bipartisan bills were passed even as impeachment hearings for Clinton's lying under oath occurred. For those lies, Clinton was disbarred, not just impeached. Indeed, the First Step Act is but one of several examples of bipartisanship that is occurring even in the current political climate.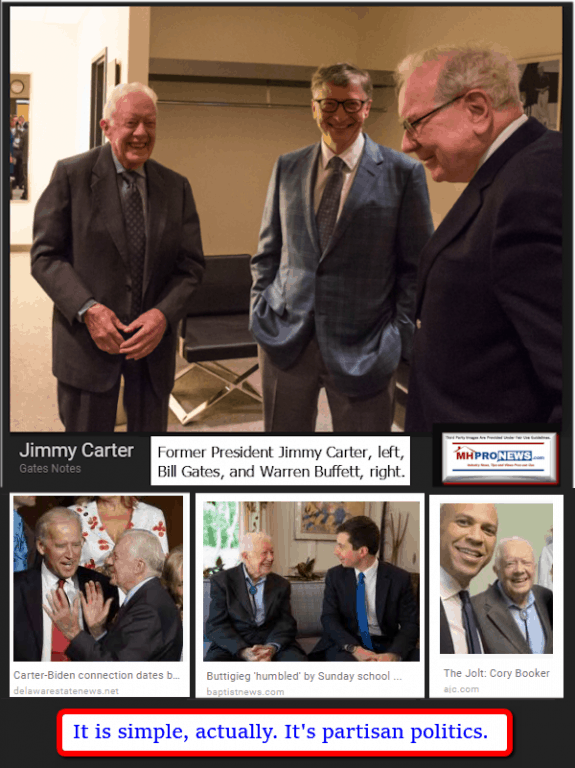 It was during the waning days of the Clinton administration that the Manufactured Housing Improvement Act of 2000 (MHIA) was passed into law. These historic lessons are reminders to us today of reality vs. spin and narratives. Spin or deception occur with a desire to influence people. Ironically, those who claim that Russia – which by all accounts did meddle, only their vote-changing efforts were unsuccessful – interfered with the 2016 election are guilty of attempting to manipulate people and their votes too. Put differently, Russian meddling – while real enough – is in it practical impact largely a head fake.
That's why fact-checks and historic context are useful gauges to see who is being accurate, and who is spinning a web of deception. Which then begs the question, why? Why the ongoing lies and deceit?
The 45th President Donald J. Trump won the 2016 election because he campaigned in key states that Secretary Hillary Clinton largely or completely ignored. Wisconsin, Michigan, and Pennsylvania went Republican for the first time in years as a result. There are those who disagree with President Trump's style, sense of humor, negotiating tactics, and policy perspectives. Failure to admit reality betrays an impression of weakness by Democrats and their allies, whose policies the Trump Administration are challenging day-by-day. Rephrased, there apparently are Democratic strategists who believe that it is safer to lie or attempt to deceive in order win votes than it is to debate issues on actual historic outcomes and the merits.
There is an ongoing effort by some to obscure history.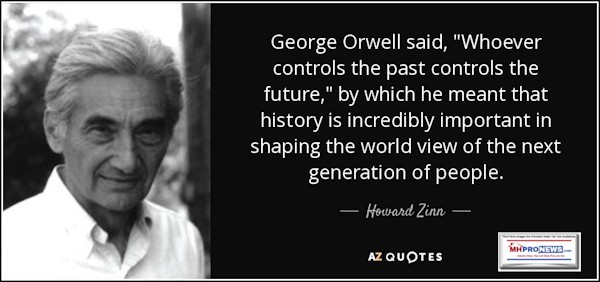 In an era when fake news is a mantra across the left-right political spectrum, deception is a risky strategy. Time will tell how that plays out in the 2020 contests.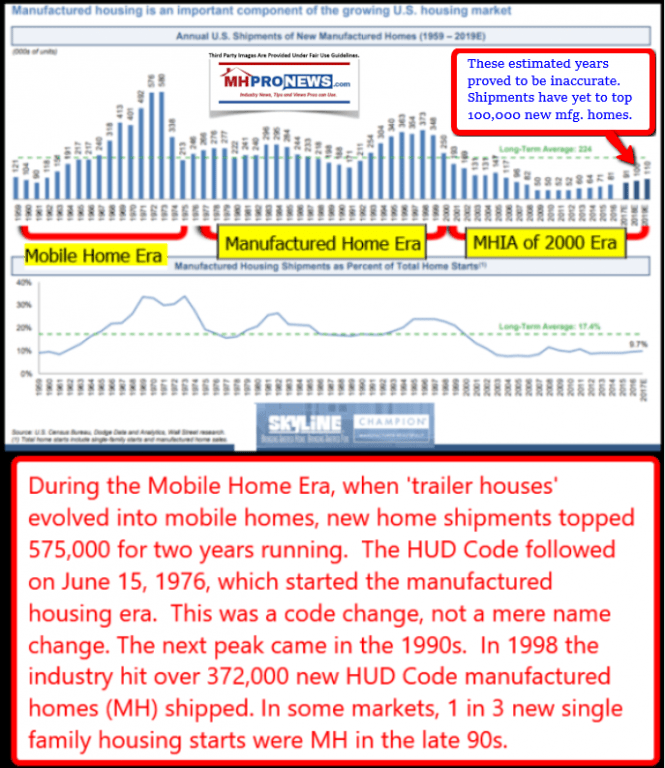 That's this Saturday's edition of "News Through the Lens of Manufactured Homes, and Factory-Built Housing," © where "We Provide, You Decide." ©. ## (News, fact-checks, analysis, and commentary.)
Connect on LinkedIn here. (Related Reports are further below. Third-party images and content are provided under fair use guidelines.)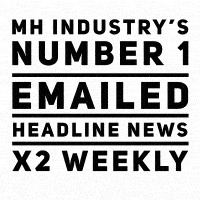 1) Marketing, Web, Video, Consulting, Recruiting and Training Resources
Submitted by Soheyla Kovach to the Daily Business News for MHProNews.com. Soheyla is a managing member of LifeStyle Factory Homes, LLC, the parent company to MHProNews, and MHLivingNews.com.
Related Reports

:
You can

click on the image/text boxes

to learn more about that topic.
Rent Controls and Manufactured Housing Restrictions Targeted in New Presidential Executive Order
Washington, D.C., June 18, 2019 – The Manufactured Housing Association for Regulatory Reform (MHARR), in a June 13, 2019 communication to Fannie Mae Vice President Jonathan Lawless (copy attached), has reiterated its call for a congressional investigation into the failure of both Fannie Mae and Freddie Mac to implement the statutory Duty to Serve Underserved …
MH Community Leader Robert Van Cleef – Public Call – Federal Investigations of Berkshire Hathaway, Clayton Homes, 21st Mortgage, Manufactured Housing Institute
Independent MH Communities, Retailers – NAMHCO's Susan Brenton Says What Fueled Break from Manufactured Housing Institute (MHI)
President Trump Signs Executive Order on Affordable Housing Crisis, Ray of Light for Manufactured Housing? Plus, Manufactured Home Stock Updates
George Orwell, All Issues Are Political Issues, Manufactured Housing Challenges, and You
Rep SWALWELL Said "Pass The Torch," Biden says No – Democratic Debates, Nights 1 & 2, Full Transcripts, Videos – plus MH Stock Updates