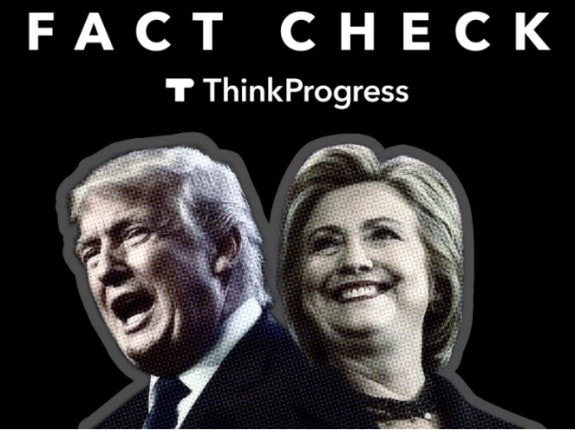 When Hillary Clinton answered moderator Chris Wallace's question in the third presidential debate about open borders and open trade, she essentially confirmed the accuracy of the documents coming out of her campaign chairman John Podesta's emails via WikiLeaks.
Among the thousands of revelations from the Clinton Campaign's leaked messages are confirmation of what Americans already knew from a video of Hillary Clinton, calling the tens of millions of supporters of Donald Trump and Mike Pence an "irredeemable" … "basket of deplorables."
Why do millions feel left out by federal policies?
That Clinton attack was applied not towards the candidate, but rather to roughly half of the nation's adults.
Clinton on Open Trade, Open Borders
Clinton, in her own high-priced words to Latin American bankers, freely said that she is for open trade and open borders.
Clinton said that "My dream is a hemispheric common market, with open trade and open borders, some time in the future…" That describes the North American Free Trade Agreement (NAFTA) on steroids.
While pro-Democratic groups, like Think Progress are trying to follow the Clinton campaign's spin that she was speaking about energy, the rules of high school English betray that claim.  Clinton's defense is akin to the denial under oath of her hubsand Bill during the Monica Lewinsky sex scandal back in the 1990s, the infamous Clinton line, that "It depends upon what the meaning of the word 'is' is…"
As Democratic Vice-President Joe Biden said in a recent cable news interview, Bill Clinton was punished for the lying via impeachment and disbarment.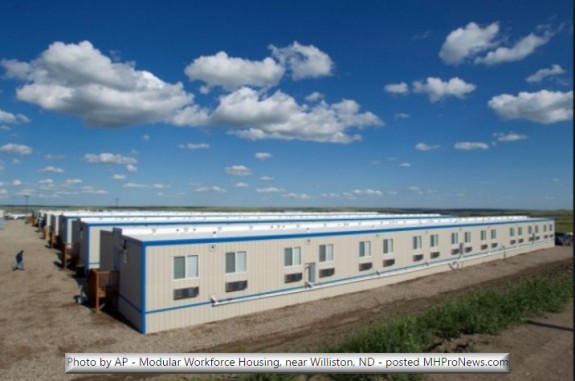 Think Progress and the Clinton Campaign want to change the meaning of what Clinton herself said, by parsing the word "with." Hillary Clinton's statement before over 50 million debate viewers on "open borders" and "open trade" joins the first part of that sentence with the word, "with" meaning accompanied by or to include.
So Secretary Clinton's own words reveals that she wants "open trade" and "open borders" that is accompanied "with energy that is as green and sustainable as we can get it, powering growth and opportunity for every person in the hemisphere."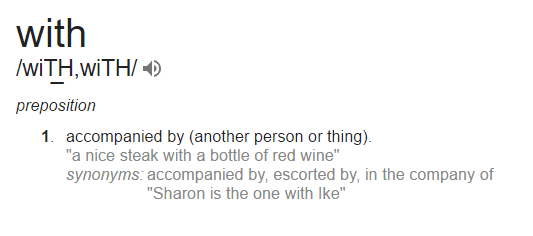 The Obama Clinton Political Way in Action?
In one of Ms. Clinton's highly paid speeches to Goldman Sachs, she said that one must have a private and a public position to get laws passed (see graphic below). That's reminiscent of President Obama's, if you like your doctor, if you like your health plan, you can keep them.
Now, in the light of ObamaCare "architect" Jonathan Gruber's later revelations, informed Americans know that lying was part of the plan to get the misnamed Affordable Care Act passed.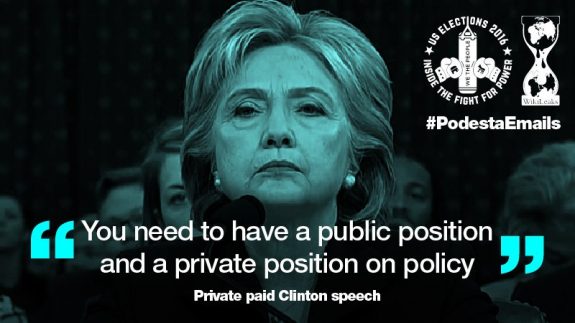 "I mean, this bill was written in a tortured way to make sure CBO did not score the mandate as taxes…" Gruber said, "if you had a law which said that healthy people are going to pay in, you made explicit healthy people pay in and sick people get money, it would not have passed. Lack of transparency is a huge political advantage."
Lying is an advantage, is what that means.
"And basically, call it the stupidity of the American voter or whatever, but basically that was really really critical to get for the thing to pass. Look, I wish Mark was right that we could make it all transparent, but I'd rather have this law than not," Gruber said.
Today, we know from
Minnesota's Democratic governor, Mark Dayton,
Bill Clinton and
President Barack Obama himself that the healthcare law must be changed, because it is failing.  The president – amazingly – recently publicly compared his signature health care law to an exploding Samsung Galaxy Note 7.  But the facts support what opponents to the bill contented before its passage.  Costs have skyrocketed, enrollment goals have fallen millions short.
Lying may be deemed politically effective for Obama and Clinton for getting a bill passed, but lying about a bad policy still produces a bad outcome.  The impact of ObamaCare on small to mid-sized manufactured housing industry businesses is widely known in professional circles.
The Manufactured Housing Connection
Given Clinton's well known attack on the coal and fossil fuels industry – which created and supported thousands of jobs that yielded thousands of manufactured home sales – the second half of her "dream" is an expansion of NAFTA that includes harm to the U.S. energy sector.
NAFTA has cost America thousands of factories, millions of jobs and has thus harmed local, state and federal tax revenues.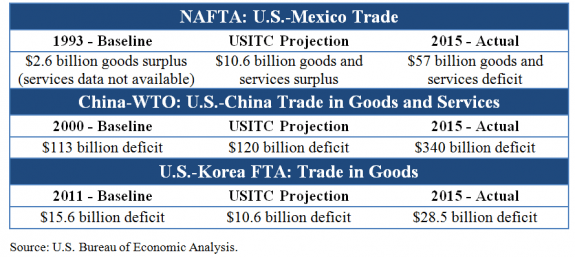 The American workers who buy the manufactured and modular industry's homes require jobs that Clinton's position on open borders reveals will clearly be undermined with a surge of low-wage immigrant workers.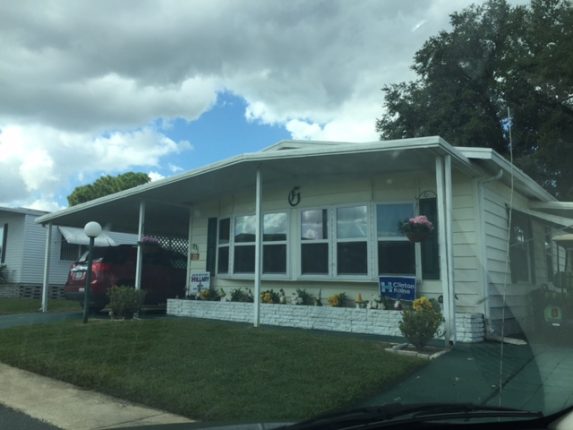 Applying the Law of Supply and Demand means that more low-wage workers, will depress pay, not raise it for the working and middle class. Clinton can say she is for higher wages, but her stated goals for open trade and open borders will undermine the incomes of millions of American workers, as well as American businesses.
Hypocrisy? 
Hypocrisy is on full display in the Clinton Campaign, as Democrats like former Vice-President Al Gore, who challenged the 2000 election results with an "army of attorneys," and Hillary herself, who famously said that George W. Bush was "selected, not elected."
The American Republic survived those previous assaults on the integrity of the vote. Questioning the vote is historically done by Democrats and Republicans alike.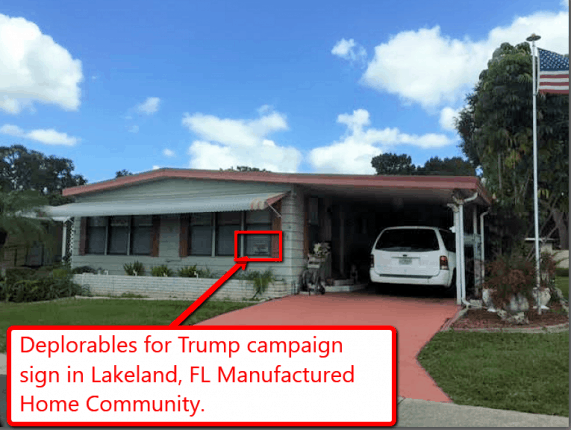 Undercover Video 
What was learned last week was that operatives paid by the Democratic National Committee and the Clinton Campaign hired agitators to go to Donald Trump campaign rallies to provoke fights that made news. That was then used against Trump by Democrats and commentators in an often, but not always, complacent media.
Notice – the undercover video of DNC operatives
above  includes salty language, and is for
mature audiences only.
The media has focused far more attention to
allegations against Trump, many of which are
already debunked; while under-reporting on
issues that will impact American businesses,
jobs and lower and middle class workers.
What went under-reported last week was a flashback moment to Chicago last spring, when the media was led to believe it was Bernie Sanders backers who disrupted the GOP nominee's campaign event. What the undercover video reveals, among other things, is that it was the Clinton Campaign that did the dirty work.
So attacking Trump with people who looked like Sanders supporters, hurt Sanders and Trump.  Violence in Chciago also GOP rivals to speak out against Trump, but it was all sparked by violence that the under cover video reveals was paid for by Clinton Campaign allies.
Two of those involved with the video that unmasked the Clinton Campaign efforts were quickly terminated. That is an indication of the veracity of the video, which no forensic evidence indicates altered the spoken words of those paid agitators.
Polls, Recap and Analysis
This news recap and analysis is part of our MHProNews ongoing campaign coverage.
Given the critical nature of this election for the future of Dodd-Frank and the CFPB, which
the Manufactured Housing Institute (MHI),
other associations and businesses in manufactured housing,
other industries and say is harming the economy and consumers,
this is a golden opportunity to see that act repealed or amended.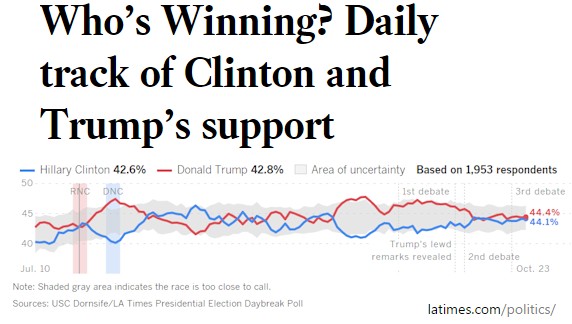 Given the wide variety of consequences of a Clinton administration, such as the appointment of U.S. Supreme Court nominees, the Daily Business News will continue to spotlight the election.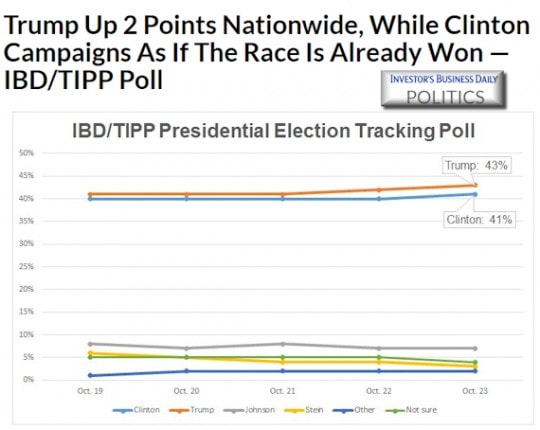 What Another Association Says
For the National Federation of Independent Businesses (NFIB) head-to-head comparison of the positions of the two major candidates, click here.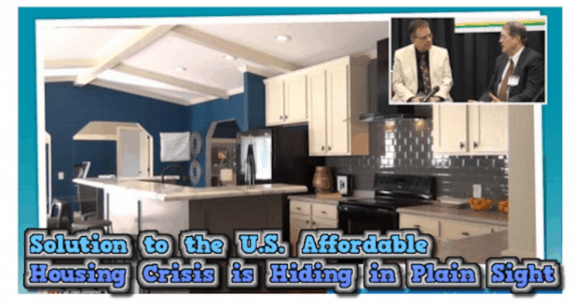 Keep in mind the
·           NAHB's report on the high cost imposed on housing by regulations, and the report
·            As Government Grows, Regulations Impose, the Economy Slows
·           Daily testifies for MHI to Congress about regulatory costs
·           MHI says Data confirms Dodd-Frank regulations impede Industry Growth
Analysis: elections should be about facts, actual results, and track records; not campaign created smoke.
When transparency dies, too many other good things die with it.
"We Provide, You Decide." © ##
(Image credits are as shown.  Manufactured Homes in community with campaign signs, credit – MHProNews.com, all rights reserved).