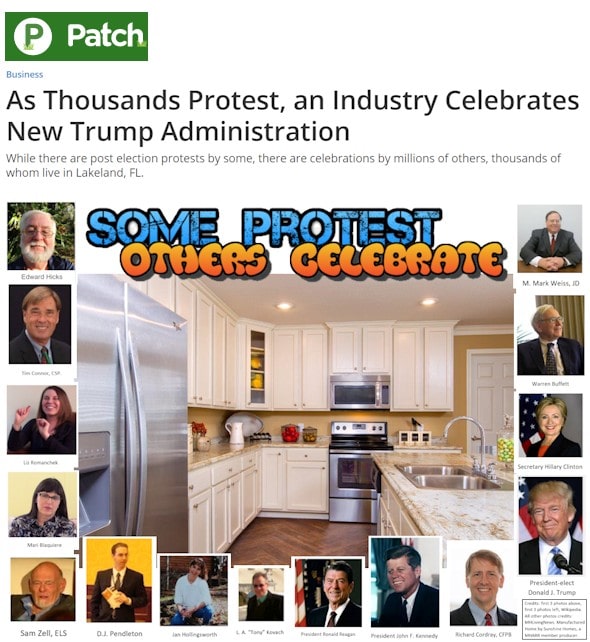 The Patch is a national network of news outlets, which includes the state of Florida.
From the Lakeland, FL Patch is manufactured home industry related story, linked below.
As Thousands Protest, an Industry Celebrates New Trump Administration
Manufactured housing (MH) business and association leaders are quoted in the Patch article linked above.
Webalizer reports that among the most read items on MHProNews this November are pre-and-post election related articles.
More election related commentary continues to come into MHProNews, including a detailed on-the-record comment that will be published soon, submitted by one of the MH Industry's billionaires.
MH Professional Reader's Comments Welcomed
To share comments on the 2016 election of President-elect Donald J. Trump and its possible meaning for manufactured housing, please email iReportMHNewsTips@mhmsm.com, with Industry Voices in the subject line.
Guest writers are encouraged to clearly state if their views are "for publication" or are "off the record" thoughts and insights.
The Masthead commentary related to the above is linked here.
The Daily Business News will continue to track the stories relating to the potential impact of the 2016 election in the days ahead.  Stay tuned. ##
(Image credits are as shown above.)

Submitted by Matthew Silver to the Daily Business News, on MHProNews.com