Professional interest by government officials, investors and professionals like yourself in manufactured and modular housing are hot topics today. How do we know?
Every time you or anyone else visits a website, a digital impression is made that is recorded as a "visit," "session" or similar term. While we don't see 'you' personally on this webpage, there is generic information about visitors that is captured by software. For example:
the country of origin,

are you working for a federal agency,

are you on a PC, Mac or mobile device,

what kind of web browser you are using and so on.
Because of tracking software we know that:
the FEDs are visiting MHProNews.com, and so too are

investors on Wall Street and

professionals from approximately 130 countries around the world!
This report is from the month of January 2013. Even with New Year's and other holidays, the Louisville Show and more events that can keep readership 'down' during the month, our main URL recorded 112,414 visits (there are other URLs we have that record thousands more visits, not reflected in this report) and more than 2,077,046 "hits" on our industry trade media website.
For example, one well know Wall Street firm alone made 16,214 hits on our main URL (primary web address).
Here are the top 30 domains and nations – from among 130 – that visited during the month of January, 2013.
Note that while a .ca extension (Canada) recorded .36% of our traffic in the list above, other tracking reports we have suggests that Canadian traffic ranges in the 3% total of our visitors, which makes sense based on the size of their population vs. that of the United States.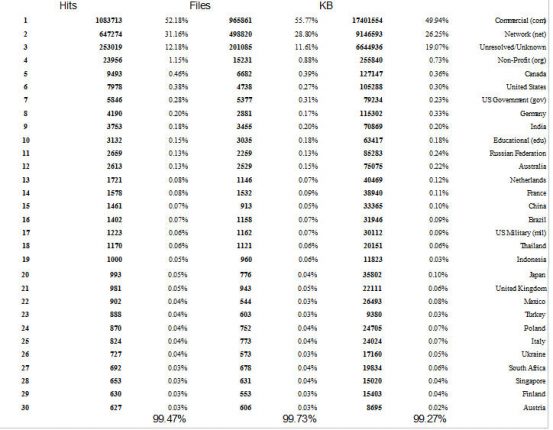 Note too that non-profits (.org) visits represented 23,956 hits during January on our main URL.
Educators (.edu) represent 3,132 hits, just ahead of the Russian Federation, Australia, Netherlands, France, China and Brazil, but behind Germany and India.
What does this mean?
There is world-wide interest in factory-built housing. Some 5% (+/-) of our visits on MHProNews.com come from other nations.

Domestically, federal officials and agencies – along with state and local ones – routinely visit our website. They are following our industry's news and commentary here, are you?

Investors from the U.S. and around the world are on our pages. We know this from phone, email and other sources of contact independent of the logs shown above.
Did you know?
While image, regulatory and other issues persist, manufactured and modular homes have the potential to become a dominant force, a major player in the future of home building in America. The reasons for this are well known among our regular readers,
Population growth demands some 20,000,000 new housing units are needed in the U.S. by 2030, according to Census Bureau data and other sources.

Incomes are down from 4 years ago.

The desire for home ownership is still expressed by 2 out of 3 in the U.S..

Quality, affordability, speed of construction, greener building and other factors all favor manufactured homes.

There are good reasons why
Other nations, starting with our Canadian neighbors to the north, have a much more favorable view of factory building than many Americans not in our industry do. We know from marketing projects that the 'image issue' can rapidly be melted away with the right local marketing outreaches and user friendly sales approaches.
The bottom line is that the interest in our Industry is there among professionals coast to coast and around the world. What we do with that interest can spell growth and profitable opportunities for many, along with new jobs and careers in the factory built-homes industry. ##

By L. A. "Tony" Kovach – email latonyk@gmail.com.