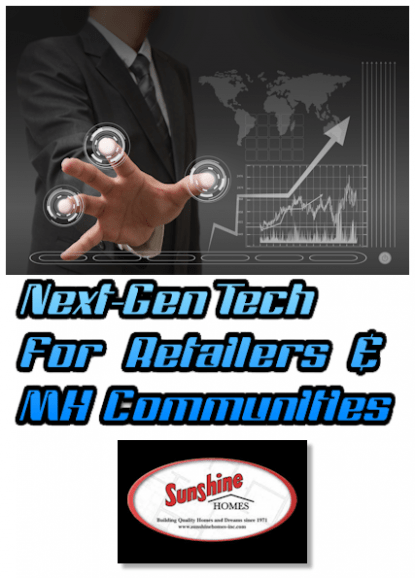 3D Virtual tours have become a next-generation standard in digital real estate marketing.  So much so, that millions of conventional house, condo or townhouse buyers have come to expect them.
"Considering the fact that new and 'existing' (pre-owned) site-built houses out-sell manufactured homes by millions of units annually," said veteran industry consultant and trade publisher, L. A. 'Tony' Kovach, "factory-built housing professionals who haven't already bought into this new technology should take a first or second look."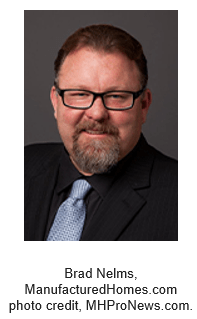 Sources tell the Daily Business News that Sunshine Homes will be unveiling their new iPad kiosks at the 2017 Louisville Manufactured Housing Show.
MHProNews is told that Sunshine's branded iPad kiosks will be provided to select independent retailers/communities after the event.
"Those iPad kiosks will clearly set a sales person showing a qualified customer 3D images apart from those sales agents who are only showing a prospect a photo copy of a floor plan," said Brad Nelms, with ManufacturedHomes.com.
"With the Sunshine Homes branded iPad kiosk, Manufactured Home Retailers and Community professionals can provide a visually rich and engaging 3D virtual tour of dozens of models that are available," Nelms said.
"That can be done at the fraction of the cost of more complex systems," Nelms said. 
"This next-gen system extends any retailer or community's impact and options for demanding buyers. Regardless of the number of models you normally stock, this technology allows you to effectively demo other floorplans and designs that aren't currently in your inventory.  It's a total no-brainer for retailers, and home shoppers love it."

Building on a Tradition of Service
Sunshine Homes has a long-standing tradition – dating back to their founding in 1971 –  as one of the industry's most successful independent producers of residential-style, Energy Star ® rated manufactured and modular homes.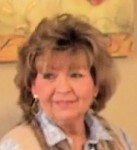 "They're the best," said Jerri Lynn Campbell, an award-winning retailer at Southern Colonel Homes.  The Campbells themselves own a Sunshine Home. Her husband George told MHProNews that Sunshine Homes gives their retailers unparalleled service, and does the same for their retail home buyers.
"Sunshine Homes gives an independent every opportunity to succeed," another Sunshine retailer said in a video interview. View that MH veteran's comments, linked here.
What is Affordable Varies By Customer

"Affordability obviously varies by customer, their income level, and ability to pay for or finance a home," Kovach said. "One reason we periodically publish articles that point out that the rich, famous and screen stars are buying upscale manufactured homes (see a recent millionaires and manufactured home report, linked here) is because that opens the eyes of other potential buyers at every income level."  
"But another reason is that there are actually more well-qualified buyers than there are those with weak or poor credit.  Once more, the proof is in the numbers," said Kovach, a multiple award-winning industry veteran, who is a nominee for the RV/MH Hall of Fame.

"There were over 5 million existing real estate home sales in 2016.  There were over 500,000 new single family site-built houses sold vs. some 80,000 new manufactured homes. Those better qualified buyers tend to shop with realtors, builders, and by owners. So manufactured housing sellers see a disproportionate number of prospects who have trouble getting financed."
"What Sunshine is doing is providing independent retailers and communities with the tools that normally only major corporations offer," said Nelms. "They are leveling the playing field for independents, by offering their retailers, builder/developers and communities tools and professional coaching that help motivated sellers reach more and better qualified customers."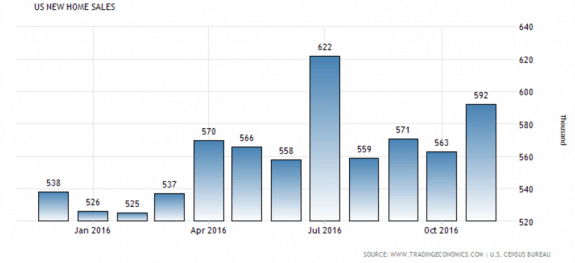 Tight Conventional House Inventories Spell Opportunity

In an new article by Stan Posey, sales manager at Sunshine Homes, quoted Myles Udland, writing for Business Insider.  Udland said, "Earlier…we wrote at length about the decline in US housing inventory being, in effect, the next crisis for the housing market."
Udland said, "the lowest price points in the market are being disproportionately affected, preventing millennials from buying homes and pushing up rent inflation."
That challenge for real estate agents and housing shoppers spells opportunity for those MH retailers and communities who specifically target and prepare for engaging those conventional buyers.
Those better-qualified buyers often interact differently than less-qualified customers, who are often looking for the cheapest house on the market, which may happen to be built in a factory. See Posey's new article that spells out the ways Sunshine Homes supports independents, so they can tap into more of those cash and good credit buyer opportunities, at this link here.
"Is there a place for entry level, 'shade-and-shelter' product that attracts entry-level customers? Of course," says Nelms.  "But the biggest future growth potential is in the residential style manufactured homes, and that's what Sunshine specializes in."
"We've worked with several retailers and communities who now sell more upscale, tape-and-textured model homes – and at a better margin – than they do VOG, 'shade-and-shelter' product," Kovach said. " If you are a community operator, do you want that well-qualified resident or the one that is just barely able to qualify?"
"If you keep doing the same thing, the same way, well – you know you'll get the same type of results," said Nelms. "Growth comes from embracing new and proven methods, without throwing out what already works."
Exaggerated Claims?
Are glowing videos and reports about service by Sunshine Homes to their retailers and home owners exaggerated?
Not according to the to findings of the independent Better Business Bureau, which gives Red Bay, AL based Sunshine Homes their top rating, A+.
The family-owned and operated firm has sold over 88,000 homes through a network of independent dealers that operate in protected territories in about half of the United States.
The Sunshine Homes model home display, including their new, branded, iPad kiosks, are located next to the exhibitor booths, to the left of the main show floor entrance, see map and arrow below. ##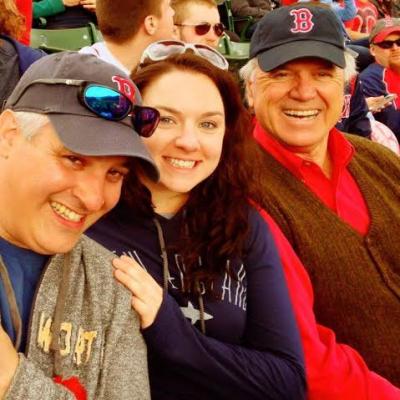 Related:
For a recent article on attracting Millennials, including insights from Sunshine Homes' Lindsey Bostick, click here.
For a Cup of Coffee with John Bostick, owner and president of Sunshine Homes, click here.
For a Cup of Coffee with Lindsey Bostick, click here.
(Image credits are as shown.)

Submitted by Soheyla Kovach to the Daily Business News on MHProNews.com.