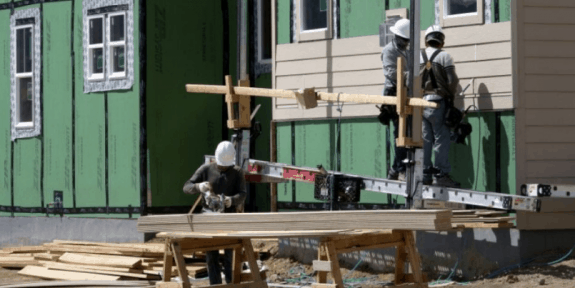 As "baby boomers" eye retirement in large numbers, builders believe that they could jumpstart an affordable housing boom.
Per FOX Business, a report by the Harvard Joint Center for Housing finds that by 2035, more than one in five people in the U.S. will be aged 65 and older and one in three households will be headed by someone in that age group.
The report, entitled "Projections and Implications for Housing a Growing Population: Older Adults 2015-2035," notes the growth will increase the demand for affordable, accessible housing that is well connected to services beyond what the current supply can meet.
Current census data shows that incomes drop significantly after the age of 75, from an average of $54,000 per year to $36,000 per year. Data also shows that this segment spends more than one-third of their income on housing.
"Right now, more than 19 million older adults live in unaffordable or inadequate housing, and that problem will only grow worse in the next two decades as our population ages," said Lisa Marsh Ryerson, president of AARP Foundation.
When asked what these numbers mean for the real estate industry, Lukas Krause, CEO of Real Property Management provided this response: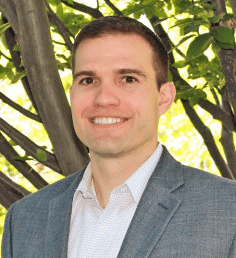 "People currently over the age of 55 have saved only $150,000 for retirement, per Fidelity and Vanguard estimates. This savings amount will generate only $500 per month in income, if the recommended 4% withdrawal standard is followed," said Krause.
"Social Security pays an average of $1,294 in benefits to retirees, so average monthly income will be $1,794 or $21,528 per year. If 34% – 38% is spent on housing, the average retiree will have a housing budget of $610 – $682 per month – half of todays average apartment rental cost of $1,100 per month. This means cohabitation and new forms of housing will be needed in the future.  It also means that retirees who have not already purchased a home, will be unlikely to afford one."
Manufactured Housing to the Rescue
As Daily Business News and MHLivingNews readers are already aware, manufactured homes provide the ideal solution to the challenges of affordable housing by delivering high quality quickly, and at significantly less cost than traditional site-built houses.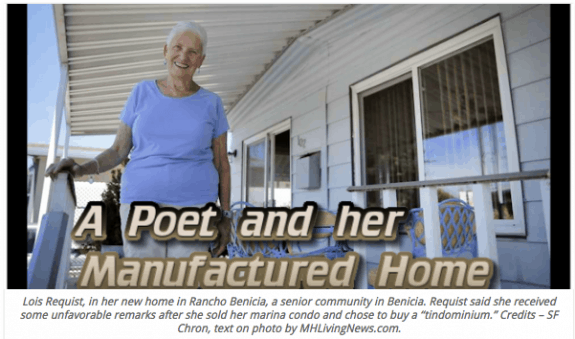 Overcoming the challenge of the stereotypes that plague the industry are now front and center in light of the rapidly retiring baby boomer population. Lois Renquist, a poet laureate who resides in the San Francisco Bay Area, has had to deal with those stereotypes in response to her recent downsizing.
"I'm downsizing for the second time, and some folks think I'm 'stepping down,'" said Renquist.
"Rancho Benicia is a highly rated and gated retirement community (55 and older only), very well kept, with a pool and hot tub, a clubhouse and many activities for the residents. It's almost crime free. It's a mobile home park. A block from the Benicia Marina, it's often seen as another world.
'Trailer trash? Is that what you've come to?' someone asked.
'That's really stepping down,' my brother, who lives in Idaho, said."
You can find the full story, along with the story of Terry Reynolds, whose home is located in a development with conventional houses that he says range from $300,000 to $400,000, double or more what he has invested in his home. Yet visitors to his home can't tell the difference between his residence and that of others in the same location, linked here. ##
(Editor's note: those same stereotypes that hamper manufactured home acceptance with boomers are slowing millennials from accepting manufactured housing too, see a report, linked here.
Fortunately, their are industry leaders who seek to change those realities.  For some examples, see the new report, linked here.)
(Image credits are as shown above.)

Submitted by RC Williams to the Daily Business News for MHProNews.