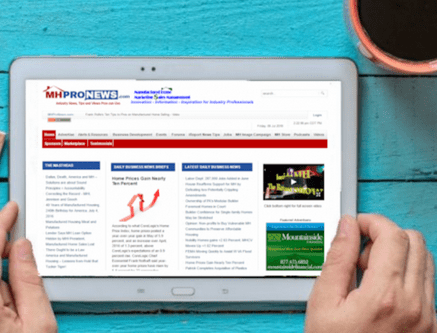 This past week has underscored our theme of Superior September 2016 coverage of the news that matters for manufactured housing industry professionals, and all those who follow or are engaged in the factory-built home industry.
The articles below will include numerous special reports from respected writers Joe Dyton and RC Williams. Let's dive in to our headline news recap.
What's New on MHLivingNews
Housing Breakthrough – Quality combined with Energy and Cost Savings – See How This Residential Style Home Was Born
What's New on MHProNews
Note: just because an image below features a certain article, that is not a signal to overlook or miss the others reports – there are plenty of insights, controversy, tips and news found on each story. Those shown below reflect a sample of how cool and colorful the Daily Business News reports are.
Saturday, Sept 17th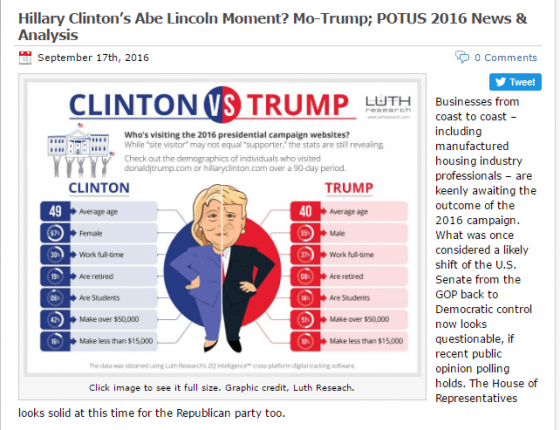 Hillary Clinton's Abe Lincoln Moment? Mo-Trump; POTUS 2016 News & Analysis
Friday, Sept 16th
Programing – What Manufactured Housing Industry Voices Say…
What Does the Future Hold for Hybrid Prefab Homes?
UMH Properties and Skyline Homes Buck the Tide, as most markets and stocks close down
Prefabricated "France' – tiny house is cheap, cheap and sets up in 3 hours
UMH Properties Upscale MHC Clubhouse, Centerpiece for Upcoming Sales Center Grand Opening
Thursday Sept 15th
NFIB Business Professionals Survey – Top 10 Small Business Concerns, Priorities & More
Manufactured Housing Composite Value rises, as do all 3 major indexes
Manufactured Home Builder Nobility Homes Announces Sales, Earnings for Q3 2016
COAP teams up with SmartMH KY Initiative
Study: Michiana areas top job creators; Manufactured Housing helps leading the way
Wednesday Sept 14th
Patrick Rebounds, Carlyle, and MHCV does too – broader markets mixed
MHARR gets Third Party backup on Controversial, Proposed DOE Rule for Manufactured Homes
Passages – MH Industry Veteran Elliott dies, RIP
Citigroup Inc., other investment managers, sound off on Sun Communities Inc. (SUI)
Candidates, citizens talk rent control, manufactured home community issues at ice cream social
Tuesday Sept 13th
Killam and Deer Valley hold; Broader Markets, MHCV and other Track Stocks Tumble
Sm+RT Homes Teams with Dynamic Homes, mulls North Minneapolis Plant
OregonMetro, CFED Urges Rethinking Manufactured Housing with 4 Surprising Facts on Manufactured Homes, Analysis
Campaign 2016 – Hillary's 911 and Manufactured Housing
Hensarling files Financial CHOICE Act to replace Dodd-Frank
Monday Sept 12th
 "Housing is not a priority for Gov. Jerry Brown"
Manufactured & PreFab Housing Industry Publishing Announcements
AMG, Sun Shine; Killam, Third Ave slide, 3 Major Indexes Rebound
Skyline Corporation – Management Fund's Major Move – Manufactured Housing Market Watch
Sunday Sept 11th, 2016
Sunday Morning Weekly Recap – Manufactured Housing Industry News Sept 4 to Sept 11, 2016  ##
(Image credits are as shown on the linked page.)