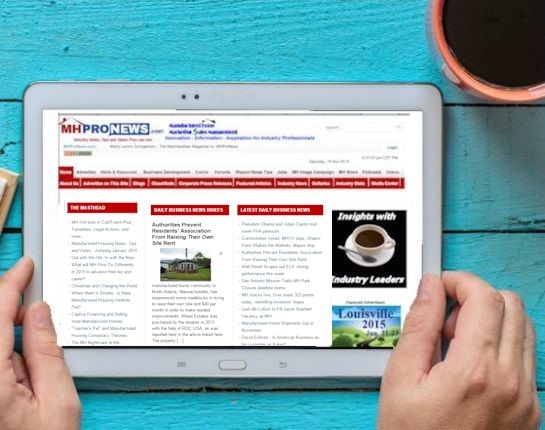 This month, we continue with our thought-provoking theme: Entrepreneurs November in MHVille 2016. That link will take you to all of the featured articles and interviews this month.
Manufactured, modular and prefabricated home professionals know that how a home got to its location should not define a person or their dwelling.
What the Daily Business News spotlights day-by-day are the tragedies, triumphs and struggles for acceptance of the obvious solution for millions for the growing affordable housing crisis in the U.S. and beyond.

When you read the lineup for the month found on Entrepreneurs November in MHVille 2016, you can reflect on another motto as you chart your own professional path ahead:
"We Provide, You Decide."  ©
What's New On MHLivingNews


State's Manufactured Home Sales Soar
Designer Amy Shock's Extreme Mobile Home Makeover – Photos & Report
What's New On MHProNews
Saturday November 12th, 2016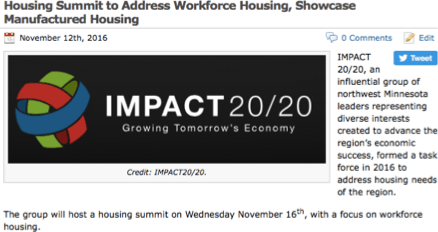 Housing Summit to Address Workforce Housing, Showcase Manufactured Housing
Friday November 11th, 2016
Manufactured Housing CV Up 3.54 Percent, New Record High for Broader Markets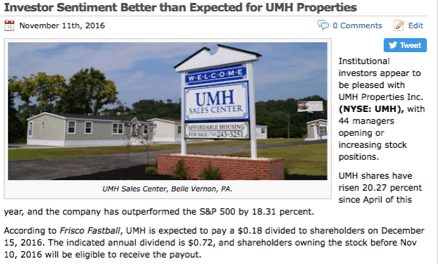 Investor Sentiment Better than Expected for UMH Properties
Tribal Nation Wins Appeal in "Mobile" Community Case
Investors, Analysts Weigh in on Equity LifeStyle Properties
Thursday November 10th, 2016
Affiliated Managers Group Up, MHCV Down, Broader Markets Mixed, Dow Sets Record
President-Elect Transition Team, POTUS Obama, Mr. Trump Meet
Utility Shutdown Could Lead to MH Community Being Condemned
Cavco Industries Reports Q2 Results 
Stocks Plunge & Surge – Unity and Protests
Ordinance Preventing Section 8 Discrimination Passes
Wednesday November 9th, 2016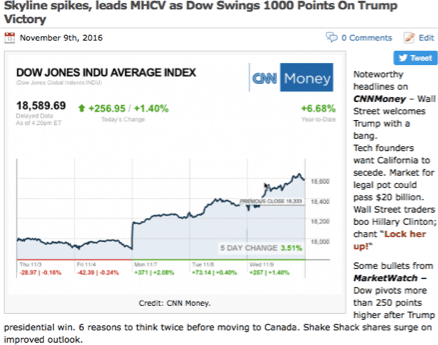 Skyline spikes, leads MHCV as Dow Swings 1000 Points On Trump Victory
TD Securities, Scotiabank Restate Positive Ratings for Killam Properties
Upset Win by Gracious President Elect, Donald Trump
Tuesday November 8th, 2016
Sun Communities, Universal Forest Products Up, MHCV Down, Broader Markets Steady
Money Missing from MH Cooperative, President Arrested
Trump has 32-25 lead in NH, Brits say Election for "Soul" of America 
Residents Forced to Move Due to Rezoning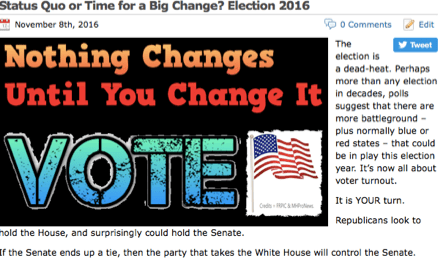 Status Quo or Time for a Big Change? Election 2016
Monday November 7th, 2016
UMH Properties Leads Up Day for MHCV, Broader Markets Up 371
Top Trends for Manufactured Home Buyers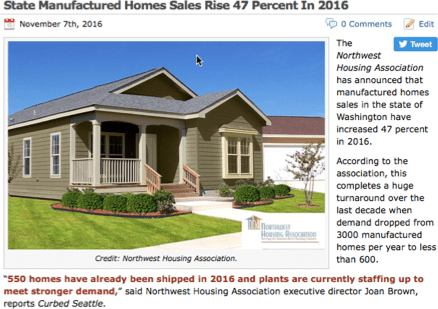 State Manufactured Homes Sales Rise 47 Percent In 2016
All Locked Up! Election Videos, Pics & Analysis
Champion Homes Purchases Former Excel Homes Facility
Sunday November 6th, 2016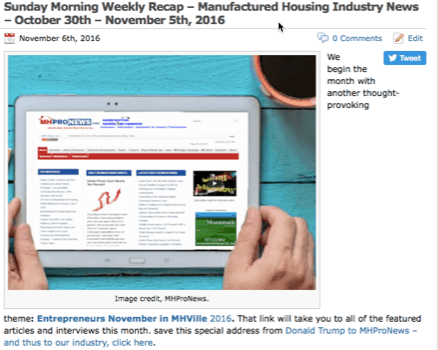 Sunday Morning Weekly Recap – Manufactured Housing Industry News – October 30th – November 5th, 2016
Clinton Cash Machine vs. Donald Trump's Movement – Closing Arguments Video
(Image credits are as shown above.)

Submitted by RC Williams to the Daily Business News for MHProNews.