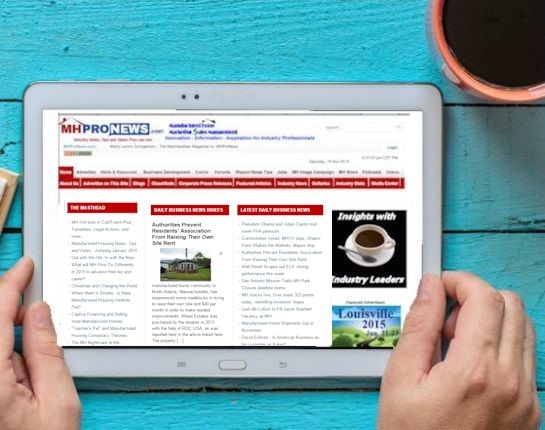 We continue with our thought-provoking theme for the month: Entrepreneurs November in MHVille 2016. That link will take you to all of the featured articles and interviews this month.
Manufactured, modular and prefabricated home professionals know that how a home got to its location should not define a person or their dwelling.
What the Daily Business News spotlights day-by-day are the tragedies, triumphs and struggles for acceptance of the obvious solution for millions for the growing affordable housing crisis in the U.S. and beyond.

When you read the lineup for the month found on Entrepreneurs November in MHVille 2016, you can reflect on another motto as you chart your own professional path ahead: 
"We Provide, You Decide."  ©
What's New On MHLivingNews 

Texas ROC Leaders Tout Resident-Ownership at "I'm Home" Convention
State's Manufactured Home Sales Soar
What's New On MHProNews
Saturday November 19th, 2016
Dodd-Frank, CFPB Deep in Trump Administration Cross Hairs
Friday November 18th, 2016
Skyline, Cavco Lead Up Day for the Manufactured Housing CV, Broader Markets Down
Flood Recovery Grant to Help Flood Victims with Manufactured Homes
Investors Up Stakes In Affiliated Managers Group
Freddie Mac Forms Partnership, Rolls Out MH Education Curriculum
Manufactured Home Communities Cut Ribbon on New Indoor Pool Complex
Thursday November 17th, 2016
Trump/Congress Call on Federal Agencies to Defer Action on all Pending Regulations
Council Looks to Allow FEMA Homes, Rescind Solar Fees
Patrick Industries Leads Up Day For Manufactured Housing CV, Broader Markets Rise
ROC Leaders Meet at Texas Conference
Sam Zell On CNBC: Donald Trump's Election Represents "Huge Psychological Difference" About the Economy's Future
Prominent Democratic Lawyer Defends Breitbart's Steve Bannon
Wednesday November 16th, 2016
Innovative, Affordable Modular Housing Highrise Set for Completion in 2018
Patrick Industries, Drew Industries Lead Manufactured Housing CV, Broader Markets Mixed
Layered Cardboard Modular Home Unveiled
British Giant Eyes Cavco Industries Holdings
Manufactured Home Set on Fire, Anti-Trump Messages Spray-Painted on Another
Tuesday November 15th, 2016
Carlyle Group, Louisiana-Pacific Lead Manufactured Housing CV, Broader Markets Up
Proposed Council Ordinance Sparks Property Rights, Discrimination Discussion
Buffett On President-Elect Donald Trump: "He Deserves Everybody's Respect"
Monday November 14th, 2016
Manufactured Housing CV Down, Broader Markets Mixed On Trump Policy News
Startup Wins Innovation Award For Upcoming 3D Home
CBS and Full Measure Trump Videos, Transition Advances, Protests and Democratic Snafus
Investors Increase Stakes In Sun Communities
Rent Control Measure Victorious, Questions, Issues Remain
Sunday November 13th, 2016
Sunday Morning Weekly Recap – Manufactured Housing Industry News – November 6th – November 13th, 2016  ##
(Image credits are as shown above.)

Submitted by RC Williams to the Daily Business News for MHProNews.