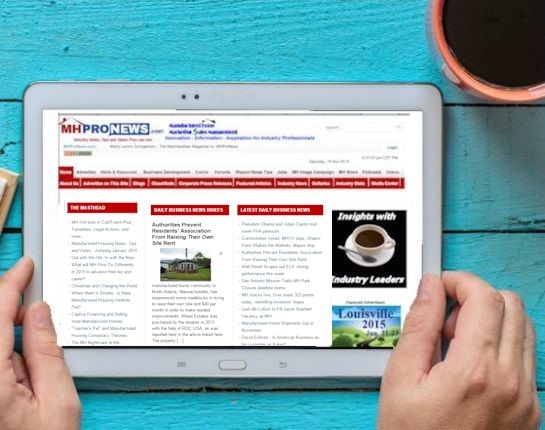 A new year, a new month, and a new set of featured articles are found on the MHProNews.com home page.
Our theme for this month is: Jiu Jitsu January in Manufactured Homeland, USA.
To see the line-up of over 3-dozen featured articles for this month, along with the headline commentary, please click the link above.
Manufactured, modular and prefabricated home professionals know that how a home got to its location should not define a person or their dwelling.
What the Daily Business News spotlights day-by-day are the tragedies, triumphs and struggles for acceptance of the obvious solution for millions for the growing affordable housing crisis in the U.S. and beyond.

When you read the lineup for the month found on the home page, you can reflect on another motto as you chart your own professional path ahead: "We Provide, You Decide."  ©
What's New On MHLivingNews

NAR – Millennials Want Quality Affordable Homes to Buy in 2017
"Oh Paradigm Shift" – Million Dollar Manufactured Homes for Rich and Frugal
What's New On MHProNews
Saturday January 21st, 2017
Friday January 20th, 2017
Nobility, AMG Up, Manufactured Housing CV, Broader Markets Rise
From Obama to Trump: America Celebrates, Protests and Contemplates
The Saga of "A Solid Community"
UMH Anniversary at the NYSE, Landy Rings Closing Bell
Bill Introduced to Replace Outdated Manufactured Homes
Thursday January 19th, 2017
Northstar, Tricon Up, Manufactured Housing CV, Broader Markets Down
Study Shows Rents Remain Equal to or Below Market Rate
NAR – Millennials Want Quality Affordable Homes to Buy in 2017
Manufactured Housing: More Bang for the Buck
Modular Becomes Solution for Supply Chain Slowdown
Wednesday January 18th, 2017
UFPI, UMH, Manufactured Housing CV Up, Broader Markets Mixed
MH and Millennials: Finally Affordable
Dem Senators Scramble to Save CFPB's Cordray
Faced With Housing Shortage, Nation Turns to Unused Containers
Residents Try to Keep Up With Repairs, Code Violations
Tuesday January 17th, 2017
Deer Valley, Skyline Hit Hard, Manufactured Housing CV, Broader Markets Down
Clayton Homes Announces New Division
Proposal to Keep Manufactured Housing Out Sent Back to Planning Commission
Proposed Trump Tax Reform, Does it Change Affordable Housing Finance?
Sunshine Homes to Unveil Next Gen Tech for Home Shoppers at 2017 Louisville Show
Harvard Study, Baby Boomers to Spark Affordable Housing Boom
Leading by Example in Digital Home Shopping Experience
Monday January 16th, 2017
Killam Receives Recommendations From Ratings Firms
Manufactured Housing Industry Speaks Out Against Tax Levy
Markets Closed, Martin Luther King Jr. Holiday, Tension Abounds
Small Business Optimism Index Highest in 37 Years
Former HUD Secretaries Endorse Ben Carson for Post
Sunday January 15th, 2017
Sunday Morning Weekly Recap Manufactured Housing Industry News January 8th 2017 to January 15th 2017 ##
(Image credits are as shown above.)

Submitted by RC Williams to the Daily Business News for MHProNews.