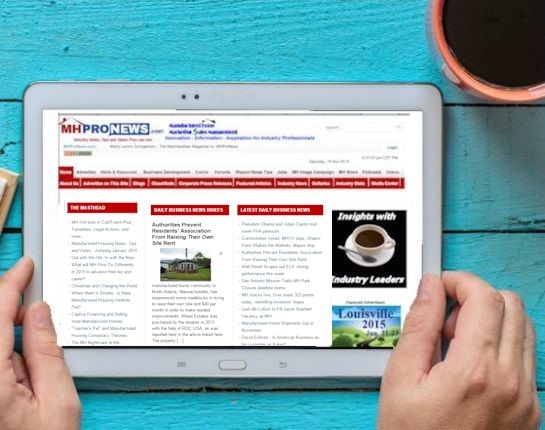 As December rolls on, the current featured articles are found on the MHProNews home page.
Our theme for this month is: DAAD = Dramatic! Advent! Adventure! December 2016!
To see the line-up of over 3-dozen featured articles for this month, along with the headline commentary, please click the link above.
Manufactured, modular and prefabricated home professionals know that how a home got to its location should not define a person or their dwelling.
What the Daily Business News spotlights day-by-day are the tragedies, triumphs and struggles for acceptance of the obvious solution for millions for the growing affordable housing crisis in the U.S. and beyond.

When you read the lineup for the month found on the home page, you can reflect on another motto as you chart your own professional path ahead: "We Provide, You Decide."  ©
What's New On MHLivingNews

'Tis the Season!' Manufactured Housing Association Delivers Christmas for Communities
It looks Cool! But is Richard Perkin's NoHA the Real Deal in Affordable Housing?
What's New On MHProNews
Saturday December 24th, 2016
Business Donates Manufactured Homes to Help Those in Need
Friday December 23rd, 2016
Inside Recent Moves at Universal Forest Products Inc.
NorthStar, Drew Industries, Manufactured Housing CV and Markets End Up
U.S. Existing Homes Sales Reach Highest Level in Nine Years
Manufactured Housing Association Delivers Christmas for Communities
Thursday December 22nd, 2016
Skyline, Sun Communities Up, Down Day Manufactured Housing CV, Broader Markets Slip Again
Inside Look – Tricon Capital's Recent Manufactured Home Community Moves
Retrospect – Top Story Canadian Story, 2016 – Wildfires and Factory-Built Homes
President-Elect Trump Narrows Choices for Key Housing Positions
UMH Properties Makes More Moves, Promotion Announced
Wednesday December 21st, 2016
Patrick, NorthStar Realty Lead Manufactured Housing Comp Value, Broader Markets Slip on Profit Taking
NYS Homes and Community Renewal, ROC USA and Pathstone Deliver Christmas Cheer
CFPB Takes Action, Faces Additional Scrutiny
NoHA Engineer Claims Revolutionary Home Concept, But Key Details Are Missing
Wheel Bearing Blaze Chars Manufactured Home on Roadway
Tuesday December 20th, 2016
Skyline, Patrick Lead Manufactured Housing CV, Dow Closing in on 20,000
Blowtorching A 'Mobile Home?' Bad Idea, Says Official
Drew Industries Announces Big Change for Dec 30th, 2016
Open Letter to Dr. Ben Carson – Publisher Invites Next Secretary to Historic HUD Achievements
Chinese, Spanish Power Players Plan Prefab Factories
Monday December 19th, 2016
AMG lone slider – Sky, UMH Lead Manufactured Housing CV, Broader Markets up too
Prefab Making Dreams Come True – In a Hurry
Manufactured Housing Industry Statistics and Fast Facts Reports 2007-2015
Trump's First 100 Days: House Freedom Caucus Plans, Some Could Impact Factory Builders
Upscale Prefab Home Showcased in the Desert
Sunday December 18th, 2016
Sunday Morning Weekly Recap – Manufactured Housing Industry News – December 11th, 2016 – December 18th 2016 ##
(Image credits are as shown above.)

Submitted by RC Williams to the Daily Business News for MHProNews.